About the FishSkiff™ 16 Inflatable Fishing Boat
NEW PATENT-PENDING REVOLUTIONARY "Roll Up & Stow - Unroll & Go" 16' one or two person INFLATABLE FISHING SKIFF. Simply rolls up and stows. Fits in a car trunk ready to go! Comprised of entirely drop-stitch technology like that of inflatable stand up paddle boards. Giving you all the benefits of a rigid hull minus the excessive burdens and added cost. No trailer, no ramps, no expensive fuel cost, no maintenance, no storage fees!
The Honda Motor Package is decked out with every angler's needs and with a 6 hp outboard will zip you around from one spot to another at up to 17mph. Then quietly slip into prime position by using a trolling motor, paddle or push pole. From skinny water to deep water and everything in between. The FishSkiff™ is a REVOLUTIONARY INFLATABLE FISHING MACHINE!
About the Fishing Skiff Series
The PATENT-PENDING Sea Eagle FishSkiff™ provides you with a NEW and REVOLUTIONARY APPROACH TO FISHING. Increase your catch and target those extremely hard to reach trophy fish! Without the hassles and added costs associated with rigid hulls. A superior inflatable craft that requires no trailer and can be fished everywhere from skinny to deep water and everything in between.
Completely inflatable, portable, storable, and transportable. The FishSkiff™ can be stowed in the back of most cars and in relatively small spaces because it has no frame. It doesn't require a trailer so you can carry it to the most remote, hard to reach locations where fish hide most!
The hull design truly maximizes speed, handling, performance, stability, fuel efficiency and most importantly safety. Nearly unsinkable and completely self-bailing with three separate independent large air-filled chambers. The FishSkiff™ will support an incredible amount of weight yet draft as little as six inches of water. ROLL UP & STOW - UNROLL & GO!
| | |
| --- | --- |
| Person Capacity | 2 |
| Hull Weight | 94 lbs. (104 lbs. with transom) |
| Length | 16 ft. |
| Width | 4 ft. 8 in. |
| Interior | 12' x 3' |
| Load Capacity | 1 or 2 Person or 1765 lbs. |
| Deflated | Approx. 60" x 24" x 12" |
| Chambers | 3 (Port, Starboard, Floor) |
| Tube Diameter | 6" Drop Stitch |
| Air Valves | 3 Recessed One Way |
| Inflation time | 17 min. w/ BTP Two Stage Electric Turbo Pump |
| Seam | Quadruple Overlapping Superior Glued Seams |
| Material | 1000 Denier Reinforced Drop Stitch |
| Engine Capacity | 6 hp (100 lbs. max weight, 15" Shaft, Gas Engine) |
| Floor | Double Layer 1000 Denier Reinforced |
| Speed Estimates | Up to 17 mph w/ 1 person, 14 mph w/ 2 person |
| Inflation Pressure | 15 psi |
Certifications
Standard Features
NMMA & CE Certified
Made from double layered, tough as crocodile hide hull material for added strength and durability
Strength of a rigid hull plus added benefits of an inflatable
All drop-stitch construction for incredible rigidity & high air pressure capacity (up to 15 psi)
Unsinkable with (3) separate, independent air chambers for added safety
Completely self-bailing
Rolls up and stows in most any car trunk
Can take up to a 6 hp outboard
Travels up to 17 mph w/ 6 hp motor
Incredibly fuel efficient, minimal draft, near zero drag, planing hull design
Can be easily fished by one or two fishermen
(6) Conveniently located grab handles
(2) Built-in 40" Fish Rulers
Option to use gas or electric motors or both
Full non-slip EVA foam deck padding
Universal Scotty Pads at bow and stern for use with a vast array of Scotty Accessories
Canopy brackets for optional sun/rain canopy
Removable transom
FishSkiff™ 16 Discount Packages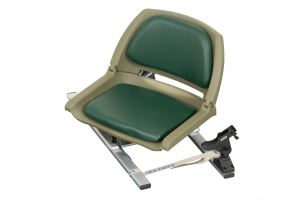 Turn your Sea Eagle iSUP, iK and iPS into a fishing machine! Attaches with ease to existing d-rings in less than 60 seconds flat!
This Swivel Seat Fishing Rig is the perfect accessory for Sea Eagle iSUPs, Explorers™, FastTracks™ and PaddleSki™ Series. (Weighs only 15 lbs.)
Kit includes: aluminum frame base, swivel seat, two Universal Scotty Rod Holders with universal deck mounts and two 6ft quick release cinch down straps.
*One time pre-assembly that takes just a few minutes required. Non compatible with RazorLites™, Sport Kayaks and Travel Canoes™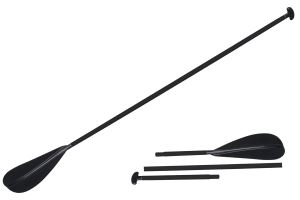 Our Stand Up Paddle is rugged, light-weight, and easy to use. The dihedral blade allows for an easy "pull" through the water and effortless exit. The ergonomic handle grip provides consistent blade oriented strokes and together they maximize complete efficiency.
The teardrop shaped concaved 16" long x 8 1/2" wide spoon blade has a kickback angle of 7° increasing not only the amount of water you catch and hold but also the actual catch phase of your stroke as well. Thus lengthening the power phase while allowing you to keep the paddle close to your SUP creating more lift.
The real time saver of this bag design is the way it wraps around the boat hull. You don't have to spend time folding the boat to the exact proportions of the bag. Just roll up the boat and place on the open bag, and wrap the flaps around it.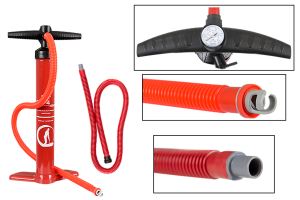 This SUP(Stand Up Paddle) Pump's special design allows for low effort and quick inflation. Made with a reliable and strong aluminum shaft. The SUP Pump comes equipped with hose, recessed one-way valve adapter and a conveniently located, easy visible, in-line pressure gauge and the option of selecting between single action (down stroke only) and double action (both up and down strokes) inflation. SUP Pump capable of inflating to 29 PSI.
Use double action for high volume and lower pressures and single action during increasing resistance cause by higher pressures.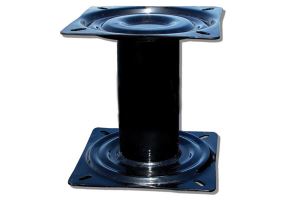 7" Pedestal for Swivel Seat used on Foldcats and 285FPB.
Includes hardware.
Repair kit for 1000 Denier PVC boats. Includes hull repair material, tube of glue & Halkey-Roberts valve replacement tool.
Keeps you cool and protected from the harmful UV rays of the sun. In a sudden rainstorm, it keeps you dry. PVC coated polyester canopy & folding aluminum tubing. Easily folds down on the water to make room when it's time to go fishing.
The white composite shaft and stainless steel propeller shaft combine with the weedless propeller to deliver quiet performance whether trolling or holding position in the current for casting.
A light weight, inexpensive, electric, salt water motor that's built to last. Anti-corrosive paint and stainless steel parts allow you to take this motor into fresh, brackish and salt water without worry.
*Can be used with 10.6sr Sport Runabout. Cannot be used with 300x Explorer Kayak.
**Battery not included.
Motor cannot ship to Louisiana.
***Coast Guard requirements dictate that each ungrounded current-carrying conductor must be protected by a manually reset, trip-free circuit breaker or fuse.
**** Not suitable for Bow mounting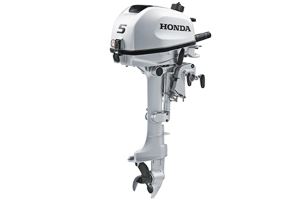 Everything you want in a portable outboard. Easy starting. Lightweight. Fuel efficient. Quiet, low vibration performance. It's easy to see why the new 5 hp four-stroke is best in class.
Free Shipping
All Sea Eagle orders with this product will receive Free Ground Shipping to the lower 48 U.S. States.
Express shipping and delivery to Alaska, Hawaii and outside the United States are also available for an additional fee. Shipping rates will be displayed on our shopping cart page.
Offer Valid through 7/31/2018
Sea Eagle Used Boats
have

never been damaged, punctured or patched

have been

test inflated for 48 hours

might have very minimal wear (no barnacles or algae)
are covered by our regular 180 day money back guarantee and three year bow-to-stern warranty, just like our new boats.
might contain prior-generation components
Delivery Estimator
Starting at $1,799.

6 great packages to choose from! Click Here.