FREE BP12 Electric Pump WITH THIS BOAT!
Inflate & deflate faster with: BP12 Single Stage Electric Pump. A $119 Value. Offer available for a limited time! **
About the 350fx Fishing Explorer Inflatable Fishing Boat
Explore More Fishing Locations with this Tough As Nails Fishing Kayak! The Sea Eagle Fishing Explorer is a robust, beefed up, fully accessorized version of the rugged Explorer Series. Designed by and for avid fishermen. Featuring: double layered, nearly indestructible, tough as crocodile hide, 2000 Denier reinforced protective layers, 6 built-in rod holders, forward and aft spray skirts with Sea Eagle exclusive accessory belts to hold your tools, hooks, and lures, a fully adjustable foot brace called the FlexBrace™, 40" FishRuler™, anchor trolley D-rings, a huge max load capacity of 575 lbs., and is completely self-bailing. So bring on the roughest conditions and still get to those fish!
About the Fishing Kayaks Series
New Sea Eagle fishing kayaks here! True rugged inflatable fishing kayaks. Designed by and for fishermen who wish to adventure outside traditional methods to catch more fish and bigger fish!
Say goodbye to costly boat, trailer, fuel and ramp fees! No more smell of gas to deter fish. Get rid of toxic fumes and water pollution. Reduce your carbon footprint. Minimize setup time. Say farewell to crowded boat ramps and inaccessible shorelines.
Now you can stealthily glide right into the heart of where the trophy fish are! Best of all - they'll never know you're there! The portability and convenience of these inflatable kayaks let you stow them in your car trunk always ready to go!
Enjoy all the features of these incredible kayaks. Including the FastTracks™ patented state of the art, external, rigid, inflatable keel, thicker nearly indestructible hull material, non-slip tough as crocodile hide protective padding, built-in rod, tool, hook and lure holders, built-in Fish Rulers and more! (U.S. Patent #8,286,573 2)
| | |
| --- | --- |
| Person Capacity | 1 |
| Hull Weight | 51 lbs. |
| Length | 11 ft. 6 in. |
| Width | 3 ft. 3 in. |
| Interior | 10' x 17" |
| Load Capacity | 1 Person or 575 lbs. |
| Deflated | 31" x 19" x 10" |
| Chambers | 3 (port, starboard, floor) |
| Tube Diameter | 11.5" |
| Air Valves | 3 Recessed One Way |
| Inflation time | 7 min |
| Seam | Glued Quadruple Overlapped |
| Material | 1000 Denier w/ 2000 Denier Reinforced Sections |
| Engine Capacity | 34 lbs. thrust electric (max engine weight 15 lbs) |
| Floor | Removable, Double Layer, High Pressure Drop Stitch Floor w/ non-slip EVA foam padding |
| Whitewater Rating | Suitable up to Class IV |
| Inflation Pressure | 3.2 psi |
Certifications
NMMA Certified
Customized front & rear spray skirts with built-in rod, tool, hook and lure holders plus storage below and bungee rope lacing on top for additional storage
Separate, removable, high-pressure, reinforced, drop-stitch floor with non-slip EVA foam padding and extra top layer of tough as crocodile hide material for superior rigidity, durability and standup fishing
16 High Capacity Self-bailing Drain Valves
Large, removable, rear skeg for increased tracking during flatwater touring
Front & Rear Carry Handles
14 D-rings to secure seats and gear
(3) Separate independent air chambers with One-Way Air Valves for added safety
Sea Eagle motormount receivers for optional motormount attachment
350fx Fishing Explorer Reviews
4.9 out of 5 stars.
(13)
Norman Felter
Verified Owner
10/20/2018
5.0 out of 5 stars.
I love the kayak most important thing is it is portable
James Larson
Verified Owner
2/18/2019
5.0 out of 5 stars.
Very happy with product
Frank Glaser
Verified Owner
6/24/2019
5.0 out of 5 stars.
Bought this boat in December and have been using it all season long. 10 different lakes, 2 rivers and whole bunch of fun and fish. Getting the boat in and out of the water is simple and quick. I am new to kayaking, but it seems to handle very well in all situations I have been in. Very happy with my purchase!
Douglas Sackett
Verified Owner
12/7/2019
5.0 out of 5 stars.
We are 59 year old teachers and have never owned a kayak. Every summer we travel for weeks with our trailer and pickup. We saw an inflatable kayak two summers ago and were intrigued. We did our research and found Sea Eagle had the best reviews. I fish so an inflatable fishing kayak made sense. We loved our Sea Eagle kayak during our Summer trip last year The kayak and accessories easily fit in our pickup. Set up, cleaning and take down was easy. We kayaked in Colorado, Iowa, Minnesota and Washington. The highlight was the Boundary waters of Minnesota and Ontario, kayaking in wilderness lakes. I caught a ton of fish and no, never worried about a hook sinking the kayak. I can highly recommend our inflatable kayak for storability, ease of use and it is totally cool!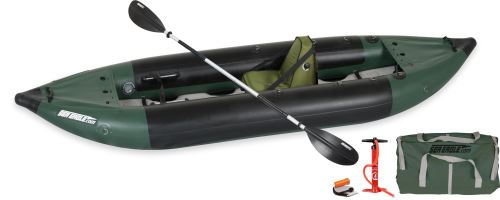 A bare-bones, most cost-efficient, entry-level package. Designed to get you on the water and fishing as quickly a possible.
Package price and FREE SHIPPING offer valid through Tuesday, November 30, 2021
a $1,413 value for

just $1,099

through Nov 30 *
The perfect package for those who wish to sit lower in cockpit style seating. A low center of gravity improves stability. The tall wrap-around backrest provides comfort while protecting you from the wind.
Package price and FREE SHIPPING offer valid through Tuesday, November 30, 2021
a $1,489 value for

just $1,199

through Nov 30 *
Swivel Seat Fishing Rig Package

The 360° Swivel Seat Fishing Rig Package takes the 350fx to a whole new level! Sit higher and swivel 360° while fighting the fish to get the very best angle. Two Universal Scotty Deck Mounts with Rod Holders provides you with endless options.
Package price and FREE SHIPPING offer valid through Tuesday, November 30, 2021
a $1,583 value for

just $1,299

through Nov 30 *
Starting at $1,099.

3 great packages to choose from! Click Here.
7'10" AB30 paddle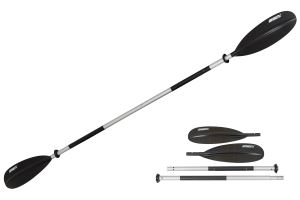 7'10" Double end asymmetrical paddle is great for all our canoe, kayak and paddleski models. The paddle features aluminum shafts with fiberglass reinforced nylon blades. It has a 65 degree feather capability. Snap lock buttons to disconnect into 4 parts. Weighs just 2.62 lbs.
DKS Seat Green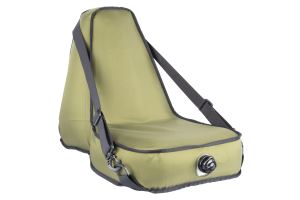 Green Deluxe Inflatable Kayak Seat is a great inflatable seat that provides extra back support for paddling, rowing or fishing. Allows you to sit 5" off the floor with 14" of back support. Works in all of our kayaks (except the RazorLite 393rl and 473rl) and 285fpb. Includes one seat only.
FlexBrace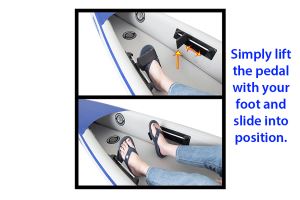 Ergonomic customizable footrest adjusts to 20 positions quickly & easily. Allows for more powerful paddle strokes. Just lift the FlexBrace with your foot & move to a comfortable setting. Base permanently glues into place while the rod & pedal come off for compact storage. This sturdy, convenient & easy to use footrest works on many Sea Eagle & other inflatable kayaks.
Includes 2 FlexBraces (left & right).
Does not include glue.
* Not for use with Sport Kayaks SE330 & SE370. Does not work on Explorer 300x due to valve placement and only 1 FlexBrace Kit can be used with the 385ft FastTrack due to valve placement.
Grn Kayak Bag 385fta & 350fx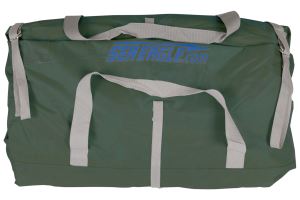 The real time saver of this bag design is the way it wraps around the boat hull. You don't have to spend time folding the boat to the exact proportions of the bag. Just roll up the boat and place on the open bag, and wrap the flaps around it.
SUP Pump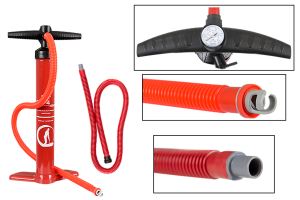 This SUP(Stand Up Paddle) Pump's special design allows for low effort and quick inflation. Made with a reliable and strong aluminum shaft. The SUP Pump comes equipped with hose, recessed one-way valve adapter and a conveniently located, easy visible, in-line pressure gauge and the option of selecting between single action (down stroke only) and double action (both up and down strokes) inflation. SUP Pump capable of inflating to 29 PSI.
Use double action for high volume and lower pressures and single action during increasing resistance cause by higher pressures.
Includes 2nd hose with Boston Valve and Pipe Valve attachments.
Slide in Skeg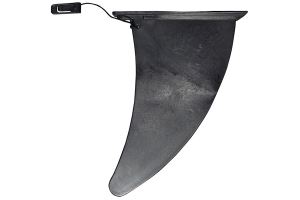 An excellent accessory to increase your hulls ability to track straight and true resulting in less yawing (side to side swinging) of your hull during paddle strokes, thus improving paddling efficiency.
Large 9 1/2" removable slide in skeg for Stand Up Paddle Boards, FastTracks, Explorers and Travel Canoe.
*Note your craft must have the grooved base plate to accommodate a slide-in skeg.
Repair Kit
Repair kit for 1000 Denier PVC boats. Includes hull repair material, tube of glue & Halkey-Roberts valve replacement tool.
Tall Back Seat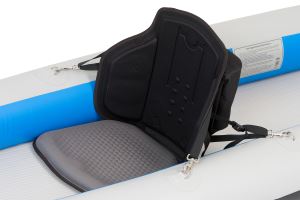 Tall Back Kayak Seat latches securely to the d-rings on many of our Sea Eagle hulls. Removable zippered rear pouch for storage. Made of thermal molded foam. Provides great back support with an 19" high backrest. Great for any outing. Lightweight and durable.
The molded foam construction gives you a low sitting position to for maximum stability in rough whitewater and excellent back support.
Only weighs 2 lbs.
8' AB40 paddle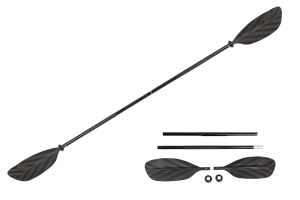 The asymmetrical spoon blade design of this Kayak paddle allows for smooth entries and an even pull, maximizing the power from your stroke. They require less gripping force, less effort per stroke. Weighs 2.92 lbs. Snap lock buttons to disconnect into 4 parts.
Green Swivel Seat Fish Rig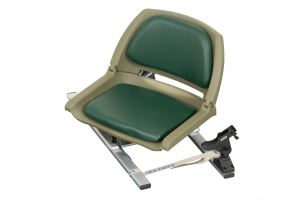 Turn your Sea Eagle iSUP and iK into a fishing machine! Attaches with ease to existing d-rings in less than 60 seconds flat!
This Swivel Seat Fishing Rig is the perfect accessory for Sea Eagle iSUPs, Explorers™, and FastTracks™ Series. (Weighs only 15 lbs.)
Kit includes: aluminum frame base, swivel seat, two Universal Scotty Rod Holders with universal deck mounts and two 6ft quick release cinch down straps. *Straps not included with FishSkiff packages.*
* One-time pre-assembly that takes just a few minutes required. Non-compatible with RazorLites™, Sport Kayaks, Travel Canoes™, and PaddleSki™
BP12 Electric Pump
The Bravo BP12 is a super efficient lightweight single stage high pressure piston pump that will inflate from 1 to 14.5 psi. Simply set the turn dial to your desired pressure setting, press the "on" button and this little workhorse will do the rest.
Included:
102" (8'6") cable w/alligator clips
72" (6') inflation hose
Recessed Valve Adapter
Weight: 4 lbs.
Dimensions: 8" x 4" x 5"
Maximum Draw 20 Amps.