About the 14' Sport Runabout Inflatable Boat
The 14 ft. Sport Runabout is a favorite of larger groups as well as police and fire departments alike.
This rugged boat can carry up to 7 adults or 2000 lbs.
*For optimal performance max horsepower motor rating for the inflatable drop stitch floor package is 25hp/15" shaft motor.
About the Sport Runabouts Series
The great advantage of these inflatable boats is their lightweight-to-size ratio, incredible buoyancy, efficiency, and stowability. Because they're completely inflatable, portable, and packable, stowability is increased and the overall hull weight is reduced by nearly 25% with the rigid, high-pressure, inflatable drop stitch floors.
They also reduce the storage footprint by 50% because you no longer have to deal with large heavy and bulky wooden or aluminum floorboards. Making these boats truly practical as a tender, to carry in an RV or SUV, or even simply stow below deck.
These tough rugged inflatable boats feature high-pressure rigid inflatable drop stitch floors - making them lighter, easier to set up, less expensive to motor, and far more portable.
Sport Runabouts are great all-around boats for fishing, skin-diving, or just plain running about!
| | |
| --- | --- |
| Person Capacity | 7 |
| Hull Weight | 104 lbs. (129 lbs. with inflatable floor) |
| Length | 14 ft. |
| Beam | 6 ft. |
| Interior | 9' 9" x 2' 8" |
| Load Capacity | 7 Adults or 2000 lbs. |
| Deflated | Approx. 46" x 26" x 14" (hull) |
| Chambers | 5 (port, starboard, bow, keel & DS floor) |
| Tube Diameter | 19" |
| Air Valves | 5 Recessed One Way |
| Inflation time | 25 min. (w/ inflatable floor) |
| Seam | Glued Quadruple Overlapped |
| Material | 1000 Denier Reinforced |
| Engine Capacity | 25 hp (w/ inflatable floor), 175 lbs. max weight, 15" Shaft, Gas Engine |
| Floor | Inflatable Floor (25 lbs.) |
| Speed Estimates | 25 hp (20 mph w/ 2 adults, 15 mph w/ 4 adults) |
| Inflation Pressure | 3.2 psi (chambers), 10 psi (inflatable floor) |
Certifications
When deflated and packed well, this hull will fit in:
check_circleTruck/Large SUV
NMMA & CE Certified
5/8" grab line along sides for safety
4" Inflatable External Keel with Rubbing Strake for extra protection
Rounded rear pontoons for rapid planing
Splash Guards on transom
Built in oarlocks for easy rowing
Two stainless steel D-rings for towing
Four Carry handles
Front lifting handle
Oarlocks pop-up for instant use
Wide beam hull design for stability
14' Sport Runabout Reviews
5.0 out of 5 stars.
(7)
Ken Gorinski
Verified Owner
11/1/2022
5.0 out of 5 stars.
love this boat holds every one and everything i need while boating handles great
Ejaz Khalid
Verified Owner
9/2/2022
5.0 out of 5 stars.
Boat is beautiful. Wonder if the motor mount can hold engine. I talked to the lady on Sea Eagle Phone Line. She says there has never been a complain of motor falling down or motor mount breaking off. Seems a strong mount but its not stainless steal or Iron. Certainly no one can remove and reinstall 25HP 130 pounds engine for every adventure. Please give your opinion. In the past I used Sea Eagle small boat and was a wonderful experience.
Steve Haucke
Verified Owner
1/3/2019
5.0 out of 5 stars.
I live in a condo and the sr14 has worked out great ..
George Wilson
Verified Owner
10/1/2018
5.0 out of 5 stars.
Very Pleased with the 14sr I am using it on a river that is often shallow .I have not had any issues at all. I have purchased an additional seat for the bow & also mounted navigational lights really enjoying it with my Grandson fishing. I have a question about leaving it inflated over the winter I have it on a flat trailer will this cause any issues?
Sea Eagle's reply:
George,
We're glad to hear that you're enjoying your Sea Eagle! Leaving it inflated on the trailer should be fine, but leaving the boat unattended outdoors could be an issue. We recommend storing the boat in a cool, dry area. If storing inflated, please be sure to check the pressure each time before use.
Drop Stitch Deluxe Package
This boat weighs far less than other 14' inflatable transom boats. The high pressure drop stitch floor provides great rigidity, easier setup and far greater portability.
Package price and FREE SHIPPING offer valid through Saturday, September 30, 2023
a $3,788 value for

just $2,699

through Sep 30 *
Drop Stitch Swivel Seat Package
Everything in the deluxe package plus a bow storage bag and a super comfortable swivel seat mounted on 2 aluminum cross boards - to make long distance motoring a true pleasure.
Package price and FREE SHIPPING offer valid through Saturday, September 30, 2023
a $4,037 value for

just $2,899

through Sep 30 *
Drop Stitch Swivel Seat & Canopy Package
The Deluxe Sun & Rain Canopy has you covered on sunny or rainy days while the swivel seat keeps you comfortable on the those long rides across big bays, large lake or open seas.
Package price and FREE SHIPPING offer valid through Saturday, September 30, 2023
a $4,286 value for

just $3,049

through Sep 30 *
Starting at $2,699.

4 great packages to choose from! Click Here.
14sr 6" Inflatable DS Floor
14sr 6" Inflatable Drop Stitch Floor
Aluminum Bench Seat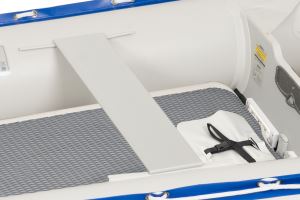 Aluminum Seat for Sport Runabouts
Collapsible Oar Set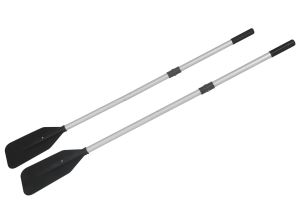 AB255 5'5" (2 Part) Sport Runabouts Oar Set
Large Boat Carry Bag
Boat Carry Bag for 12.6sr & 14sr
Bow Storage Bag
Bow Bag for 12.6 SR & 14SR
A41 Foot Pump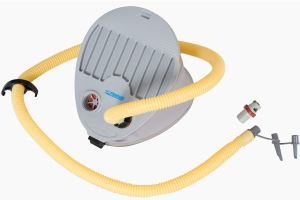 SUP High Pressure Pump
Repair Kit
Locking Swivel Seat Kit-SR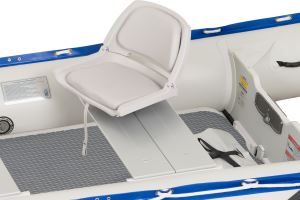 Locking Swivel Seat Kit for Sport Runabouts
Wide Canopy
Honda 9.9S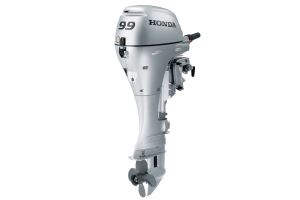 Covered by the Honda Marine Warranty

All Sales are final. This item is not covered by the Sea Eagle 120 Day Trial.

');