About the 14' Sport Runabout Inflatable Boat
The 14 ft. Sport Runabout is a favorite of larger groups as well as police and fire departments alike.
This rugged boat can carry up to 7 adults or 2000 lbs. Able to accommodate up to a 40 hp/15" shaft engine, this boat can really move!
*For optimal performance max horsepower motor rating for the inflatable drop stitch floor package is 25hp/15" shaft motor.
About the Sport Runabouts Series
The great advantage of these boats is their lightweight to size ratio. Which increases stow-ability and reduces overall hull weight. By nearly 25% with the inflatable drop stitch floors while reducing storage footprint by 50% because you no longer have to deal with wooden or aluminum floorboards. Making these boats truly practical as a tender, to carry in a RV or SUV or even simply stow below deck.
These tough, rugged inflatable boats feature your choice of high pressure rigid inflatable drop stitch floors - making them lighter, easier to setup, less expensive to motor and far more portable. While the rigid molded plastic floorboards are virtually unbreakable.
Sport Runabouts are great all around boats for fishing, skin-diving or just plain running about!
| | |
| --- | --- |
| Person Capacity | 7 |
| Hull Weight | 104 lbs. (129 lbs. with inflatable floor, 170 lbs. with plastic floorboards) |
| Length | 14 ft. |
| Beam | 6 ft. |
| Interior | 9' 9" x 2' 8" |
| Load Capacity | 7 Adults or 2000 lbs. |
| Deflated | Approx. 46" x 26" x 14" (hull), 40" x 32" x 5" (floorboards) |
| Chambers | 5 (port, starboard, bow, keel & DS floor) |
| Tube Diameter | 19" |
| Air Valves | 5 Recessed One Way |
| Inflation time | 25 min. (w/ inflatable floor), 35 min. (w/ floorboards) |
| Seam | Glued Quadruple Overlapped |
| Material | 1000 Denier Reinforced |
| Engine Capacity | 25 hp (w/ inflatable floor), 40 hp (w/ plastic floorboards), 175 lbs. max weight, 15" Shaft, Gas Engine |
| Floor | Inflatable Floor (25 lbs.), Plastic Floorboards (66 lbs.) |
| Speed Estimates | 25 hp (20 mph w/ 2 adults, 15 mph w/ 4 adults), 40 hp (30 mph w/ 2 adults, 25 mph w/ 4 adults) |
Certifications
Standard Features
NMMA & CE Certified
5/8" grab line along sides for safety
4" Inflatable External Keel with Rubbing Strake for extra protection
Rounded rear pontoons for rapid planing
Splash Guards on transom
Built in oarlocks for easy rowing
Two stainless steel D-rings for towing
Four Carry handles
Front lifting handle
Oarlocks pop-up for instant use
Wide beam hull design for stability
14sr Reviews
(5 total, avg. review: 5.0 out of 5)
1/3/2019
5.0 out of 5 stars.
Steve Haucke , WEST CHESTER
Verified Owner
I live in a condo and the sr14 has worked out great ..
10/1/2018
5.0 out of 5 stars.
George Wilson , ALIQUIPPA
Verified Owner
Very Pleased with the 14sr I am using it on a river that is often shallow .I have not had any issues at all. I have purchased an additional seat for the bow & also mounted navigational lights really enjoying it with my Grandson fishing. I have a question about leaving it inflated over the winter I have it on a flat trailer will this cause any issues?
1/4/2018
5.0 out of 5 stars.
Jerry Jones , FOWLERVILLE
Verified Owner
So much fun with our boat! This is our 1st experience living on a lake and having a boat. We love it! The only thing I would have done differently is get the electric motor. Can't wait for spring!
12/14/2017
5.0 out of 5 stars.
Robert Stearns , Fort Lauderdale
Verified Owner
I would definitely buy this boat again. The main reason I own this boat is because I live in a condo and boat storage is expensive in fort lauderdale. It is very easy to store and transport. It also is a very stable and safe boating platform if piloted responsibly. It launches easily using launch wheels from places you would never be able to launch with a trailer.
1/7/2016
5.0 out of 5 stars.
Anthony Irwin , Vancouver, BC, Canada
Verified Owner
Bought the boat over 10 years ago - I needed an inflatable for low clearance on reefs outside of my house in the Gulf Islands of BC.
The boat is kept in the open year round and for most of the year it simply sits on the rocky beach as per the photo. I must admit that this is the second (even third) engine but the boat itself has not needed any major repairs or maintenance apart from an annual scrub down to remove winter debris. More than once, large driftwood logs have floated over the boat and then submerged the craft completely, all with no major impact. The beach that the craft sits on is sharp sandstone rocks with many oyster shells .
show full review ▼
Key Features:
Seaworthy In All Conditions

We have been selling Sea Eagle Sport Runabouts since 1997. Since then they have been tested in all sorts of conditions around the world. They have been taken around Long Island (300 miles each trip) multiple times in seas varying from dead flat calm to 10 - 12 foot ocean waves in violent thunder storms. They've been used on the Yangtze River and on the Indian continent for fire and flood rescue work. These same boats are being used in these same countries by Fire and Police Departments for flood and rescue work on lakes, rivers, bays and oceans. Truly tested by time in all kinds of weather conditions these boats are as safe and seaworthy as an inflatable boat can be made.

Patented Outside Drop Stitch Inflatable Keel, U.S. Patent- #8,286,573 2

The outside drop stitch inflatable keel provides several unique performance benefits. First, it creates the ability to turn sharply and precisely in any direction. This is a true benefit when coming to a dock or motoring in crowed harbors. The inflatable drop stitch keel also provides extra buoyancy at the bow allow this boat to ride over waves rather than plowing through waves. This same feature in combination with large rear rounded tubes helps these transom boats get up on a plane far faster. Unlike other transom boats with an inside inflatable keel the overall performance of our Sea Eagle transom boats are far more precise, responsive, and stable in all sea conditions.

Molded Plastic Floorboards or Rigid High Pressure Inflatable Drop Stitch Floor

We offer two kinds of floorboards for our Sea Eagle Sport Runabouts each provide unique benefits. Our molded plastic floorboards are virtually unbreakable and will not be harmed by the sun, saltwater or other chemicals while provide tremendous structural strength for motoring and standing ability for anglers and yachtsmen.

Our high pressure rigid inflatable drop stitch floors provide excellent rigidity and very good structural strength at a fraction of the weight. If you use our drop stitch floor the weight saving in a 10.6sr is 31 lbs., in a 12.6sr 34 lbs., and in a 14sr 41 lbs. This is very important if you are a yacht owner looking for a super lightweight and easy to handle tender. This same feature is equally important to motorhome owners, fishermen and recreational boaters who want less weight and faster set up times.
14' Sport Runabout Discount Packages
Plastic Floorboard Kit 14sr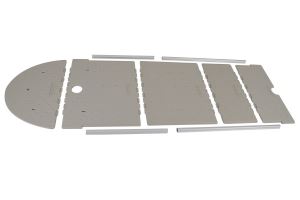 Molded Polyethelene Floorboards and aluminum stringers for 14SR (61.5 lbs.)
FB-1, FB-2, FB-3, FB-3 (short) & FB-4
Qty 2. STR14L Stringer (124 cm/49")
Qty 2: STR14S Stringer (80 cm/31.5")
Collapsible Oar Set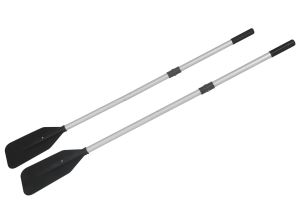 Designed for our Transom Boats, these oars connect with oarlock pins for fast, comfortable rowing. Collapsible for easy transport. 5 ft. 5 in. long.(pair)
Floorboard Reinforcement Kit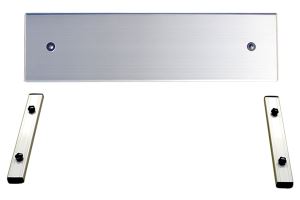 These optional aluminum crossbars provide additional strength for FB2 and FB4 floorboards. This allows the user to inflate the keel at a higher pressure and improves motoring performance of the boat. The crossbars on FB4 greatly support the transom on Sport Boats to carry heavier engines. Set of 3 reinforcement crossbars (weight 4.4 lbs.)
*Please note this item is not compatible with some floorboards. Please call to determine if your floorboards will accept reinforcement kit.
Aluminum Bench Seat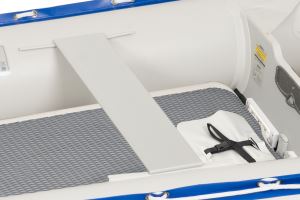 Much more durable than wooden seats, the Sea Eagle aluminum bench seat is strong, comfortable and secure. Measures 40" x 8" x 5/8".
Large Boat Carry Bag
The real time saver of this bag design is the way it wraps around the boat hull. You don't have to spend time folding the boat to the exact proportions of the bag. Just roll up the boat and place on the open bag, and wrap the flaps around it.
Measures 77" x 126"
Bow Storage Bag
This bag allows you to store the necessities for a day on the water - life jackets, anchor, rope, camera, food, etc. It fits neatly in the bow and lashes down securely to the hull.
A41 Foot Pump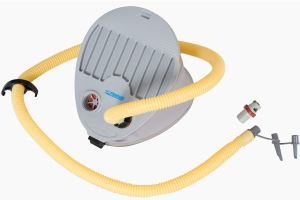 A high capacity foot pump made of durable ABS plastic that packs down for easy travel. Comes with triple styled nozzle for use on deluxe white one-way valves and pipe valves on unsupported fabric (white) hulls. Also included is a Recessed Valve Adapter for use on supported fabric (grey) hulls.
Repair Kit
Repair kit for 1000 Denier PVC boats. Includes hull repair material, tube of glue & Halkey-Roberts valve replacement tool.
Swivel Seat Kit-SR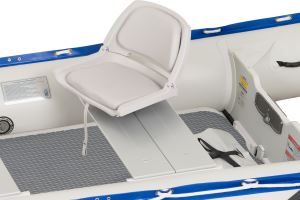 There's nothing like the boating comfort of our new swivel seat kit. The swivel seat is a great accessory for fishing or just plain boating. With easy access to tiller steering, this seat is a must for serious boaters. Includes a locking swivel seat for safe boating practices.
Wide Canopy
Keeps you cool and protected from the harmful UV rays of the sun. In a sudden rainstorm, it keeps you dry. PVC coated polyester canopy & folding aluminum tubing. Easily folds down on the water to make room when it's time to go fishing.
Honda 9.9S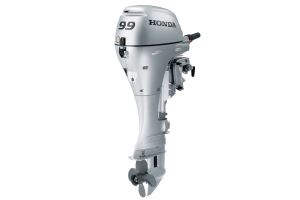 The Honda BF9.9 is an incredibly efficient four-stroke 9.9hp gas outboard that offers even more of what you want. Easier to use features. Quieter, dependable, reliable performance in a portable package.
Covered by the Honda Marine Warranty
All Sales are final. This item is not covered by the Sea Eagle 120 Day Trial.
Free Shipping
All Sea Eagle orders with this product will receive Free Ground Shipping to the lower 48 U.S. States.
Express shipping and delivery to Alaska, Hawaii and outside the United States are also available for an additional fee. Shipping rates will be displayed on our shopping cart page.
Offer Valid through 9/30/2020
Sea Eagle Used Boats
have

never been damaged, punctured or patched

have been

test inflated for 48 hours

might have very minimal wear (no barnacles or algae)
are covered by our regular 120 day

money back guarantee

and

three year

bow-to-stern warranty, just like our new boats.
might contain prior-generation components
Delivery Estimator
Starting at $2,699.

4 great packages to choose from! Click Here.