FREE BP12 Electric Pump WITH THIS BOAT!
Inflate & deflate faster with: BP12 Single Stage Electric Pump. A $119 Value. Offer available for a limited time! **
About the FastCat™ Catamaran Inflatable Boat
A rugged, dependable, rigid, high-pressure, all-drop stitch constructed, rapid self-bailing, two-person, inflatable, FastCat™ Catamaran Boat that provides "The Smoothest Ride On The Water!"
About the FastCat™ Series
Don't purchase or consider another boat without checking out the new and incredible Sea Eagle Inflatable FastCat™ Catamaran Boat for the smoothest ride on the water and sale prices! Tired of being bruised up and bounced around by waves, back jarring rough rides, added fuel cost, and lack of cockpit room? The new Sea Eagle Inflatable FastCat™ Catamaran Boat is the solution to all these problems and more!
This catamaran-style, rigid, high-pressure, all-drop stitch constructed, easy to set up hull is the most innovative boat to hit the market! The catamaran hull design lifts the boat up and on top of the water as if you're riding on pillowy clouds with hydrofoiling shock absorbers. Preventing the slapping of traditional hulls. Friction is reduced, increasing fuel economy, and with four independent high-pressure safety air chambers, you're guaranteed added safety.
The entire hull assembles in just minutes, is easy to pack up, fits into most any truck or SUV, and will entirely change the way you view boats!
| | |
| --- | --- |
| Person Capacity | 2 |
| Hull Weight | 113 lbs. (98 lbs. with Hull only) |
| Length | 12 ft. 10 in. |
| Beam | 4 ft. 8 in. |
| Interior | 10'5" x 3'4" |
| Load Capacity | 2 Person or 1200 lbs. |
| Deflated | Approx 57" x 27" x 16" |
| Chambers | 4 (bow, floor, port, starboard) |
| Air Valves | 4 Recessed One-way |
| Inflation time | 15 mins |
| Seam | Quadruple Overlapped Superior Glued Seams |
| Material | Double layer 1000 Denier Reinforced |
| Engine Capacity | 6 hp (15" shaft, 75 lbs. max weight) |
| Tube Dimensions | Gunwales: 8" thick drop stitch. Floor: 6" thick drop stitch |
| Speed Estimates | 6 hp (up to 15 mph) |
| Inflation Pressure | 10-15 psi |
| Transom Weight | 15 lbs. |
Certifications
NMMA & CE Certified
All rugged, high-pressure, reinforced, drop-stitch construction
Completely self-bailing
4 Independent safety air chambers
7 Conveniently located grab handles
Dual EZ-attachment seating system
Removable transom for easy storage
High-strength bow ring
Non-slip EVA foam covered deck
Canopy attachment grommets and D-rings
Dual Universal Scotty Pads for use with optional Scotty accessories
Bottom and side protective bumper guard rubbing strakes
FastCat™ Catamaran Reviews
5.0 out of 5 stars.
(1)
William Brodt
Verified Owner
9/7/2021
5.0 out of 5 stars.
The Fast Cat is a great boat! It was worth the wait. The video made it very to assemble. We took it to the lake and it performed fantastic. There was lots of wind on the lake and the electric motor was awesome. The motor is perfect for trolling for trout. The Fast Cat is light enough for a retired couple to put it on the trucks roof racks. Thanks Sea Eagle for the perfect boat for us.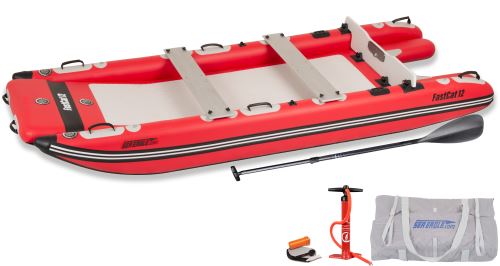 A great package for those who already have their own motors. Featuring two bench seats, one locking swivel seat, one Quick Release Seatmount, a paddle, manual pump, repair kit, and boat bag.
Package price and FREE SHIPPING offer valid through Tuesday, November 30, 2021
a $2,484 value for

just $1,999

through Nov 30 *
Swivel Seat Canopy Package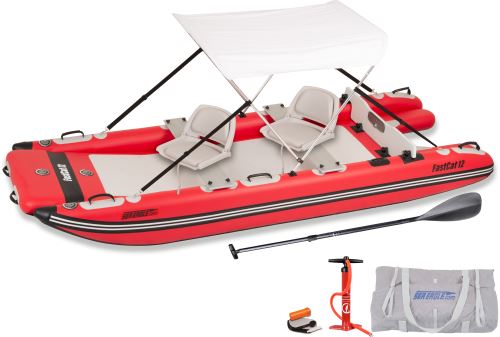 This Swivel Seat Canopy Package provides protection from the elements. Featuring two bench seats, two locking swivel seats, two Quick Release Seatmounts, paddle, manual pump, repair kit, boat bag, and canopy.
Package price and FREE SHIPPING offer valid through Tuesday, November 30, 2021
a $2,841 value for

just $2,299

through Nov 30 *
Starting at $1,999.

4 great packages to choose from! Click Here.
ABCanoe Paddle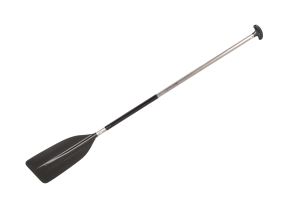 Often the choice for those who prefer a traditional-style fixed paddle. This one-part 66" aluminum flat-blade paddle is constructed using aircraft-grade aluminum for the shaft and a proprietary filled fiberglass nylon blade to add a new standard of strength to polymer blades.
Total fixed-length: 66"
Flat blade dims: 19"L x 8"W
Weight: 1.9 lbs.
Gray Locking Swivel Seat
Comfortable seat with locking swivel. Great for boats with gas motors.
FC12 Boat Carry Bag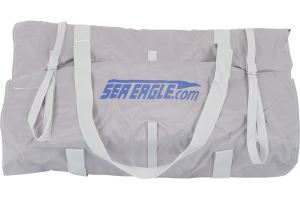 The real time-saver of this bag design is the way it wraps around the boat hull. You don't have to spend time folding the boat to the exact proportions of the bag. Just roll up the boat and place it on the open bag, and wrap the flaps around it.
SUP Pump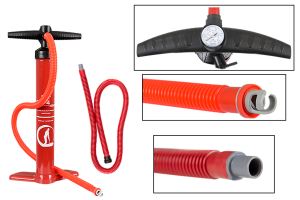 This SUP(Stand Up Paddle) Pump's special design allows for low effort and quick inflation. Made with a reliable and strong aluminum shaft. The SUP Pump comes equipped with hose, recessed one-way valve adapter and a conveniently located, easy visible, in-line pressure gauge and the option of selecting between single action (down stroke only) and double action (both up and down strokes) inflation. SUP Pump capable of inflating to 29 PSI.
Use double action for high volume and lower pressures and single action during increasing resistance cause by higher pressures.
Includes 2nd hose with Boston Valve and Pipe Valve attachments.
Quick Release Seatmount
This Release A Seat allows the Swivel Seat to be installed or removed easily. (Max weight capacity rating of 250 LBS.)
Repair Kit
Repair kit for 1000 Denier PVC boats. Includes hull repair material, tube of glue & Halkey-Roberts valve replacement tool.
Wide Canopy
Keeps you cool and protected from the harmful UV rays of the sun. In a sudden rainstorm, it keeps you dry. PVC coated polyester canopy & folding aluminum tubing. Easily folds down on the water to make room when it's time to go fishing.
Watersnake Brushless 70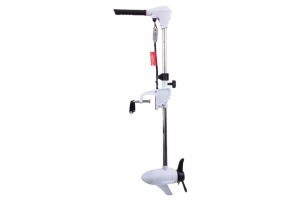 50% faster than the Venom SX 34lb - Advance Brushless 70 has twice the thrust and RPM boasting an incredible 70 lbs. of thrust. Enough power to turn canoes and small boats into zippy fishing vessels leaving other anglers wallowing in your wake all on a single 12-volt battery.
Designed for salt and freshwater, zinc anode for protection, features a handy USB Charging Port under the head unit to power lights and charge mobile phones and other devices on the go, includes infinitely variable forward and reverse speeds for fine tune control and maximum efficiency, adjustable alloy transom bracket, telescopic tiller handle for optimal control and maneuverability.
Digital Voltmeter Display tells you voltage input to the motor from your battery. Any reading below 12V is not optimal.
*Battery not included
**Motor cannot ship to Louisiana
***Coast Guard requirements dictate that each ungrounded current-carrying conductor must be protected by a manually reset, trip-free circuit breaker or fuse
Covered by the Watersnake 1 Year Warranty
All Sales are final. This item is not covered by the Sea Eagle 120 Day Trial.
Scotty Rod Holder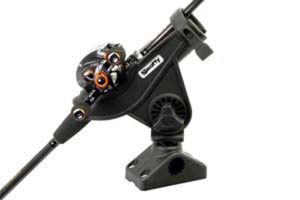 Scotty rod holder and side/deck mount
Baitcaster Interior Diameter: 1.30"
Mount Dimensions: 4" x 2" x 2"
Bolting Dimension: 1 5/16" x 3 3/16"
Honda 5S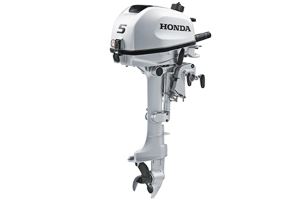 Everything you want in a portable outboard, easy starting, lightweight, reliable, fuel-efficient, ultra-low emissions, quiet, and low vibration performance. It's easy to see why the new 5 hp four-stroke is best in class.
Covered by the Honda Marine Warranty
All Sales are final. This item is not covered by the Sea Eagle 120 Day Trial.
BP12 Electric Pump
The Bravo BP12 is a super efficient lightweight single stage high pressure piston pump that will inflate from 1 to 14.5 psi. Simply set the turn dial to your desired pressure setting, press the "on" button and this little workhorse will do the rest.
Included:
102" (8'6") cable w/alligator clips
72" (6') inflation hose
Recessed Valve Adapter
Weight: 4 lbs.
Dimensions: 8" x 4" x 5"
Maximum Draw 20 Amps.