About the Sea Eagle 370
The Sea Eagle 370 is the 330's big sister. Only 6 lbs. heavier (32 lbs.) with a larger carrying capacity of 3 people or 650 lbs. You can take along enough gear for that long weekend fishing trip, camping adventure or river running voyage. Form and function make the Sea Eagle 370 America's second most popular inflatable kayak.
This affordable inflatable sport kayak is as lightweight and portable as it gets, yet still remarkably stable and durable.
About the Sport Kayaks Series
We began in 1968 selling an inflatable kayak very similar to our present Sea Eagle Sport Kayaks. Since then we have made many improvements in our inflatable kayaks. Today, we offer superior one way valves, thicker hull material and an even better material formulation for greater strength, reliability, and durability on the water.
Sea Eagle Sport Kayaks pack to a fraction of their inflatable size, can be carried almost anywhere there is water and set up in less than 10 minutes!
They are great fun for beginners and experienced paddlers alike. With a lightweight design and efficient hull shape, the Sport Kayaks are swift paddling boats and easy to handle for young or old alike.
When you consider their cost verses the way they can be used, Sea Eagle Sport Kayaks truly represent one of the best values in boating today!
Specifications
| | |
| --- | --- |
| Exterior | 12' 6" x 34" |
| Hull Weight | 32 lbs. |
| Load Capacity | 3 Persons or 650 lbs. |
| Interior | 10' 8" x 15" |
| Tube Diameter | 10" |
| Deflated | 31" x 19" x 8" |
| Chambers | Three (Port, Starboard and Floor) |
| Material | 38 mil PolyKrylar (K80 PVC) |
| Seam | High Frequency Welded |
| Floor | Inflatable I-beam construction |
| Air Valves | 5 Deluxe One Way |
| Inflation & Assembly time | 8 min. |
| Whitewater Rating | Up to Class III |
| Inflation Pressure | 1.1 psi |
Certifications
Standard Features
NMMA Certified
Open and close drain valve
Five deluxe one-way valves
Sun & saltwater resistant hull material
Lashed down inflatable spray skirts
I-beam construction floor
2 skegs on the bottom for better tracking & speed
Pressure Gauge, Repair kit & printed instructions
Bow & Stern Grab Line
SE 370 Reviews
(111 total, avg. review: 4.5 out of 5)
1/21/2017
David Lye , THORNBURY
Verified Owner
We bought a pair of SE 370s and have had a lot of fun with them, on Georgian bay, and the Beaver river, in Ontario. Sometimes 2 adults in a boat, sometimes solo. No punctures, no real problems. The only tricky bit in setting them up for the first time was stretching the plastic loops of the valves over the valve housing. It might have helped if I'd warmed up the plastic loop in hot water, needs some hand strength, it would be good if the valves were fitted before delivery. A few weeks after first use, three of the plastic loops broke, which just means that valves are not connected to the boat, but after 1 email we got 3 new valves, no charge, good service. I bought a couple of large plastic bins, one for each boat, and we never bother with trying to get the rolled up boat back into the big bag, we just put each boat into a bin, no lid, then we can easily get the 2 bins into the back of a Jeep Cherokee, along with all the rest of the equipment. Easy storage. I recommend the SE 370.
1/18/2017
William Urban , Milwaukee
Verified Owner
So far I have used my Kayak in the Colorado River, San Francisco Bay, Point Reyes Beach and a mountain lake. It has worked flawlessly for me. Set up is easy and pretty quick about 10 minutes not including the hike. I am getting faster at it. It really is easily portable. I love having it to travel with it opens up a whole new world to us. Next stop for the the Kayak is the Mississippi and then the keys. I can't wait to get on the water.
Critiques-An extra strap on the storage bag so I could use it like a backpack seems easy and more functional. Tie downs on the inside of the Kayak especially to hold the seats in
1/18/2017
Rebekah Barczak , Salisbury
Verified Owner
3 words, I love it! I'm 69 years old and I had so much fun. It's a little heavy for me but I was determined to get it and use it. Only 4-5 times but fun Everytime. Can't wait until summer comes again! Thanks.
1/16/2017
Susan Price , STOCKBRIDGE
Verified Owner
Great inflatable, this is much easier to get in and out of than the 2 prior inflatable tandem kayaks that I owned. It is also more comfortable. I highly recommend it.
1/14/2017
Darrell Watson , Murfreesboro
Verified Owner
We like storability and setup of the Sea Eagle 370. It is a little hard getting used to the tipsiness of the boat. We are getting there though. Tried it first on a small stream that may have been the problem. Now getting for a relatively quite lake or pond to practice. We do like it and was just what we were looking for.
1/2/2017
Patricia Kadrovach , Casselberry
Verified Owner
I truly like my kayak. The quality, usability and performance meets and exceeds my expectations. The only disappointment I've had was with the advertising and how the weight was stated-MUCH less than the actual! And once folded and put in the bag-it's much to heavy to just carry Having said that, I purchased a trailer for my bike. The bag of kayak with all the seats, pump supplies etc. all fit nicely in the trailer and is easily rode down to the waters edge.
I've received other pamphlets on sea eagles and seriously doubt the weight info that is given. I am impressed with the quality of my kayak and how well it handles in the water.......
1/1/2017
Rae Mollere , Metairie
Verified Owner
It is awesome. Very easy to use
12/19/2016
Sue Durai , Fairview
Verified Owner
I ordered the SE370 this year and am very happy with it. I bought it to use on rivers mostly in Tennessee and water levels have been down so I havent been able to use it as much as we liked. We have another inflatable boat with a trolling motor that we use on lakes. Over all I am very please with the sea eagle. The times we did use it was very positive. It glides along smoothly on lakes and is perfect for rivers. It is make of very heavy duty material. We had to walk one river more than rowing due to low water level and after dragging across all those rocks it really held up well. No holes or tears. I look forward to using it a lot more in the future. We have a fifth wheel and plan on taking it along camping also. No racks to have to deal with.
12/17/2016
Laurie Howie , Tecumseh
Verified Owner
This is a fantastic product and provides lots of fun. Easy to use and durable, lots of room for 2 adults and a picnic lunch. We feel very secure in the boat, great safety design.
12/14/2016
Darrell Richardson , Hilliard
Verified Owner
My new SE370 has met all my expectations and actually easier to set up than expected. The SE370 is very comfortable when fishing. Plenty of room for a tackle box and cooler. Easy transportation from the trunk of my car to the launch point. Only future concern is one of my seats has a valve that will leak air if not secured very tightly. Yes, I would be on the list as a potential repeat customer. I own ( 3 ) Sea Eagle boats with the oldest being a SE 9 ( Year 1984 ).
Key Features:
Integral 5-Tube I-beam Floor

Several years ago we changed our floor construction from a 7 tube I-beam floor to 5 tubes. This greatly enhanced the paddling performance of our Sport Kayaks because the paddler sits higher and most of the weight is born by the floor, rather than the side chambers.

Because larger I-beam tubes have more rigidity than smaller tubes it also created a more rigid inflatable floor with natural chines which improve the speed and tracking of our Sport Kayaks, making it easier to paddle long distances whenever you wish.

Two Rear Skegs For Tracking And Speed

Tracking is very important in a kayak. Inflatable kayaks need skegs to track smoothly across the water - otherwise your paddling effort is wasted. Cheaper competitive boats without rear skegs just weave and wander across the water, wasting your paddling effort.

The Sport Kayaks feature two molded skegs - just like a surf board - so you go faster and further with less paddling effort! These skegs are made of an almost indestructible molded plastic that will not be harmed by hitting rocks or running up on the beach.

Deluxe One-way Valves On All Air Compartments

These Deluxe One-way Valves are simple and easy to use. A great improvement over traditional pipe valves which are hard to close, loose air easily and crack over time. Our Deluxe Valves come with an inner diaphragm which allows air to be pumped in without air escaping afterwards. The larger opening of the Deluxe Valves allows for rapid inflation and deflation. Comes with molded O-rings that can't be lost and a tether that will keep them attached to the hull at all times. Final seal is achieved by the outside cap for true air tightness.
Sea Eagle 370 Discount Packages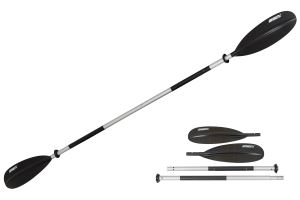 7'10" Double end asymetrical paddle is great for all our canoe, kayak and paddleski models. The paddle features aluminum shafts with Fibrylon blades. It has a 65 degree feather capability. Snap lock buttons to disconnect into 4 parts. Weighs just 2.62 lbs.
A comfortable seat for any of our kayaks, the SEC has good back support from its large rear air chamber.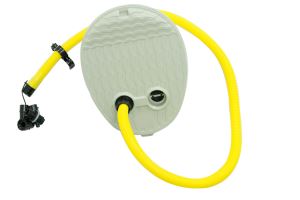 A high capacity foot pump made of durable ABS plastic that packs down for easy travel. Comes with a set of adapters.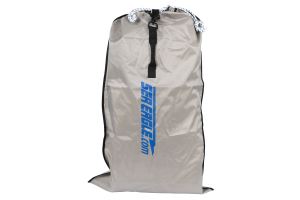 Great for storing or transporting your Sea Eagle SE330, SE370, SE8, SE9 and Wave Slider™. Recommended for a variety of accessories with larger Sea Eagle models. Made with heavy duty 440 denier nylon fabric. Measures 26"x48". Comes with convenient carry strap and drawstring.
*Only Sport Kayak and Motormount Boat Packages (minus the motormount frame and wooden seats) fit entirely into the Carry Bag. However we recommend the Carry Bag for use with a variety of accessories.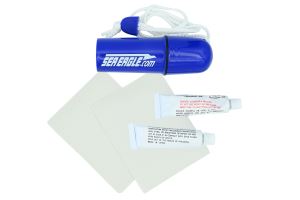 Repair kit for Motormount boats and Sport Kayaks. Includes two 4 in. x 3 in. white swatches of material and two tubes of glue.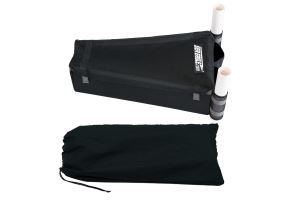 Sea Eagle's New Multi Purpose Kayak Storage Box makes a great way to securely stow your items and is an absolute must have for kayaking enthusiast. Lightweight and portable, this storage box folds down to the size and weight of the local newspaper.
*NOT waterproof or completely water resistant
Deluxe Inflatable Kayak Seat. A great inflatable seat that provides extra back support for paddling, rowing or fishing. Allows you to sit 5" off the floor with 14" of back support. Works in all of our kayaks and 285fpb.
Universal Kayak Sail, converts any kayak into a sailing vessel. Easy deployment in under one minute, breaks down to just 43" for convenient storage in the bow or stern. This "down wind" sail can move a kayak up to 7 knots and can be steered using your paddle as a rudder. Works with all Sea Eagle Kayaks and almost any other kayak out there.
Note: Deluxe Inflatable Seats required when using with the Sport Kayaks.
Free Shipping
All Sea Eagle orders with this product will receive Free Ground Shipping to the lower 48 U.S. States.
Express shipping and delivery to Alaska, Hawaii and outside the United States are also available for an additional fee. Shipping rates will be displayed on our shopping cart page.
Offer Valid through 1/31/2017
Sea Eagle Used Boats
have

never been damaged, punctured or patched

have been

test inflated for 48 hours

might have very minimal wear (no barnacles or algae)
are covered by our regular 180 day money back guarantee and three year bow-to-stern warranty, just like our new boats.
might contain prior-generation components
Delivery Estimator
Starting at $329.

4 great packages to choose from! Click Here.