Inflatable Fishing Kayaks
New Sea Eagle fishing kayaks here! True rugged inflatable fishing kayaks. Designed by and for fishermen who wish to adventure outside traditional methods to catch more fish and bigger fish!
Say goodbye to costly boat, trailer, fuel and ramp fees! No more smell of gas to deter fish. Get rid of toxic fumes and water pollution. Reduce your carbon footprint. Minimize setup time. Say farewell to crowded boat ramps and inaccessible shorelines.
Now you can stealthily glide right into the heart of where the trophy fish are! Best of all - they'll never know you're there! The portability and convenience of these inflatable kayaks let you stow them in your car trunk always ready to go!
Enjoy all the features of these incredible kayaks. Including the FastTracks™ patented state of the art, external, rigid, inflatable keel, thicker nearly indestructible hull material, non-slip tough as crocodile hide protective padding, built-in rod, tool, hook and lure holders, built-in Fish Rulers and more! (U.S. Patent #8,286,573 2)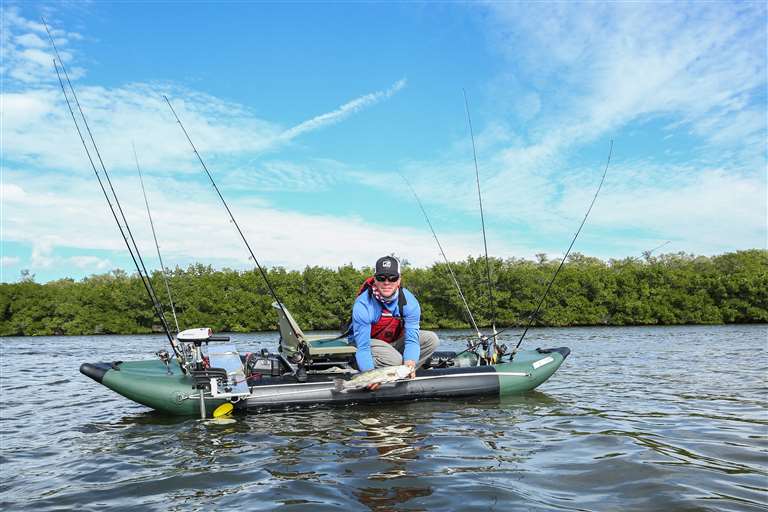 Explore More Fishing Locations with this Tough As Nails Fishing Kayak! The Sea Eagle Fishing Explorer is a robust, beefed up, fully accessorized version of the rugged Explorer Series. Designed by and for avid fishermen. Featuring: double layered, nearly indestructible, tough as crocodile hide, 2000 Denier reinforced protective layers, 6 built-in rod holders, forward and aft spray skirts with Sea Eagle exclusive accessory belts to hold your tools, hooks, and lures, a fully adjustable foot brace called the FlexBrace™, 40" FishRuler™, anchor trolley D-rings, a huge max load capacity of 575 lbs., and is completely self-bailing. So bring on the roughest conditions and still get to those fish!
Here's a one or two person rugged fishing kayak you can take anywhere the fishing is great!
The patented, state of the art, external, rigid, inflatable NeedleKnife™ Keel makes for a faster, smoother paddling experience. Combined with the sharper, narrower, tapered bow for faster entry through wind, waves, current and water make this an angler's dream kayak. (U.S. Patent #8,286,573 2)
Specifications
| | | |
| --- | --- | --- |
| | 350fx | 385fta |
| Person Capacity | 1 | 3 |
| Hull Weight | 51 lbs. | 45 lbs. |
| Length | 11 ft. 6 in. | 12 ft. 6 in. |
| Width | 3 ft. 3 in. | 3 ft. |
| Interior | 10' x 16" | 11'7" x 18" |
| Load Capacity | 1 Person or 575 lbs. | 3 Persons or 635 lbs |
| Deflated | 31" x 19" x 10" | 36" x 15" x 20" |
| Chambers | 3 (port, starboard, floor) | 4 (port, starboard, keel, floor) |
| Tube Diameter | 11.5" | 9.5" |
| Air Valves | 3 Recessed One Way | 4 Recessed One Way |
| Inflation time | 7 min | 7 min |
| Seam | Glued Quadruple Overlapped | Quadruple Overlapped Seams |
| Material | 1000 Denier w/ 2000 Denier Reinforced Sections | 1000 Denier w/ 2000 Denier Reinforced Sections |
| Engine Capacity | 34 lbs. thrust electric (max engine weight 15 lbs) | 34 lbs. thrust electric (max engine weight 15 lbs) |
| Floor | Removable, Double Layer, High Pressure Drop Stitch Floor w/ non-slip EVA foam padding | Removable High Pressure Drop Stitch Floor |
| Whitewater Rating | Suitable up to Class IV | Suitable up to Class II |
| Inflation Pressure | 3.2 psi | 3.2 psi |
| Starting at | $1,099 | $1,199 |
');