About the 375fc FoldCat Inflatable Fishing Boat
Now in a Dark Hunter Green to blend in with the waters and surroundings where fish hide most! The 375fc Fold Cat™ inflatable one or two man pontoon fishing boat with patented folding frame design is a lightweight, portable, fuel efficient, large platform fishing boat for two that packs easily into a car and does not require a trailer!
Featuring the versatile universal Scotty™ Mount System with 2-4 Scotty™ Rod Holders and the ability to attach an incredible assortment of Scotty™ accessories.
(U.S. Patent 7,240,634)
About the FoldCat™ Series
The Sea Eagle FoldCat™ features a patented folding system allowing this inflatable pontoon boat to be fully assemble in just minutes! When fully inflated, lightweight aluminum cross boards and under bars combine to create a rigid fishing platform giving anglers a full access deck. This boat is ideal for two anglers to stand and cast in all directions.
The full fabric floor with the aluminum cross boards will hold any electric batteries, fishing tackle, tackle boxes or fishing lures you may have, even if you drop them! Best of all this boat comes comfortably equipped with padded 360° swivel seats, oarlocks, and a motor mount which allows you to paddle, motor and fish!
(U.S. Patent 7,240,634)
| | |
| --- | --- |
| Person Capacity | 2 |
| Hull Weight | 75 lbs. |
| Length | 12 ft. 4 in. |
| Width | 4 ft. 6 in. |
| Load Capacity | 2 Adults or 650 lbs. |
| Deflated | Approx. 56" x 21" x 10" |
| Chambers | 4 Air Chambers |
| Tube Diameter | 16.5" |
| Air Valves | Recessed One Way |
| Inflation time | 10 min. |
| Seam | Quadruple Overlap Seams |
| Material | 1000 Denier Reinforced |
| Engine Capacity | 3 hp gas (min 20" shaft, 45 lbs. max weight) or 70 lbs. thrust Electric Motor (min 30" shaft, 45 lbs. max wt.) |
| Floor | Aluminum slat roll up over full fabric floor |
| Speed Estimates | 8-10 mph w/gas, 4-6 mph w/ electric |
| Inflation Pressure | 3.2 psi |
Certifications
Standard Features
NMMA and CE Certified
Patented Folding Frame (U.S. Patent 7,240,634)
Super strong oars & oarlocks
Motormount for gas & electric motors
Rugged molded nose cones
Full fabric floor
Four conveniently located carry handles
Printed instructions
375fc Reviews
(28 total, avg. review: 4.7 out of 5)
2/7/2018
Robert England , CONCORD
Verified Owner
I initially had several issues with my Sea Eagle 375FC. The first boat delivered had a defective valve and I had to send that boat back. Sea Eagle sent me a replacement boat and the second boat had a leak and I had to send that boat back. Both times the folks at Sea Eagle were very good and understanding, however very frustrating that it took 3 boats to finally get a good one.
more ▼
The boat is good for light river floats, however I float several rivers that have class lll rapids and these boats do not hold up well in rough conditions. The oats are not very sturdy being made of thin aluminum.
If your buying this boat for easy, calm rivers you should be happy with it.
12/16/2017
John McMillion , OSWEGO
Verified Owner
I did not get to take it out as much as I wanted to this summer, but the times I did I had a lot of fun. It is very stable. Can go in very shallow water. The canopy is great, I can be out on the water all day and not worry about getting sunburn. Plus we took the boat out on some very hot days and the canopy kept us comfortable. I love the foldcat and I can not wait to get out on the water next more ▼ spring.
12/10/2017
Lawrence Horowitz , Ridgewood
Verified Owner
My 375fc is perfect for the small lakes and ponds I fish here in New Jersey. The elevated seat allows me to cast, flip, or pitch easily to fish holding targets. It's easy to row and much more stable than a canoe or kayak. My 375f folds up and fits in the back of my station wagon and my small over crowded garage. I can assemble it in about 10 minutes. Last spring, I found a chipmunk had decided to make its winter home inside the boat and had gnawed a hole in one of the pontoons. Not able to repair it, I contacted Jerry a Sea Eagle tech; with his help, I purchased a new hull. Works even better than the original hull.
12/4/2017
Stanley Johnson , Trout Lake
Verified Owner
Love my Seaeagle! I particularly enjoy the ability to silently glide across high mountain lakes and watch the various wildlife without scaring them off. It is the perfect platform for all types of fishing whether it be fly or spinning. I had a problem with one of the tubes of the carry cart bending and customer service immediately sent me another one. Really appreciate that. When the time comes, I will definitely purchase another, and my son and grandson are getting close!
11/16/2017
Brad Dawson , Amarillo
Verified Owner
Great little boat! Love the portability and easy set up. It is everything that SeaEagle claims it to be. I've used it many times and haven't had a single issue. Thanks for a quality product!!
10/22/2017
David Galvez , PUEBLO
Verified Owner
My grandsons love this craft. Easy to carry and set up
10/3/2017
John Hasson , MOUNT ROYAL
Verified Owner
I'll admit it does take some time to assemble and at 75pounds it's not easy to lug around either. But the 375fc can go anywhere you want it to go. It does get into tight places where other boats can't and is very stable. The pontoon material is very durable and had no problem bumping into fallen trees and branches. And it's quiet. Not like aluminum or wooden boats where moving around causes noise and frightens fish away. I also enjoy the seat arrangement. They are high enough where casting is a breeze. Unlike squatting in some boats, you have the freedom to sit up high or stand to cast. If you choose to use either of the recommended air compressors just be aware it's going to be noisy. You may want to wear earplugs or make a muffled box for them. But all in all I am satisfied with the boat. I carry it in my cargo van and can have it ready to go at a moments notice. It's the all around solution for getting out on the lake for me and my buddy.
8/27/2017
Jim PITURA , British Columbia
Verified Owner
Just bought our Foldcat direct from SeaEagle in mid August, 2017, the Pro-Angler package, with a few added accessories. Shipment arrived as expected and in good order. Did a setup in our garage to get an initial understanding of the assembly, inflation and deflation process. A few days later performed the real setup and maiden launch of the boat on a nearby lake. I paired the boat with a 2017 Yamaha 2.5hp 4 stroke motor. Both the boat and motor were great. The boat felt quite stable, certainly as good as the 10' jon boat I previously owned. Found the swivel seats very comfortable, enjoyed sitting higher up on the craft. Bought the 7" riser for the front seat as well and my wife enjoyed the setup. While she was initially concerned that the boat did not have sides, she actually felt quite comfortable on board as we toured the lake . We will do a Sept. fishing trip to give the Cat a full test, however do not foresee our initial positive opinion of this boat changing.
7/2/2017
Eric Mathieu , Idaho
Verified Owner
I want to start to say thank you to Sea Eagle for that marvelous boat.
We Just received it last week and we had our first floats with our 375FC this week end. my son and I love it.
Where we were, it is power boat land, and kind of red neck country. So the thinking here is more like : "if you have a small boat, it is your choice and I will not slow down" so having to face 1 to 2' waves is to be expected. The boat performed awesomely and rowing it was a breeze.
more ▼
We will be looking at adding the Skegs as the boat doesn't track and can be difficult to get going where you want in a windy day. We had 2 awesome days on that boat and will be expecting more to come.
The trolling motor will be the next add-on.
It looks like we are on the go for a new love story.
Eric and the Family.
6/15/2017
David Norton , Salisbury
Verified Owner
Purchased boat in 2013 for Trout fishing in lakes/rivers in western NC. It has been everything I expected but let me make a couple of observations. The heading control in any kind of wind is full time and boat is almost more then one man can handle. I added the Skags but did not see much improvement. I also purchased the 12v pump which I advise every owner to do. I am now 78 years old with some health problems so the boat is now the proud possession of my Son. He can do it alone also. One of the fishing spots we use is below a power dam (Fontana) and full of big sharp rocks which we have hit most of with NO damage to boat. I would recommend this boat to anyone. Thanks for the years of fun this rig has provided me.
Key Features:
Patented Folding Frame Design, U.S. Patent- #7,240,634

The great feature of our patented folding frame system is that it creates a spacious rigid fishing platform for one or two anglers without the need of nuts and bolts. This makes our Sea Eagle FoldCat™ far simpler to set up than most other fishing boats. Just roll out the FoldCat™, insert the 4 underbars under the aluminum cross boards and inflate. In just 5 minutes you have a rock solid pontoon fishing boat! This fishing platform gives you full access to the entire top of the FoldCat™ for useful fishing space. Best of all deflation and take down is equally fast and simple. Release the one-way air valves, pull out the underbars and roll it up! It's just that simple!

Super Stable Pontoon Stance On The Water

When the FoldCat™ is fully inflated and the underbars press up against the aluminum cross boards it creates a rigid aluminum frame on top of the pontoons, making the FoldCat™ a rigid fishing platform.

The wide stance of the pontoons combined with the structural strength of the platform makes for a truly stable and secure fishing space. Even when an angler is standing on one side of a pontoon the FoldCat™ is still stable enough for the angler to stand and cast.

Customizable Design

The Sea Eagle FoldCat™ can be customized according to your own needs. You can have it with one swivel seat and use the available space for standing and casting. You can use the swivel seat with or without the pedestal for a higher or lower seating position, as you prefer. You can outfit it with 2 swivel seats and 2 pedestals for you and your buddy. You can add a series of different Scotty™ accessories to outfit your FoldCat™ with items such as fish finders, GPS, GoPro's, cutting boards, multiple rod holders, running lights, anchor lock, etc... You can add a Casting Bar. You can add a canopy to protect yourself against sun, rain and high temperatures. The FoldCat™ is a truly flexible fishing platform that can be used in a multitude of ways.
375fc FoldCat Discount Packages
This comfortable Swivel Seat can be used on many of our Sea Eagle boats. Great for use on Frameless Fishing Boats and FoldCats!
The seat can also be mounted on a 54 qt. cooler which will fit snugly into any of these boats.
*Please note, additional attaching hardware and bench are not included. This seat CANNOT be attached to a single bench seat (WS25, WS2505 or SPW).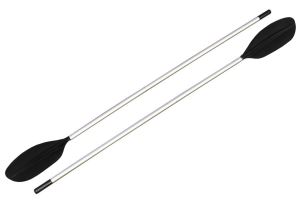 Special heavier thickness, stronger aluminum shaft with fiberglass and aluminum reinforced blades. Utilizes a curved blade for flat river or lake rowing. This is one tough oar set. 7'11" long. Breaks down to 2 pieces.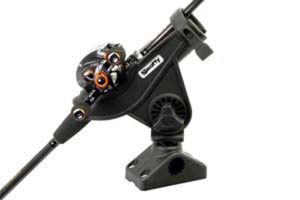 Scotty rod holder and side/deck mount
Baitcaster Interior Diameter: 1.30"
Mount Dimensions: 4" x 2" x 2"
Bolting Dimension: 1 5/16" x 3 3/16"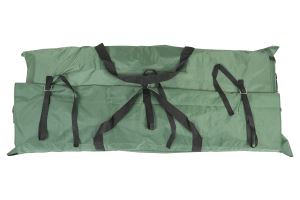 The real time saver of this bag design is the way it wraps around the boat hull. You don't have to spend time folding the boat to the exact proportions of the bag. Just roll up the boat and place on the open bag, and wrap the flaps around it.
* Now with black straps
This Release A Seat allows the Swivel Seat to be installed or removed easily. (Max weight capacity rating of 250 LBS.)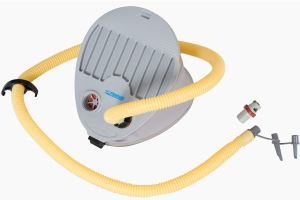 A high capacity foot pump made of durable ABS plastic that packs down for easy travel. Comes with triple styled nozzle for use on deluxe white one-way valves and pipe valves on unsupported fabric (white) hulls. Also included is a Recessed Valve Adapter for use on supported fabric (grey) hulls.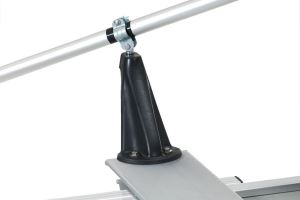 Set of 2 Oarlocks for 375fc and 440fc. Made of tough, unbreakable engineering plastic, angled just right for rowing our 375fc and 440fc. Comes with mounting hardware.
*Does not include oarlock pins.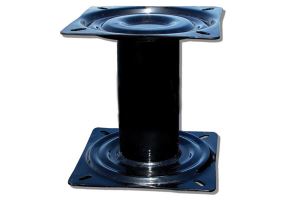 7" Pedestal for Swivel Seat used on Foldcats and 285FPB.
Includes hardware.
Repair kit for 1000 Denier PVC boats. Includes hull repair material, tube of glue & Halkey-Roberts valve replacement tool.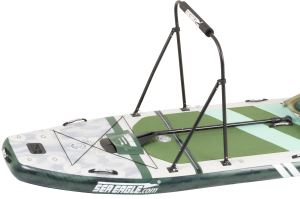 Adds safe, secure support for casting while standing and a convenient hand-hold while stepping aboard. Strong tubular aluminum with soft foam grip. Extension pads for the 440fc included. Clips on without tools, folds down for transport.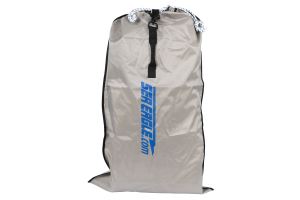 Great for storing or transporting your Sea Eagle SE330, SE370, SE8, SE9 and Wave Slider™. Recommended for a variety of accessories with larger Sea Eagle models. Made with heavy duty 440 denier nylon fabric. Measures 26"x48". Comes with convenient carry strap and drawstring.
*Only Sport Kayak and Motormount Boat Packages (minus the motormount frame and wooden seats) fit entirely into the Carry Bag. However we recommend the Carry Bag for use with a variety of accessories.
Minn Kota electric motors are known to be the most reliable electric motors on the market. The Endura 30 brings you the reliability and performance you've come to expect from Minn Kota at a great value.
While 30 lbs of thrust might not work for a heavy fiberglass boat, it is more than enough for our boats and kayaks.
Even our Transom Sport boats will perform well with this motor where currents are light.
30" shaft
**** Not suitable for Bow mounting
***For FRESHWATER only.
**Battery not included
*Coast Guard requirements dictate that each ungrounded current-carrying conductor must be protected by a manually reset, trip-free circuit breaker or fuse.
Covered by the Minn Kota Endura Warranty
All Sales are final. This item is not covered by the Sea Eagle 180 Day Trial.
Easy access external battery terminals allow trolling motor leads and charger leads to be connected and disconnected without ever opening the box.
This Power Center includes: built-in LED battery meter display indicating how much charge is available, two 12-volt accessory cigarette lighter style plugs for your sounder, laptop or cell phones and two manual reset circuit breakers (15 amp for accessory plugs and 60 amp for trolling motor). Fits group 24 and 27 size batteries.
1 Year MinnKota Factory Warranty.
*BATTERY NOT INCLUDED*
Covered by the Minn Kota Manufacturer Warranty
All Sales are final. This item is not covered by the Sea Eagle 180 Day Trial.
The white composite shaft and stainless steel propeller shaft combine with the weedless propeller to deliver quiet performance whether trolling or holding position in the current for casting.
A light weight, inexpensive, electric, salt water motor that's built to last. Anti-corrosive paint and stainless steel parts allow you to take this motor into fresh, brackish and salt water without worry.
*Can be used with 10.6sr Sport Runabout. Cannot be used with 300x Explorer Kayak.
**Battery not included.
Motor cannot ship to Louisiana.
***Coast Guard requirements dictate that each ungrounded current-carrying conductor must be protected by a manually reset, trip-free circuit breaker or fuse.
**** Not suitable for Bow mounting
Covered by the Watersnake 1 Year Warranty
All Sales are final. This item is not covered by the Sea Eagle 180 Day Trial.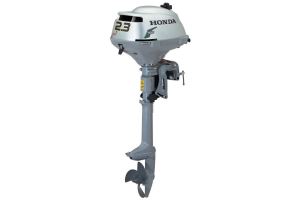 One of the world's lightest four-stroke outboards. The Honda BF2.3 is so light, it rivals many two-stroke 2HP engines and electric motors, without the battery. While still maintaining Honda's reliable, efficient four-stroke design!
Covered by the Honda Marine Warranty
All Sales are final. This item is not covered by the Sea Eagle 180 Day Trial.
The perfect outboard for tenders, dinghies, transom boats, motormount boats and daysailers. Weighs 29.5 lbs. Short shaft - 24.6"
*Note: Non compatible with the 124smb, Frameless Pontoon Boats or 14sr (which use the Torqeedo Travel 1003L)
***Does not ship from Sea Eagle warehouse. Item is drop shipped from Illinois.***
Covered by the Torqeedo Factory Warranty
All Sales are final. This item is not covered by the Sea Eagle 180 Day Trial.
Free Shipping
All Sea Eagle orders with this product will receive Free Ground Shipping to the lower 48 U.S. States.
Express shipping and delivery to Alaska, Hawaii and outside the United States are also available for an additional fee. Shipping rates will be displayed on our shopping cart page.
Offer Valid through 12/25/2018
Sea Eagle Used Boats
have

never been damaged, punctured or patched

have been

test inflated for 48 hours

might have very minimal wear (no barnacles or algae)
are covered by our regular 180 day money back guarantee and three year bow-to-stern warranty, just like our new boats.
might contain prior-generation components
Delivery Estimator
Starting at $1,349.

6 great packages to choose from! Click Here.