About the Sea Eagle 9 Inflatable Boat
This lightweight, affordable, inflatable fishing boat holds up to 4 people, is super stable and works great with small gas or electric motors!
About the Motormount Boats Series
Sea Eagle Inflatable Motormount Boats are multi-purpose inflatables that can be used for fishing, yacht tending, mild whitewater rafting and general motoring or rowing around lakes and bays.
We started this series in 1982 and they are still among our best selling boats! The reason is simple. Given their stability, safety, versatility, and extremely reasonable cost, they are just about the best value in boating today!
They can be used simply as ship to shore rowing dinghies powered with just two oars, or they can be outfitted with floorboards (SE8s & Classic SE9s), bench seats, removable inflatable seats, and a motormount to accept a small outboard motor for a day of fishing or recreational boating.
Simple to use, simple to set up, lightweight and compact to carry or stow. These boats are many things to many people.
| | |
| --- | --- |
| Person Capacity | 4 |
| Hull Weight | 35 lbs. (50 lbs. with inflatable floor & motor mount) |
| Length | 11 ft. |
| Beam | 4 ft. 8 in. |
| Interior | 7' 6" x 2' 4" |
| Load Capacity | 4 Adults or 1200 lbs. |
| Deflated | Approx. 26" x 26" x10" |
| Chambers | 4 (main & upper safety chamber, motormount support & 1 in floor) |
| Tube Diameter | 15" |
| Air Valves | 4 Deluxe One Way |
| Inflation time | 15 mins. |
| Seam | High Frequency Weld |
| Material | 38 mil Polykrylar (K80 PVC) |
| Engine Capacity | 3 hp gas (20" shaft minimum, 45 lbs. max weight) or up to 74 lb. thrust electric motor (min 30" shaft) |
| Floor | Inflatable Removable Double Layered Reinforced 4" thick I-beam constructed w/ external protective sheath |
| Speed Estimates | 5-6 mph w/Gas, 4-5 mph w/Electric |
| Inflation Pressure | 1.1 psi for sides, up to 2 psi for floor |
Certifications
Standard Features
NMMA & CE Certified
Removable high pressure (up to 2 psi) I-beam reinforced inflatable floor encased in superior high strength protective nylon fabric sheath for rigidity
Two movable reinforced inflatable seats encased in superior high strength protective nylon fabric sheath for rigidity
All around grab line
Bow towing grommet
Bow carry handle
Molded oar clasps
Pressure Gauge, Repair Kit & Instructions
SE9 Reviews
(47 total, avg. review: 4.7 out of 5)
12/1/2018
Keith Corrick , GLENWOOD
Verified Owner
I'm so happy with my Sea Eagle 9 boat! It has enabled me to get out to areas in the rivers I fish with ease and comfort. The raft is durable and handles the river great. The service rep was first class and the shipping was remarkably fast. I recommended to a friend and he also bought an SE9, and he is happy with his boat too. Thank you!
11/14/2018
Donald Baker , BRICK
Verified Owner
This is my second Sea Eagle... Very well made. Great boat (now with an inflatable floor) even better than the first. I would recommend Sea Eagle inflatables to anyone.
6/15/2018
Lawrence Gray , SEMINOLE
Verified Owner
Easy to transport. Need to buy electric trolling motor but is easy to row. Great old guy fishing boat.
6/15/2018
Jennifer Gilfillan , ROCKLIN
Verified Owner
We finally took the boat out for the first time and loved it. It really moves along with the little venom motor. It is easy to set up and a breeze to let the air out of everything. We put it all in two bags just for the ease of packing up. Heavy duty nice boat. We are planning on taking it camping because we are heading to many locations with a lake. Since it packs up, it's a great option for traveling, more ▼ can't wait!
6/7/2018
Brent Preston , IRVINE
Verified Owner
We love to take this out fishing on the weekends. Great little family boat however the bag that you store it in ripped our 3rd time out.
5/25/2018
Anthony Puentes
Verified Owner
The SE9 is a great little boat. The setup and breakdown is easy when using an electric air pump, so I was able to get on the water in Lake Havasu for its maiden voyage. I am impressed with the quality of the materials especially given the the price point. While the oars do work fine, I opted for a Minn Kota Enduro C2 (55 lbs. thrust) to move along nicely. My only complaint would be the lack of a rigid transom and option for hard floor boards, as it is required by some lakes (which is why I gave it 4 stars). However, I was able to cut out a 1/2" sheet of plywood and apply a nice marine finish as a weekend project. For its intended purpose, the SE9 is well designed and is backed by a company that delivers great customer service. I'm looking forward to adding more Sea Eagle products to my weekend warrior armada. :-)
5/6/2018
Roger Daniels , ELLETTSVILLE
Verified Owner
Couldn't be happier with my SE9. Hauled from IN to FL and back, in my travel trailer, launched from my PU truck into a few lakes and the Little Manatee River.
Caught a few fish and enjoyed some sights that I would not have seen otherwise. SE9 performed flawlessly with a 55 lb. thrust Minn Kota and 100 amp hr. AGM batt. It operated for several hrs. without depleting more than half the charge. I added a carpeted 1/2" ply floor with two pedestal boat seats which made it even more comfortable. Added a little weight but I was able to carry the hull, floor, batt., motor, and accessories separately to the water and assemble on the shore then launch all by my self at 66 years old. Exactly how I imagined it would work. Thank you Sea Eagle for a great product.
3/7/2018
Kennith Marshall , Carson City, NV
Verified Owner
My wife and I bought the boat for a small lake that you can't get to with a trailer or a car. (you have to hike to it) The lake a great fishing but its very difficult to fish from shore due to the vegetation. Fish are stocked there every year so you can imagine the lake is loaded! Some of the best trout fishing in our lives have been from this boat. We love it to say the least. After our first season of fishing one of the seams on the top tube split. I called Sea Eagle support and with a few pics and emails a new boat was sent! This summer we hope to send more pictures of our adventures. Thanks Sea Eagle for a great product and great Support.
more ▼
2/8/2018
Ron Holland , Auburn
Verified Owner
Great little boat. First time we took it out trolling for trout, my wife and I both limited out in under an hour. Our next outing is by atv to a small mountain lake. Hope we have similar luck. Sea Eagle is a great company to deal with, we highly recommend them and their products.
1/16/2018
Forest Yenne , Garland
Verified Owner
We bought our Sea Eagle SE9 to replace another inflatable that wore out over many summer vacations of use. The SE9 is a solid upgrade. We only use our boat on our summer vacations. Most years we travel from Texas to Michigan to enjoy the beautiful water of Lake Huron. Our idea of fun is just to float and spend countless hours cruising along, near the shore enjoying the view of the lake and shoreline. It is a peaceful release because my wife and I are life long teachers, and peace is what we need every summer! We use a simple 30lb electric trolling motor. Without question the SE9 could handle a much larger motor but our little 30 is all we need. I feel very safe in the SE9 as I took it far out in the lake several times, with spare batteries of course! The SE9 has tons of room for my wife, adult daughter and goofy dog. Thank you Sea Eagle. I doubt we will ever wear it out but if we ever need another boat. It will be a Sea Eagle!
Sea Eagle 9 Discount Packages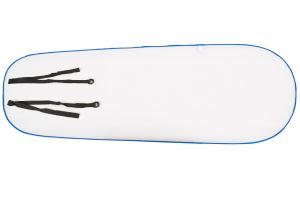 Double Layered Reinforced 4" thick I-beam constructed 38 mil PolyKrylar™ inflatable internal floor securely seated within an indestructible external nylon fabric protective sheath outer layer.
Able to be inflated to 2 psi verses traditional less than 1 psi floors.
*Non-compatible with Classic SE9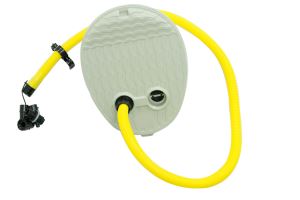 A high capacity foot pump made of durable ABS plastic that packs down for easy travel. Comes with a set of adapters. *For use with unsupported fabric (white) hulls only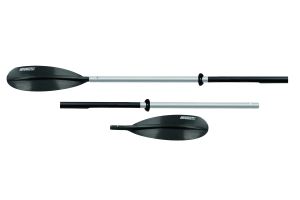 Our AB252 Oars will row Sea Eagle PackFish7™, SE9 and the discontinued models SE6, SE8 & 124SMB at a surprisingly brisk pace. Aluminum shaft with ABS plastic blades. Total length is 60 inches long. One pair of oars.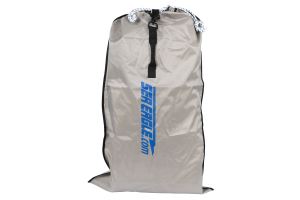 Great for storing or transporting your Sea Eagle SE330, SE370, SE8, SE9 and Wave Slider™. Recommended for a variety of accessories with larger Sea Eagle models. Made with heavy duty 440 denier nylon fabric. Measures 26"x48". Comes with convenient carry strap and drawstring.
*Only Sport Kayak and Motormount Boat Packages (minus the motormount frame and wooden seats) fit entirely into the Carry Bag. However we recommend the Carry Bag for use with a variety of accessories.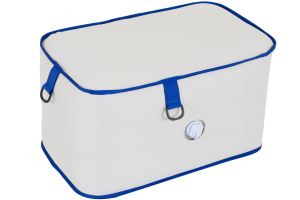 13" High Deluxe Inflatable Seat. Great for sitting high and gaining an enhanced vantage point.
4" High Deluxe Inflatable Seat. Provides great comfort while allowing you to sit lower within your boat.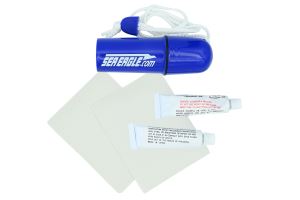 Repair kit for Motormount boats and Sport Kayaks. Includes two 4 in. x 3 in. white swatches of material and two tubes of glue.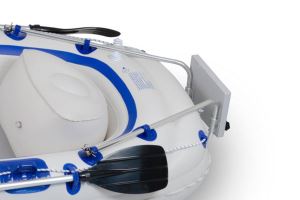 The new, improved MM3 Motormount works better because the aluminum tubing now bends back into the hull. The MM3 is solid yet light and easy to assemble. It can carry a 3 hp engine on the SE9.
Fits models produced after 1985.
The white composite shaft and stainless steel propeller shaft combine with the weedless propeller to deliver quiet performance whether trolling or holding position in the current for casting.
A light weight, inexpensive, electric, salt water motor that's built to last. Anti-corrosive paint and stainless steel parts allow you to take this motor into fresh, brackish and salt water without worry.
*Can be used with 10.6sr Sport Runabout. Cannot be used with 300x Explorer Kayak.
**Battery not included.
Motor cannot ship to Louisiana.
***Coast Guard requirements dictate that each ungrounded current-carrying conductor must be protected by a manually reset, trip-free circuit breaker or fuse.
**** Not suitable for Bow mounting
Covered by the Watersnake 1 Year Warranty
All Sales are final. This item is not covered by the Sea Eagle 180 Day Trial.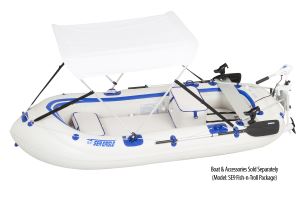 Keeps you cool and protected from the harmful UV rays of the sun. In a sudden rainstorm, it keeps you dry. PVC Coated polyester canopy & folding aluminum tubing. Easily folds down while out on the water when needed. Perfect for clearing the way to fish!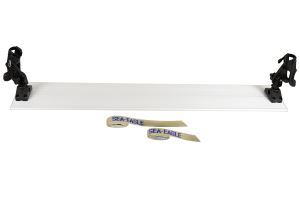 Transform your FastTrack™, Explorer Kayak or Sea Eagle Motormount Boat into a fishing and trolling machine in mere seconds!
Baitcaster Interior Diameter: 1.30"
Mount Dimensions: 4" x 2" x 2"
Bolting Dimension: 1 5/16" x 3 3/16"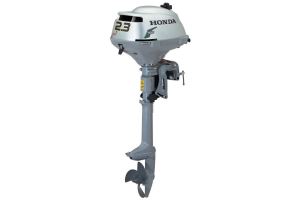 One of the world's lightest four-stroke outboards. The Honda BF2.3 is so light, it rivals many two-stroke 2HP engines and electric motors, without the battery. While still maintaining Honda's reliable, efficient four-stroke design!
Covered by the Honda Marine Warranty
All Sales are final. This item is not covered by the Sea Eagle 180 Day Trial.
Free Shipping
All Sea Eagle orders with this product will receive Free Ground Shipping to the lower 48 U.S. States.
Express shipping and delivery to Alaska, Hawaii and outside the United States are also available for an additional fee. Shipping rates will be displayed on our shopping cart page.
Offer Valid through 12/25/2018
Sea Eagle Used Boats
have

never been damaged, punctured or patched

have been

test inflated for 48 hours

might have very minimal wear (no barnacles or algae)
are covered by our regular 180 day money back guarantee and three year bow-to-stern warranty, just like our new boats.
might contain prior-generation components
Delivery Estimator
Starting at $449.

6 great packages to choose from! Click Here.