About the Sea Eagle 9
The New Sea Eagle 9 is now equipped with a higher pressure floor - up to 3 psi versus traditional less than 1 psi inflatable floor and seats that are removable, I-beam reinforced, and encased in their very own superior high strength protective nylon fabric sheath.
The entire base - Startup Package: hull, floor, seats, paddles, pump, and repair kit fits easily into a Sea Eagle All Purpose Carry Bag and weighs just 63 lbs. fully assembled.
This lightweight, affordable, inflatable fishing boat holds up to 4 people, is super stable and works great with small gas or electric motors!
About the Motormount Boats Series
Sea Eagle Inflatable Motormount Boats are multi-purpose inflatables that can be used for fishing, yacht tending, mild whitewater rafting and general motoring or rowing around lakes and bays.
We started this series in 1982 and they are still among our best selling boats! The reason is simple. Given their stability, safety, versatility, and extremely reasonable cost, they are just about the best value in boating today!
They can be used simply as ship to shore rowing dinghies powered with just two oars, or they can be outfitted with floorboards (SE8s & Classic SE9s), bench seats, removable inflatable seats, and a motormount to accept a small outboard motor for a day of fishing or recreational boating.
Simple to use, simple to set up, lightweight and compact to carry or stow. These boats are many things to many people.
Specifications
| | |
| --- | --- |
| Exterior | 11' x 4' 8" |
| Hull Weight | 35 lbs. (hull only), 50 lbs. (w/ inflatable floor & motormount) |
| Load Capacity | 4 Adults or 1200 lbs. |
| Engine Capacity | 3 hp gas (45 lbs. max weight, 15" shaft) or up to 74 lb. thrust electric motor (min 30" shaft) |
| Interior | 7' 6" x 2' 4" |
| Tube Diameter | 15" |
| Deflated | 26" x 26" x10" |
| Chambers | 4 (main & upper safety chamber, motormount support & 1 in floor) |
| Material | 38 mil Polykrylar (K80 PVC) |
| Seam | High Frequency Weld |
| Floor | Inflatable Removable Double Layered Reinforced 4" thick I-beam constructed w/ external protective sheath |
| Air Valves | 4 Deluxe One Way |
| Speed Estimates | 5-6 mph w/Gas, 4-5 mph w/Electric |
| Inflation & Assembly time | 15 mins. |
| Inflation Pressure | 1.1 psi for sides, up to 3 psi for floor |
Certifications
Standard Features
NMMA & CE Certified
Removable high pressure (up to 3 psi) I-beam reinforced inflatable floor encased in superior high strength protective nylon fabric sheath for rigidity
Two movable reinforced inflatable seats encased in superior high strength protective nylon fabric sheath for rigidity
All around grab line
Bow towing grommet
Bow carry handle
Molded oar clasps
Four molded oarlocks
Safety chamber above main chamber
Pressure Gauge, Repair Kit & Instructions
SE9 Reviews
(18 total, avg. review: 4.7 out of 5)
11/27/2016
Gordon Babcock , Mount Vernon
Verified Owner
Was very excited about the Sea Eagle boat, had been looking at them for a couple of years before purchasing. It does everything they say it does, and quite well. I've used it to go fishing a couple times since I've gotten it. Very stable, easy to "assemble and inflate" ,launch, land and deflate and pack away. Only problem I have is it is very heavy and cumbersome for me (bad back and hips) to move around. No problem with the boat, just my structure LOL. Would I purchase again? Not this boat, maybe something a little smaller, lighter, and easier for these old bones to deal with.
10/17/2016
Stephen Galvan , Los Angeles California
Verified Owner
Well my wife bought the se9 for me as a xmas gift for 2015 we are now in to October 2016 we have had our boat out on the lake 4 times this year we love it i run a 2.5 hp suzuki outboard motor works perfect not fast or anything but enough to putt around the lake and get to the islands for a great afternoon all and all the boats been perfect holds me the wife and our to younger kids perfectly i say the only thing i didn't like was the wooden bench that cracked after second use other than that would definitely recommend the se9 to anyone that doesn't want to store a big boat this boat all fit in one bag thanks sea eagle
7/1/2016
Matt Distasio , Philadelphia
Verified Owner
Nice boat with the oars. Light weight and easy to assemble. Don't plan on being able to carry it to the river/lake to assemble by the shore because there are too many parts when you include the pump and oars and not a lot of room in the boat to take it all with you. The inflatable seats are akward and take up a lot of space. It's more comfortable to sit on the floorPass on the electric motor as there is no place to keep the battery! Notice they don't show the battery in the pictures where the trolling motor is on the boat. Get a small gas motor if you want some trolling power. I have the lighter weight SE9.
Overall, the boat is heavy duty, well constructed and comfortably fits 2 people. If you're looking for something inexpensive yet durable that is easy to store, the SE9 is a nice option.
5/30/2016
robert mironovich , Manlapan nj
Verified Owner
Love this boat. on my second one. Current active SE9 iv'e been fishing out of since 2004. Still using the floor Boards from my 1st boat which I purchased in 2009. I put more hours a year on this vessel then I do my 20' Wellcraft. Handles the 3.5 horse Merc on the Delaware River with ease. Great stable boat. I Transport inflated on the roof of the truck saves time. Will be getting another one very soon. Hope the floor boards will fit.
5/30/2016
Don Heaton , Smithtown, NY
Verified Owner
I bought my SE9 back in 85. Sailed it on Spruce Run Reservoir when all my neighbor friends had catamarans...they went faster, I could carry the coolers...with the beer...lol. It was a lot of fun then. Moved to NY North Shore and have used it on some of the quieter bays for fishing with both an electric motor and a 3 HP gas.....don't know where the sail kit went. Might be getting time to get a new one....but this boat is till good. Love it
1/27/2016
steve campbell , Harrisburg
Verified Owner
I'm not sure how I even found Sea Eagle but I'm glad I did because I had not owned a boat in 10 years. At first, we were going to get the SE370 just to get out on the water occasionally but when the time came to make the purchase I saw the SE9 Fisherman's Dream package. I love fishing more than rowing so I was sold on the SE9. I highly recommend this boat to any recreational fisherman tight on space or budget for a Ranger, Tracker, etc. She says I go fishing now more than ever, which is probably true since the restrictions of shore fishing are gone. Yes, it is some work for about 20-30 minutes to get it in the water when fishing by myself when you consider the weight of the floorboards, battery & trolling motor but it is worth it in my opinion. The boat with the floorboards, motormount, battery, trolling motor, & all the other accessories fit in our Focus on fishing trips and in a closet when not in use. Can't wait for all this snow to melt and warm weather to come back once again!
1/18/2016
Peter Henkel , Parker, CO
Verified Owner
Bought boat about 7 years ago and took it with me brand new to my home in Italy.The oars were confiscated by airport security , bought new ones in Italy.Have used the boat every summer since then on lake Bolsena near Montefiascone in Lazio .I am very happy with my purchase except for the inflator which gave up after a few times of use. Bought a new one that works of a car battery.Peter
1/13/2016
Roger H Jacobs , Wellborn, FL
Verified Owner
took it out and it worked ok it is just what i was looking for .it worked just fine on small lakes we do a lot of camping and i like to fish .it worked ok for 2 of us to bass fish .and i can carey it with my camper.
1/12/2016
Ernesto Guajardo , Ruskin Fl
Verified Owner
The SE9 boat that I got is the best boat ever because I like it that you can store it in a small space and you can transport it anywhere in the back seat or car trunk and whin you reached your launch spot you don't have to wait in line to launch your boat. You can launch it anywhere where you have access to the water. In fact before I had a car I used to put the boat in my bike trailer (defeated of course) and take it to the water. With this boat I had a lot of good times fishing on it. So good in fact that I caught a 22 in red fish one time. The bottom line is if you like to fish this is the boat for you. This is for sea eagle I would like to buy the travel canoe but not the 16 footer but I would like to buy it if you have a 12 footer
1/9/2016
Melvin L. Finley,jr , Freehold, NJ
Verified Owner
I never been out on this boat., every time I plan to go out with my wife to go fishing all of the parts are to heavy for us to carry., plus we have fishing poles a cooler in a bucket plus two tackle bags and safety kit., I believe it's to much to carry. I have tried to carry it all with me., but it is to much work to carry it from a up stairs apartment to a waiting cab.,Sorry don't get me wrong., I still love my boat., with a trolling motor. I had this boat for (6) sex years now., and it never been in a lake or the ocean...
I need to find something that i can use to carry all my equipment.Thanks for your time and understanding...SignedRev. Melvin L. Finley,Jr.
Sea Eagle 9 Discount Packages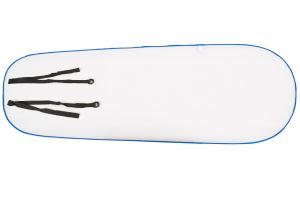 Double Layered Reinforced 4" thick I-beam constructed 38 mil PolyKrylar™ inflatable internal floor securely seated within an indestructible external nylon fabric protective sheath outer layer.
Able to be inflated to 3 psi verses traditional less than 1 psi floors.
*Non-compatible with Classic SE9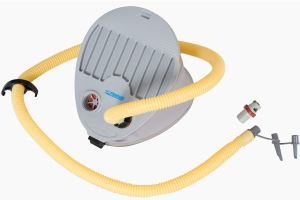 A high capacity foot pump made of durable ABS plastic that packs down for easy travel. Comes with triple styled nozzle for use on deluxe one-way valves.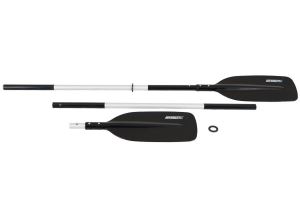 Our AB254 Oars will row Sea Eagle models SE-6 (discontinued), SE-8, SE-9 & 124 SMB at a surprisingly brisk pace. Aluminum shaft with ABS plastic blades. Total length is 60 inches long.(pair)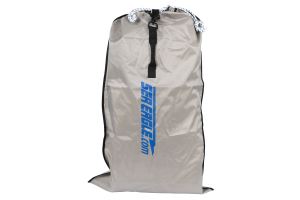 Great for storing or transporting your Sea Eagle SE330, SE370, SE8, SE9 and Wave Slider™. Recommended for a variety of accessories with larger Sea Eagle models. Made with heavy duty 440 denier nylon fabric. Measures 26"x48". Comes with convenient carry strap and drawstring.
*Only Sport Kayak and Motormount Boat Packages (minus the motormount frame and wooden seats) fit entirely into the Carry Bag. However we recommend the Carry Bag for use with a variety of accessories.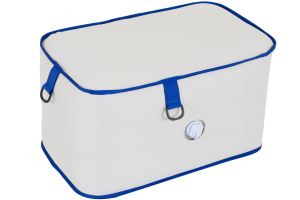 13" High Deluxe Inflatable Seat. Great for sitting high and gaining an enhanced vantage point.
4" High Deluxe Inflatable Seat. Provides great comfort while allowing you to sit lower within your boat.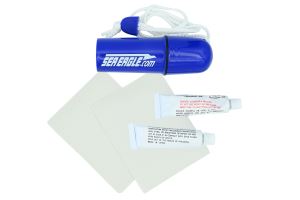 Repair kit for Motormount boats and Sport Kayaks. Includes two 4 in. x 3 in. white swatches of material and two tubes of glue.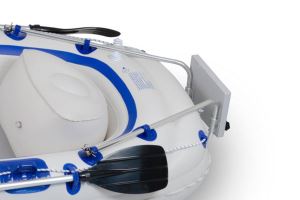 The new, improved MM3 Motormount works better because the aluminum tubing now bends back into the hull. The MM3 is solid yet light and easy to assemble. It can carry a 3 hp engine on the SE9.
Fits models produced after 1985.
Minn Kota electric motors are known to be the most reliable electric motors on the market. The Endura 30 brings you the reliability and performance you've come to expect from Minn Kota at a great value.
While 30 lbs of thrust might not work for a heavy fiberglass boat, it is more than enough for our boats and kayaks.
Even our Transom Sport boats will perform well with this motor where currents are light.
30" shaft
***For FRESHWATER only.
**Coast Guard requirements dictate that each ungrounded current-carrying conductor must be protected by a manually reset, trip-free circuit breaker or fuse.
The white composite shaft and stainless steel propeller shaft combine with the weedless propeller to deliver quiet performance whether trolling or holding position in the current for casting.
A light weight, inexpensive, electric, salt water motor that's built to last. Anti-corrosive paint and stainless steel parts allow you to take this motor into fresh, brackish and salt water without worry.
**Coast Guard requirements dictate that each ungrounded current-carrying conductor must be protected by a manually reset, trip-free circuit breaker or fuse.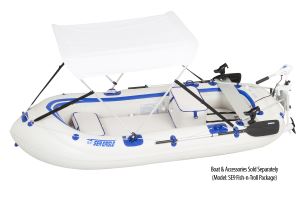 Keeps you cool and protected from the harmful UV rays of the sun. In a sudden rainstorm, it keeps you dry. PVC Coated polyester canopy & folding aluminum tubing. Easily folds down while out on the water when needed. Perfect for clearing the way to fish!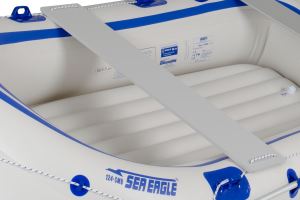 This convenient high seat for the Motormount Boats allow you to stow a cooler, tackle box or gas tank underneath. Made of 3/4" 15 ply marine plywood, this seat can hold the weight of two adults and is resistant to saltwater, gas and oil. 58" x 10". 11 Lbs.
Works with SE9 and 124smb (discontinued).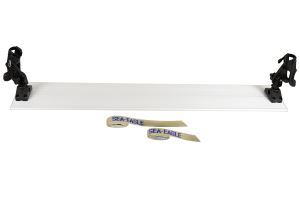 Transform your FastTrack™, Explorer Kayak or Sea Eagle Motormount Boat into a fishing and trolling machine in mere seconds!
Free Shipping
All Sea Eagle orders with this product will receive Free Ground Shipping to the lower 48 U.S. States.
Express shipping and delivery to Alaska, Hawaii and outside the United States are also available for an additional fee. Shipping rates will be displayed on our shopping cart page.
Offer Valid through 12/25/2016
Sea Eagle Used Boats
have

never been damaged, punctured or patched

have been

test inflated for 48 hours

might have very minimal wear (no barnacles or algae)
are covered by our regular 180 day money back guarantee and three year bow-to-stern warranty, just like our new boats.
might contain prior-generation components
Delivery Estimator
Starting at $449.

7 great packages to choose from! Click Here.