About the Sea Eagle 9 Inflatable Boat
This lightweight, affordable, inflatable fishing boat holds up to 4 people, is super stable and works great with small gas or electric motors!
About the Motormount Boats Series
Sea Eagle Inflatable Motormount Boats are multi-purpose inflatables that can be used for fishing, yacht tending, mild whitewater rafting and general motoring or rowing around lakes and bays.
We started this series in 1982 and they are still among our best selling boats! The reason is simple. Given their stability, safety, versatility, and extremely reasonable cost, they are just about the best value in boating today!
They can be used simply as ship to shore rowing dinghies powered with just two oars, or they can be outfitted with floorboards (SE8s & Classic SE9s), bench seats, removable inflatable seats, and a motormount to accept a small outboard motor for a day of fishing or recreational boating.
Simple to use, simple to set up, lightweight and compact to carry or stow. These boats are many things to many people.
| | |
| --- | --- |
| Person Capacity | 4 |
| Hull Weight | 35 lbs. (50 lbs. with inflatable floor & motor mount) |
| Length | 11 ft. |
| Beam | 4 ft. 8 in. |
| Interior | 7' 6" x 2' 4" |
| Load Capacity | 4 Adults or 1200 lbs. |
| Deflated | Approx. 26" x 26" x10" |
| Chambers | 4 (main & upper safety chamber, motormount support & 1 in floor) |
| Tube Diameter | 15" |
| Air Valves | 4 Deluxe One Way |
| Inflation time | 15 mins. |
| Seam | High Frequency Weld |
| Material | 38 mil Polykrylar (K80 PVC) |
| Engine Capacity | 3 hp gas (20" shaft minimum, 45 lbs. max weight) or up to 74 lb. thrust electric motor (min 30" shaft) |
| Floor | Inflatable Removable Double Layered Reinforced 4" thick I-beam constructed w/ external protective sheath |
| Speed Estimates | 5-6 mph w/Gas, 4-5 mph w/Electric |
| Inflation Pressure | 1.1 psi for sides, up to 2 psi for floor |
Certifications
Standard Features
NMMA & CE Certified
Removable high pressure (up to 2 psi) I-beam reinforced inflatable floor encased in superior high strength protective nylon fabric sheath for rigidity
Two movable reinforced inflatable seats encased in superior high strength protective nylon fabric sheath for rigidity
All around grab line
Bow towing grommet
Bow carry handle
Molded oar clasps
Pressure Gauge, Repair Kit & Instructions
SE9 Reviews
(68 total, avg. review: 4.7 out of 5)
3/17/2020
5.0 out of 5 stars.
Ralph Sharp , Hazleton
Verified Owner
Great inflatable boat. Very well built and durable. I know this will last for long time.
3/10/2020
5.0 out of 5 stars.
Randy Deoreo , NORTH RICHLAND HILLS
Verified Owner
My 13 year old bought this with his own money. He has a trolling motor and he loves it. Inflates easily and it's easy to operate. He fishes for hours! Great durable product
2/3/2020
5.0 out of 5 stars.
Forrest Miller , GREAT FALLS
Verified Owner
Took it out twice. Handled nice. We live in a very windy area so not many days for a small boat but handled light winds with the electric motor very well. I wish there was a hard floor for it however. I would like that on top of the inflatable one. Very good value for the money. Easy for one person to set up and down. I am handicapped and can still use this.
12/30/2019
5.0 out of 5 stars.
G Keast , Honolulu
Verified Owner
This is a great boat for getting out on the water in an affordable way. I live in Hawaii and have taken this boat out in Maunalua Bay as far as China Walls, which is perhaps a mile from dock. Someone posted that this boat is uncomfortable to sit in, and I couldn't disagree more. It's perfectly comfortable, and in fact, you can lie down in and rest! It takes maybe 20-30 minutes to set the boat up, but after that, is literally smooth sailing from there. We used Minn Kota motors for this and they work fine, you just have to rinse them off after each use, same as you do with the boat. This boat was actually purchased used from Sea Eagle, so don't hesitate to grab a used one if you can. I've had the boat for nearly five years and it looks as good as the day I got it. It is perfect for shallow water too. Of course, on windy days or white capping days, I wouldn't recommend taking it out, but on mild days, it's great. In high winds, the boat will turn sideways and will be propelled by the wind, so that saves power!
12/2/2019
4.0 out of 5 stars.
Luis Perez , HALLANDALE
Verified Owner
Nice little boat, easy to get on the water.
Not comfortable seating, engine a bit too slow.
10/12/2019
5.0 out of 5 stars.
Larry Nelson , PARDEEVILLE
Verified Owner
I have only had my boat on the water once. I am a disabled vet and find that I need help with it. By myself it is a struggle to assemble and launch. Once on the water I find that the trolling motor, included with the Fish -N - Troll package, is just adequate for the job. I would recommend a 50# trolling motor. Especially if you really want to troll with it. The quality of the boat and package are the best. This is the second one of these I have had. The first one had the wood floor that I like better than the inflated one. Although, it would make a good weekend project to make a wood floor, if your so inclined. Even though I am not able to appreciate my boat as much as I would like to I still give it good marks.
10/6/2019
5.0 out of 5 stars.
Trudy Brock , Detroit
Verified Owner
I love it, even though I only went on it twice this summer. Due to the lakes being contaminated and I couldn't eat the fish, I haven't really had the chance to enjoy it.
9/13/2019
5.0 out of 5 stars.
Giles Watson , WINFIELD
Verified Owner
I purchased SE 9 to use when traveling in our fifth wheel. Great boat. Small enough for storage in camper but large enough for my wife and I to fish from. Easy set up and take down. Trolling motor works fine and gives us plenty of time on the water. Would like to see a bigger storage bag. I use the supplied bag for parts, pumps , oars etc. then use a large plastic construction debris bag for boat. I purchased the small 12 volt pump and use it for initial inflation and then top off with foot pump. Very quick set up. Very happy with this little boat.
9/5/2019
5.0 out of 5 stars.
Kathleen Edwards , BONITA SPRINGS
Verified Owner
The SE-9 is perfect! I packed it and my gear into 3 cases and took all to Austria for the summer. I left it there to use during next summer and thereafter. Works perfectly with a Torqueedo electric motor on the many alpine lakes that Austria offers. So easy to assemble!
4/20/2019
5.0 out of 5 stars.
Harlan Ross Mickelson , VAIL
Verified Owner
Bought the boat to use with our 5th wheel trips. Works great and as advertised, stores easily in the basement of the 5th wheel. Setup is reasonable, but recommend getting the electric air pump as it cuts the install time down dramatically. Electric motor works good, mount board as high as you can on the alum. tubes. Even with a large battery, which costs more that the motor, you will enjoy a slow comfortable ride. We really enjoy the boat and have had as many a four people in the boat. Break down and packing goes fairly easy, recommend not leaving the blow up floor in the boat when you fold it back up as it makes the boat too large to comfortably get it back in the bag. All in all, a good decision and hope to have it many years.
show full review ▼
Sea Eagle 9 Discount Packages
SE9 Inflatable Floor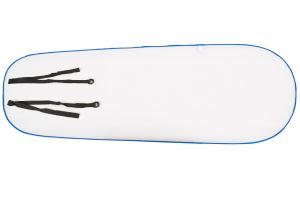 Double Layered Reinforced 4" thick I-beam constructed 38 mil PolyKrylar™ inflatable internal floor securely seated within an indestructible external nylon fabric protective sheath outer layer.
Able to be inflated to 2 psi verses traditional less than 1 psi floors.
*Non-compatible with Classic SE9
A42 Foot pump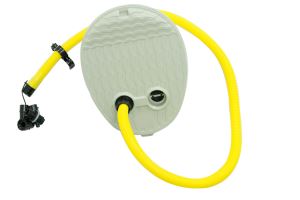 A high capacity foot pump made of durable ABS plastic that packs down for easy travel. Comes with a set of adapters. *For use with unsupported fabric (white) hulls only
AB252 Oar Set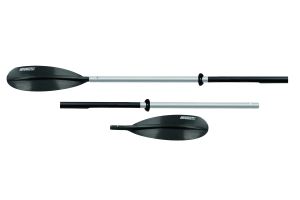 Our AB252 Oars will row Sea Eagle PackFish7™, SE9 and the discontinued models SE6, SE8 & 124SMB at a surprisingly brisk pace. Aluminum shaft with ABS plastic blades. Total length is 60 inches long. One pair of oars.
Carrybag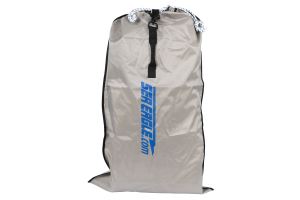 Great for storing or transporting your Sea Eagle SE330, SE370, SE8, SE9, and Wave Slider™. Recommended for a variety of accessories with larger Sea Eagle models. Made with heavy duty 440 denier nylon fabric. Measures 26"x48". Comes with convenient carry strap and drawstring.
*Only Sport Kayak and Motormount Boat Packages (minus the motormount frame and wooden seats) fit entirely into the Carry Bag. However, we recommend the Carry Bag for use with a variety of accessories.
*Be sure to check baggage restrictions prior to traveling
13" High Fishing Infl. Seat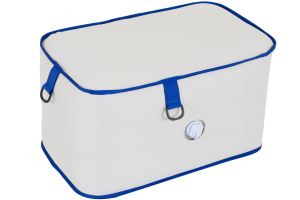 13" High Deluxe Inflatable Seat. Great for sitting high and gaining an enhanced vantage point.
4" High Rowing Infl. Seat
4" High Deluxe Inflatable Seat. Provides great comfort while allowing you to sit lower within your boat.
Small Repair Kit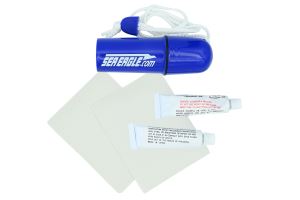 Repair kit for Motormount boats and Sport Kayaks. Includes two 4 in. x 3 in. white swatches of material and two tubes of glue.
Motormount-SE8 & SE9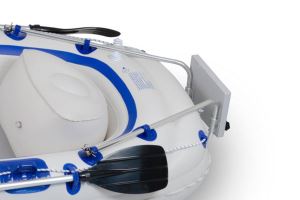 The new, improved MM3 Motormount works better because the aluminum tubing now bends back into the hull. The MM3 is solid yet light and easy to assemble. It can carry a 3 hp engine on the SE9.
Fits models produced after 1985.
Watersnake Venom 34
The white composite shaft and stainless steel propeller shaft combine with the weedless propeller to deliver quiet performance whether trolling or holding position in the current for casting.
A lightweight, inexpensive, electric, saltwater motor that's built to last. Anti-corrosive paint and stainless steel parts allow you to take this motor into fresh, brackish and salt water without worry.
A very important feature is the Digital Voltmeter Display. This allows you to judge immediately how much power you have remaining and how far you can go. A good rule of thumb is to stay above 11.8 volts.
*Can be used with 10.6sr Sport Runabout. Cannot be used with 300x Explorer Kayak.
**Battery not included.
Motor cannot ship to Louisiana.
***Coast Guard requirements dictate that each ungrounded current-carrying conductor must be protected by a manually reset, trip-free circuit breaker or fuse.
Covered by the Watersnake 1 Year Warranty
All Sales are final. This item is not covered by the Sea Eagle 120 Day Trial.
Canopy-smaller boat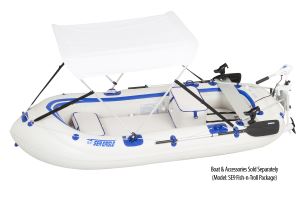 Keeps you cool and protected from the harmful UV rays of the sun. In a sudden rainstorm, it keeps you dry. PVC Coated polyester canopy & folding aluminum tubing. Easily folds down while out on the water when needed. Perfect for clearing the way to fish!
Fish-n-Troll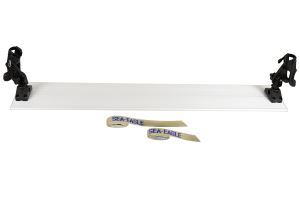 Transform your FastTrack™, Explorer Kayak or Sea Eagle Motormount Boat into a fishing and trolling machine in mere seconds!
Baitcaster Interior Diameter: 1.30"
Mount Dimensions: 4" x 2" x 2"
Bolting Dimension: 1 5/16" x 3 3/16"
Free Shipping
All Sea Eagle orders with this product will receive Free Ground Shipping to the lower 48 U.S. States.
Express shipping and delivery to Alaska, Hawaii and outside the United States are also available for an additional fee. Shipping rates will be displayed on our shopping cart page.
Offer Valid through 9/30/2020
Sea Eagle Used Boats
have

never been damaged, punctured or patched

have been

test inflated for 48 hours

might have very minimal wear (no barnacles or algae)
are covered by our regular 120 day

money back guarantee

and

three year

bow-to-stern warranty, just like our new boats.
might contain prior-generation components
Delivery Estimator
Starting at $499.

5 great packages to choose from! Click Here.