About the 285 Frameless Pontoon Boat Inflatable Fishing Boat
The unique U-hull configuration of this one man fishing boat provides the maximum fishing space with the least amount of hull weight.
The Hunter Green 285fpb is a stealthy inflatable boat that's perfect for fishing or hunting. It goes anywhere, sets up in just 5 minutes and can fit in the trunk of a car.
About the Frameless Fishing Series
Sea Eagle's Frameless Fishing Boats are roomy, lightweight, ultra-portable, and pack into a relatively small bag in relation to their sizes. They can be stowed in small spaces because they have no frames. They don't require a trailer so you can carry them to the most remote, hard to reach locations where fish hide most!
Great for lakes, rivers, bays, creeks or almost any body of water. Sea Eagle Frameless Fishing Boats will take you where you want to go and where most other boats wouldn't dare!
Large air chambers allow these Frameless Fishing Boats to support an incredible amount of weight yet draft as little as 4 inches of water. Meaning you have access to shallower waters where heavier boats don't!
The 285fpb and STS10 are equipped with universal Scotty™ Mounts so you can customize these two models as you wish! Outfit them with any Scotty accessory you like. Sea Eagle offers an assortment of Scotty™ accessories to suit your needs. The PackFish 7 features 2 built-in rod holders to keep your rods secure.
| | |
| --- | --- |
| Person Capacity | 1 |
| Hull Weight | 30 lbs. (42 lbs. with wooden floorboard and motor mount) |
| Length | 9 ft. |
| Width | 4 ft. |
| Interior | 6'2"x1'4" |
| Load Capacity | 1 person or 450 lbs. |
| Deflated | Approx. 24" x 14" x 12" |
| Chambers | 3 |
| Tube Diameter | 16" |
| Air Valves | 3 Recessed One Way |
| Inflation time | 5 min. |
| Seam | Quadruple Overlapping Superior Glued Seams |
| Material | 1000 Denier 36 mil |
| Engine Capacity | 3hp (20" shaft minimum, 45 lbs. max weight) or 55 lb. max thrust (min 30" shaft, 45 lbs. max weight) |
| Floor | 1000 Denier Reinforced |
| Speed Estimates | 3-4 mph |
| Inflation Pressure | 3.2 psi |
Certifications
Standard Features
NMMA and CE Certified
Hunter Green Color
Full fabric floor
Step bench/footrest
4 Carry Handles
Raised oarlocks for better rowing
Printed instructions
285 Frameless Pontoon Boat in the news
Positioned well above the water line, anglers now get a better view of their target areas.

You can stand in this boat, which can be really helpful in stillwater fishing, as you can see fish much farther away and you can cast much farther.
285fpb Reviews
(89 total, avg. review: 4.6 out of 5)
1/12/2019
Larry Kelm , CHANNAHON
Verified Owner
I love the boat. Did not use it much in 2018 as I had rotator cuff surgery in September. I will make up for it this year. The ease it is to put together and getting it on the water is great. I also bought the trolling motor and it has plenty of thrust. I would recommend this boat to anyone looking for a small boat. The only drawback is I wish it was a little wider.
1/9/2019
Chad Dean , CASPER
Verified Owner
Love it. Easy to pack in and out. Easy to set up. Great on the water. Highly recommended!
1/9/2019
Robert Dashiell , Leesburg
Verified Owner
I love my Eagle. I do have a suggestion tho. I'm trying to come up with some sort of Keel that I can attach up front. Its needed because it has a habit of swinging around when you're working the bank
11/28/2018
Tim Banks , NEWLAND
Verified Owner
Quality is great.
Customer service is great.
Trying to paddle the boat with the current system is challenging due to the height of the seat.
I fish rivers with current. The boat works great in calm rivers.
11/13/2018
Neil HELM , UPLAND
Verified Owner
I got this boat for my birthday in October and have been out on it 4 times now, 2 on Silverwood Lake and 2 at Dan Point Harbor. All four times I've had a great time fishing in the 285FPB and caught a bunch of fish. The 1st time on the lake I didn't have my motor and the wind came up and pushed me into a bunch of rocks and a rock cliff but the boat handled it very well with no problems. It's a very good fishing boat, very durable, very stable, good leg room, great swivel seat and I added a couple of accessory glue pads up front for more options.
more ▼
11/10/2018
John Rist , MYRTLE BEACH
Verified Owner
The SeaEagle 285fpb is a great little boat. It is sturdy, durable and safe. I'm an amputee and despite some difficulty getting into the boat, I feel very safe and stable sitting in this boat. I've added a verticlal handicap bar to the floorboard and that assists me in getting up out of the seat which for me was a little too low. I added a taller pedestal to get me higher in the seat since I'm 6' 4" and 240 lbs. This creates a problem with the oars since they don't function properly when the rowing angle changes due to the new higher seat profile. That's just what I have to do to make this pontoon work for me.
more ▼
The trolling motor is quite adequate in getting me around the water.
I've added a fish finder and an anchor to the standard package and both are very functional.
I can give this boat high marks!
John Rist
10/1/2018
Robert Fitz , FARMINGTON
Verified Owner
I like the boat very much. I am sorry to say I have only used it once but was pleased with it. It is very easy to inflate, especially with your electric compressor. The only problem I had was finding a way to attaché an anchor rope that was away from the motor and held the bow into the current.
9/6/2018
Charles Adkins , Goodyear, Az
Verified Owner
Wow, Where do I start? I just got into fishing. Started researching small watercraft that would fit in my small truck bed. Wanted something light weight, durable and easy to assemble. I didn't like the idea of my feet dangling in the water, also wanted the ability to stand up in the boat. Well the Sea Eagle 285 fpb fit my requirements. SeaEagle.com website is great. So easy to navigate and understand. Called in to customer service, Will was my representative. He made the buying process so easy. My 285 showed up in less than week. Ja, Ja I was so excited I put it together right in my living room. Took about 25 min first time. I've been tricking it out. Added Scotty mount anchor and additional Scotty rod holders. I'm really happy that I installed Fishfindermount.com to hold my Lowrance fish finder. First trip out was to Lake Pleasant, Az. My 285 performed great. I must admit being 6ft tall weighing 260 lbs made standing a little scary at first, but I got use to, even in choppy water. 1st Fish
8/30/2018
F. B. Thurman , NASHVILLE
Verified Owner
Really is durable and easy to move around. I put a 50 pound thrust Minn Kota and never have to go past 4 on speed control. Can not say any negatives about the boat. I knew before buying it about the wind but its ok, just move into another cove. I am 68 and this is just what I needed but would recommend it for all ages.
8/30/2018
Anthony Bocking , TUCSON
Verified Owner
Great little boat. Did have water from small waves come in the front flap when under power. Had to clip the flap up to stop water coming in.
Thanks
Key Features:
U-frame Design

The unique shape of this solo fishing boat permits the maximum use of total fishing space with minimum total weight. The hull weighs a mere 32 lbs. making this super lightweight to pick up and transport. This same fact means the Sea Eagle 285 Frameless Fishing Boat is our fastest and easiest to assemble fishing boat! As such, it easily packs in a car trunk and when not being used to haul fish, stows conveniently in an apartment closet.

Raised Fabric Floor Design

Unlike traditional inflatable boats the Sea Eagle 285 Frameless Pontoon Boat has a raised fabric floor which barely touches the water. This means when you row or motor this boat it is remarkably fast and responsive for its size! It also means that the fabric floor has less exposure to any sharp objects. Made with our strongest 1000 denier polyester polymer coated fabric this little boat is a super strong fishing machine!

Rig It Your Way

One of the truly nice features of the Sea Eagle 285fpb is that it can be rigged in many different ways with many different kinds of fishing accessories. This boat comes with two universal Scotty™ Mounts that can hold a variety of Scotty™ fishing accessories but that is only the beginning of the different ways you can rig this boat. You can also attach Scotty™ mounts to the floorboard to hold a various accessories from additional rod holders to a cutting board and fishing electronics.
285 Frameless Pontoon Boat Discount Packages
This comfortable Swivel Seat can be used on many of our Sea Eagle boats. Great for use on Frameless Fishing Boats and FoldCats!
The seat can also be mounted on a 54 qt. cooler which will fit snugly into any of these boats.
*Please note, additional attaching hardware and bench are not included. This seat CANNOT be attached to a single bench seat (WS25, WS2505 or SPW).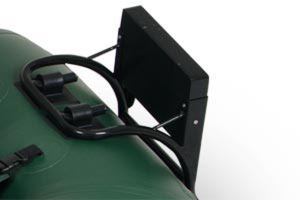 Motormount for Frameless Fishing Boats made of painted steel holds up to a 3hp engine or up to 74 lbs thrust electric motor. 18"x11"x11", 6 lbs.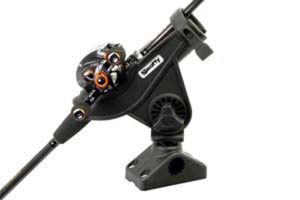 Scotty rod holder and side/deck mount
Baitcaster Interior Diameter: 1.30"
Mount Dimensions: 4" x 2" x 2"
Bolting Dimension: 1 5/16" x 3 3/16"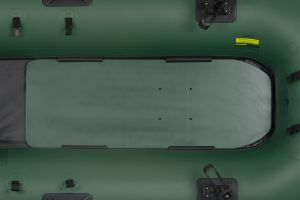 The hunter green floorboard provides a rigid stable platform for fisherman to stand and cast. 15 3/4" x 43" x 1/2" Marine plywood floor for 285fpb. Weighs just 7 lbs.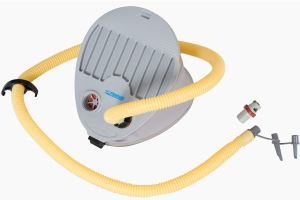 A high capacity foot pump made of durable ABS plastic that packs down for easy travel. Comes with triple styled nozzle for use on deluxe white one-way valves and pipe valves on unsupported fabric (white) hulls. Also included is a Recessed Valve Adapter for use on supported fabric (grey) hulls.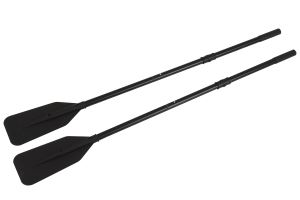 Oar Set for the 285fpb Frameless Pontoon Boat. Works perfectly with the green 285fpb or the classic grey 285fpb. Will work with any boat up to 9' that utilize the same oarlock system. 3/8" hole in shaft to accommodate oar pin.
60" long, weigh 1.5 lbs each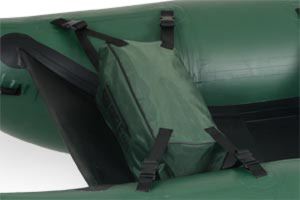 Clip on bow bag for Green 285fpb holds fishing lures, pliers, fishing knife and other accessories close at hand. 7" x 7.5" x 18.5"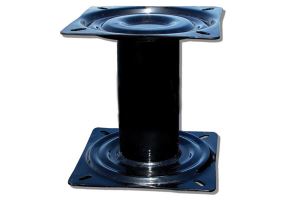 7" Pedestal for Swivel Seat used on Foldcats and 285FPB.
Includes hardware.
This Release A Seat allows the Swivel Seat to be installed or removed easily. (Max weight capacity rating of 250 LBS.)
Stripping Apron with fish ruler for 285fpb.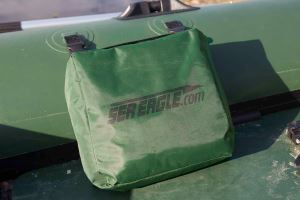 Clip on green stow bag. Great for easy storage. Useful for storing first aid kits, fishing accessories.
Repair kit for 1000 Denier PVC boats. Includes hull repair material, tube of glue & Halkey-Roberts valve replacement tool.
Minn Kota electric motors are known to be the most reliable electric motors on the market. The Endura 30 brings you the reliability and performance you've come to expect from Minn Kota at a great value.
While 30 lbs of thrust might not work for a heavy fiberglass boat, it is more than enough for our boats and kayaks.
Even our Transom Sport boats will perform well with this motor where currents are light.
30" shaft
**** Not suitable for Bow mounting
***For FRESHWATER only.
**Battery not included
*Coast Guard requirements dictate that each ungrounded current-carrying conductor must be protected by a manually reset, trip-free circuit breaker or fuse.
Covered by the Minn Kota Endura Warranty
All Sales are final. This item is not covered by the Sea Eagle 180 Day Trial.
The white composite shaft and stainless steel propeller shaft combine with the weedless propeller to deliver quiet performance whether trolling or holding position in the current for casting.
A lightweight, inexpensive, electric, saltwater motor that's built to last. Anti-corrosive paint and stainless steel parts allow you to take this motor into fresh, brackish and salt water without worry.
*Can be used with 10.6sr Sport Runabout. Cannot be used with 300x Explorer Kayak.
**Battery not included.
Motor cannot ship to Louisiana.
***Coast Guard requirements dictate that each ungrounded current-carrying conductor must be protected by a manually reset, trip-free circuit breaker or fuse.
Covered by the Watersnake 1 Year Warranty
All Sales are final. This item is not covered by the Sea Eagle 180 Day Trial.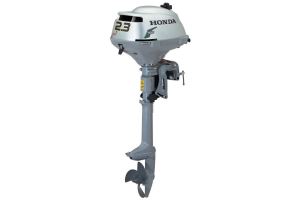 One of the world's lightest four-stroke outboards. The Honda BF2.3 is so light, it rivals many two-stroke 2HP engines and electric motors, without the battery. While still maintaining Honda's reliable, efficient four-stroke design!
Covered by the Honda Marine Warranty
All Sales are final. This item is not covered by the Sea Eagle 180 Day Trial.
Free Shipping
All Sea Eagle orders with this product will receive Free Ground Shipping to the lower 48 U.S. States.
Express shipping and delivery to Alaska, Hawaii and outside the United States are also available for an additional fee. Shipping rates will be displayed on our shopping cart page.
Offer Valid through 2/28/2019
Sea Eagle Used Boats
have

never been damaged, punctured or patched

have been

test inflated for 48 hours

might have very minimal wear (no barnacles or algae)
are covered by our regular 180 day money back guarantee and three year bow-to-stern warranty, just like our new boats.
might contain prior-generation components
Delivery Estimator
Starting at $899.

4 great packages to choose from! Click Here.