FREE BP12 Electric Pump WITH THIS BOAT!
Inflate & deflate faster with: BP12 Single Stage Electric Pump. A $119 Value. Offer available for a limited time! **
About the NeedleNose™ 14 Inflatable Board
Featuring a full length electric pattern diamond deck EVA foam pad, convenient built-in paddle saving PaddlePocket™ holder and a removable skeg! This is the world's best tracking inflatable SUP ever!
The NN14 is specifically designed for persons looking to combine touring performance in the most variety of environmental conditions. With increased floatation, rigidity and the most stability. You'll be able to SUP most every day!
This Breakthrough Design features: a straight-line hull, patented razor sharp, wave piercing bow, elegantly curved touring shape, full length electric pattern EVA diamond deck pad with custom performance kick tail and the ability to paddle faster, further and easier!
Best suited for those weighing 275 lbs or less.
About the NeedleNose™ Series
The patented NeedleNose™ iSUPs are by far the best tracking iSUPs in the world! Able to perform in a vast array of environmental conditions where other inflatables wouldn't dare! Get the performance of a rigid board plus the convenience of an inflatable and more!
Aptly named NeedleNose™ these iSUPs feature a patented razor sharp, wave piercing bow that allows you to slice through the wind, waves, current and water. Something that no other iSUP can offer. The elegant curved touring shape with a straight-line NO UPTURN hull design enables you to customize your skill and performance levels with 1st, 2nd and 3rd gear standing locations (see video). A diamond patterned deck pad is easier on your feet with a kick tail that allows pivot and kick turning on a dime! These features make the NeedleNose™ iSUPs the fastest, sleekest, best inflatable SUPs in the world!
Say goodbye to unnecessary airline fees and damaged SUPs! These weigh under 35 lbs. and are designed to be checked as baggage. (US Patent #8,821,204)
| | |
| --- | --- |
| Person Capacity | 1 |
| Hull Weight | 34 lbs. |
| Length | 14 ft. |
| Width | 30 in. |
| Load Capacity | 1 Person or 275 lbs |
| Deflated | Approx. 32" x 17" x 11" |
| Air Valves | One Way |
| Inflation time | 9 Minutes |
| Seam | Quadruple Overlap |
| Material | 1000 Denier Reinforced Drop Stitch |
| Board Thickness | 6" |
| Inflation Pressure | 12-15 psi |
| Volume | 300 Ltr. |
Patented NeedleNose™ design (US Patent #8,821,204) razor sharp wave and water piercing bow
Straight-line hull design with NO UPTURN increasing performance, speed and efficiency
Large, removable, rear, center, skeg
Two leading side skegs for better tracking
Conveniently located front grab handle
Elastic cords and multiple D-Ring attachments at bow
Center seat D-Ring attachments
Large rear D-ring attachment for leash, towing, etc...
Proper carrying position balanced middle carry handle
15 PSI max air pressure capacity
Deluxe recessed Halkey Roberts style air valve
EVA foam ELECTRIC PATTERN DIAMOND DECK PAD
EVA foam kick tail
Built-in paddle saving PaddlePocket™ holder
NeedleNose™ 14 in the news
NeedleNose™ 14 Reviews
5.0 out of 5 stars.
(18)
Kelli Frank
Verified Owner
1/8/2016
5.0 out of 5 stars.
I love, love, love my new Needle Nose SUP!! It's perfect for me. I got the 14' and I thought maybe it would be too long, but I think it's just right for me and my dog Maui. She loves it too compared to my last one, she slips off a lot less, lol. The board is soooo easy to inflate and deflate and now I can take it anywhere. I'm super happy with it. Thanks!
Steve Spring-rice
Verified Owner
6/3/2017
5.0 out of 5 stars.
Awesome product, really happy with the boards. Well constructed and only took a week to arrive in New Zealand. Thank you for your amazing service.
Thomas Weldon
Verified Owner
9/28/2017
5.0 out of 5 stars.
We are currently using the two NN14's I purchased from you in our adaptive paddle program. We have modified the paddleboards to accept two stations for seated paddling. One station is designed to accommodat people with various physical challenges and the other station for able-bodied people. I also have the equipment mounted on kayaks, but we have found that paddle boards are much easier to get on and off of than the kayaks. We do most of our paddling on lakes and slow moving water so the lack of rocker and fine entry at the bow makes for the low resistance paddling needed for our folks. Also, the well placed "D" rings makes it easy to mount adaptive equipment. Because the NN14 works so well for our needs, we anticipate purchasing another one soon. Finally, I'd like to say that the battery for the first electric pump I bought failed within a year or so of purchase. Your company promptly sent a replacement battery out to me at no charge. I thank you for that. Great product, great customer service. Thanks
Thomas Bowman
Verified Owner
11/29/2017
5.0 out of 5 stars.
I love my NN14C iSUP, and have been paddling every weekend since it arrived. At first I did a lot of flatwater paddling in the Virginia Beach/Norfolk area. Rivers, lakes and Norfolk harbor. Then I joined the Virginia Paddlers and tried some whitewater paddling on the James, Jackson and New rivers. The SUP worked very well in all those environments. I even put a bicycle on the nose, and paddled the New River from Foster Falls, VA to Allisonia, VA...then deflated the paddleboard, and biked back to Foster Falls with the SUP in the backpack!

All you need to get out on the water. Includes NeedleNose 14, high pressure SUP pump, 3 part adjustable composite fiberglass SUP paddle, repair kit, and carry all backpack.
Package price and FREE SHIPPING offer valid through Tuesday, November 30, 2021
a $1,345 value for

just $799

through Nov 30 *
NeedleNose Deluxe Package combines the benefits of both sit down and stand up paddling. Includes NeedleNose 14, SUP pump, SUP paddle, AB30 paddle, Deluxe Kayak Seat & Backpack.
Package price and FREE SHIPPING offer valid through Tuesday, November 30, 2021
a $1,463 value for

just $899

through Nov 30 *
Swivel Seat Fishing Rig Package
From SUP paddling to SUP fishing in just seconds! Get to the fish faster with our swiftest NeedleNose iSUP and get a higher view of the water with the comfortable Swivel Seat Fishing Rig Package with 2 Scotty™ Rod Holders - keeps your rods secure & out of the way and allows you to stand up or sit down while fishing and paddling!
Package price and FREE SHIPPING offer valid through Tuesday, November 30, 2021
a $1,653 value for

just $1,049

through Nov 30 *
The QuikRow™ Package offer limitless options: paddling, fishing and rowing! Best of all - it still fits in the trunk of your car! *Seat may vary.*
Package price and FREE SHIPPING offer valid through Tuesday, November 30, 2021
a $1,851 value for

just $1,149

through Nov 30 *
Starting at $799.

4 great packages to choose from! Click Here.
Backpack (GRAY)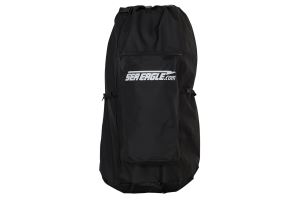 New All Purpose Large Gray BACKPACK! Great for carrying: HB96, LB11, LB126, NN116, FS126 and Sports Kayaks! With 4.5 cubic feet of main compartment space plus and additional 520 cubic inches in the front pocket, there's plenty of room for your Sea Eagle and more!
*Be sure to check baggage restrictions prior to traveling.
SUP Paddle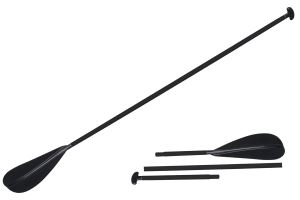 Our Stand Up Paddle is rugged, light-weight, and easy to use. The dihedral blade allows for an easy "pull" through the water and effortless exit. The ergonomic handle grip provides consistent blade oriented strokes and together they maximize complete efficiency.
The teardrop shaped concaved 16" long x 8 1/2" wide spoon blade has a kickback angle of 7° increasing not only the amount of water you catch and hold but also the actual catch phase of your stroke as well. Thus lengthening the power phase while allowing you to keep the paddle close to your SUP creating more lift.
SUP Pump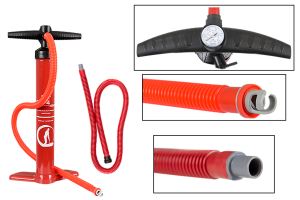 This SUP(Stand Up Paddle) Pump's special design allows for low effort and quick inflation. Made with a reliable and strong aluminum shaft. The SUP Pump comes equipped with hose, recessed one-way valve adapter and a conveniently located, easy visible, in-line pressure gauge and the option of selecting between single action (down stroke only) and double action (both up and down strokes) inflation. SUP Pump capable of inflating to 29 PSI.
Use double action for high volume and lower pressures and single action during increasing resistance cause by higher pressures.
Includes 2nd hose with Boston Valve and Pipe Valve attachments.
Slide in Skeg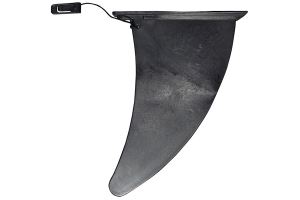 An excellent accessory to increase your hulls ability to track straight and true resulting in less yawing (side to side swinging) of your hull during paddle strokes, thus improving paddling efficiency.
Large 9 1/2" removable slide in skeg for Stand Up Paddle Boards, FastTracks, Explorers and Travel Canoe.
*Note your craft must have the grooved base plate to accommodate a slide-in skeg.
Repair Kit
Repair kit for 1000 Denier PVC boats. Includes hull repair material, tube of glue & Halkey-Roberts valve replacement tool.
7'10" AB30 paddle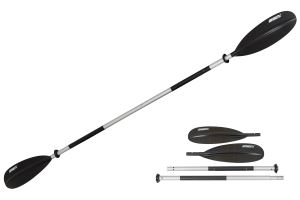 7'10" Double end asymmetrical paddle is great for all our canoe, kayak and paddleski models. The paddle features aluminum shafts with fiberglass reinforced nylon blades. It has a 65 degree feather capability. Snap lock buttons to disconnect into 4 parts. Weighs just 2.62 lbs.
Deluxe Inflatable Kayak Seat
Deluxe Inflatable Kayak Seat. A great inflatable seat that provides extra back support for paddling, rowing or fishing. Allows you to sit 5" off the floor with 14" of back support. Works in all of our kayaks (except the RazorLite 393rl & 473rl) and 285fpb.
Swivel Seat Fish Rig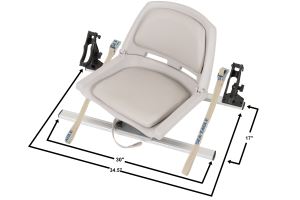 Turn your Sea Eagle iSUP and iK into a fishing machine! Attaches with ease to existing d-rings in less than 60 seconds flat!
This Swivel Seat Fishing Rig is the perfect accessory for Sea Eagle iSUPs, Explorers™, and FastTracks™ Series. (Weighs only 15 lbs.)
Kit includes: aluminum frame base, swivel seat, two Universal Scotty Rod Holders with universal deck mounts and two 6ft quick release cinch down straps.
* One-time pre-assembly that takes just a few minutes required. Non-compatible with RazorLites™, Sport Kayaks, Travel Canoes™, and PaddleSki™ 437ps
QuikRow Kit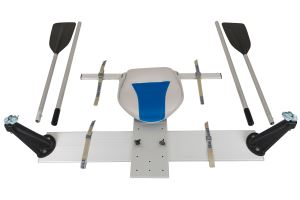 A simplified fixed frame rower that attaches to kayaks and SUPs in less than 60 seconds flat! Easy to set up and easy to use - the QuikRow™ will transform an ordinary kayak or SUP into a rowing and fishing machine!
The perfect accessory for Sea Eagle iSUPs, Explorers™, FastTracks™, and Pre 2021 PaddleSki™ Series. (Weighs only 20 lbs.)
QuikRow kit includes: aluminum frame rowing base, swivel seat, (2) 2 part 7'11" oar set w/ oarlock and oar pin, 2 quick release cinch down straps (length is determined by kayak/iSUP package).
*2 Sea Eagle self-locking straps included with kayak and iSUP packages (strap length is dependent on package requirements).
* One-time pre-assembly that takes just a few minutes required. Non-compatible with RazorLites™, Sport Kayaks, Travel Canoes™, and 2021 PaddleSki's or newer.
*The QuikRow™ Footrest (recommended for SUPs and Pre 2021 PaddleSki™) and Scotty® Rod Holders with Universal Deck Mounts are optional and can be purchase separately
*Seat May Vary
Scotty Rod Holder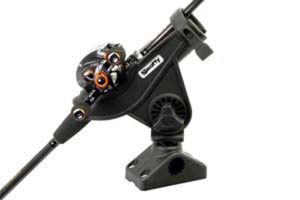 Scotty rod holder and side/deck mount
Baitcaster Interior Diameter: 1.30"
Mount Dimensions: 4" x 2" x 2"
Bolting Dimension: 1 5/16" x 3 3/16"
QuikRow Footrest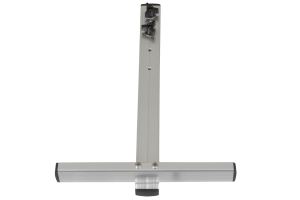 18" Adjustable footrest for the Sea Eagle QuikRow™
BP12 Electric Pump
The Bravo BP12 is a super efficient lightweight single stage high pressure piston pump that will inflate from 1 to 14.5 psi. Simply set the turn dial to your desired pressure setting, press the "on" button and this little workhorse will do the rest.
Included:
102" (8'6") cable w/alligator clips
72" (6') inflation hose
Recessed Valve Adapter
Weight: 4 lbs.
Dimensions: 8" x 4" x 5"
Maximum Draw 20 Amps.