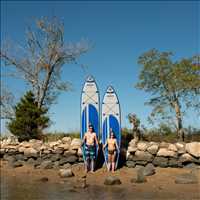 The New Sea Eagle Inflatable LongBoard SUP Series has been completely redesigned and transformed into a true hybrid SUP! Now you can sit, stand, surf, fish, tour, and perform yoga on these wonderful SUPs!
Our LongBoard iSUPs are now made with 6" thick drop stitch material to increase buoyancy, rigidity, and stability. We've also added 4" nose/entry rocker followed by a slight continuous board rocker and finish/exit with a 2" tail rocker!
These combined attributes increase the over all performance, handling, and stability of our LongBoard Series making it a true hybrid SUP that can be used while sitting, standing, surfing and touring!
A full length EVA foam Diamond Deck Pad provides excellent traction and maximum foot comfort while surfing and on extended tours. Custom Performance Kick Tail prevents slipping off the tail and assist with blind foot placement. Front and rear grab handles are right where you need them. The Paddle Pocket keeps your paddle nice and secure.
Best For:
Ocean

Yoga

Bays

Lakes

Flatwater Rivers
---
NN126
Learn More
Starting at $549
NN14
Learn More
Starting at $599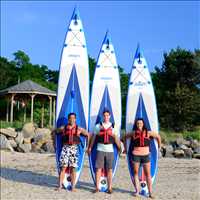 The patented NeedleNose™ iSUPs are by far the best tracking iSUPs in the world! Able to perform in a vast array of environmental conditions where other inflatables wouldn't dare! Get the performance of a rigid board plus the convenience of an inflatable and more!
Aptly named NeedleNose™ these iSUPs feature a patented razor sharp, wave piercing bow that allows you to slice through the wind, waves, current and water. Something that no other iSUP can offer. The elegant curved touring shape with a straight-line NO UPTURN hull design enables you to customize your skill and performance levels with 1st, 2nd and 3rd gear standing locations (see video). A diamond patterned deck pad is easier on your feet with a kick tail that allows pivot and kick turning on a dime! These features make the NeedleNose™ iSUPs the fastest, sleekest, best inflatable SUPs in the world!
Say goodbye to unnecessary airline fees and damaged SUPs! These weigh under 35 lbs. and are designed to be checked as baggage. (US Patent #8,821,204)
Best For:
Racing

Bays

Lakes

Flatwater Rivers
---
A Versatile Fishing Platform!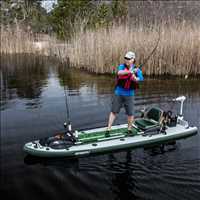 Sea Eagle Fishing Inflatable SUPs are the most versatile stand-up paddleboards in the world! Sit, stand, fish, motor, troll - designed for fishermen always on the go!
Extremely portable and affordable. These fishing SUPs are incredibly stable, easy to use, and set up in under 10 minutes.
Say farewell to lugging around heavy boats and trailers plus unnecessary fees! Hello to portability and convenience. Sea Eagle Fishing SUPs stow in your car trunk always ready to go!
Featuring: protective, non-slip EVA foam deck pads - perfect for standing or sitting, 360° swivel seats - for hours of comfortable seating, built-in Fish Rulers - to be certain your catch is of legal length, multiple D-ring attachment points - for attaching various accessories and gear, removable rear motor mount - for mounting up to a 55 lb. thrust electric motor, and conveniently located grab/carry handles - for ease of transport, launching and beaching
Best For:
Fishing
---
What our customers say:
');