About the 465ft FastTrack™ Inflatable Kayak
The Sea Eagle 465ft FastTrack™ combines all the features of it's smaller sister (the 385ft FastTrack™) with the ability to carry more cargo and persons.
Now featuring the new, patented, state of the art, external, rigid, inflatable NeedleKnife™ Keel for a faster, smoother paddling experience! (U.S. Patent #8,286,573 2)
About the FastTrack™ Series
Sea Eagle FastTrack™ Kayaks are sleeker and faster and than ever before! The FastTrack's™ combination of sleek, curved, touring shape with state of the art "NeedleKnife Keel" provides true rigid kayak performance with the benefits of an inflatable. Most importantly, the FastTrack™ is designed to be extremely safe and stable.
HIGH PERFORMANCE / ULTRA-LIGHT WEIGHT
A great feature is the fact that Sea Eagle FastTrack™ kayaks weigh far less than most all-rigid kayaks. Rigid kayaks can weigh 65-70 lbs, our Sea Eagle FastTracks™ weigh just 35 & 44 lbs respectively. This makes handling our kayaks a dream by comparison. Best of all, because FastTracks™ are inflatable they can be packed into a bag that's a mere fraction of their size!
Sea Eagle FastTracks™ are a breakthrough in design that combine high performance paddling with ultra-light weight and stow-able portability.
| | |
| --- | --- |
| Person Capacity | 3 |
| Hull Weight | 44 lbs. |
| Length | 15 ft. 3 in. |
| Width | 3 ft. |
| Interior | 14'2" x 18" |
| Load Capacity | 3 Persons or 795 lbs |
| Deflated | 30" x 19" x 9" |
| Chambers | 4 (port, starboard, keel, floor) |
| Tube Diameter | 9.5" |
| Air Valves | 4 Recessed One Way |
| Inflation time | 8 min |
| Seam | Electronically Welded, Quadruple Overlapped Main Seams |
| Material | 1000 Denier Reinforced |
| Engine Capacity | 34 lbs. thrust electric (max engine weight 15 lbs) |
| Floor | Removable High Pressure Drop Stitch Floor |
| Whitewater Rating | Suitable up to Class II |
| Inflation Pressure | 3.2 psi |
Certifications
Standard Features
NMMA Certified
2 Open and close drain valves
Front & rear spray skirts with storage below and elastic rope lacing for additional storage above
Separate inner High Pressure Drop Stitch floor for greater rigidity
Large, removable, swept back skeg at rear to control yaw and improve speed
Outside drop stitch high pressure keel at bow for true tracking
20 D-rings to secure seats and gear
State of the art NeedleKnife Keel
Bow and Stern grab handles
Hull material resistant to sun & saltwater
Nylon carry bag, repair kit & Printed instructions
465ft Reviews
(32 total, avg. review: 4.9 out of 5)
12/18/2018
Stephen Gillenwater , Mooresville, NC
Verified Owner
Just took my new 465ft out for its maiden voyage and could not be happier. I was afraid when I bought it that it might be to long to handle by myself but after being on the river paddling both down steam and up stream as a single paddler and the next day with a friend as a tandem I could not be more pleased. Very stable, tracks straight, easy to paddle and responds quickly. Sets up in about 15 min and deflates, dry and store in about 30 minutes. Very glad now that I bought the 465 as it has a lot more leg room and storage than the 385. This is my second Sea Eagle and my next planned purchase will be the Canoe. Thanks for the memories. Stephen Gillenwater
11/4/2018
Paul Vantol , GRAND LEDGE
Verified Owner
I just spent 254 days in my 465 ft! Starting in January of this year I spent two months on the Manistee River in Michigan fishing steelhead. The temps never got above 18 degrees going down to the lowest of 3 above zero. Then it was off to the Ausable River where I spent early spring pushing the paddle, five weeks on the water. Then the big adventure began. It was off to spend the next four months on Lake Superior in Michigan's upper peninsula. I rigged the 465 ft up with a deck cover that worked very well. I was able to load the 465 up with gear I needed plus one month of food supplies! Still keeping everything below the gunnels of the boat. Although very heavy I was able to paddle fairly easy as long as the big lake wasn't kicking two bad. With a low center of gravity I never once felt uncomfortable. The final part of my trip was spent back on the Ausable River. Covering the entire river 130 miles unsupported was a breeze loading the 465 up with all needed. Absolutely recommend this kayak for extended trips.
3/30/2018
Richard Frommeyer , ALEXANDRIA
Verified Owner
We love our kayak. It is perfect for exploring and easy setup and easy storage in our RV. Would definitely buy it again.
3/17/2018
Robert Nelson , Coral Springs
Verified Owner
I just want to say that I LOVE my kayak. Honestly, I did have an issue with it where it started to develop leaks along the hull's seam after using it lightly for approximately 4 years. I contacted SeaEagle, and they have treated me like a VIP customer. They have been wonderful. After I supplied them with a picture of the defective seam, they willfully sent me a replacement kayak. I am so pleased with my kayak, and the reputable company that manufactures it. I cannot say enough good things about them. Feel comfortable when you order one of their items that number one, it is a quality product, and number 2, they stand behind their products. Thank you SeaEagle!
12/26/2017
Samuel Garnett , Spokane
Verified Owner
Wow what a wonderful AWESOME boat. It's everything I expected. First I would like to thank my Seaeagle rep for being well informed and trained. She was able to confidently answer all my questions.
My criteria for a family flat water boat:
-Customer Service after purchasing
-Good Warrantee
-Stable in water with wakes
-Durable
more ▼
-Versatility of boat:1-3persons or more if small kids, -Used for lessiure and fishing.
-Price
- purchased this boat to be used primarily in flat water with my 4yr old who and my wife or additional kids/passengers.
-It's very stable when large wakes roll by/under the boat from passing motor boats.
-This boat is easily piloted by one person when alone or with two additional passengers whom are paddling or not paddling.
-The boat tracks straight as designed with little effort. Great when it's just me and my boy and one or two of his friends. If they are playing in the water, jostling back & forth the boat maintains stability & tracks true while I'm paddling.
12/6/2017
Warren Steppan , Portage la Prairie, MB
Verified Owner
The boat exceeded all expectations that we had. It's incredibly stable, easy to maneuver and compact. A great addition to our collection of our SUPs and 12.6 run-about. Sea eagles craftsmanship continues to impress.
10/31/2017
Douglas Prichard , Invermere
Verified Owner
We have enjoyed our Seaeagle Kayak immensely this Summer. Once we learned how to assemble it, we had no problems! It is durable comfortable easy to transport and store. Being first time kayak owner's we feel we made the right decision with our purchase of the Seaeagle, and would highly recommend it to others! Can't wait for Summer to return and get back on the water. Thanks Seaeagle
7/26/2017
Donald Larsen , TINLEY PARK
Verified Owner
Our Fast Track 465 FT is everything we expected. Easy to set up, comfortable to paddle and ride in. Very stable, and tracks very well.
6/17/2017
Chik Shank , MIAMI
Verified Owner
I love my SeaEagle kayak! It's fast, roomy, easily maneuverable, built like a tank and couldn't be more comfortable. It stores in a small space and fits in the back of my mini-SUV with lots of room to spare for our mountain bike and travel gear. And in my experience, and that of my friend who's had his SeaEagle for a year more than I've had mine, their customer service is as good as it gets! Kudos more ▼ and thanks to SeaEagle :-)
4/28/2017
Barry Andersen , Horse Cave
Verified Owner
Very happy with setup and tracking in the water. The 465ft could use twice as many rings to increase adjustabily.
465ft FastTrack™ Discount Packages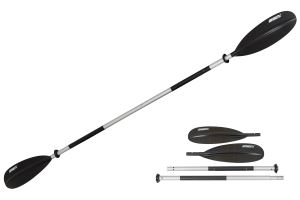 7'10" Double end asymetrical paddle is great for all our canoe, kayak and paddleski models. The paddle features aluminum shafts with Fibrylon blades. It has a 65 degree feather capability. Snap lock buttons to disconnect into 4 parts. Weighs just 2.62 lbs.
Deluxe Inflatable Kayak Seat. A great inflatable seat that provides extra back support for paddling, rowing or fishing. Allows you to sit 5" off the floor with 14" of back support. Works in all of our kayaks and 285fpb.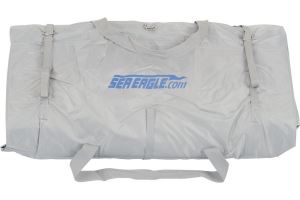 The real time saver of this bag design is the way it wraps around the boat hull. You don't have to spend time folding the boat to the exact proportions of the bag. Just roll up the boat and place on the open bag, and wrap the flaps around it.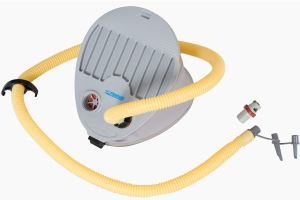 A high capacity foot pump made of durable ABS plastic that packs down for easy travel. Comes with triple styled nozzle for use on deluxe white one-way valves and pipe valves on unsupported fabric (white) hulls. Also included is a Recessed Valve Adapter for use on supported fabric (grey) hulls.
This weed-less swept back skeg is great for those who would rather not get hung up on weeds or drag them along. The 13" long swept back design works as a weed-less rudder that minimizes yawing (side to side swinging) during paddling stokes and assist with forward propulsion due to it's reflex technology. At only 7" deep this skeg allows you to travel in much shallower waters.
Large (13" Long x 7" Deep) swept back removable slide in skeg for Stand Up Paddle Boards, FastTracks, Explorers, and Travel Canoe.
*Note your craft must have the grooved base plate to accommodate a slide-in skeg.
Repair kit for 1000 Denier PVC boats. Includes hull repair material, tube of glue & Halkey-Roberts valve replacement tool.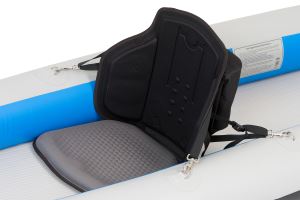 Tall Back Kayak Seat latches securely to the d-rings on many of our Sea Eagle hulls. Removable zippered rear pouch for storage. Made of thermal molded foam. Provides great back support with an 19" high backrest. Great for any outing. Lightweight and durable.
The molded foam construction gives you a low sitting position to for maximum stability in rough whitewater and excellent back support.
Only weighs 2 lbs.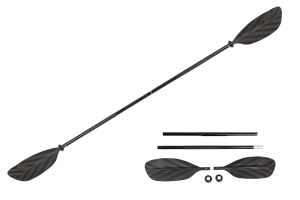 The asymmetrical spoon blade design of this Kayak paddle allows for smooth entries and an even pull, maximizing the power from your stroke. They require less gripping force, less effort per stroke. Weighs 2.92 lbs. Snap lock buttons to disconnect into 4 parts.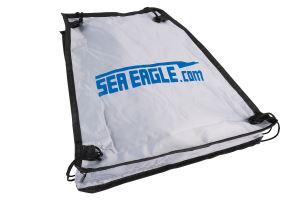 This attractive bag fits on our kayaks and is great for storing snacks, drinks, repair kits or a spare pump.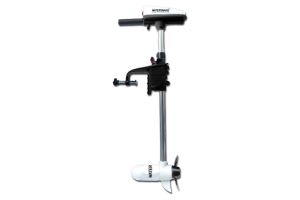 A light weight, inexpensive, electric, salt water motor that's built to last. Anti-corrosive paint and stainless steel external & internal parts allow you to take this motor into fresh, brackish and salt water without worry.
The adjustable transom mount makes it easy to use this motor with our 380x and 420x Explorer Series Kayaks and FastTrack Kayaks. Two-blade, weedless design propeller.
*For use with kayaks only. (Cannot be used on Explorer 300x.)
**Battery not included.
*** Coast Guard requirements dictate that each ungrounded current-carrying conductor must be protected by a manually reset, trip-free circuit breaker or fuse.
**** Not suitable for Bow mounting
Not for use with PaddleSki, Motormount Boats, FoldCats, Frameless Fishing Boats, FSK16 or Sport Runabouts. Not compatible with HelmsMate Extension Handle.
Covered by the Watersnake 1 Year Warranty
All Sales are final. This item is not covered by the Sea Eagle 180 Day Trial.
Motormount kit for FastTracks, and Explorers. Holds up to a 34 lb thrust electric motor with a max motor weight of 15 lbs.
*Not compatible with Explorer 300x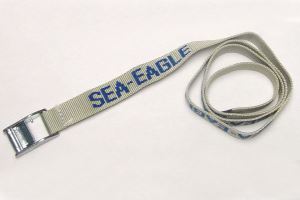 These straps come in handy to keep your gear in place. They are especially good for keeping the POWERCENTER safely strapped to the boats. 48 inches long.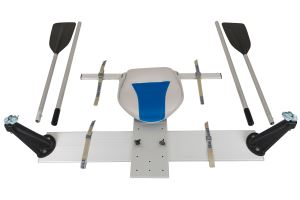 The Universal QuikRow™ Kit is a simplified fixed frame rower that attaches to kayaks and SUPs in less than 60 seconds flat! Now that's quick! Easy to setup and easy to use - the QuikRow™ will transform an ordinary kayak or SUP into a rowing and fishing machine!
This Universal QuikRow® Kit is the perfect accessory for Sea Eagle iSUPs, Explorers™, FastTracks™ and PaddleSki™ Series. (Weighs only 20 lbs.)
QuikRow kit includes: aluminum frame rowing base, swivel seat, (2) 2 part 7'11" oar set w/ oarlock and oar pin, (2) 4' quick release cinch down straps, (2) 6' quick release cinch down straps.
*2 Sea Eagle self-locking straps in 4' or 6' included with kayak and iSUP packages, depending on package requirements.
*One time pre-assembly that takes just a few minutes required. Non compatible with RazorLites™, Sport Kayaks and Travel Canoes™
*The QuikRow™ Footrest (recommended for SUPs and PaddleSki™) and Scotty® Rod Holders with Universal Deck Mounts are optional and can be purchase separately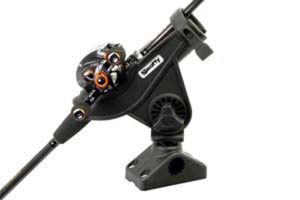 Scotty rod holder and side/deck mount
Baitcaster Interior Diameter: 1.30"
Mount Dimensions: 4" x 2" x 2"
Bolting Dimension: 1 5/16" x 3 3/16"
Featherweight AB50 8' Double End Paddle with Carbon-Fiberglass shaft and Asymmetrical spoon blades.
Free Shipping
All Sea Eagle orders with this product will receive Free Ground Shipping to the lower 48 U.S. States.
Express shipping and delivery to Alaska, Hawaii and outside the United States are also available for an additional fee. Shipping rates will be displayed on our shopping cart page.
Offer Valid through 1/31/2019
Sea Eagle Used Boats
have

never been damaged, punctured or patched

have been

test inflated for 48 hours

might have very minimal wear (no barnacles or algae)
are covered by our regular 180 day money back guarantee and three year bow-to-stern warranty, just like our new boats.
might contain prior-generation components
Delivery Estimator
Starting at $1,149.

7 great packages to choose from! Click Here.