About the Stealth Stalker 10 Inflatable Fishing Boat
The Hunter Green Stealth Stalker 10 is a new kind of fishing boat equipped for use in various fishing conditions... on rivers, lakes, bays...in calm or rough weather. Comfortable for two, easily handled by one!
This roomy, portable, light weight boat features a fully enclosed hull for use on almost any body of water. Wide sectional floorboards provide plenty of fishing space and a conveniently located stow bag makes for easy access. With 2 built-in 40" Fish Rulers on the pontoons, measuring fish will be quick and easy.
Utilizing a round-hull configuration with an inside cockpit this enclosed boat gives anglers a safe secure feeling while fishing in calm or rough seas. A truly stable and functional fishing craft that can be used in a wide range of fishing and water conditions.
About the Frameless Fishing Series
Sea Eagle's Frameless Fishing Boats are roomy, lightweight, ultra-portable, and pack into a relatively small bag in relation to their sizes. They can be stowed in small spaces because they have no frames. They don't require a trailer so you can carry them to the most remote, hard to reach locations where fish hide most!
Great for lakes, rivers, bays, creeks or almost any body of water. Sea Eagle Frameless Fishing Boats will take you where you want to go and where most other boats wouldn't dare!
Large air chambers allow these Frameless Fishing Boats to support an incredible amount of weight yet draft as little as 4 inches of water. Meaning you have access to shallower waters where heavier boats don't!
The 285fpb and STS10 are equipped with universal Scotty™ Mounts so you can customize these two models as you wish! Outfit them with any Scotty accessory you like. Sea Eagle offers an assortment of Scotty™ accessories to suit your needs. The PackFish 7 features 2 built-in rod holders to keep your rods secure.
| | |
| --- | --- |
| Person Capacity | 2 |
| Hull Weight | 45 lbs. (78 lbs. with wooden floorboard and motor mount) |
| Length | 10 ft. 1 in. |
| Width | 5 ft. |
| Interior | 7' 6" x 2' 4" |
| Load Capacity | 2 Adults or 1200 lbs. |
| Deflated | Approx. 31" x 40" x 9" |
| Chambers | 3 (port side, bow, starboard side) |
| Tube Diameter | 16" |
| Air Valves | 3 Recessed One Way |
| Inflation time | 15 min. |
| Seam | Quadruple Overlapping Superior Glued Seams |
| Material | 1000 Denier 36 mil |
| Engine Capacity | 4 hp gas (20" shaft minimum, 45 lbs. max weight) or up to 74 lb. thrust electric (min 30" shaft, 45 lbs. max weight) |
| Floor | 1000 Denier Reinforced |
| Speed Estimates | 3-4 mph |
| Inflation Pressure | 3.2 psi |
Certifications
Standard Features
NMMA and CE Certified
Hunter Green Color
Full fabric floor
2 Built-in 40" Fish Rulers
3 Carry Handles
2 Built-in Universal Scotty® Mount Pads
4 Built-in Rod Holders
Motor mount receiving brackets
Canopy receiving brackets
Raised oarlocks for better rowing
Printed instructions
STS10 Reviews
(50 total, avg. review: 4.6 out of 5)
12/24/2018
Patrick George , YUMA
Verified Owner
Everything arrived as ordered. I also got the two stage pump which makes setting it up a breeze. I have used it a number of times and have a few observations and suggestions. The vertical rod holders are placed in positions which interfere with turning around in the seats. An additional two scotty mounts would be handy to facilitate scotty anchor systems. the measuring tape along the sides is fantastic. Rowing this boat with the elevated oars is a dream, even faster to get around than the trolling motor. The motor mount tends to slip forward a lot. I had to replace the 7 inch pedestals with adjustable ones to gain additional height in order to make sitting comfortable. A storage bag for the metal floor components and oars would be beneficial and help to keep it all together.
more ▼
Overall, the quality, sturdiness, ease of setup and use coupled with its good looks make this a good buy. One I would (and have) suggest to friends.
12/4/2018
Mi Nguyen , GREENSBORO
Verified Owner
I like it. Worth the money. However, the motor mount can use more reinforcement.
11/28/2018
Dwight Hogan , MARION
Verified Owner
The boat was great. Wish the seats were a little higher. They are hard to get out of. I am not a fan of the electric motor for this boat. I am planning on buying a Mercury motor.
11/4/2018
Eric Lucas , WINDSOR
Verified Owner
Great boat for so many reasons! Fits in the back of my truck and is simple to use in high mountain lakes of Colorado. Boasted many trout this summer! I highly recommend it.
10/20/2018
William Borch , Yelm, WA
Verified Owner
Inflatable boats are not for everyone, but that's precisely why if you are thinking about an inflatable boat, you should definitely buy from Sea Eagle.
I bought a Stealth Stalker 10 because I wanted to stand in a stable boat when fly fishing on ponds and lakes - this boat is stable and much roomier than I expected. My wife and I really enjoyed the swivel seats. In the end, however, my wife and I decided that a trailered boat would be easier. There is some assembly required for launching and for stowing, and the convenience of being able to "show up" and get your boat in the water is what you trade for not having the hassle of backing up a trailer.
more ▼
My big reason for leaving 5 stars (and the reason why I think everyone who is curious about an inflatable boat should buy from Sea Eagle) is for their return policy. I tried it out and within a couple months I decided it wasn't for me. I called them up, mailed it back, and had a full refund within 1 week, no issues. Try them out, they stand by their products!
10/15/2018
William Conroy , OCKLAWAHA
Verified Owner
Over all the experience has been great from purchase to use. May wife and I have used it to fish in Florida, Montana and Idaho. Setup and storage have been great. However this raft with the plywood floors will not fit in the trunk of may car I have to use my pick-up to transport it. I have modified the transom to accommodate the trolling motor and my 3.5 hp. mercury 4 stroke see pic. If I ever need to replace this raft I would purchase this raft again.
10/11/2018
Edward Arndt , LAKELAND
Verified Owner
I can't say enough good things about Sea Eagle Boats, their product and most certainly the best Customer Service Department I have ever dealt with. Trust me, at 63 yrs of age I have dealt with plenty of them. Not only did they jump to my aid when UPS managed to mess up the floor boards for my newly ordered STS10 by sending me replacement boards at no charge, they kept me informed every step of the way. I originally ordered the STS10 for camping/fishing trips because we already would be towing a 25ft Camper. It is so easy to use i have been using it for the many "little lakes" surrounding my home here in Lakeland Fl. The boat performs well with the 2.3 Honda 4 stroke I had it packaged with. I also recommend getting the electric air pump for your purchase. The manual one provided with the boat is functional but at 63 It would take me forever to get it pumped up to specs. The oars provided with the STS10 are excellent and easy to use when sneaking up on your honey hole.
8/14/2018
Alana Patterson , Merritt
Verified Owner
We finally tried out our boat for the first time. It is great!! It is easy to put together & inflates quickly. This boat is so awesome. The oar lock features are great so the oars don't float away if there is an unexpected issue. The canopy is awesome!!!!!! The swivel seats are so comfortable too. Will use it to go fishing next time!!
Overall, this boat is incredible! We enjoyed it thoroughly & look forward to using it again soon!
7/27/2018
Gregory Cain , STEILACOOM
Verified Owner
I love my SeaEagle. It's rugged and dependable in tough conditions and comfortable and fun to be out in. I propel it with an ePropulsion Spirit which pushes me 4.9 kts and is a perfect match. I take my boat out every chance I get.
7/12/2018
Walter Masnyk , ELGIN
Verified Owner
My wife loves to fish so I thought I'd buy a small boat to create an opportunity to access better fishing spots. At first I looked for a small trailered boat, but you can't get a boat in good condition for what I paid for the STS10, and you need to buy a trailer. Having my wife pull a trailer wasn't going to happen and storage also became a concern.
more ▼
That's when I became aware of the STS10. It fits in the back of her Honda CRV, easily holds the two of us with our gear. It's been a perfect solution. I keep it in a corner of our basement through the winter. After a few outings we have mastered Set-up and takedown easily done in less than 20 minutes.
There is one small lake we like to fish, but weeds along the shoreline have made it a challenge. Last week we were able to fish the same shoreline from the boat.....and my wife caught a monster large mouth bass. What more can I say!
Every lake we have been out on people comment on what a great boat it is. I love to demonstrate it's stability.
Stealth Stalker 10 Discount Packages
Rugged, easy to assemble marine plywood floorboards provide standing stability and hull rigidity. Great for fishermen or yachtsmen. Aluminum H-bar and side struts included.
Each floorboard measures 49 3/4" x 34 1/4" x 1/2"
This comfortable Swivel Seat can be used on many of our Sea Eagle boats. Great for use on Frameless Fishing Boats and FoldCats!
The seat can also be mounted on a 54 qt. cooler which will fit snugly into any of these boats.
*Please note, additional attaching hardware and bench are not included. This seat CANNOT be attached to a single bench seat (WS25, WS2505 or SPW).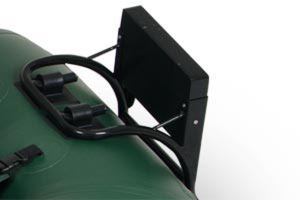 Motormount for Frameless Fishing Boats made of painted steel holds up to a 3hp engine or up to 74 lbs thrust electric motor. 18"x11"x11", 6 lbs.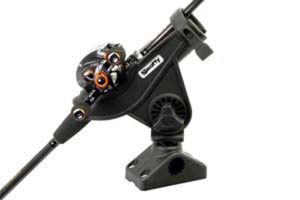 Scotty rod holder and side/deck mount
Baitcaster Interior Diameter: 1.30"
Mount Dimensions: 4" x 2" x 2"
Bolting Dimension: 1 5/16" x 3 3/16"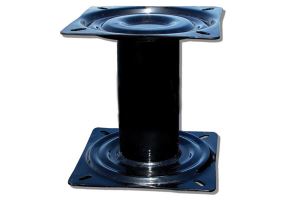 7" Pedestal for Swivel Seat used on Foldcats and 285FPB.
Includes hardware.
This Release A Seat allows the Swivel Seat to be installed or removed easily. (Max weight capacity rating of 250 LBS.)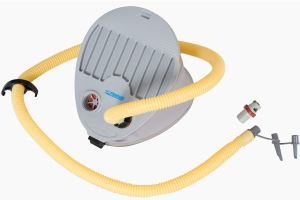 A high capacity foot pump made of durable ABS plastic that packs down for easy travel. Comes with triple styled nozzle for use on deluxe white one-way valves and pipe valves on unsupported fabric (white) hulls. Also included is a Recessed Valve Adapter for use on supported fabric (grey) hulls.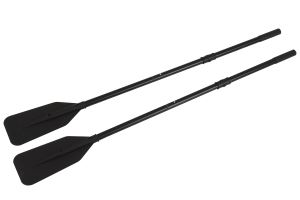 Oar Set for the 285fpb Frameless Pontoon Boat. Works perfectly with the green 285fpb or the classic grey 285fpb. Will work with any boat up to 9' that utilize the same oarlock system. 3/8" hole in shaft to accommodate oar pin.
60" long, weigh 1.5 lbs each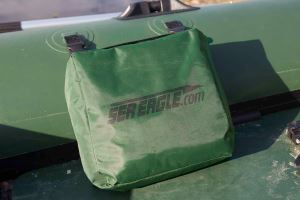 Clip on green stow bag. Great for easy storage. Useful for storing first aid kits, fishing accessories.
Repair kit for 1000 Denier PVC boats. Includes hull repair material, tube of glue & Halkey-Roberts valve replacement tool.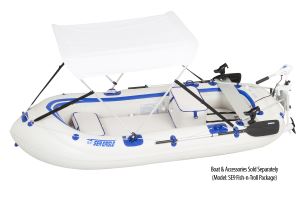 Keeps you cool and protected from the harmful UV rays of the sun. In a sudden rainstorm, it keeps you dry. PVC Coated polyester canopy & folding aluminum tubing. Easily folds down while out on the water when needed. Perfect for clearing the way to fish!
Minn Kota electric motors are known to be the most reliable electric motors on the market. The Endura 30 brings you the reliability and performance you've come to expect from Minn Kota at a great value.
While 30 lbs of thrust might not work for a heavy fiberglass boat, it is more than enough for our boats and kayaks.
Even our Transom Sport boats will perform well with this motor where currents are light.
30" shaft
**** Not suitable for Bow mounting
***For FRESHWATER only.
**Battery not included
*Coast Guard requirements dictate that each ungrounded current-carrying conductor must be protected by a manually reset, trip-free circuit breaker or fuse.
Covered by the Minn Kota Endura Warranty
All Sales are final. This item is not covered by the Sea Eagle 180 Day Trial.
The white composite shaft and stainless steel propeller shaft combine with the weedless propeller to deliver quiet performance whether trolling or holding position in the current for casting.
A light weight, inexpensive, electric, salt water motor that's built to last. Anti-corrosive paint and stainless steel parts allow you to take this motor into fresh, brackish and salt water without worry.
*Can be used with 10.6sr Sport Runabout. Cannot be used with 300x Explorer Kayak.
**Battery not included.
Motor cannot ship to Louisiana.
***Coast Guard requirements dictate that each ungrounded current-carrying conductor must be protected by a manually reset, trip-free circuit breaker or fuse.
**** Not suitable for Bow mounting
Covered by the Watersnake 1 Year Warranty
All Sales are final. This item is not covered by the Sea Eagle 180 Day Trial.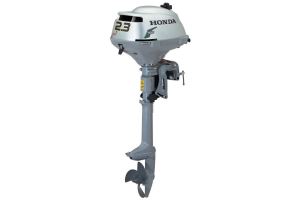 One of the world's lightest four-stroke outboards. The Honda BF2.3 is so light, it rivals many two-stroke 2HP engines and electric motors, without the battery. While still maintaining Honda's reliable, efficient four-stroke design!
Covered by the Honda Marine Warranty
All Sales are final. This item is not covered by the Sea Eagle 180 Day Trial.
Free Shipping
All Sea Eagle orders with this product will receive Free Ground Shipping to the lower 48 U.S. States.
Express shipping and delivery to Alaska, Hawaii and outside the United States are also available for an additional fee. Shipping rates will be displayed on our shopping cart page.
Offer Valid through 1/31/2019
Sea Eagle Used Boats
have

never been damaged, punctured or patched

have been

test inflated for 48 hours

might have very minimal wear (no barnacles or algae)
are covered by our regular 180 day money back guarantee and three year bow-to-stern warranty, just like our new boats.
might contain prior-generation components
Delivery Estimator
Starting at $1,349.

4 great packages to choose from! Click Here.