About the Stealth Stalker 10 Inflatable Fishing Boat
The Hunter Green Stealth Stalker 10 is a new kind of fishing boat equipped for use in various fishing conditions... on rivers, lakes, bays...in calm or rough weather. Comfortable for two, easily handled by one!
This roomy, portable, light weight boat features a fully enclosed hull for use on almost any body of water. Wide sectional floorboards provide plenty of fishing space and a conveniently located stow bag makes for easy access. With 2 built-in 40" Fish Rulers on the pontoons, measuring fish will be quick and easy.
Utilizing a round-hull configuration with an inside cockpit this enclosed boat gives anglers a safe secure feeling while fishing in calm or rough seas. A truly stable and functional fishing craft that can be used in a wide range of fishing and water conditions.
About the Frameless Fishing Series
Sea Eagle's Frameless Fishing Boats are roomy, lightweight, ultra-portable, and pack into a relatively small bag in relation to their sizes. They can be stowed in small spaces because they have no frames. They don't require a trailer so you can carry them to the most remote, hard to reach locations where fish hide most!
Great for lakes, rivers, bays, creeks or almost any body of water. Sea Eagle Frameless Fishing Boats will take you where you want to go and where most other boats wouldn't dare!
Large air chambers allow these Frameless Fishing Boats to support an incredible amount of weight yet draft as little as 4 inches of water. Meaning you have access to shallower waters where heavier boats don't!
The 285fpb and STS10 are equipped with universal Scotty™ Mounts so you can customize these two models as you wish! Outfit them with any Scotty accessory you like. Sea Eagle offers an assortment of Scotty™ accessories to suit your needs. The PackFish 7 features 2 built-in rod holders to keep your rods secure.
| | |
| --- | --- |
| Person Capacity | 4 |
| Hull Weight | 45 lbs. (78 lbs. with wooden floorboard and motor mount) |
| Length | 10 ft. 1 in. |
| Width | 5 ft. |
| Interior | 7' 6" x 2' 4" |
| Load Capacity | 4 Adults or 1200 lbs. |
| Deflated | Approx. 31" x 40" x 9" |
| Chambers | 3 (port side, bow, starboard side) |
| Tube Diameter | 16" |
| Air Valves | 3 Recessed One Way |
| Inflation time | 15 min. |
| Seam | Quadruple Overlapping Superior Glued Seams |
| Material | 1000 Denier 36 mil |
| Engine Capacity | 4 hp gas (20" shaft minimum, 45 lbs. max weight) or up to 74 lb. thrust electric (min 30" shaft, 45 lbs. max weight) |
| Floor | 1000 Denier Reinforced |
| Speed Estimates | 3-4 mph |
| Inflation Pressure | 3.2 psi |
Certifications
Standard Features
NMMA and CE Certified
Hunter Green Color
Full fabric floor
2 Built-in Open/Close Floor Drains
2 Built-in 40" Fish Rulers
3 Carry Handles
2 Built-in Universal Scotty® Mount Pads
4 Built-in Rod Holders
Motor mount receiving brackets
Canopy receiving brackets
Raised oarlocks for better rowing
Printed instructions
STS10 Reviews
(68 total, avg. review: 4.5 out of 5)
3/3/2020
3.0 out of 5 stars.
Fred Barber , PAYSON
Verified Owner
Great boat. The bag for the raft is cheaply made.
2/2/2020
5.0 out of 5 stars.
Myron Hinrikus , WOOD RIVER
Verified Owner
Great little boat and very stable. Was in the middle of a lake when wind came up unexpectedly. One of them in Nebraska out of no where winds blowing about 60 mph.Got a good bath but it was very stable and being scared at first I calmed down seeing how well it maneuvered.
1/13/2020
5.0 out of 5 stars.
Joann Forte , SHERIDAN
Verified Owner
The instructions and video were easy to follow and assembly was quick. Can't wait for next spring to get out again. Money well spent.
1/4/2020
5.0 out of 5 stars.
Eddie Pinson , MIDLAND
Verified Owner
I could not be any happier with the STS10. I bought the boat in hopes that when we travel to the lakes and rivers with our RV, I would be able to take it along and enjoy the water and fish. I have it stowed away in the under bay of our 5th wheel Trailer ready at any stop for action. I was a bit disappointed in the strength of the axle and wheels. The shaft bent first trip out due to the weight of the trolling motor , battery and gear in the STS10. I modified it with a light weight steel center shaft and it now works perfectly. I am most impressed with the sturdiness and the durability of the boat. The anchor system is awesome!! So nice to drift fish and when you get in the right place to be able to quickly drop anchor and hold on that perfect spot!! I have had two adults in the boat and it performed great. I would recommend this boat to anyone who enjoys the piece and quiet of the water!!
12/15/2019
4.0 out of 5 stars.
Tom Cheslock , MENASHA
Verified Owner
Love my sts10, plenty of room. I wish it would row like a regular v hull boat. Meaning that I would be facing the rear of the boat while rowing.I find it a bit awkward rowing facing forward. Also I wish the oars were a bit longer, they tend to come out of the water when rowing. Maybe I just need to get used to it, over all I really like the boat. It allows me to get into remote non pressured lakes and enjoy great fishing ! Quality materials and craftsmanship, I expect many years of enjoyment with it.
show full review ▼
12/3/2019
4.0 out of 5 stars.
Gregory Snyder , CLARKSTON
Verified Owner
Let there be NO DOUBT..SEA EAGLE lives up to it's stellar reputation of QUALITY PRODUCTS backed by EXCEPTIONAL SERVICE. Truly , I looked a long time for a rugged, durable, easy to transport boat which would host my Minn-Kota electric motor and stowed gear nicely. The STS10 perfectly fits both my fishing and "just cruising around" rivers, streams, and inland lakes here in Michigan. The durability of this boat is awesome. This evidenced a few times when running into fallen trees or hitting some low areas strewn with sharp rocks. A few scrapes but always emerged with NO PUNCTURES! This boat is the REAL DEAL.
11/21/2019
5.0 out of 5 stars.
Alex H
Verified Owner
1. Stability: stable, stand and walk with the floor board.
2. Speed:
(1) electric motor: slow, especially in waving water. around 3 mph with two 30 lb Minn Kota.
(2) gas motor: 3.5 hp Mercury, max 12 mph with 5 mph wind or below for one person (145 lbs), and 1 Walmart 24 DC marine battery. plane with full throttle (How: first get the nose up and move slowly to the front). Max 7 mph for one more person of around 120 lbs. Seaeagle is on the conservative side in speed estimation. recommend 20'' 3.5 hp Mercury with a full 2.5 gallon walmart gas tank. Need a trolling motor in the front for fishing (buy four motor mount brackets, industry strength glue, and Seaeagle motor mount (bracket hole diameter needs to be over 1.9 cm)).
show full review ▼
10/22/2019
4.0 out of 5 stars.
BG Brooks , Nederland
Verified Owner
I've been very pleased with my Sea Eagle inflatable; the stability is fantastic, the swivel seats are comfortable -- even for a 6-2 guy -- and the boat's maneuverability is fine. I've got a 30 lb thrust trolling motor that I use with it, and it gets the boat around our mountain lakes superbly. I haven't had it out on a tremendously windy day and I'm trying to avoid that, but I have no doubt that the boat would hold up just fine.My only issue (and I figured this when I purchased the STS10) is that from unloading, to inflation, to putting in equipment takes upwards of half an hour and usually more. It's not something that makes us crazy, but we're considering buying a 10-12 foot trailer before next summer to carry the inflated boat and save us time at the water. A friend also purchased the same boat last winter. He's got a pickup with a flat cover for the bed, and his boat is good fit there -- just a bit of hangover. I figure on leaving the boat inflated during the summer, storing in winter.
show full review ▼
10/22/2019
5.0 out of 5 stars.
Mike Mendiola , Reno
Verified Owner
From the time I received the Stalker, I've had two surgeries and a broken rib. Needless to say, I've yet to have a chance to go out and use the boat. However I want to compliment the customer service I received. Not only were the people professional and knowledgeable, they were so easy to work with. Also I've never had a time in my life when I opened a box with something I ordered or picked up at a store that something was missing. Seaeagle is the very first company that had everything down to a tiny screw or nut. The other part of what I received was the quality that was represented. This was the best experience I've ever had from start to finish. Soon, I'll be able to take the boat out, and I have no doubt that it'll be top of the line and I'll have great experiences with it.
show full review ▼
10/19/2019
4.0 out of 5 stars.
Harris Gloe , BOULDER
Verified Owner
Graduated from a canoe for fishing to the STS10. This boat is more stable and more comfortable. Am very satisfied with this product.
Stealth Stalker 10 Discount Packages
STS10 Floorboard Set
Rugged, easy to assemble marine plywood floorboards provide standing stability and hull rigidity. Great for fishermen or yachtsmen. Aluminum H-bar and side struts included.
Each floorboard measures 49 3/4" x 34 1/4" x 1/2"
Green Swivel Seat
This comfortable Swivel Seat can be used on many of our Sea Eagle boats. Great for use on Frameless Fishing Boats and FoldCats!
The seat can also be mounted on a 54 qt. cooler which will fit snugly into any of these boats.
*Please note, additional attaching hardware and bench are not included. This seat CANNOT be attached to a single bench seat (WS25, WS2505 or SPW).
Motormount-FPFB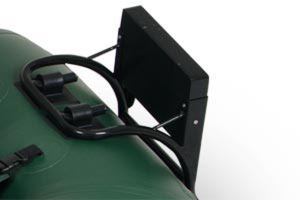 Motormount for Frameless Fishing Boats made of painted steel holds up to a 4 hp engine or up to 74 lbs thrust electric motor. 18"x11"x11", 6 lbs.
Scotty Rod Holder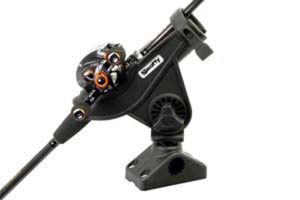 Scotty rod holder and side/deck mount
Baitcaster Interior Diameter: 1.30"
Mount Dimensions: 4" x 2" x 2"
Bolting Dimension: 1 5/16" x 3 3/16"
Boat Carry Bag
A41 Foot Pump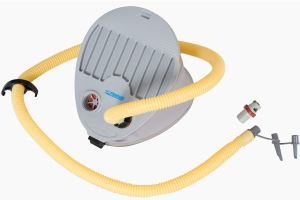 A high capacity foot pump made of durable ABS plastic that packs down for easy travel. Comes with triple styled nozzle for use on deluxe white one-way valves and pipe valves on unsupported fabric (white) hulls. Also included is a Recessed Valve Adapter for use on supported fabric (grey) hulls.
AB285 Black Oar Set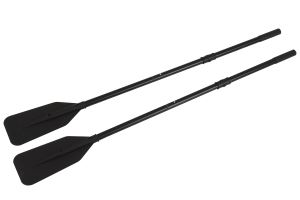 Oar Set for the 285fpb Frameless Pontoon Boat. Works perfectly with the green 285fpb or the classic grey 285fpb. Will work with any boat up to 10' that utilize the same oarlock system. 3/8" hole in shaft to accommodate oar pin.
60" long, weigh 1.5 lbs each
7" Pedestal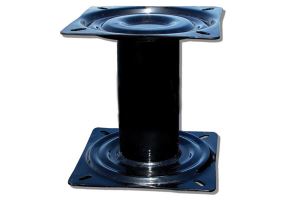 7" Pedestal for Swivel Seat used on Foldcats and 285FPB.
Includes hardware.
Quick Release Seatmount
This Release A Seat allows the Swivel Seat to be installed or removed easily. (Max weight capacity rating of 250 LBS.)
Side/Stern Stow Bag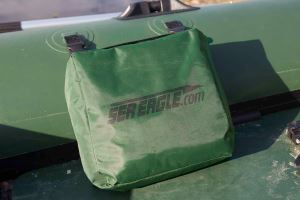 Clip on green stow bag. Great for easy storage. Useful for storing first aid kits, fishing accessories.
Repair Kit
Repair kit for 1000 Denier PVC boats. Includes hull repair material, tube of glue & Halkey-Roberts valve replacement tool.
Canopy-smaller boat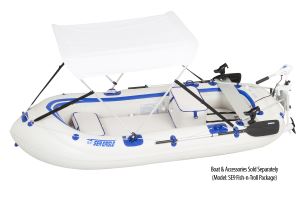 Keeps you cool and protected from the harmful UV rays of the sun. In a sudden rainstorm, it keeps you dry. PVC Coated polyester canopy & folding aluminum tubing. Easily folds down while out on the water when needed. Perfect for clearing the way to fish!
Minn Kota Endura 30
Minn Kota electric motors are known to be the most reliable electric motors on the market. The Endura 30 brings you the reliability and performance you've come to expect from Minn Kota at a great value.
While 30 lbs of thrust might not work for a heavy fiberglass boat, it is more than enough for our boats and kayaks.
Even our Transom Sport boats will perform well with this motor where currents are light.
30" shaft
**** Not suitable for Bow mounting
***For FRESHWATER only.
**Battery not included
*Coast Guard requirements dictate that each ungrounded current-carrying conductor must be protected by a manually reset, trip-free circuit breaker or fuse.
Covered by the Minn Kota Endura Warranty
All Sales are final. This item is not covered by the Sea Eagle 120 Day Trial.
Watersnake Venom 34
The white composite shaft and stainless steel propeller shaft combine with the weedless propeller to deliver quiet performance whether trolling or holding position in the current for casting.
A lightweight, inexpensive, electric, saltwater motor that's built to last. Anti-corrosive paint and stainless steel parts allow you to take this motor into fresh, brackish and salt water without worry.
A very important feature is the Digital Voltmeter Display. This allows you to judge immediately how much power you have remaining and how far you can go. A good rule of thumb is to stay above 11.8 volts.
*Can be used with 10.6sr Sport Runabout. Cannot be used with 300x Explorer Kayak.
**Battery not included.
Motor cannot ship to Louisiana.
***Coast Guard requirements dictate that each ungrounded current-carrying conductor must be protected by a manually reset, trip-free circuit breaker or fuse.
Covered by the Watersnake 1 Year Warranty
All Sales are final. This item is not covered by the Sea Eagle 120 Day Trial.
Honda 2.3L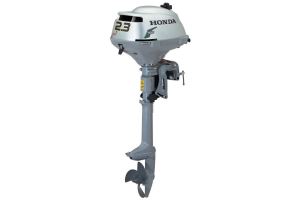 One of the world's lightest four-stroke outboards. The Honda BF2.3 is so light, it rivals many two-stroke 2HP engines and electric motors, without the battery. While still maintaining Honda's reliable, efficient four-stroke design!
Covered by the Honda Marine Warranty
All Sales are final. This item is not covered by the Sea Eagle 120 Day Trial.
Free Shipping
All Sea Eagle orders with this product will receive Free Ground Shipping to the lower 48 U.S. States.
Express shipping and delivery to Alaska, Hawaii and outside the United States are also available for an additional fee. Shipping rates will be displayed on our shopping cart page.
Offer Valid through 9/30/2020
Sea Eagle Used Boats
have

never been damaged, punctured or patched

have been

test inflated for 48 hours

might have very minimal wear (no barnacles or algae)
are covered by our regular 120 day

money back guarantee

and

three year

bow-to-stern warranty, just like our new boats.
might contain prior-generation components
Delivery Estimator
Starting at $1,199.

5 great packages to choose from! Click Here.