About the 420x Explorer Inflatable Kayak
If you plan on camping, overnight trips or just plain need the extra storage space. The 420x is the kayak for you!
About the Explorer™ Series
Don't buy a kayak until you check out sale prices on Sea Eagle Explorer Kayak Packages. Great wet or dry boats - they are tough enough for class four whitewater, but stable, dry and comfortable on flat-water as well. 4 Models To Choose From - One To Suit Every Need!
Super-fast self-bailing with 16 floor drains that can be left open for wet whitewater and ocean kayaking or closed for high and dry flat-water paddling.
The Explorers also feature a removable slide skeg for improved tracking on open water. Pound for pound these Explorers are champions capable of handling any type of adventure: Fishing, Touring, Camping, Exploring, Adventuring, Whitewater, but Never Boring!
Making high-quality inflatables since 1968, we know best!
| | |
| --- | --- |
| Person Capacity | 3 |
| Hull Weight | 44 lbs. |
| Length | 14 ft. |
| Width | 3 ft. 3 in. |
| Interior | 13' 4" x 15" |
| Load Capacity | 3 Person or 855 lbs. |
| Deflated | 31" x 21" x 10" |
| Chambers | 3 (port, starboard, floor) |
| Tube Diameter | 11.5" |
| Air Valves | 3 Recessed One Way |
| Inflation time | 9 min |
| Seam | Glued Quadruple Overlapped |
| Material | 1000 Denier Reinforced |
| Engine Capacity | 34 lbs. thrust electric (max engine weight 15 lbs) |
| Floor | Removable High Pressure Drop Stitch Floor |
| Whitewater Rating | Suitable up to Class IV |
| Inflation Pressure | 3.2 psi |
Certifications
When deflated and packed well, this hull will fit in:
check_circleTruck/Large SUV
NMMA Certified
16 High Capacity Self-bailing Drain Valves
Large Removable Skeg for Flatwater Touring
Front & Rear Spray Skirts with Carry Handles and Bungee Cords
Separate Drop Stitch floor for rigidity
26 D-rings to secure seats and gear
One-Way Air Valves
Printed Instructions
420x Explorer Reviews
4.7 out of 5 stars.
(75)
Don Young
Verified Owner
4/29/2022
5.0 out of 5 stars.
I absolutely love this boat! I own a plastic kayak but after buying the Sea Eagle I will never buy anything except an inflatable kayak again. And it will be a Sea Eagle. I did a lot of research before buying the 420X, and considering how I use it, there is nothing out there that even comes close. I use it on lakes and rivers and it will keep up with any paddle boat out there. It's not a speed demon, but it performs very well. I do use an electric pump to inflate, then finish it off with the high pressure hand pump. The first time I had it out was on a lake in central Kentucky. Stability is amazing! I actually stood up and used it like a paddle board. This summer my wife and I are going to take it on a 17 mile trip with class 2 and 3 rapids, this was the #1 reason I bought this kayak. This thing paddles great either solo or tandem. After paddling it this past year, I am 100% confident we will have the best kayaking experience of our lives. Paddles great solo or tandem. 5 stars for customer service!!!
Daniel Morse
Verified Owner
3/25/2022
4.0 out of 5 stars.
Great kayak and worth the money. It is an inflatable and requires appropriate care especially in how you store it. Once it's inflated it's virtually indestructible. If you develop a hole it is relatively easy to patch. We use our kayak all the time in Florida. We've taken it to see the Manatees at Three Sisters Springs, kayaked down the Ichetucknee River, and taken it fishing at Cedar Key. Love it! Make sure and buy the electric pump.
Landon Clay
Verified Owner
3/24/2022
5.0 out of 5 stars.
So far so good,it is a wonderful thing for an old retired couple like us,we are having the time of our life,we have to thank you for such a wonderful thing!!..
William Yeager
Verified Owner
2/27/2022
5.0 out of 5 stars.
Very stable and firm. Family has enjoyed this purchase including the family dog. We look forward to this summer's fun! This more heavy so I think setting it up is best with two people. Deflation is very easy. Storing bag works great.
16 Rapid Self - Bailing Easy To Open & Shut Drain Valves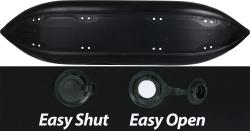 When the 16 rapid self-bailing drain valves are open, you are sure to drain off water as quickly as it enters! With the drain valves closed you are certain to remain high and dry when paddling on flat waters such as lakes, bays and other bodies of water.
Modular Rigid Drop Stitch Floor Provides Double Protection
The unique modular design of the Sea Eagle Explorer™ features a super rigid, high pressure, drop stitch floor that sits on top of an outside floor. This has several advantages. The high-pressure DS floor provides great rigidity and super responsive paddling performance. The reinforced outside fabric floor provides a double layer of added protection so it can bounce off rocks, logs, and other objects. The modular design allows the DS floor to be easily removed for quick and thorough cleaning.
Large Removable Rear Center Skeg
A nice feature of this design is that the skeg can be removed with the Explorer inflated or deflated. Simply remove it for whitewater and skinny water adventures (eliminating it as an obstruction)and replace it for flat water to reduce yawing (swinging to the right or left). This increases track-ability during long flat-water touring, maximizing efficiency.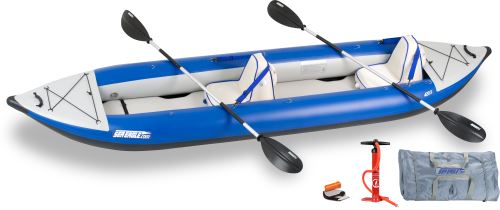 A great package for all-around paddlers
Package price and FREE SHIPPING offer valid through Tuesday, May 31, 2022
a $1,632 value for

just $1,099

through May 31 *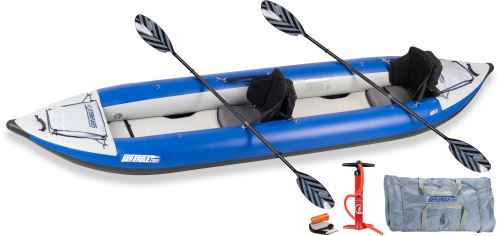 For greater back support, our Pro Kayak package features two Tall Back Seats, two stow bags for longer trips. High-performance AB40 Paddles increase power and reduce fatigue.
Package price and FREE SHIPPING offer valid through Tuesday, May 31, 2022
a $1,826 value for

just $1,199

through May 31 *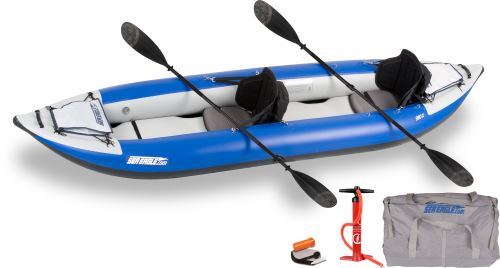 Our Pro Carbon Package features everything in the Pro Package plus a set of upgraded, top end, Carbon-Fiber Paddles.
Package price and FREE SHIPPING offer valid through Tuesday, May 31, 2022
a $1,934 value for

just $1,299

through May 31 *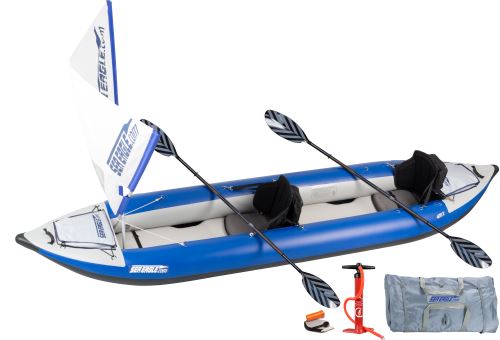 420 Explorer Kayak package with the fun and easy to use QuikSail™ for downwind sailing.
Package price and FREE SHIPPING offer valid through Tuesday, May 31, 2022
a $1,975 value for

just $1,319

through May 31 *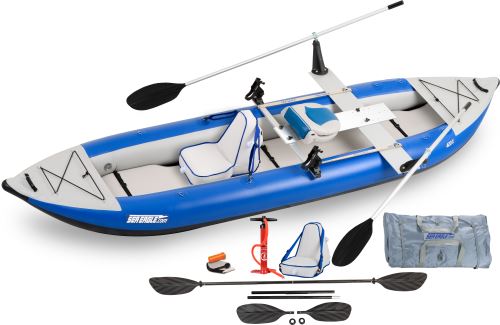 The QuikRow™ Kayak Package offers limitless options: whitewater, flat water, fishing, rowing and best of all - still fits in the trunk of your car! *Seat may vary.*
Package price and FREE SHIPPING offer valid through Tuesday, May 31, 2022
a $2,161 value for

just $1,499

through May 31 *
Starting at $1,099.

7 great packages to choose from! Click Here.
7'10" AB30 paddle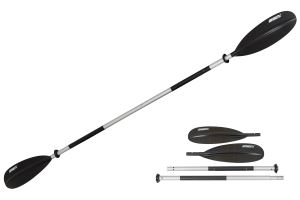 Deluxe Inflatable Kayak Seat
Deluxe Inflatable Kayak Seat
Kayak Carry Bag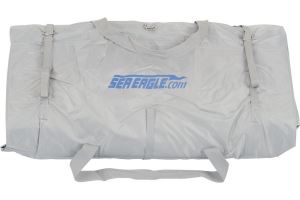 Kayak Carry Bag for FastTracks, Explorers, and SUP's
Auto Dual Action Pump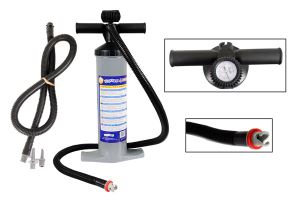 Dual Action Auto Two Stage Pump w/ Pressure Gauge
Slide in Skeg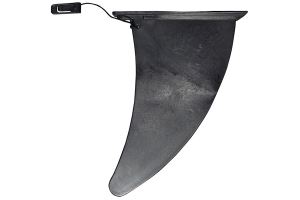 Repair Kit
Tall Back Seat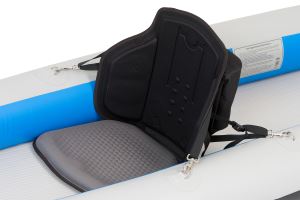 8' AB40 paddle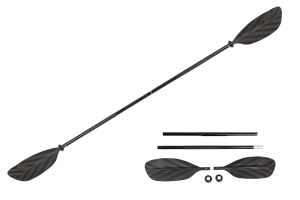 Kayak Stow Bag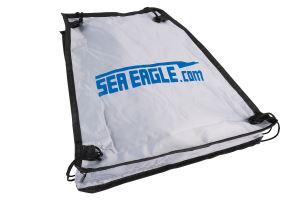 AB50 Paddle
QuikSail
QuikSail- Universal Kayak Sail
Watersnake Asp T24 for kayaks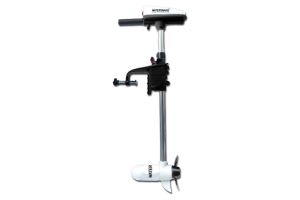 Watersnake Asp T24 (Fresh & Saltwater) Kayak Motor
Covered by the Watersnake 1 Year Warranty
All Sales are final. This item is not covered by the Sea Eagle 120 Day Trial.
Kayak Motormount
Motormount for FastTracks & Explorers
4 FT. STRAP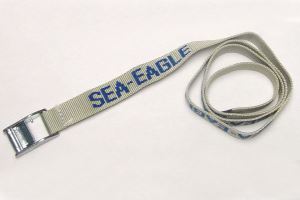 QuikRow Kit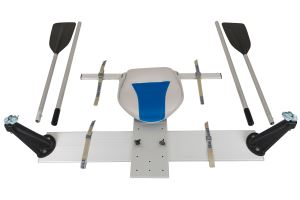 Scotty Rod Holder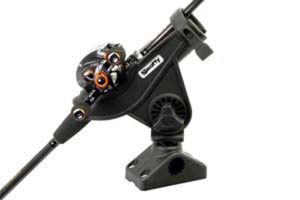 Swivel Seat Fish Rig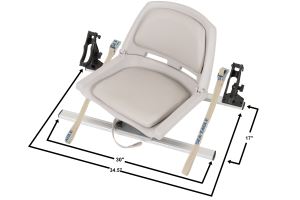 Swivel Seat Fishing Rig w/ Scotty® Rod Holders
Watersnake Venom 34
Watersnake Venom SX 34lb Thrust Electric Motor (Fresh & Saltwater)
Covered by the Watersnake 1 Year Warranty
All Sales are final. This item is not covered by the Sea Eagle 120 Day Trial.
Multi-purpose storage box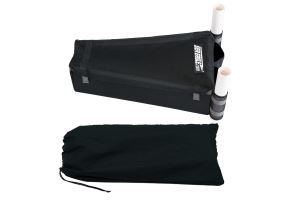 Multi-Purpose Kayak Storage Box