About the Travel Canoe 16 Inflatable Canoe
The World's First Patented High Pressure All Drop Stitch Inflatable Travel Canoe has arrived!
Say goodbye to heavy, unstable, tippy, nearly impossible to store and transport canoes! The Sea Eagle Inflatable TC16 fits in a small car trunk or closet with plenty of room to spare and sets up in under 10 minutes!
The TC16 has accomplished feats well beyond reach of traditional canoes. It is a completely buoyant and unsinkable canoe, easy to upright and re-enter from the water, 33% lighter than comparable canoes, has incredible primary and secondary stability (stable to stand in), bow/stern molds that slice through the water, full length flat planing surface area for additional speed, designed to create lift and reduce drag, entire hull waterline length enabling paddling speeds up to 5 mph, full length double chine system and removable rear skeg to enhance tracking and increase stability, three separate air chambers for additional safety and is rated for up to Class IV whitewater.
U.S. Patent 9,452,809
About the Travel Canoe™ Series
Introducing the World's First and Only Patented All Drop Stitch Constructed Inflatable Portable Packable Canoe!
Fully inflated the Sea Eagle 16ft Travel Canoe is sixteen feet long, thirty-eight inches wide (at center), and twenty inches deep at the highest points with a max load capacity of 915 lbs! This incredible canoe packs down to a mere 40" x 24" x 16" rectangle, fits into its own bag and is 33% lighter than traditional hard shell canoes of the same class and category the TC16 still fits into the small trunk of a Mini Cooper!
With 3" thick rigid high pressure (10 psi) inflatable drop stitch gunwales (side rails) that stand 20" at the highest points and are set at a 15° angle with a 16' long x 25" wide x 3" thick rigid high pressure (10 psi) inflatable drop stitch floor you not only have incredible initial primary stability but you also have outstanding secondary stability. Far more stable than traditional rigid hull canoes!
U.S. Patent 9,452,809
| | |
| --- | --- |
| Person Capacity | 3 |
| Hull Weight | 60 lbs. |
| Length | 16 ft. |
| Width | 3 ft. 2 in. |
| Interior | 15'2" x 25" |
| Load Capacity | 915 lbs. |
| Deflated | Approx. 40" x 24" x 16" |
| Chambers | 3: Port, Starboard, Floor |
| Inflation time | 7-9 Minutes |
| Seam | Overlap |
| Material | 1000 Denier Reinforced |
| Tube Dimensions | Gunwales: 20" High at Bow & Stern, 15" High at Center. Gunwales & Floor: 3" Thick High Pressure Drop Stitch |
| Whitewater Rating | Up to Class IV |
| Inflation Pressure | Up to 10 psi |
Certifications
Standard Features
NMMA Certified
Patented High Pressure (up to 10 psi) All Drop Stitch Construction
Patented Plastic Bow and Stern Molds that cut through the water increasing tracking
2 Movable and Adjustable Inflatable Drop Stitch Seats with backrests
Small Removable Rear Skeg for excellent tracking in shallow waters
Front & Rear Spray Skirts with Front and Rear Carry Handles
3 Independently Separate High Pressure Drop Stitch Chambers for added safety
4 Open and Close Floor Drains
12 D-Rings for securing seats at various locations
2 Conveniently located Diamond Patterned Non-Slip EVA Foam Deck Pads
2 Center Carry Handles
3 One-Way Air Valves
Fits in a bag
Rated for up to Class IV whitewater
Printed Instructions
Travel Canoe 16 in the news
TC16 Reviews
(6 total, avg. review: 4.7 out of 5)
1/12/2019
5.0 out of 5 stars.
Clif Edwards , At Large, USA
Verified Owner
I have considered myself a "canoe guy" since 1988, having owned and paddled many fine canoes. When I retired and became a full time RVer, my canoe lived on top of my camper van. It did a lot of suffering there: U.V. sun damage, reduced gas mileage, strain of loading/unloading. When I learned of the Sea Eagle TC16 it sounded to good to be true. Since getting it last February, I have put it to the test, paddling numerous rivers and lakes in eight different states. I have paddled it solo, tandem, and with a grandchild to make three. I have overnight camped out of it, both solo and with a partner for multi nights. It is quiet to paddle, no more banging of the gunnels with the paddles. We have been thrilled running level 3 rapids and surviving a surprise wind event while paddling the Flaming Gorge (Glad I had the skeg on.). We have purposely capsized it and practiced self rescue and it performed magnificently. We can have it unpacked and inflated in less then 15 minutes. We highly recommend it.
show full review ▼
10/22/2018
5.0 out of 5 stars.
Lee Green , EDMONTON
Verified Owner
We took our boat out for its first time on the water early in October, on a 3-day trip down the Kootenay River in British Columbia. The boat performed admirably. It carried our load of camping gear and supplies, paddled well on the flats and in the rapids, and ran Class III drops with no fuss. It handled the river at least as well as our friends' conventional canoes, and was generally drier at the foot of the rapids. I was skeptical of the inflatable seats at first, but they proved to be both quite comfortable and very functional on the flats and when maneuvering in rapids. I was also concerned that it would be awkward and time-consuming to try to fold back up, but it went quickly and exactly as the directions describe. It was a nice bonus driving home in the windy conditions on the Trans-Canada Highway without a canoe on the roof catching gusts. We found the TC16 performed every bit as claimed. It's a solid wilderness tripping boat.
7/15/2018
4.0 out of 5 stars.
Tim Chapman , Big Torch Key
Verified Owner
The TC 16 is the best inflatable canoe I have seen. It packs into my 23 ft Wennebago motor home along with all the gear I need. I tested it at Flamingo in Everglades National Park after Hurricane Irma left debris and obstacles. I inflated with the manual pump, set it on a light collapsible dolly with an ice chest, 3 tackle bags, 4 rods, the pump, patch kit, 2 paddles and a foam paddling block, GPS/Hand Held Marine two way radio and big spray.
show full review ▼
1/15/2018
5.0 out of 5 stars.
Johannes Niederberger , CHICAGO
Verified Owner
It's been a great canoe. We took it on a 12 day, 185 mile float down the Yellowstone River. It handled very well and didn't have any issues with it (very robust). The river was up higher than usual so there some nice class II and a few class III rapids to go through. The boat performed very well. The only complaint I have is the weight of the hull. Its listed as being 60 lbs on the website but mine weighs 74 lbs with the cover (without the seats or fin). 70 lbs is the limit for a normal check bag for airlines so it makes it quite expensive to travel with by air. Prior to the next trip I will see if there is any way of shedding some weight.
12/31/2017
4.0 out of 5 stars.
Robert Ramundo , TUXEDO PARK
Verified Owner
I bought this so it could fit in our RV and take it with us, and also use around our home on the lakes. Overall I have been happy with the boat but do have some issues with the seats being comfortable.
4/21/2017
5.0 out of 5 stars.
Stephen Rand , Milwaukie
Verified Owner
My wife Bonnie and I love the TC16 canoe and plan on using it a lot this summer and fall in the lakes and rivers of Oregon. I was impressed with the return policy in that the first canoe we received have a defect that showed up when we had the canoe for 5 months and I called and sent pictures of the defect and your staff determined that it was a manufacturing error and after following your instructions was able to have it replaced free of any charges. I have not been able to take the new canoe out yet but am anxious to do so soon. Thank your staff for all their help with our questions.
Travel Canoe 16 Discount Packages
Inflatable Canoe Seat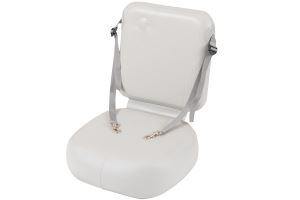 This inflatable seat provides comfort and support for the Travel Canoe. Like the Travel Canoe, the two separate air chambers are made completely of drop stitch technology so it can be inflated to 3psi for rigid support or to a lower psi for a softer ride. The back rest folds down so you can sit a bit higher.
The seat base and backrest are made with two separate and independent chambers so you can adjust both independently as well as the angle of the backrest with our adjustable quick release attachment straps.
Boat Carry Bag for TC16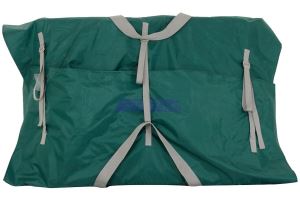 The real time saver of this bag design is the way it wraps around the boat hull. You don't have to spend time folding the boat to the exact proportions of the bag. Just roll up the boat and place on the open bag, and wrap the flaps around it.
Measures 100" x 64"
Hand Piston Pump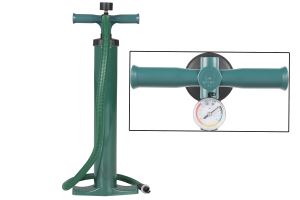 The Hand Piston Pump's special design allows for low effort and quick inflation. Made with a reliable and strong aluminum shaft. The HandPump comes equipped with hose, recessed one-way valve adapter and a conveniently located, easy visible, accurate built-in pressure gauge. SUP Pump capable of inflating to 1 bar or 15 PSI.
Repair Kit
Repair kit for 1000 Denier PVC boats. Includes hull repair material, tube of glue & Halkey-Roberts valve replacement tool.
Canoe Paddle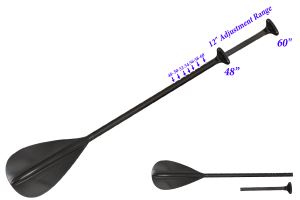 This two part aluminum canoe paddle is constructed using Aircraft grade aluminum for the shaft and a proprietary filled fiberglass nylon blade to add a new standard of strength to polymer blades.
It is fully adjustable from four feet collapsed to five feet fully extended. With 6 two inch adjustable settings, you are sure to get the exact length that's perfect for you.
Fashioned as a hybrid between a canoe and SUP paddle we've combined the best of both worlds.
The ergonomic handle fits perfectly into your hand providing both comfort and paddle blade orientation.
The teardrop shaped concaved 17" long x 8.5" wide spoon blade has a kickback angle of 7° increasing not only the amount of water you catch and hold but also the actual catch phase of your stroke as well. Thus lengthening the power phase while allowing you to keep the paddle close to the canoe creating more lift.
BP12 Electric Pump
The Bravo BP12 is a super efficient lightweight single stage high pressure piston pump that will inflate from 1 to 14.5 psi. Simply set the turn dial to your desired pressure setting, press the "on" button and this little workhorse will do the rest.
Included:
102" (8'6") cable w/alligator clips
72" (6') inflation hose
Recessed Valve Adapter
Weight: 4 lbs.
Dimensions: 8" x 4" x 5"
Maximum Draw 20 Amps.
BP12 Pump w/ Battery Kit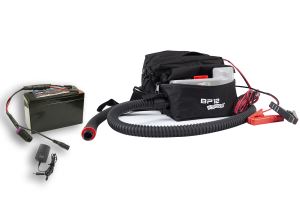 The Bravo BP12 is a super efficient lightweight single stage high pressure piston pump that will inflate from 1 to 14.5 psi. Simply set the turn dial to your desired pressure setting, press the "on" button and this little workhorse will do the rest. The included battery lets you inflate your SUP virtually anywhere.
**Battery cannot ship by air. Cannot ship outside the continental U.S.**
Included:
BP12 (4 lbs.)
102" (8'6") cable w/alligator clips
72" (6') inflation hose
Recessed Valve Adapter
12 volt battery (5.6 lbs.)
Battery charger
Total Weight: 9.6 pounds
Dimensions: 8" x 4" x 5"
Maximum Draw 20 Amps.
Free Shipping
All Sea Eagle orders with this product will receive Free Ground Shipping to the lower 48 U.S. States.
Express shipping and delivery to Alaska, Hawaii and outside the United States are also available for an additional fee. Shipping rates will be displayed on our shopping cart page.
Offer Valid through 1/31/2020
Sea Eagle Used Boats
have

never been damaged, punctured or patched

have been

test inflated for 48 hours

might have very minimal wear (no barnacles or algae)
are covered by our regular 180 day

money back guarantee

and

three year

bow-to-stern warranty, just like our new boats.
might contain prior-generation components
Delivery Estimator
Starting at $1,849.

4 great packages to choose from! Click Here.