About the 473rl
The World's First All Drop Stitch Patented RazorLite™ two person inflatable kayak! A lighter, narrower and faster to paddle, high performance tandem kayak for the adventurers.
With a tapered, hard-nose bow and stern, and fully constructed with Drop Stitch technology, the 473RL cuts through waves cleaner, straighter and sharper than any other kayak on the market allowing paddling speeds up to 6 mph.
U.S. Patent 9,452,809
About the RazorLite™ Series
The World's First All Drop Stitch patented RazorLite™ inflatable kayaks are a much lighter, narrower and faster to paddle, high performance kayak for true adventurers!
A razor sharp, tapered, hard-nose bow and stern, combined with a fully constructed Drop Stitch technology hull enables the Sea Eagle RazorLite™ Kayaks to cut through waves cleaner, straighter and sharper than any other kayak on the market allowing paddling speeds up to 6 mph.
Because of it's high performance design and capabilities the RazorLite™ kayaks are best recommended for intermediate and above paddlers.
U.S. Patent 9,452,809
| | |
| --- | --- |
| Person Capacity | 2 |
| Hull Weight | 43 lbs. |
| Length | 15 ft. 6 in. |
| Beam | 2 ft. 6 in. |
| Interior | 14'10" x 21" |
| Load Capacity | 2 Person or 750 max |
| Deflated | 30" x 19" x 9" |
| Chambers | 3 (port, starboard, floor) |
| Tube Diameter | 10" High x 4" Thick |
| Air Valves | 3 Recessed One Way |
| Inflation time | 8 min |
| Seam | Quadruple Overlapped |
| Material | 1000 Denier Reinforced |
| Floor | Attached High Pressure Drop Stitch Floor |
| Inflation Pressure | 10 psi |
Certifications
Standard Features
NMMA Certified
Fully Constructed with Drop Stitch Technology
2 Open and close drain valves
Large, Removable, Swept Back Rear Skeg
Front & Rear Spray Skirts with Carry Handles
14 D-Rings to Secure Seats and FootRests
Printed Instructions
473rl Reviews
(17 total, avg. review: 4.8 out of 5)
12/10/2017
Deirdre Allen , St. Albert
Verified Owner
We love our Kayak! It is wonderful to take camping. It fits between our gear and then when we arrive at the lake it blows up in no time. We have made some enhancements, we have added air cushions to the seats because when we are out for a long time our butts were getting sore - wonderful seats just needed a bit more cushion. Great back support. We also made a rudder system that is portable and attaches - works great. A little more time setting up but so worth it. We get so many great complements and we are so proud to own this kayak. Sea Eagle has great customer service and excellent products. Thanks for adding such joy to our life.
11/27/2017
Jordan Da Costa , THUNDER BAY
Verified Owner
This kayak has been the best inflatable kayak I have ever used. It has gone through 3 foot swells and held it rigidity. Even when I was caught in a storm and the entire kayak filled with water, it remained easy to paddle and maneuver through the pounding rain and wind. Fantastic machine this kayak is and even made it up to 6 mph solo.
11/1/2017
John D Rowland , Owen Sound
Verified Owner
The all up weight of the Sea Eagle pack for my fine kayak/canoe including paddles is 58lbs.and looks somewhat intimidating. But it becomes easier to pack with each use. It can be carried solo and.....it is air transportable!The set up is simple and no problem. A rather large but uncomplicated manual pump is good enough for me.Paddling this craft after my familiar and trusty Kevlar hard shell sea kayak is what I expected when I made my buying decision and plunked down the cash. So in design terms of stiff hull, underwater shape of craft and resultant performance (speed and effort) I got the fine craft I expected. Thank you Sea Eagle. Finally this is a high capacity boat. It will carry 2 or 3 people on a mission or 2 paddlers and a pile of gear. And please note my Borealis Ellesmere is for other adventure.
10/4/2017
Paul Lechtenberg , DEMOREST
Verified Owner
Love Sea Eagle. We live full time in a motorhome & have limited room to carry toys, so we investigated inflatable kayaks as a space saver. Have owned the FastTrack product for years and loved it's stability and durability. In Feb 2017, we switched to the Razor Lite. The change was exactly as Sea Eagle staff represented. The Razor Lite is faster than the Fast Track, tracks and handles similar to a long hardbody kayak and best suited for flat (or relatively flat) water. It is not as stable as the FastTrack (which was exactly as disclosed by Sea Eagle staff), but is very comparable to hard side kayaks. The 473rl is easy to set up, roomy and made from durable materials. We see many people using other lower quality inflatables having to paddle hard to cover ground and not tracking very straight. They often stop us to inquire about our Sea Eagle and we can only rave about the product. With the drop stitch floor and sidewalls, many are shocked to discover we are also in an inflatable.
10/2/2017
Lawrence K Graham , Sterling, CO
Verified Owner
We have had our Razorlite 473rl for several weeks now and really enjoy it, both as a single and tandem paddler.I understand some people think it is too "tippy", but it's not. My wife and I have been canoeing for many years and found it very stable. The initial stability feels a little tippy, compared to a wide, flat, inflated raft, but its secondary stability is great. With those inflated sides, it is very difficult to tip over. If you do manage to flip it over, it sits on top of the water instead of filling up. Its light weight makes it easy for us seniors to handle. I have already added two D-rings (available from Sea Eagle) to attach two grab handles amidships. This makes it even easier to handle out of the water. I found the large skeg (more like a rudder) it came with made it difficult to turn and maneuver. I guess that's so novice paddlers can maintain a straight course. I replaced it with a small 4" skeg (available from Sea Eagle) that slides into the same slot and is just enough for us. Works great!
7/8/2017
Sandy Whyte , COOL
Verified Owner
Set up fairly fast. Tracks well. Bought the cart and that makes it so much easier to inflate and then roll down to lake. It's a littler bigger and harder to fold up than expected. Larger bag is needed!
6/22/2017
Lynne Curry , BENICIA
Verified Owner
Enjoying the new Kayak, but find it more tippy than the first Sea Eagle. I'm sure we'll be more confident with it as we use it. Just had it out for 3rd time this week. We find it easier to get in and out of due to the narrow sides.
6/6/2017
Rogier J , Zurich (CH)
Verified Owner
Got my 473rl about 1.5 years ago and took it for 25 shorter and longer trips (incl. overnight) on lakes and rivers in Switzerland. Setup is easy and fast and the kayak is stable but at the same time reasonably sleek and streamlined. With skeg, I am impressed with the tracking and without I gain maneuverability. It feels at home on gentle rivers and on lakes when not too windy. It's not intended for whitewater and I indeed found class 2 the upper limit because of the hard-nose bow and the limited self-bailing, I'm sure that the material can handle it though. For one person, it is a bit challenging to carry everything but handling on the water is ok and the flexibility to take a passenger is great. The backpack could be further developed, esp. for use with public transport: straps and clips quality, handles at the side, a bigger side pocket or an option to attach paddles. Overall, I am very happy and impressed with the kayak and looking forward to many trips this summer and to new waters with an Explorer 420x.
4/30/2017
Aaron Wilson , Idaho Falls, ID
Verified Owner
We started our second season with our 473rl with an afternoon trip up the Snake River under the Perrine Bridge. Last year I seriously considered finding a canoe to get the family out on the water but I've always preferred kayaks. The 473rl has the best parts of both, cargo room of a canoe as well as the speed and double paddle of a hard body kayak, on top of that it fits in any vehicle without a rack system. It can be easily be reconfigured to distribute load (and people). Having run over many rocks (hitting hard and dragging bottom), I can vouch that 473rl is rugged. The "soft" bottom is super comfortable for kids to move around on and nap. Finally having the "speed" to travel against the wind and current is a safety issue in many settings and this boat performs as well as anything this size. So far I've done more than a hundred miles of rivers and lakes (mostly with kids). Looking forward to camping in spots that only a boat can access. In total the 473rl does everything I expected it to and more.
4/22/2017
James Wolf , NEW HOPE
Verified Owner
We love this kayak!! It is very portable and easy to inflate with compressor pump. It is sturdy and strong. We enjoy that it's portability can take us to lakes , ponds and rivers. Thank you Sea Eagle
473rl Discount Packages
Pro
Pro Carbon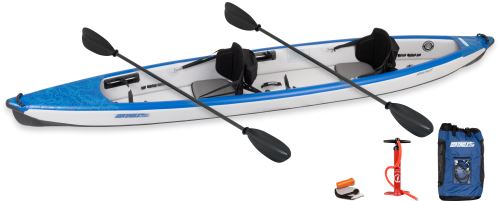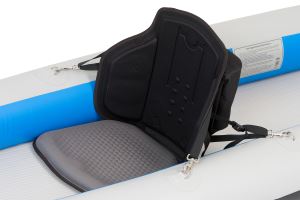 Tall Back Kayak Seat latches securely to the d-rings on many of our Sea Eagle hulls. Removable zippered rear pouch for storage. Made of thermal molded foam. Provides great back support with an 19" high backrest. Great for any outing. Lightweight and durable.
The molded foam construction gives you a low sitting position to for maximum stability in rough whitewater and excellent back support.
Only weighs 2 lbs.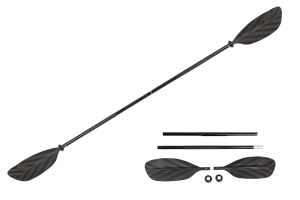 The asymmetrical spoon blade design of this Kayak paddle allows for smooth entries and an even pull, maximizing the power from your stroke. They require less gripping force, less effort per stroke. Weighs 2.92 lbs. Snap lock buttons to disconnect into 4 parts.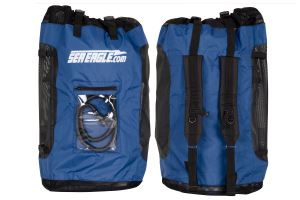 New All Purpose BIG BACKPACKBIG! Great for carrying: LB11, NeedleNose SUPs, Sports Kayaks, FastTracks, Explorers, RazorLites and Motormount Boats! With 8.4 cubic feet of space there's plenty of room for your Sea Eagle and more! *Be sure to check baggage restrictions prior to traveling.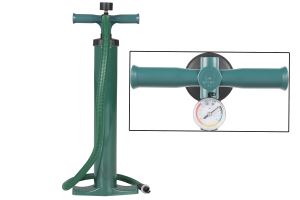 The Hand Piston Pump's special design allows for low effort and quick inflation. Made with a reliable and strong aluminum shaft. The HandPump comes equipped with hose, recessed one-way valve adapter and a conveniently located, easy visible, accurate built-in pressure gauge. SUP Pump capable of inflating to 1 bar or 15 PSI.
This weed-less swept back skeg is great for those who would rather not get hung up on weeds or drag them along. The 13" long swept back design works as a weed-less rudder that minimizes yawing (side to side swinging) during paddling stokes and assist with forward propulsion due to it's reflex technology. At only 7" deep this skeg allows you to travel in much shallower waters.
Large (13" Long x 7" Deep) swept back removable slide in skeg for Stand Up Paddle Boards, FastTracks, Explorers, and Travel Canoe.
*Note your craft must have the grooved base plate to accommodate a slide-in skeg.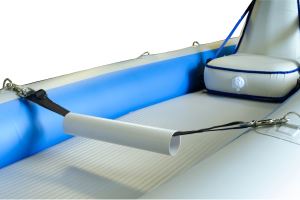 Adjustable footrest for your FastTrack™ and RazorLite™ Kayaks. Easily clips to the pre attached d-rings on your kayak. (385ft shown in 1st photo)
Repair kit for 1000 Denier PVC boats. Includes hull repair material, tube of glue & Halkey-Roberts valve replacement tool.
Featherweight AB50 8' Double End Paddle with Carbon-Fiberglass shaft and Asymmetrical spoon blades.
Free Shipping
All Sea Eagle orders with this product will receive Free Ground Shipping to the lower 48 U.S. States.
Express shipping and delivery to Alaska, Hawaii and outside the United States are also available for an additional fee. Shipping rates will be displayed on our shopping cart page.
Offer Valid through 1/31/2018
Sea Eagle Used Boats
have

never been damaged, punctured or patched

have been

test inflated for 48 hours

might have very minimal wear (no barnacles or algae)
are covered by our regular 180 day money back guarantee and three year bow-to-stern warranty, just like our new boats.
might contain prior-generation components
Delivery Estimator
Starting at $1,299.

2 great packages to choose from! Click Here.