About the 473rl Inflatable Kayak
The World's First All Drop Stitch Patented RazorLite™ two-person inflatable kayak. A lighter, narrower and faster to paddle, high-performance tandem kayak for the adventurers. Now featuring FlexBrace™ adjustable footrests!
With a tapered, hard-nose bow and stern, and fully constructed with Drop Stitch technology, the 473RL cuts through waves cleaner, straighter and sharper than any other kayak on the market allowing paddling speeds up to 6 mph.
U.S. Patent 9,452,809
About the RazorLite™ Series
Now featuring Sea Eagle FlexBrace™ adjustable footrests!
Say goodbye to bulky, heavy, plastic kayaks! Modern inflatable kayaks are lighter & easier!
The World's First All Drop Stitch patented RazorLite™ inflatable kayaks are a much lighter, narrower and faster to paddle, high-performance kayaks for true adventurers!
A razor-sharp, tapered, hard-nose bow and stern, combined with a fully constructed Drop Stitch technology hull enables the Sea Eagle RazorLite™ Kayaks to cut through waves cleaner, straighter and sharper than any other kayak on the market allowing paddling speeds up to 6 mph.
Because of its high-performance design and capabilities, the RazorLite™ kayaks are best recommended for intermediate and above paddlers.
U.S. Patent 9,452,809
| | |
| --- | --- |
| Person Capacity | 2 |
| Hull Weight | 45 lbs. |
| Length | 15 ft. 6 in. |
| Width | 2 ft. 6 in. |
| Interior | 14'10" x 21" |
| Load Capacity | 2 Person or 750 max |
| Deflated | 37" x 23" x 10" |
| Chambers | 3 (port, starboard, floor) |
| Tube Diameter | 10" High x 4" Thick |
| Air Valves | 3 Recessed One Way |
| Inflation time | 8 min |
| Seam | Quadruple Overlapped |
| Material | 1000 Denier Reinforced |
| Floor | Attached High Pressure Drop Stitch Floor |
| Inflation Pressure | 10 psi |
Certifications
When deflated and packed well, this hull will fit in:
NMMA Certified
Fully Constructed with Drop Stitch Technology
2 Open and close drain valves
Large, Removable, Swept Back Rear Skeg
Front & Rear Spray Skirts with Carry Handles
2 FlexBrace™ adjustable footrest
8 D-rings to secure the adjustable seats
473rl Reviews
4.5 out of 5 stars.
(46)
Robert Gordon
Verified Owner
12/20/2021
5.0 out of 5 stars.
We love our sturdy, convenient, comfortable tandem kayak.
John Edwards
Verified Owner
9/7/2021
5.0 out of 5 stars.
We received our kayak back in the spring. It arrived weeks before it was expected to. Our first voyage was great. I managed to miss read the instructions and inadvertently cause a small leak. Sea Eagle quickly came to our rescue and repaired the kayak at no charge. Since then we have enjoyed many hour in several location and I am reminded to once again to carefully read all the instructions. The photos are from our recent excursion to one of our favorite pubs where when one paddles there, you get a but off you first pint. The Pour house, Port Townsend, WA, USA. This kayak replaces our SE 330, Still working well after 20 years. Now with one of our children.
Valerie McDonnell
Verified Owner
8/16/2021
2.0 out of 5 stars.
The kayak took longer than expected to arrive. When it came, it came in two different boxes. The kayak didn't fit in the carrying bag. I tried to contact customer services more times than I can count. They finally answered saying they didn't have a bag available to fit the kayak. They then sent me a cheap $10 dollar big cargo bag that was pretty useless. The only reason I'm even giving them a 2 (instead of a 1) is because I do think the quality of my specific kayak is great. It is such a shame that the company and customer service is so bad. My best friend tried to buy the same kayak as mine and when his arrived, it was completely different than what he ordered. Not surprised. For the price tag of these kayaks, I would expect to have all pieces fit and proper customer service when something is wrong with the order/ a part doesn't fit.
Sea Eagle's reply:
Thank you for the review and feedback Valerie.
We are very sorry that the complimentary CarryBag did not work out for you. We strive to provide our customers with the best personal service possible. We hope you are enjoying the boat and are here for any of your future needs.
Please feel free to reach out to us anytime.
Edawrd Binau
Verified Owner
7/15/2021
5.0 out of 5 stars.
Just finishing a trip to Bend Oregon, first summer with our 473rl. Did a 18 mile trip on the Deschutes River and some shorter lake trips. My wife and I just love our kayak, we have had hard shells and one other inflatable, the 473rl is the best kayak we have ever used. Love the speed , finished the 18 mile river trip under 5 hours ( used to take 6 ). And the way we can get in and out of the boat very stable ( without failing in the lake or river ). Very easy to set up and take down and we can take all our gear. We are both in our sixty's........ Thank you for a great product
The Pro Package offers performance, comfort, and portability for 2! Includes 473RL Kayak with 2 AB40 paddles, 2 Tall Back Seats, 2 FlexBrace™ adjustable footrest and backpack carry bag.
Package price and FREE SHIPPING offer valid through Monday, January 31, 2022
a $2,082 value for

just $1,499

through Jan 31 *
Pro Carbon Tandem Package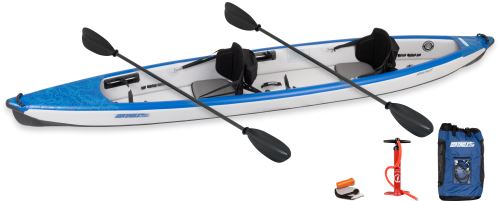 Take your paddling experience to the next level! Lighter weight, 2 piece AB50 carbon fiber paddles make paddling longer distances easier.
Package price and FREE SHIPPING offer valid through Monday, January 31, 2022
a $2,220 value for

just $1,599

through Jan 31 *
Starting at $1,499.

2 great packages to choose from! Click Here.
Tall Back Seat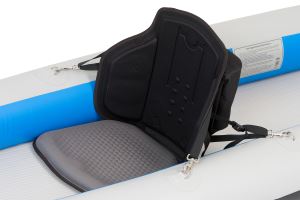 Tall Back Kayak Seat latches securely to the d-rings on many of our Sea Eagle hulls. Removable zippered rear pouch for storage. Made of thermal molded foam. Provides great back support with an 19" high backrest. Great for any outing. Lightweight and durable.
The molded foam construction gives you a low sitting position to for maximum stability in rough whitewater and excellent back support.
Only weighs 2 lbs.
8' AB40 paddle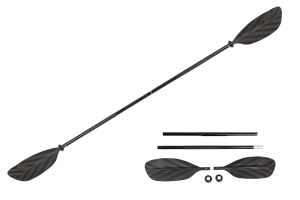 The asymmetrical spoon blade design of this Kayak paddle allows for smooth entries and an even pull, maximizing the power from your stroke. They require less gripping force, less effort per stroke. Weighs 2.92 lbs. Snap lock buttons to disconnect into 4 parts.
Backpack Large (BLUE)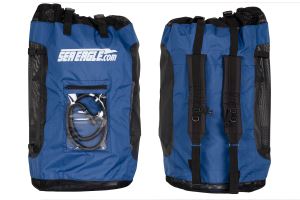 New All Purpose BACKPACK LARGE! Great for carrying: LB11, NeedleNose SUPs, Sports Kayaks, FastTracks, Explorers, RazorLites and Motormount Boats! With 8.4 cubic feet of space, there's plenty of room for your Sea Eagle and more! *Be sure to check baggage restrictions prior to traveling.
FlexBrace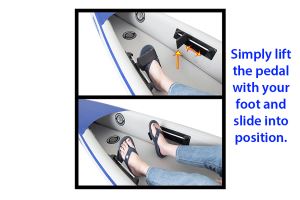 Ergonomic customizable footrest adjusts to 20 positions quickly & easily. Allows for more powerful paddle strokes. Just lift the FlexBrace with your foot & move to a comfortable setting. Base permanently glues into place while the rod & pedal come off for compact storage. This sturdy, convenient & easy to use footrest works on many Sea Eagle & other inflatable kayaks.
Includes 2 FlexBraces (left & right).
Does not include glue.
* Not for use with Sport Kayaks SE330 & SE370. Does not work on Explorer 300x due to valve placement and only 1 FlexBrace Kit can be used with the 385ft FastTrack due to valve placement.
SUP Pump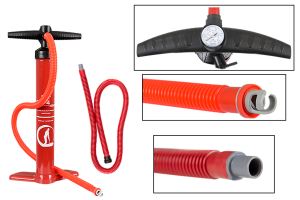 This SUP(Stand Up Paddle) Pump's special design allows for low effort and quick inflation. Made with a reliable and strong aluminum shaft. The SUP Pump comes equipped with hose, recessed one-way valve adapter and a conveniently located, easy visible, in-line pressure gauge and the option of selecting between single action (down stroke only) and double action (both up and down strokes) inflation. SUP Pump capable of inflating to 29 PSI.
Use double action for high volume and lower pressures and single action during increasing resistance cause by higher pressures.
Includes 2nd hose with Boston Valve and Pipe Valve attachments.
Slide in Swept Back Skeg
This weed-less swept back skeg is great for those who would rather not get hung up on weeds or drag them along. The 13" long swept back design works as a weed-less rudder that minimizes yawing (side to side swinging) during paddling stokes and assist with forward propulsion due to it's reflex technology. At only 7" deep this skeg allows you to travel in much shallower waters.
Large (13" Long x 7" Deep) swept back removable slide in skeg for Stand Up Paddle Boards, FastTracks, Explorers, and Travel Canoe.
*Note your craft must have the grooved base plate to accommodate a slide-in skeg.
Repair Kit
Repair kit for 1000 Denier PVC boats. Includes hull repair material, tube of glue & Halkey-Roberts valve replacement tool.
AB50 Paddle
Featherweight AB50 8' Double End Paddle with Carbon-Fiberglass shaft and Asymmetrical spoon blades.