Used Inflatable Boats
have

never been damaged, punctured or patched

have been

test inflated for 48 hours

might have very minimal wear (no barnacles or algae)
are covered by our regular 120 day

money back guarantee

and

three year

bow-to-stern warranty, just like our new boats.
might contain prior-generation components
Inventory levels change rapidly, and we cannot guarantee that these boats will be available for long.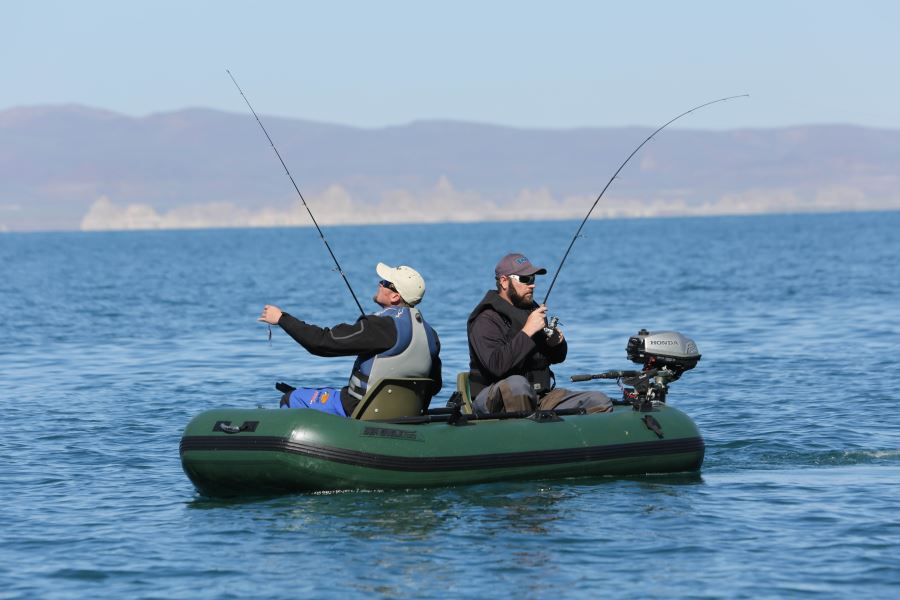 The Hunter Green Stealth Stalker 10 is a new kind of fishing boat equipped for use in various fishing conditions... on rivers, lakes, bays...in calm or rough weather. Comfortable for two, easily handled by one! This roomy, portable, light weight boat features a fully enclosed hull for use on almost any body of water. Wide sectional floorboards provide plenty of fishing space and a conveniently located stow bag makes for easy access. With 2 built-in 40" Fish Rulers on the pontoons, measuring fish will be quick and easy. Utilizing a round-hull configuration with an inside cockpit this enclosed boat gives anglers a safe secure feeling while fishing in calm or rough seas. A truly stable and functional fishing craft that can be used in a wide range of fishing and water conditions.
Only 1 available.
Order now
and
save $100
while supplies last!
STS10 Specifications

| | |
| --- | --- |
| Person Capacity: | 4 |
| Hull Weight: | 45 lbs. (78 lbs. with wooden floorboard and motor mount) |
| Length: | 10 ft. 1 in. |
| Width: | 5 ft. |
| Interior: | 7' 6" x 2' 4" |
| Load Capacity: | 4 Adults or 1200 lbs. |
| Inflation time: | 15 min. |
| Seam: | Quadruple Overlapping Superior Glued Seams |
| Engine Capacity: | 4 hp gas (20" shaft minimum, 45 lbs. max weight) or up to 74 lb. thrust electric (min 30" shaft, 45 lbs. max weight) |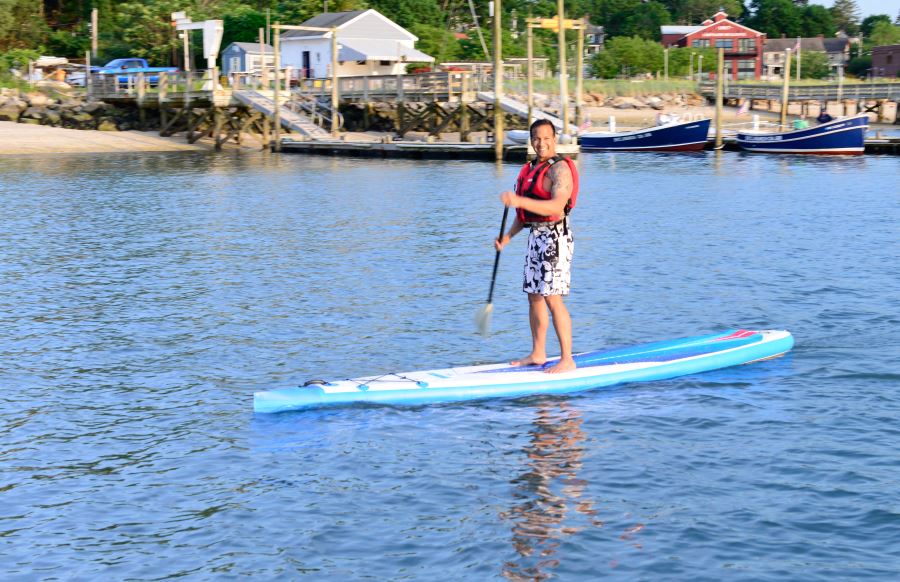 Featuring a full length electric pattern diamond deck EVA foam pad, convenient built-in paddle saving PaddlePocket™ holder and a removable skeg! This is the world's best tracking inflatable SUP ever! The NN14 is specifically designed for persons looking to combine touring performance in the most variety of environmental conditions. With increased floatation, rigidity and the most stability. You'll be able to SUP most every day! This Breakthrough Design features: a straight-line hull, patented razor sharp, wave piercing bow, elegantly curved touring shape, full length electric pattern EVA diamond deck pad with custom performance kick tail and the ability to paddle faster, further and easier! Best suited for those weighing 275 lbs or less.
Only 1 available.
Order now
and
save $100
while supplies last!
NN14 Specifications

| | |
| --- | --- |
| Person Capacity: | 1 |
| Hull Weight: | 34 lbs. |
| Length: | 14 ft. |
| Width: | 30 in. |
| Load Capacity: | 1 Person or 275 lbs |
| Inflation time: | 9 Minutes |
| Seam: | Quadruple Overlap |