About the 393rl Inflatable Kayak
The World's First All Drop Stitch Patented RazorLite™ inflatable kayak! A lighter, narrower and faster to paddle, high performance solo kayak for the adventurer.
U.S. Patent 9,452,809
About the RazorLite™ Series
The World's First All Drop Stitch patented RazorLite™ inflatable kayaks are a much lighter, narrower and faster to paddle, high performance kayak for true adventurers!
A razor sharp, tapered, hard-nose bow and stern, combined with a fully constructed Drop Stitch technology hull enables the Sea Eagle RazorLite™ Kayaks to cut through waves cleaner, straighter and sharper than any other kayak on the market allowing paddling speeds up to 6 mph.
Because of it's high performance design and capabilities the RazorLite™ kayaks are best recommended for intermediate and above paddlers.
U.S. Patent 9,452,809
| | |
| --- | --- |
| Person Capacity | 1 |
| Hull Weight | 33 lbs. |
| Length | 12 ft. 10 in. |
| Width | 2 ft. 4 in. |
| Interior | 12'2" x 17" |
| Load Capacity | 1 Person or 500 lbs.. |
| Deflated | 22" x 22" x 12" |
| Chambers | 3 (port, starboard, floor) |
| Tube Diameter | 8.5" High x 4" Thick |
| Air Valves | 3 Recessed One Way |
| Inflation time | 7 min |
| Seam | Quadruple Overlapped |
| Material | 1000 Denier Reinforced |
| Floor | Attached High Pressure Drop Stitch Floor |
| Inflation Pressure | 10 psi |
Certifications
Standard Features
NMMA Certified
Fully Constructed with Drop Stitch Technology
2 Open and close drain valves
Large, Removable, Swept Back Rear Skeg
Front & Rear Spray Skirts with Carry Handles
Printed Instructions
393rl Reviews
(49 total, avg. review: 4.6 out of 5)
4/13/2018
David Straka , Evansville
Verified Owner
I chose the 393rl because inflateable was my best option. Being inflateable admittedly adds an element of fragility due to puncture, but the warranty seemed very good. Little did I know that there could also be a manufacturing defect that could happen. That was indeed my problem the day after going to Kentucky lake to view the full eclipse last August, as a seam on the hull leaked after our viewing what was undeniably the most spectacular solar event. Luckily it was very slow and did not impact the event and only appeared later that day. After getting home, I inflated the hull again and was able to locate the leak at a seam. I contacted the guys at SeaEagle, and my hull was well within the warranty period. SeaEagle replaced the hull within a few days! Great service and a great kayak. I recommend this craft to folks who need portability and space savings.
4/4/2018
Joann Scott , BEND
Verified Owner
3/7/2018
Matt Soeffner , Mesa
Verified Owner
I just recently added a second 393rl to my fleet and couldn't be happier! The kayak sets up fast (love my electric pump!) and only takes about 5 minutes to get on the water. I am constantly getting on the water faster than hardshell kayak owners can with all the hassle they have of loading and unloading from the top of a car (who needs that headache!)
more ▼
With the skeg it tracks straight and true and doesn't get tossed around in the wind like other inflatable kayaks. I did cut off about 3" off my skeg though for a little more clearance in shallow water and it still tracks straight & is more maneuverable to boot! With plenty of room and a comfortable tall back seat its easy to spend the whole day on the water.
Everytime I take the kayak out people are always impressed and many can't believe its inflatable until they see me put the kayak away in the trunk of my Ford Mustang.
This is definitely the fastest and best inflatable kayak out there! What are you waiting for?
2/22/2018
John Capets , HUNTERSVILLE
Verified Owner
We love the portability and performance of our 393rl. We bought two of them. I would recommend this to anyone looking for a go-anywhere solution for flat-water paddling. The ONLY reservation that I have is with the size of the carry bag. It needs to be about 25% larger. This is a constant source of irritation trying to put the kayak back into the bag. I have watched the company's videos on repacking and have used the electric pump to suction out the excess air, but the bag is just too small. I give the kayak five stars but the bag issue knocks off one star for me.
more ▼
1/24/2018
Zoe Dubrow
Verified Owner
I've had other inflatable kayaks in the past and this one is much better, it handles as well as a hard shell kayak. Really easy to blow up even with just the hand pump. It only takes me about 10 minutes total to set up.
1/22/2018
Daniel Long , CANON CITY
Verified Owner
First of all, I think Sea Eagle boats are the best inflatable boats you can buy. That being said, my first couple of rides in my 393rl were a little sketchy. My previous boat was a paddleski . I bought that about 5 years ago. It was very stable and easy to row. Unfortunatley the wind pushed it around quite a bit. The 393rl has a much lower profile so that reduces that problem a lot. Stability is the problem. I consider myself a pretty good kayaker but I had a hard time feeling secure in this kayak. I guess I just need more time to get used to it. Also , the backpack for the kayak is not the easiest to pack up the kayak. I really struggle to get the kayak back in it. Other than those issues, the boat itself is great. Easy to inflate and deflate. It definitely moves through the water smoothly. I will keep trying to get used to my 393rl but it is definitely suited more for experienced kayakers.
1/15/2018
Kevin Shalosky , Ohio
Verified Owner
Had an issue with the first one but Sea Eagle replaced it with new improved design at no cost. Great service! Can completely recommend RazerLite without reservations! Sets up super fast, amazing tracking, sturdy kayak. Tracking is a big problem with most inflatables but Sea Eagle has really outdone themselves with this boat.
12/16/2017
Richard Dykiel , ACTON
Verified Owner
I'm using the kayak as a tender to my cruising sailboat when single-handling (which is most of the time). My sailboat is small but capable. I used to drag an inflatable dinghy but that reduced sailing performance. The kayak folds in a locker and is set up quickly to explore my favorite anchorages, which are rocky shores and islands like Maine. The kayak has outstanding performance, close to a rigid. The only drawbacks of the design is windage due to its high freeboard, which makes it harder to get going in strong winds, but still doable. On the other hand I like the open design that enables carrying stuff (e.g. backpacks or groceries). I find it tracks very well even without the skeg, which I never use in order to ease beaching, and rides the swells safely. I still think it reasonable to paddle in relatively protected waters and in calm to medium conditions.
more ▼
Minor drawbacks: seat clips freeze with salt, plastic would be better. Good pump should have a deflate option
12/2/2017
Walter Maiwald , FOUNTAIN HILLS
Verified Owner
After vacillating between the Fast Track and the RazorLite, I finally ordered the 393 rl. I have owned rigid kayaks before and I didn't expect this kind of performance in an inflatable. I was amazed how well the 393 tracked, the speed which I could attain, and the distance I could cover. Needless to say, after my wife tried my 393rl, she wanted one for herself. We love the portability and the ease of storage of the kayak. We have loaned our kayaks out to friends, and they have purchased their own 393rl's. That pretty much says it all. With the 180 day trial period and the 3 year warranty, you can't go wrong.
11/15/2017
Rebecca Wincell , Milwaukee
Verified Owner
I LOVE my Sea Eagle! I do mainly river and lake kayaking but have had it out on Lake Michigan (staying in sight of shore). It is easy to paddle, tracks well, and best of all fits in my backseat! I had traditional hard shell kayaks and tried roof racks and a then a trailer but they were awkward to handle alone. The Sea Eagle folds up in the back seat of my compact car, inflates in less than 10 minutes and I am on the water. I did several group paddles and got lots of compliments and questions on it. I totally recommend it and plan to get a second one in the spring!
393rl Discount Packages
Pro Solo

Pro Carbon Solo
The Pro Carbon Package makes paddling even easier! The AB50 carbon fiber paddle reduces weight by 8 ounces compared to the AB40, making paddling long distances a true joy. Also includes backpack and pump.
In Stock Get Estimated Delivery Date
View Package Details
New All Purpose BACKPACK_DO! Great for carrying: LB11, NeedleNose SUPs, Sports Kayaks, FastTracks, Explorers and Motormount Boats! With 5.5 cubic feet of space there's plenty of room for your Sea Eagle and more! *Be sure to check baggage restrictions prior to traveling.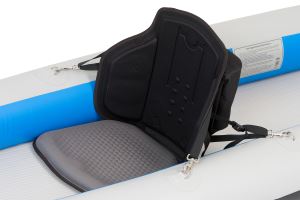 Tall Back Kayak Seat latches securely to the d-rings on many of our Sea Eagle hulls. Removable zippered rear pouch for storage. Made of thermal molded foam. Provides great back support with an 19" high backrest. Great for any outing. Lightweight and durable.
The molded foam construction gives you a low sitting position to for maximum stability in rough whitewater and excellent back support.
Only weighs 2 lbs.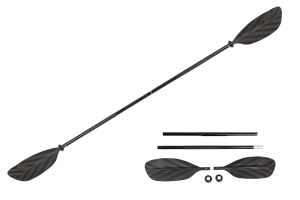 The asymmetrical spoon blade design of this Kayak paddle allows for smooth entries and an even pull, maximizing the power from your stroke. They require less gripping force, less effort per stroke. Weighs 2.92 lbs. Snap lock buttons to disconnect into 4 parts.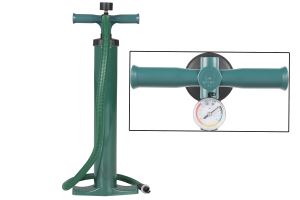 The Hand Piston Pump's special design allows for low effort and quick inflation. Made with a reliable and strong aluminum shaft. The HandPump comes equipped with hose, recessed one-way valve adapter and a conveniently located, easy visible, accurate built-in pressure gauge. SUP Pump capable of inflating to 1 bar or 15 PSI.
This weed-less swept back skeg is great for those who would rather not get hung up on weeds or drag them along. The 13" long swept back design works as a weed-less rudder that minimizes yawing (side to side swinging) during paddling stokes and assist with forward propulsion due to it's reflex technology. At only 7" deep this skeg allows you to travel in much shallower waters.
Large (13" Long x 7" Deep) swept back removable slide in skeg for Stand Up Paddle Boards, FastTracks, Explorers, and Travel Canoe.
*Note your craft must have the grooved base plate to accommodate a slide-in skeg.
Repair kit for 1000 Denier PVC boats. Includes hull repair material, tube of glue & Halkey-Roberts valve replacement tool.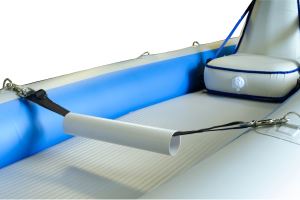 Adjustable footrest for your FastTrack™ and RazorLite™ Kayaks. Easily clips to the pre attached d-rings on your kayak. (385ft shown in 1st photo)
Featherweight AB50 8' Double End Paddle with Carbon-Fiberglass shaft and Asymmetrical spoon blades.
Free Shipping
All Sea Eagle orders with this product will receive Free Ground Shipping to the lower 48 U.S. States.
Express shipping and delivery to Alaska, Hawaii and outside the United States are also available for an additional fee. Shipping rates will be displayed on our shopping cart page.
Offer Valid through 4/30/2018
Sea Eagle Used Boats
have

never been damaged, punctured or patched

have been

test inflated for 48 hours

might have very minimal wear (no barnacles or algae)
are covered by our regular 180 day money back guarantee and three year bow-to-stern warranty, just like our new boats.
might contain prior-generation components
Delivery Estimator
Starting at $849.

2 great packages to choose from! Click Here.