About the 393rl RazorLite™
The World's First All Drop Stitch Patented RazorLite™ inflatable kayak! A lighter, narrower and faster to paddle, high performance solo kayak for the adventurer.
With a tapered, hard-nose bow and stern, and fully constructed with Drop Stitch technology, the 393RL cuts through waves cleaner, straighter and sharper than any other kayak on the market allowing paddling speeds up to 6 mph.
Because of it's high performance design and capabilities the RazorLite™ Series is best recommended for intermediate and above paddlers.
U.S. Patent 9,452,809
About the RazorLite™ Series
The World's First All Drop Stitch patented RazorLite™ inflatable kayaks are a much lighter, narrower and faster to paddle, high performance kayak for true adventurers!
A razor sharp, tapered, hard-nose bow and stern, combined with a fully constructed Drop Stitch technology hull enables the Sea Eagle RazorLite™ Kayaks to cut through waves cleaner, straighter and sharper than any other kayak on the market allowing paddling speeds up to 6 mph.
Because of it's high performance design and capabilities the RazorLite™ kayaks are best recommended for intermediate and above paddlers.
U.S. Patent 9,452,809
Specifications
| | |
| --- | --- |
| Exterior | 12'10" x 28" |
| Interior | 12'2" x 17" |
| Hull Weight | 33.5 lbs. |
| Load Capacity | 1 Person (300 lbs.) + Gear (200 lbs.) = 500 max total lbs. |
| Deflated | 22" x 22" x 12" |
| Chambers | 3, Port, Starboard, and Floor |
| Air Valves | 3 Recessed One Way |
| Inflation time | 7 Minutes |
| Seam | Overlapped |
| Material | 1000 Denier Reinforced |
| Tube Dimensions | 8.5" High x 4" Thick |
| Inflation Pressure | 10 psi |
Certifications
Standard Features
NMMA Certified
Fully Constructed with Drop Stitch Technology
2 Open and close drain valves
Large, Removable, Swept Back Rear Skeg
Front & Rear Spray Skirts with Carry Handles
6 D-Rings to Secure Seat and FootRest
3 One-Way Air Valves
Printed Instructions
393rl RazorLite™ in the news

Sea Eagle has shattered the inflatable kayak mold...this isn't your daddy's IK.
393rl RazorLite™ Reviews
(19 total, avg. review: 4.8 out of 5)
3/20/2017
Patrick Solomon , Salalah
Verified Owner
I have had great fun with it and don't regret my purchase in the least. It takes a bit of getting used to the balance in choppy sea, but it is fast and rigid and tough. I do have recommendations: The air valve covers/caps are attached by thin elastic 'string' which soon wears out and then the caps become detached with no way to attach another 'string'. I have lost one cover because of that. I would like to order another one, please, but mostly I would like to find a way to keep them attached. It is not easy to get water out of the kayak as it gets caught between the 'bladders' and it is thus hard to dry and pack. The foot rest is not very effective and does not cater for people of different lengths. I know one can tighten and loosen the strap, but, even at its tightest, I do not get good foot support. Thank you.
3/19/2017
John Simpson , Carlsbad, CA
Verified Owner
My wife and I bought two 393RL's in Mar '15 and have used them, on average, about 4 days/ month. We usually paddle with another couple who own hardshell sit-on-tops of similar length. Although theirs are made from ABS/acrylic sheet rather than the heavier, more common polyethylene, our 393RL's weigh at least 10 pounds less. Together, we can carry both 393RL's at the same time with all gear inside. They are easily as fast and track as straight as our friends' hardshells, even without their removable skegs. We have paddled them in four different bays, a slough, a sound, and the ocean, and never capsized. Our 393's fly with us on vacations: everything for each kayak, including hull, seats, footrest, pump, shoes, clothes, etc. fits in one XL REI duffle bag and weighs less than 50 lbs, so they check in as ordinary bags and all our luggage will fit within a compact SUV or station wagon. For better comfort, we have replaced the tubular footrests with wooden footboards and upgraded to lighter paddles.
3/16/2017
Oleksandr Ryzhenko , Woburn
Verified Owner
I'm not a big fan of writing reviews. But for the Sea Eagle I make an exception.The 393 RazorLite is our second boat. The first one - FastTrack - we use, seems to me, longer than three years. So we have some experience.I like: the quality of material and build quality, design and engineering. I like how customer service department works. I do not like the fact that this boat is very light and fast. But my wife does not agree with this at all !! She fell in love with this boat.
Therefore, I got a heavy cruiser FastTrack, which, though not very fast, but with a high load capacity. And my wife use RazorLite.Both sets are easily placed in the trunk (when deflated, of course) or at the top (when inflated and for the short distances) of my Honda Civic.We did not regret even a single moment after buying these boats!
3/5/2017
Eyal Amitai
Verified Owner
I've had my kayak for a few months. As a beginner, I was concerned that the profile will be difficult for me to handle. However, every aspect of the experience has been great. Inflating is easy, deflating just as easy and putting away too. The experience on the water is joy, the kayak is fast and fun. I'd definitely recommend to others.
3/2/2017
Linda Meacher , Placitas
Verified Owner
Love the razorlite! Tracks really well, is well built, comfortable and fairly easy to fold and inflate.
2/7/2017
Bradford Keller , Patterson
Verified Owner
I would recommend my Sea Eagle RazorLite for anyone who likes flat water paddling.The deep Skegg and hard nosed bow keeps it AMAZINGLY stable. My dog Ruby and I have been on many lakes in the Sierra's with it.It is stable even when the dog moves from one side to the other or when a boats wake comes from the side.I am usually not in a rush but It moves faster than any inflatable that I know of and the speed is comparable to a hard hulled kayak.
The fact that stores in such a small space and can travel in my car trunk is a great benefit to me. I use the high pressure hand pump to inflate it and it inflates quick.I wish I had a better picture to post.
1/2/2017
Al Soares , Lincoln
Verified Owner
We bought 2 of these to go with our RV. We wanted inflatables to take less space. The 10 PSI is great as it makes really hard sides for smooth sailing over the water.
12/11/2016
Darren Parkin , Elkford BC Canada
Verified Owner
This Kayak is very quick to setup and portable, I carry it on the back of my adventure bike all the time.Its very stable and handles rivers and lakes great, haven't been in much white water but all other conditions, every time it's inflated it's a race to see you gets to use it first. Lots of friends and family have plans of buying one for next yearly
9/16/2016
Diana Walstad , Chapel Hill
Verified Owner
After years of enjoying the SE330, I upgraded to the RazorLite so I could go faster and further on the big lake reservoir nearby (Jordan Lake, NC). On my first couple tryouts, I was disappointed to see that the new kayak wasn't turning as well as the SE330 nor going as fast as the rigid kayaks all around me. In an epiphany, I went to library and borrowed four instructional books on "how to kayak." (Dennis Stuhaug's kayaking book was the best for me as a beginner.) I learned the sweep strokes and weight shifts to turn my kayak easily. For going fast, I finally learned how to do a forward stroke properly. With the RazorLite and my new paddling techniques, I am easily going three times the distance than I have ever gone before. (I like to use a boat dock so that after paddling I can clean up the kayak before putting it into my little Toyota. I store the folded kayak in a storage room, placing it in the cardboard box it originally came in. Neat and tidy. ) Thank you Sea Eagle for such a great product!
8/26/2016
Rick Clark , Tampa, Florida
Verified Owner
If you want a high-performance inflatable kayak, it's hard to do better than the RazorLite 393; especially for the price. If you've read many reviews, you already know how most 393RL owners feel about this kayak. Instead of echoing all the praise, I'll just say that I recently bought a RazorLite, and I'm about to buy another for my companion. Even then I'll have spent less on both than it would cost to get just one hard shell kayak of similar quality and performance. The best advice I can give anyone is to contact Sea Eagle's "Hawaiian Dan." He's the fellow who does the informative instructional videos. Dan can answer any question you could possibly think of about the 393RL, or any other Sea Eagle product. Then when you're ready, purchase your kayak through Dan. He will walk you through all the details, and make sure you're totally delighted with your new RazorLite 393. Just call Sea Eagle at 800-748-8066 and ask for "Hawaiian Dan," or send him an email: dan@seaeagle.com. You'll be glad you did.
393rl RazorLite™ Discount Packages
Pro

Pro Carbon
New All Purpose BACKPACK_DO! Great for carrying: LB11, NeedleNose SUPs, Sports Kayaks, FastTracks, Explorers and Motormount Boats! With 5.5 cubic feet of space there's plenty of room for your Sea Eagle and more! *Be sure to check baggage restrictions prior to traveling.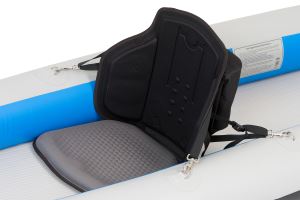 Tall Back Kayak Seat latches securely to the d-rings on many of our Sea Eagle hulls. Removable zippered rear pouch for storage. Made of thermal molded foam. Provides great back support with an 19" high backrest. Great for any outing. Lightweight and durable.
The molded foam construction gives you a low sitting position to for maximum stability in rough whitewater and excellent back support.
Only weighs 2 lbs.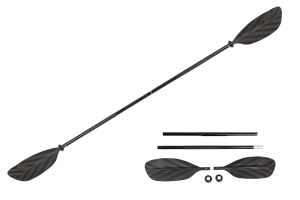 The asymmetrical spoon blade design of this Kayak paddle allows for smooth entries and an even pull, maximizing the power from your stroke. They require less gripping force, less effort per stroke. Weighs 2.92 lbs. Snap lock buttons to disconnect into 4 parts.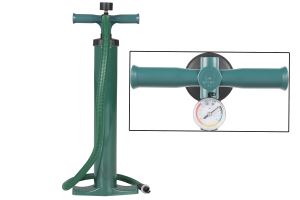 The Hand Piston Pump's special design allows for low effort and quick inflation. Made with a reliable and strong aluminum shaft. The HandPump comes equipped with hose, recessed one-way valve adapter and a conveniently located, easy visible, accurate built-in pressure gauge. SUP Pump capable of inflating to 1 bar or 15 PSI.
This weed-less swept back skeg is great for those who would rather not get hung up on weeds or drag them along. The 13" long swept back design works as a weed-less rudder that minimizes yawing (side to side swinging) during paddling stokes and assist with forward propulsion due to it's reflex technology. At only 7" deep this skeg allows you to travel in much shallower waters.
Large (13" Long x 7" Deep) swept back removable slide in skeg for Stand Up Paddle Boards, FastTracks, Explorers, and Travel Canoe.
*Note your craft must have the grooved base plate to accommodate a slide-in skeg.
Repair kit for 1000 Denier PVC boats. Includes hull repair material, tube of glue & Halkey-Roberts valve replacement tool.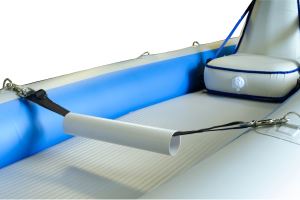 Adjustable footrest for your FastTrack™ and RazorLite™ Kayaks. Easily clips to the pre attached d-rings on your kayak. (385ft shown in 1st photo)
Featherweight AB50 8' Double End Paddle with Carbon-Fiberglass shaft and Asymmetrical spoon blades.
Free Shipping
All Sea Eagle orders with this product will receive Free Ground Shipping to the lower 48 U.S. States.
Express shipping and delivery to Alaska, Hawaii and outside the United States are also available for an additional fee. Shipping rates will be displayed on our shopping cart page.
Offer Valid through 3/31/2017
Sea Eagle Used Boats
have

never been damaged, punctured or patched

have been

test inflated for 48 hours

might have very minimal wear (no barnacles or algae)
are covered by our regular 180 day money back guarantee and three year bow-to-stern warranty, just like our new boats.
might contain prior-generation components
Delivery Estimator
Starting at $949.

2 great packages to choose from! Click Here.