About the 393rl Inflatable Kayak
Forget Heavy Kayaks! Don't Buy A Kayak Until You See Our Fast Inflatable Kayaks!
Introducing The World's First All Drop Stitch Patented RazorLite™ inflatable kayak! A lighter, narrower, sleek, faster to paddle, high-performance solo kayak for the adventurer.
Modern Inflatable Kayaks are Lighter, Set Up in under 7 mins & are Easier To Transport. Ultralight & paddles up to 6 mph, tracks like an arrow, packs in a bag, travels anywhere!
Now featuring Sea Eagle FlexBrace™ adjustable footrests!
U.S. Patent 9,452,809
About the RazorLite™ Series
Now featuring Sea Eagle FlexBrace™ adjustable footrests!
Say goodbye to bulky, heavy, plastic kayaks! Modern inflatable kayaks are lighter & easier!
The World's First All Drop Stitch patented RazorLite™ inflatable kayaks are a much lighter, narrower and faster to paddle, high-performance kayaks for true adventurers!
A razor-sharp, tapered, hard-nose bow and stern, combined with a fully constructed Drop Stitch technology hull enables the Sea Eagle RazorLite™ Kayaks to cut through waves cleaner, straighter and sharper than any other kayak on the market allowing paddling speeds up to 6 mph.
Because of its high-performance design and capabilities, the RazorLite™ kayaks are best recommended for intermediate and above paddlers.
U.S. Patent 9,452,809
| | |
| --- | --- |
| Person Capacity | 1 |
| Hull Weight | 35 lbs. |
| Length | 12 ft. 10 in. |
| Width | 2 ft. 4 in. |
| Interior | 12'2" x 17" |
| Load Capacity | 1 Person or 500 lbs.. |
| Deflated | 22" x 22" x 12" |
| Chambers | 3 (port, starboard, floor) |
| Tube Diameter | 8.5" High x 4" Thick |
| Air Valves | 3 Recessed One Way |
| Inflation time | 7 min |
| Seam | Quadruple Overlapped |
| Material | 1000 Denier Reinforced |
| Floor | Attached High Pressure Drop Stitch Floor |
| Inflation Pressure | 10 psi |
Certifications
Standard Features
NMMA Certified
Fully Constructed with Drop Stitch Technology
2 Open and close drain valves
Large, Removable, Swept Back Rear Skeg
Front & Rear Spray Skirts with Carry Handles
FlexBrace™ adjustable footrest
4 D-rings to secure the adjustable seat
393rl Reviews
(70 total, avg. review: 4.7 out of 5)
12/2/2019
5.0 out of 5 stars.
Roger Chylla , VERONA
Verified Owner
My wife and I have been very happy with our purchase of a pair of 393rl kayaks from Sea Eagle. They handle well in the water with decent speed for an inflatable kayak. The stitching is high quality and surfaces clean easily. My only suggestion for improvement is to make the foot rests easier to install. We have to exert a lot of physical strength right now to bend the material enough to get the rods to slip into the intended slots. Overall, we recommend the product highly for anyone who is looking for a smooth ride on an inflatable kayak.
11/19/2019
5.0 out of 5 stars.
David Zeiss , GRINNELL
Verified Owner
The performance of a rigid kayak, but you can put it in a car trunk. I've owned a number of rigid, inflatable and frame kayaks over the years and I am very impressed with this kayak. I can keep up with people in rigid touring kayaks with no problem. I paddle it regularly without the skeg and find it easy to steer. I often fish from it. As a performance boat it doesn't have the stability many other inflatables have. It would not be my choice for a sailboat tender for example. The folding seat had good adjustment points, but I was less impressed with the two strap option on the inflatable seat, although this can be remedied fairly easily. I find both seats less comfortable than most which is the biggest drawback for me. The included paddle is well built and functional, but those who will be doing much touring will probably want to upgrade. I strongly suggest the adjustable foot brace option. Their power inflator is also a great option.
show full review ▼
11/4/2019
5.0 out of 5 stars.
Robert Muglio , DADEVILLE
Verified Owner
Great kayak. I own all types of boats and this kayak is a performer, it is awesome. It's fast and tracks well. Set up and take down is fast and we travel with it in or RV full time. Love this boat!
3/26/2019
4.0 out of 5 stars.
Raymond Santana , NEWCASTLE
Verified Owner
Bought two of these since we had seen them at a retail product show. Liked the idea of a narrow sided inflatable which should be easier on the body to paddle. Well they lived up to their reputation and my wife and I have enjoyed our few paddle adventures before the weather turned bad for the winter. Easy to inflate and store, they are just what we were looking for. Hope to get a few trips in this summer show full review ▼ in our new kayaks.
in our new kayaks.
3/22/2019
5.0 out of 5 stars.
Dan Copeland , TAHOE CITY
Verified Owner
My wife and I have absolutely enjoyed our Seaeagle kayaks. So has our black lab, Blue. Everything just works. We purchased the battery powered pump and it was the right choice. We live on the North shore of Lake Tahoe so we have excellent kayaking close at hand. The great part about our 393rl is we have gone to many other lakes and rivers because of the ease and portability.
show full review ▼
3/10/2019
5.0 out of 5 stars.
William Tetrault , Spring Green
Verified Owner
Love the boats! [We have two of them, in addition to two fasttrackers (one needle-knife and one original style) and one explorer. We are big believers in Sea Eagle boats!]. While not as stable as our other boats from Sea Eagle because of the narrower hull shape, they DO really scoot! Fun on flat water!
3/7/2019
4.0 out of 5 stars.
Wade Stanton , Mandan
Verified Owner
Adequate for a couple hours on the water. Not to affected by wind. Great for those days when you can't lift a canoe onto the top of a car. Not light but easily rolled out of car to the water. Kinda' hard to get back into the bag. No way would my wife get it into the bag by herself. May have to find a bigger bag. Takes up about as much room as a large dog crate.
2/16/2019
4.0 out of 5 stars.
Jason Piotrowski , SILVER SPRING
Verified Owner
Originally purchased 473rl. That kayak was easy to handle on the water for one person, but it was unmanageable for one person on land, even with their cart [I had purchased a cart from them, but it was too wide for the "RL" series kayaks, and the wheels are too narrow for soft ground, and sink in]. I returned it for the 393rl , and couldn't be happier. The return process was seamless and customer service was helpful. Inflating with the hand pump is just fine, and is quicker than the inflatable SUP I own. I have taken it out on large lakes and slow rivers. It handles great and is quite quick. Purchased a smaller skeg, and for me, has proven more than enough. Seat it comes with is comfortable, though the paddle it comes with isn't the lightest and I used my own aftermarket one. The sides are a bit low, so if out in >2-3 chop, boat could get swamped, especially when going parallel to the waves, but don't think would sink . Overall extremely happy and would purchase again.
11/17/2018
4.0 out of 5 stars.
Barbara Roberts , Kings Beach
Verified Owner
I love this kayak. It is easy to inflate; easy to transport, and it tracks great in the water. As a 66 year old woman, I looked for a kayak that didn't deplete all my strength before I launched. This one is perfect for me.
11/7/2018
5.0 out of 5 stars.
Richard Harris , DENVER
Verified Owner
Shipment time was quick. This kayak is much easier to transport in my vehicle rather than lifting my hard shell on and off the car roof rack. At 69 yo lifting over my head gets more difficult. It took several outings to get used to folding correctly to get back in the bag. We have a 330 and the 393 is much faster and more maneuverable. Very convenient for carrying on long trips. I would recommend the show full review ▼ 393 and would purchase again.
393 and would purchase again.
393rl Discount Packages
Pro Solo

Great combination of performance, comfort and portability! Includes light weight 393RL Kayak, AB43 paddle, Tall Back Seat, adjustable FlexBrace™ footrest, backpack & high pressure pump.
on backorder, expected in warehouse 10/26/2020, Get Estimated Delivery Date
View Package Details
Pro Carbon Solo
The Pro Carbon Package makes paddling even easier! The AB50 carbon fiber paddle reduces weight by 8 ounces compared to the AB40, making paddling long distances a true joy. Also includes backpack and pump.
on backorder, expected in warehouse 10/30/2020, Get Estimated Delivery Date
View Package Details
Backpack (BLUE)
New All Purpose BACKPACK_DO! Great for carrying: LB11, NeedleNose SUPs, Sports Kayaks, FastTracks, Explorers and Motormount Boats! With 5.5 cubic feet of space there's plenty of room for your Sea Eagle and more! *Be sure to check baggage restrictions prior to traveling.
Tall Back Seat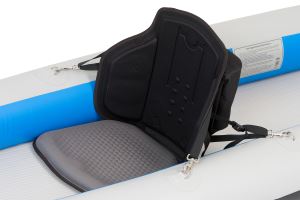 Tall Back Kayak Seat latches securely to the d-rings on many of our Sea Eagle hulls. Removable zippered rear pouch for storage. Made of thermal molded foam. Provides great back support with an 19" high backrest. Great for any outing. Lightweight and durable.
The molded foam construction gives you a low sitting position to for maximum stability in rough whitewater and excellent back support.
Only weighs 2 lbs.
AB43 paddle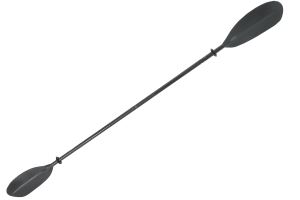 The AB43 Kayak Paddle has a durable two-piece aluminum shaft, asymmetrical swept-back blades and feather adjustments. This paddle allows for an even pull maximizing the power from your stroke. The rubber drip ring helps keep hands dry for a better grip. This is a super rugged paddle that will provide many years of hard use.
FlexBrace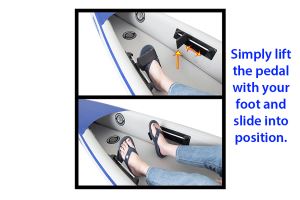 Ergonomic customizable footrest adjusts to 20 positions quickly & easily. Allows for more powerful paddle strokes. Just lift the FlexBrace with your foot & move to a comfortable setting. Base permanently glues into place while the rod & pedal come off for compact storage. This sturdy, convenient & easy to use footrest works on many Sea Eagle & other inflatable kayaks.
Includes 2 FlexBraces (left & right).
Does not include glue.
* Not for use with Sport Kayaks. Does not work on Explorer 300x due to valve placement and only 1 FlexBrace Kit can be used with the 385ft FastTrack due to valve placement.
Hand Piston Pump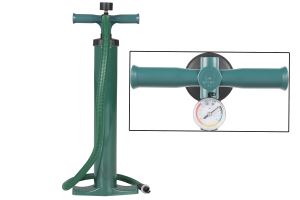 The Hand Piston Pump's special design allows for low effort and quick inflation. Made with a reliable and strong aluminum shaft. The HandPump comes equipped with hose, recessed one-way valve adapter and a conveniently located, easy visible, accurate built-in pressure gauge. SUP Pump capable of inflating to 1 bar or 15 PSI.
Slide in Swept Back Skeg
This weed-less swept back skeg is great for those who would rather not get hung up on weeds or drag them along. The 13" long swept back design works as a weed-less rudder that minimizes yawing (side to side swinging) during paddling stokes and assist with forward propulsion due to it's reflex technology. At only 7" deep this skeg allows you to travel in much shallower waters.
Large (13" Long x 7" Deep) swept back removable slide in skeg for Stand Up Paddle Boards, FastTracks, Explorers, and Travel Canoe.
*Note your craft must have the grooved base plate to accommodate a slide-in skeg.
Repair Kit
Repair kit for 1000 Denier PVC boats. Includes hull repair material, tube of glue & Halkey-Roberts valve replacement tool.
AB50 Paddle
Featherweight AB50 8' Double End Paddle with Carbon-Fiberglass shaft and Asymmetrical spoon blades.
Free Shipping
All Sea Eagle orders with this product will receive Free Ground Shipping to the lower 48 U.S. States.
Express shipping and delivery to Alaska, Hawaii and outside the United States are also available for an additional fee. Shipping rates will be displayed on our shopping cart page.
Offer Valid through 9/30/2020
Sea Eagle Used Boats
have

never been damaged, punctured or patched

have been

test inflated for 48 hours

might have very minimal wear (no barnacles or algae)
are covered by our regular 120 day

money back guarantee

and

three year

bow-to-stern warranty, just like our new boats.
might contain prior-generation components
Delivery Estimator
Starting at $999.

2 great packages to choose from! Click Here.