About the 393rl Inflatable Kayak
Forget Heavy Kayaks! Don't Buy A Kayak Until You See Our Fast Inflatable Kayaks!
Introducing The World's First All Drop Stitch Patented RazorLite™ inflatable kayak! A lighter, narrower, sleek, faster to paddle, high-performance solo kayak for the adventurer.
Modern Inflatable Kayaks are Lighter, Set Up in under 7 mins & are Easier To Transport. Ultralight & paddles up to 6 mph, tracks like an arrow, packs in a bag, travels anywhere!
Now featuring Sea Eagle FlexBrace™ adjustable footrests!
U.S. Patent 9,452,809
About the RazorLite™ Series
Now featuring Sea Eagle FlexBrace™ adjustable footrests!
Say goodbye to bulky, heavy, plastic kayaks! Modern inflatable kayaks are lighter & easier!
The World's First All Drop Stitch patented RazorLite™ inflatable kayaks are a much lighter, narrower and faster to paddle, high-performance kayaks for true adventurers!
A razor-sharp, tapered, hard-nose bow and stern, combined with a fully constructed Drop Stitch technology hull enables the Sea Eagle RazorLite™ Kayaks to cut through waves cleaner, straighter and sharper than any other kayak on the market allowing paddling speeds up to 6 mph.
Because of its high-performance design and capabilities, the RazorLite™ kayaks are best recommended for intermediate and above paddlers.
U.S. Patent 9,452,809
| | |
| --- | --- |
| Person Capacity | 1 |
| Hull Weight | 35 lbs. |
| Length | 12 ft. 10 in. |
| Width | 2 ft. 4 in. |
| Interior | 12'2" x 17" |
| Load Capacity | 1 Person or 500 lbs.. |
| Deflated | 22" x 22" x 12" |
| Chambers | 3 (port, starboard, floor) |
| Tube Diameter | 8.5" High x 4" Thick |
| Air Valves | 3 Recessed One Way |
| Inflation time | 7 min |
| Seam | Quadruple Overlapped |
| Material | 1000 Denier Reinforced |
| Floor | Attached High Pressure Drop Stitch Floor |
| Inflation Pressure | 10 psi |
Certifications
When deflated and packed well, this hull will fit in:
check_circleTruck/Large SUV
NMMA Certified
Fully Constructed with Drop Stitch Technology
2 Open and close drain valves
Large, Removable, Swept Back Rear Skeg
Front & Rear Spray Skirts with Carry Handles
FlexBrace™ adjustable footrest
4 D-rings to secure the adjustable seat
393rl Reviews
4.6 out of 5 stars.
(110)
Dwight Sullivan
Verified Owner
4/30/2022
5.0 out of 5 stars.
I couldn't be happier with this kayak. It's well made, comfortable, can carry everything I need, and as fast (or faster) as/than any of the rigid kayaks my friends use. Drop Stitch material & 10psi give a true boat-like shape that's very solid and strong when inflated. Spend the few extra bucks for the high-back seat & carbon fiber paddle...they're worth it. Delivery was quick, less that a week. Transport & setup are easy but I recommend an electric air pump. Factory support has been excellent! Jerrry in tech support is great to work with. Ask about the modified rods for the Flex Brace foot rests. The company listened to customer feedback and developed a solution to what was a problem for many installing these rods...the new ones practically fall into place! After one outing I had no intention of using the 120-day return but it's reassuring to know I have 3-years of warranty from a great company. If you're looking for a quality inflatable I strongly recommend SeaEagle.
Tony V
Verified Owner
4/21/2022
5.0 out of 5 stars.
Last year I bought the FastTrack 465ft so that I could paddle with my family of three. I really love the stability. A few months later I bought the RazorLite 393rl for its single person speed and sleekness. I enjoy going on 3 hour cruises with it. The RL is quite fast and tracks very straight even without the skeg, while the FT really needs the skeg to track well. It is definitely tippier than my FT, but that is to be expected as both boats serve different purposes. The multi-person FT is great for no-thinking, casual paddling, lounging, stand up paddle if you want, lay down in it, etc. The solo RL is built for speed; too tippy to stand up comfortably or move around too much in it - it is just not as stable as the bigger FT. That said, the 393rl is still my favorite boat hands down! It is SO FUN to use! It's like comparing a Cadillac SUV (the FT) to a Porsche 911 turbo (the RL). Both are great for their strengths, but for me, I prefer the faster "kayak feel" of the RL. I really LOVE BOTH boats, though.
Ryan Steward
Verified Owner
4/2/2022
5.0 out of 5 stars.
I am loving the Razorlite 393 RL a friend of mine has a hard shell kayak and I have no problem keeping up with him. This boat is very stable not a worry at all. I must say the customer service from Sea eagle has been great Jerry has been very helpful with some minor things I needed help with. Would very much recommend this over other brands I have tried.
Patricia Riely
Verified Owner
3/26/2022
5.0 out of 5 stars.
I loved my Kayak, so easy to transport and use. Handles great in the water!

Great combination of performance, comfort and portability! Includes light weight 393RL Kayak, AB40 paddle, Tall Back Seat, adjustable FlexBrace™ footrest, backpack & high pressure pump.
Package price and FREE SHIPPING offer valid through Tuesday, May 31, 2022
a $1,489 value for

just $1,099

through May 31 *
The Pro Carbon Package makes paddling even easier! Lightweight, sturdy AB50 Pro Carbon Paddles making paddling long distances a joy! Also includes backpack and pump.
Package price and FREE SHIPPING offer valid through Tuesday, May 31, 2022
a $1,543 value for

just $1,149

through May 31 *
Starting at $1,099.

2 great packages to choose from! Click Here.
Backpack (BLUE)
All Purpose BACKPACK (BLUE) Display Only
Tall Back Seat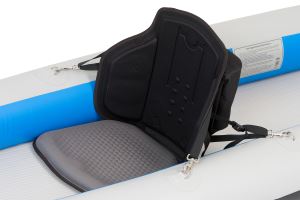 8' AB40 paddle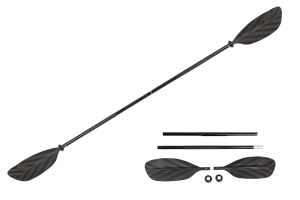 FlexBrace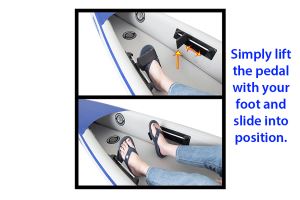 FlexBrace™ Adjustable Footrest - No Glue
SUP Pump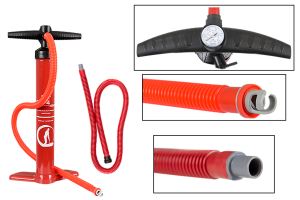 SUP Pump w/ Pressure Gauge
Slide in Swept Back Skeg
Repair Kit
AB50 Paddle