About the 385ft FastTrack™
Now with a new patented, state of the art, external, rigid, inflatable NeedleKnife™ Keel for a faster, smoother paddling experience! (U.S. Patent #8,286,573 2)
About the FastTrack™ Series
Sea Eagle FastTrack™ Kayaks are sleeker and faster and than ever before! The FastTrack's™ combination of sleek, curved, touring shape with state of the art "NeedleKnife Keel" provides true rigid kayak performance with the benefits of an inflatable. Most importantly, the FastTrack™ is designed to be extremely safe and stable.
HIGH PERFORMANCE / ULTRA-LIGHT WEIGHT
A great feature is the fact that Sea Eagle FastTrack™ kayaks weigh far less than most all-rigid kayaks. Rigid kayaks can weigh 65-70 lbs, our Sea Eagle FastTracks™ weigh just 35 & 44 lbs respectively. This makes handling our kayaks a dream by comparison. Best of all, because FastTracks™ are inflatable they can be packed into a bag that's a mere fraction of their size!
Sea Eagle FastTracks™ are a breakthrough in design that combine high performance paddling with ultra-light weight and stow-able portability.
| | |
| --- | --- |
| Person Capacity | 3 |
| Hull Weight | 35 lbs. |
| Length | 12 ft. 6 in. |
| Beam | 3 ft. |
| Interior | 11'7" x 18" |
| Load Capacity | 3 Persons or 635 lbs |
| Deflated | 25" x 18" x 8" |
| Chambers | 4 (port, starboard, keel, floor) |
| Tube Diameter | 9.5" |
| Air Valves | 4 Recessed One Way |
| Inflation time | 7 min |
| Seam | Electronically Welded, Quadruple Overlapped |
| Material | 1000 Denier Reinforced |
| Engine Capacity | 34 lbs. thrust electric (max engine weight 15 lbs) |
| Floor | Removable High Pressure Drop Stitch Floor |
| Whitewater Rating | Suitable up to Class II |
| Inflation Pressure | 3.2 psi |
Certifications
Standard Features
NMMA Certified
2 Open and close drain valves
Front & rear spray skirts with storage below and elastic rope lacing for additional storage above
Separate inner High Pressure Drop Stitch floor for greater rigidity
Large removable, swept back skeg at rear to control yaw and improve speed
Outside drop stitch high pressure keel at bow for true tracking
18 D-rings to secure seats and gear
State of the art NeedleKnife Keel
Bow and Stern grab handles
Nylon carry bag, repair kit & Printed instructions
385ft Reviews
(67 total, avg. review: 4.7 out of 5)
9/2/2017
Ben Lockrem , MARYVILLE
Verified Owner
The whole experience of ordering, receiving and unpacking our 385 was great! You were prompt in shipment and it was well packed. We took it out for a "short trial run" and ended up paddling around an island in the river that is two and a half miles long and half a mile wide. It is a pleasure to use. It tracks well and the low windage makes it great on not-so-perfect days. Thanks for a great product! The quality of materials ensures we'll be using it for a lot of years to come. Ben Lockrem
9/2/2017
Debbie Miller , Green Cove Springs
Verified Owner
9/1/2017
Reza Mehran , HOUSTON
Verified Owner
I took the canoe with 4 other outdoor enthusiasts to Alaska and we came down the Kanektok River. It is a 90 mile trip. My Canoe performed perfectly, carrying myself at 220lb and another 140lb of gear. Despite rocks, branches and heavy currents, the tubes never required re-inflation. The seat was very comfortable for prolonged paddling in a wader.Only problem occurred at the end of the trip. While packing the canoe, I was unable to remove the rudder from its base. It was deadlocked in that position, eventually in the process of removing it, I broke the base plate.
The canoe is on its way to be repaired at Sea eagle.Excellent canoe overall. Fast and sleek.
8/7/2017
Zen Kennedy , Draper
Verified Owner
I have been impressed with the amount of detail put into this kayak. The foam alligator skin around most of the inflatable walls and bottom which prevent lure punctures is a great relief to have when fishing on an inflatable craft. The kayak is a great size for two people and accommodates four fishing poles. My fiancé and I love to take out the Fast Track together for this reason. I am 6'4 and 185 lbs. We can sit comfortably, post our poles in the holders and troll. Naturally, we always have to compete to see who catches the biggest fish! Conveniently, there is a ruler on the side of the kayak which allows us to easily compare. The ruler also takes out the guess work on whether a fish is too small to keep.
7/27/2017
James Moore , Austin
Verified Owner
Purchased this Fast Track 385 "Used" 7/2017. Everything arrived in what appeared to be new condition. The bags holding components had a used tag. Sure didn't look used. Extremely pleased with the purchase.This is my second Fast Track 385. This boat is in my opinion the best inflatable kayak on the market. The drop-stitch floor, chine, and skeg set this boat head and shoulders above the competition. It's light weight, fast and above all else, it tracks straight.
7/3/2017
Jim & Kathie McClintock , Monroeville, PA
Verified Owner
My wife and I are both retired. We have not been physically active and I thought kayaking lakes and lazy rivers might be a way to spend some of our leisure time outdoors. Customer Service was very helpful and answered all of my questions during the selection process. The 385FT is our first kayak ever, so we can't really provide a comparison to anything else, but after 6 excursions on 5 different lakes, we can make the following observations. Set-up and clean-up are very easy, taking about 20 minutes on each. Although we did buy the BP12 Electric Pump, we don't need it. We purchased the Deluxe package and find the seats very comfortable. We like the additional height the seats provide. The kayak tracks well, even in very windy. The unit is very stable and feels stiff and solid. The convenience of an inflatable is great. At this point, we have no problems or complaints. We would encourage anyone thinking about kayaking to give the 385FT serious consideration.
5/26/2017
Richard Robertson , WILMINGTON
Verified Owner
I've only used the boat a couple of times but am very pleased so far. It inflates much quicker and easier than I thought it would. I had a little trouble adjusting the seats but I think I just need a little practice. Same for the valves. I didn't have any idea what to expect in the water but, again, it tracks and paddles very well. There is also a difficult to define feeling that is unique to a rubber boat; you seem more attached to the water than in a rigid boat. This is a good thing. I'm not an experienced kayaker and the boat's high stability made getting in and out a breeze, even from a dock in deep water which is as I understand it, a no-no for rigid kayaks. I'm also old and less agile than I used to be so the softness of the sides and bottom saved me from many a bruise. You could fall into the boat and not capsize or hurt yourself.
I have already recommended it to several friends and would certainly buy another.Good Job!
4/19/2017
DONNA HILT , Scottsdale
Verified Owner
So happy to have my newest 385FT. This is my 3rd 385FT and loved everyone of them. My experience with customer service has been excellent and stress free. The most recent innovations the swept skeg, I am looking forward to seeing how it functions and hold the tracking. My previous two had the standard skeg. The valves, overall construction of this 2014 385FT appears stronger durable.I have really appreciated the ability to fold and store, this kayak. I have really been able to participate in fun adventures, without the added investment a hard shell kayak requires.
Looking forward to my next paddle.
4/7/2017
Diane George , Nashville
Verified Owner
This was purchased as our THIRD Sea Eagle boat. I take my 87-year old mother out frequently and needed a stable but fast, sleek kayak that was easy (easier) to get in and out of. I'm old, too. It took us awhile to make the chine (sp?) smooth but we're very happy with the result. It inflates as nicely as our other boats, is nice and light to carry to the water, tracks beautifully, looks good on the water, takes motor boat wakes well (and they are fun!), and then is much easier than our 370 to get her in and out of and remain dry. I do not stay dry. We got the Pro version with the tall back seats so we have great back support. We added a few things; the 5" cushions for the seats, the foot straps so we could use our whole bodies when paddling, and the cart to make transport to the water easier. We are very happy with this purchase and our boat.
3/16/2017
Gregory Clark , Saint Louis
Verified Owner
We have two Sea Eagle Fast Trac Kayaks and two Needle Nose Paddle boards on board our 160' motor yacht. Although we are strictly a private yacht, we are used actively as are our Sea Eagle products. We travel the world so when we have issues it is never easy for vendors to respond as we are actively moving and intercepting us can be challenging. We had issues with each of them at different times but Sea Eagle stepped up to the plate and replaced each product as the problems occurred. We have now had our new kayaks and paddle boards for a year or more and they have been trouble free. Must have been a bad run, but it makes all the difference when the company stands behind their products. Hat's off to Sea Eagle!
Capt. Gregory Clark
Key Features:
Sea Eagle's Patented NeedleKnife™ Rigid Inflatable Keel

The unique external drop stitch construction inflatable keel allows the FastTrack™ to paddle far faster and straighter than other inflatable kayaks. The keel features sharp bow and stern molds that slice through wind, waves and current for a super fast, super clean entry and exit! The inflatable bow keel also provides the buoyancy and lift needed to ride over waves and further improve speed. (U.S. Patent #8,286,573 2)

Sleek Asymmetrical Shape

The FastTrack's sleek asymmetrical shape is tapered and narrow at the bow while being wider at the stern. This allows the FastTrack™ to punch through waves faster and easier because of the narrower bow while providing buoyancy where most needed - where 1 or 2 paddlers sit.

Super Rigid Drop Stitch Floor On Top Of Outside Floor

The unique modular design of the Sea Eagle FastTrack™ features a super rigid, high pressure, drop stitch floor that sits on top of an outside floor. This has several advantages. The high pressure DS floor provides great rigidity and rigid hull like performance. The reinforced outside fabric floor provides a double layer of added protection where it's most needed. The modular design allows the DS floor to be easily removed for quick and thorough cleaning.
385ft FastTrack™ Discount Packages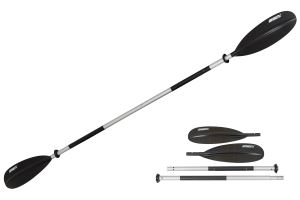 7'10" Double end asymetrical paddle is great for all our canoe, kayak and paddleski models. The paddle features aluminum shafts with Fibrylon blades. It has a 65 degree feather capability. Snap lock buttons to disconnect into 4 parts. Weighs just 2.62 lbs.
Deluxe Inflatable Kayak Seat. A great inflatable seat that provides extra back support for paddling, rowing or fishing. Allows you to sit 5" off the floor with 14" of back support. Works in all of our kayaks and 285fpb.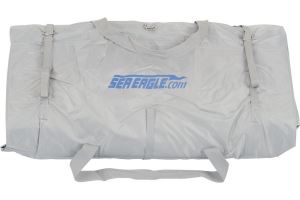 The real time saver of this bag design is the way it wraps around the boat hull. You don't have to spend time folding the boat to the exact proportions of the bag. Just roll up the boat and place on the open bag, and wrap the flaps around it.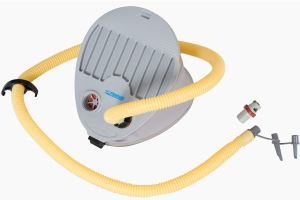 A high capacity foot pump made of durable ABS plastic that packs down for easy travel. Comes with triple styled nozzle for use on deluxe white one-way valves and pipe valves on unsupported fabric (white) hulls. Also included is a Recessed Valve Adapter for use on supported fabric (grey) hulls.
This weed-less swept back skeg is great for those who would rather not get hung up on weeds or drag them along. The 13" long swept back design works as a weed-less rudder that minimizes yawing (side to side swinging) during paddling stokes and assist with forward propulsion due to it's reflex technology. At only 7" deep this skeg allows you to travel in much shallower waters.
Large (13" Long x 7" Deep) swept back removable slide in skeg for Stand Up Paddle Boards, FastTracks, Explorers, and Travel Canoe.
*Note your craft must have the grooved base plate to accommodate a slide-in skeg.
Repair kit for 1000 Denier PVC boats. Includes hull repair material, tube of glue & Halkey-Roberts valve replacement tool.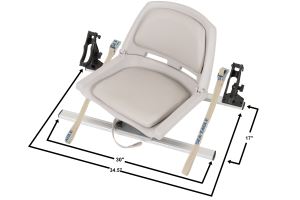 Turn your Sea Eagle iSUP, iK and iPS into a fishing machine! Attaches with ease to existing d-rings in less than 60 seconds flat!
This Swivel Seat Fishing Rig is the perfect accessory for Sea Eagle iSUPs, Explorers™, FastTracks™ and PaddleSki™ Series. (Weighs only 15 lbs.)
Kit includes: aluminum frame base, swivel seat, two Universal Scotty Rod Holders with universal deck mounts and two 6ft quick release cinch down straps.
*One time pre-assembly that takes just a few minutes required. Non compatible with RazorLites™, Sport Kayaks and Travel Canoes™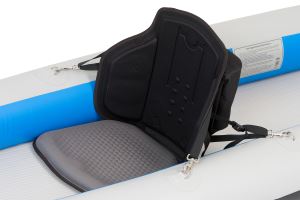 Tall Back Kayak Seat latches securely to the d-rings on many of our Sea Eagle hulls. Removable zippered rear pouch for storage. Made of thermal molded foam. Provides great back support with an 19" high backrest. Great for any outing. Lightweight and durable.
The molded foam construction gives you a low sitting position to for maximum stability in rough whitewater and excellent back support.
Only weighs 2 lbs.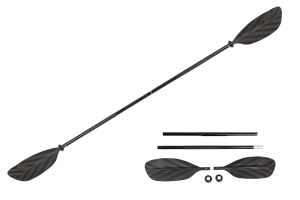 The asymmetrical spoon blade design of this Kayak paddle allows for smooth entries and an even pull, maximizing the power from your stroke. They require less gripping force, less effort per stroke. Weighs 2.92 lbs. Snap lock buttons to disconnect into 4 parts.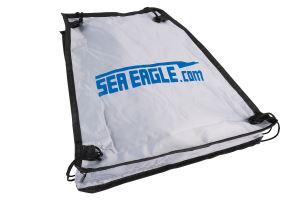 This attractive bag fits on our kayaks and is great for storing snacks, drinks, repair kits or a spare pump.
Featherweight AB50 8' Double End Paddle with Carbon-Fiberglass shaft and Asymmetrical spoon blades.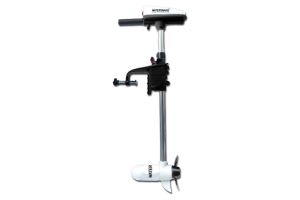 A light weight, inexpensive, electric, salt water motor that's built to last. Anti-corrosive paint and stainless steel external & internal parts allow you to take this motor into fresh, brackish and salt water without worry.
The adjustable transom mount makes it easy to use this motor with our 380x and 420x Explorer Series Kayaks and FastTrack Kayaks. Two-blade, weedless design propeller.
*For use with kayaks only. (Cannot be used on Explorer 300x.)
**Coast Guard requirements dictate that each ungrounded current-carrying conductor must be protected by a manually reset, trip-free circuit breaker or fuse.
Not for use with PaddleSki, Motormount Boats, FoldCats, Frameless Fishing Boats or Sport Runabouts. Not compatible with HelmsMate Extension Handle.
Motormount kit for FastTracks and Explorers. Holds up to a 34 lb thrust electric motor with a max motor weight of 15 lbs.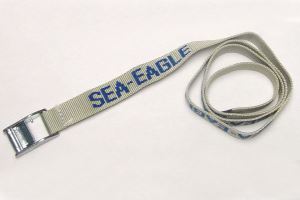 These straps come in handy to keep your gear in place. They are especially good for keeping the POWERCENTER safely strapped to the boats. 48 inches long.
Universal Kayak Sail, converts any kayak into a sailing vessel. Easy deployment in under one minute, breaks down to just 43" for convenient storage in the bow or stern. This "down wind" sail can move a kayak up to 7 knots and can be steered using your paddle as a rudder. Works with all Sea Eagle Kayaks and almost any other kayak out there.
Note: Deluxe Inflatable Seats required when using with the Sport Kayaks.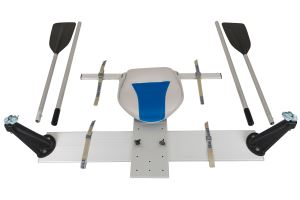 The Universal QuikRow™ Kit is a simplified fixed frame rower that attaches to kayaks and SUPs in less than 60 seconds flat! Now that's quick! Easy to setup and easy to use - the QuikRow™ will transform an ordinary kayak or SUP into a rowing and fishing machine!
This Universal QuikRow® Kit is the perfect accessory for Sea Eagle iSUPs, Explorers™, FastTracks™ and PaddleSki™ Series. (Weighs only 20 lbs.)
QuikRow kit includes: aluminum frame rowing base, swivel seat, (2) 2 part 7'11" oar set w/ oarlock and oar pin, (2) 4' quick release cinch down straps, (2) 6' quick release cinch down straps.
*2 Sea Eagle self-locking straps in 4' or 6' included with kayak and iSUP packages, depending on package requirements.
*One time pre-assembly that takes just a few minutes required. Non compatible with RazorLites™, Sport Kayaks and Travel Canoes™
*The QuikRow™ Footrest (recommended for SUPs and PaddleSki™) and Scotty® Rod Holders with Universal Deck Mounts are optional and can be purchase separately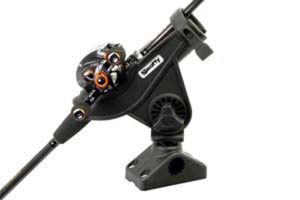 Scotty rod holder and side/deck mount
Baitcaster Interior Diameter: 1.30"
Mount Dimensions: 4" x 2" x 2"
Bolting Dimension: 1 5/16" x 3 3/16"
Free Shipping
All Sea Eagle orders with this product will receive Free Ground Shipping to the lower 48 U.S. States.
Express shipping and delivery to Alaska, Hawaii and outside the United States are also available for an additional fee. Shipping rates will be displayed on our shopping cart page.
Offer Valid through 9/30/2017
Sea Eagle Used Boats
have

never been damaged, punctured or patched

have been

test inflated for 48 hours

might have very minimal wear (no barnacles or algae)
are covered by our regular 180 day money back guarantee and three year bow-to-stern warranty, just like our new boats.
might contain prior-generation components
Delivery Estimator
Starting at $899.

8 great packages to choose from! Click Here.