About the PackFish7™ Inflatable Fishing Boat
Sea Eagle PackFish7™ is better than a float tube! A unique, lightweight, incredibly portable, completely dry enclosed hull, high and dry, fully rigged, durable, one man, affordable, fishing boat. Fully equipped for outdoor adventures that can be used two ways: (1) fished for hours while sitting on the inflatable Deluxe Fishing Seat - a comfortable high seat with great back support (2) standing with the wooden floorboard which provides stable and ample standing area for both sight fishing and casting.
Better than a floating tube! This packraft is a completely dry enclosed hull that weighs only 22 lbs. Fully loaded with floorboard, oars, and seat a mere 32 lbs. It goes anywhere, sets up in under 5 minutes and is the perfect backpack fishing boat. For hiking into to the most remote locations. Where the fish truly are! Optional straps are available for easy portage when fully inflated too! It's as simple as that. We call it the "Grab & Go BackPack Fishing Boat!" Don't Buy A Float Tube Until You See The PackFish™
About the Frameless Fishing Series
Sea Eagle's Frameless Fishing Boats are roomy, lightweight, ultra-portable, and pack into a relatively small bag in relation to their sizes. They can be stowed in small spaces because they have no frames. They don't require a trailer so you can carry them to the most remote, hard to reach locations where fish hide most!
Great for lakes, rivers, bays, creeks or almost any body of water. Sea Eagle Frameless Fishing Boats will take you where you want to go and where most other boats wouldn't dare!
Large air chambers allow these Frameless Fishing Boats to support an incredible amount of weight yet draft as little as 4 inches of water. Meaning you have access to shallower waters where heavier boats don't!
The 285fpb and STS10 are equipped with universal Scotty™ Mounts so you can customize these two models as you wish! Outfit them with any Scotty accessory you like. Sea Eagle offers an assortment of Scotty™ accessories to suit your needs. The PackFish 7 features 2 built-in rod holders to keep your rods secure.
| | |
| --- | --- |
| Person Capacity | 1 |
| Hull Weight | 22 lbs. (29 lbs. with wooden floorboard) |
| Length | 7 ft. |
| Width | 3 ft. 3 in. |
| Interior | 4'6" x 13" |
| Load Capacity | 1 person or 300 lbs |
| Deflated | Approx. 5" x 20" x 20" |
| Floorboard | 1/2" thick x 3'6" long x 15 3/4" wide |
| Chambers | 2 (main & additional upper safety chamber) |
| Tube Diameter | 13" |
| Bladder | 30 mil Polykrylar 2 chamber internal bladder |
| External Protective Cover | 840 Denier Nylon |
| External Protective Floor | 1000 Denier PVC coated Polyester |
| External Protective Cover Seams | Overlapped Double Stitched Industrial Strength Nylon Thread |
| Air Valves | 2 Deluxe One Way |
| Inflation time | Less than 5 mins |
| Seam | Bladder: High-Frequency Welded, Cover: Double Stitched Industrial Strength Nylon Thread |
| Material | 30 mil Polykrylar, 840 Denier Nylon, 1000 Denier PVC coated Polyester |
| Engine Capacity | N/A |
| Floor | External Protective Floor: 1000 Denier PVC coated Polyester, Optional: Removable wooden floorboard |
| Inflation Pressure | 1.1 psi |
Certifications
Standard Features
NMMA Certified
Ultra lightweight
Hunter Green Color with high visibility orange accents
(2) 36" Fish Rulers
(2) Built-in rod holders
(2) Stow Pouches for tackle and tools, includes cup holders
Built-in stow bag to conveniently stow your PackFish7™ backpack
Hands free oarlock attachment system so you can concentrate on fishing
30 mil Polykrylar double chamber internal bladder inside external protective sheath
Fully enclosed heavy duty fabric floor so you remain high and dry
(4) Carry handles
QuikClip connections to attach optional straps for portage.
Safety air chamber above main air chamber
PackFish7™ Reviews
(22 total, avg. review: 4.7 out of 5)
1/2/2019
4.0 out of 5 stars.
Mark Guillaume , JUNEAU
Verified Owner
I think its great. However, I think the oar locks are in the wrong place or poorly designed. I think they are too high on the tube.
11/21/2018
5.0 out of 5 stars.
Greg Tritt , OAK HARBOR
Verified Owner
You guys are great, offer great products and stand by satisfaction for the customer. Previously bought an inflatable kayak for my wife, she tried it but just wasn't right for her. Returned it with no hassle whatsoever. Have two Sea Eagle boats, a PackFish and an ST10. The PackFish siding separated and opened up to the bladder. You asked for a picture of the damage and replaced the PackFish, works great. I highly recommend SeaEagle to everyone who sees and asks about the boats. Thanks for a really good and fun product. Greg Tritt
11/14/2018
5.0 out of 5 stars.
Gregory Nereim , CARNATION
Verified Owner
This small boat is the best one I could call a real bargain. The Sea Eagle makes fishing easy and fun!
I have a good Aluminum 15 foot but it is tough to get to small places. Sea Eagle Gets me in and out to fish more opportunity!!
A real bargain!!
Easy to load in the SUV and Easy to fish and fish Safe!
11/9/2018
5.0 out of 5 stars.
Michael Kenney , PARK RIDGE
Verified Owner
I like my PackFish7 a lot. Perfect for my needs, which is fishing smaller lakes and rivers without much current. I bought the floorboard, and recommend it to anyone who buys the PackFish7, even if you don't plan on standing up. It just makes it feel like a more stable platform. Putting stuff under your legs, small cooler, tackle box etc... just feels safer with the floor. Inflation is a breeze, as is deflation. Your website tutorial was very helpful in this regard although it's pretty intuitive. The orange storage compartments and bow and stern marking are a nice idea. Even when sitting low in the water the PackFish7 is easily spotted from other boats. Again, I wouldn't take my PackFish out on Lake Michigan where boat traffic would be a real hazard but as far as smaller lakes it's easily spotted by boats The only problem I have had is with the paddles. The black coating that serves as the grip (and the stopping point for the O-ring paddle lock) has rolled up like a pair of wet socks. Can't get it to unroll.
9/15/2018
5.0 out of 5 stars.
Dennis Silvasy , Bensalem
Verified Owner
I got the boat as a gift from my son, Jason. We ordered it on a Thursday and received it the next day. Me and my fishing buddy Foxy the dog, are very comfortable with it. I have posted pics and stuff about our trips on Fishbrain. Some of my friends on the app have gone on to your website and ordered some of your products. Very happy with the PackFish 7. It Fits in my car, is quickly inflated, ready show full review ▼ to fish.
to fish.
7/26/2018
5.0 out of 5 stars.
Jennifer Shreve , ELKO
Verified Owner
I have just returned from a camping/lake fishing trip in western Colorado. This was the first major trip with my PF7.
The oars are a good length for trolling, however they tend to slip through the oar locks beyond the black plastic sleeve.
I fly fish, and the rod holders are not useful for fly rods. So, I attached a length of pvc pipe between the rod holders, creating a "shelf" for my fish finder to sit. This allowed me to extend my legs all the way to the end of the float. No more knocking knees while rowing.
show full review ▼
5/21/2018
5.0 out of 5 stars.
Eugene Trombley , DERRY
Verified Owner
Thank You very much !!
I have been enjoying the PF7 and I am going to be using it this weekend in the white mountain national forest at some remote trout ponds.
I'll be fishing with my son and 2 grandsons and I will be sure to get some photos for your posting if you feel they're good enough. Everything came on time and in great shape. set up was a breeze. I'm 55 and had no trouble getting my boat and gear in and out of all fishing spots.
show full review ▼
4/10/2018
4.0 out of 5 stars.
Gary Smith , Fort Myers
Verified Owner
I love Sea Eagle--I also have a 385FT and an SE330 that we use all the time.
The size of the PackFish 7 is good, I inflate mine at home and it fits in the back of my pick up truck. I can carry it with one hand to put it in the water. It's very stable and easy to fish from. I've had to get used to rowing because I'm so used to my kayaks.
3/15/2018
5.0 out of 5 stars.
Blake Starling , Raleigh
Verified Owner
The Packfish 7 is an amazing fishing boat! It is very portable, compact, and is easy to set up anywhere! I have carried my Packfish 7 and gear over 2 miles to a hidden lake, and I have taken it out in the ocean! It preforms amazingly well on all bodies of water! There is only one thing more impressive than the product, and that is the company behind the product! Sea Eagle stands behind their 3 year warranty, and 180 day refund policy without hesitation and without question! I had an issue with my Packfish 7, so I called Sea Eagle and without any hassle they happily stood by their refund policy! They offered to replace my Packfish 7 with a brand new one right away! I had been contemplating of upgrading to a bigger boat so I asked if I could pay the cost difference and upgrade to the 285 FPB! Sea Eagle agreed with no problem! I love the 285 FPB, but I would more than happily purchase another Packfish 7! It is just that AWESOME! Nothing can compare to the PF7 when it comes to portability! I LOVE ANY SEA EAGLE!
3/6/2018
5.0 out of 5 stars.
Ivan Tomkins , MESA
Verified Owner
What a fantastic, value. Fantastic product! The boat stows easily in the storage of our Lance 1475 Camper. When we get to the campsite, I inflate with the optional electric pump. This takes a little over a minute. Incredible convenience. The entire boat when inflated stows in the cargo area of a Jeep Grand Cherokee. I don't have to deflate until we are ready to pack it away. This process takes about show full review ▼ 4 - 5 minutes.
4 - 5 minutes.
PackFish7™ Discount Packages
Deluxe Fishing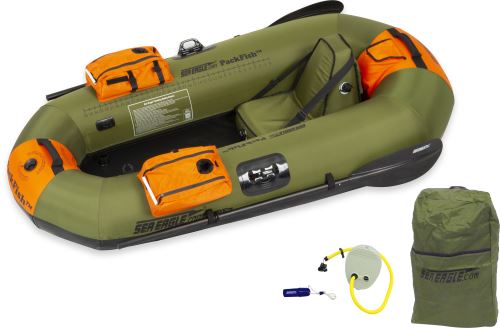 Component
Value
Shipping:

(FREE if you order by Oct 31)

$45
Total Value:
$677
Regular Price:
$429
FALL CLEARANCE SALE Price:
$399
Your Savings:
$278
Package price and FREE SHIPPING offer valid through Thursday, October 31, 2019
PackFish7™ Hull
$449
Backpack PackFish7
$49
DKS Seat Green
$49
A42 Foot pump
$39
AB252 Oar Set
$39
Small Repair Kit
$7
Pro Fishing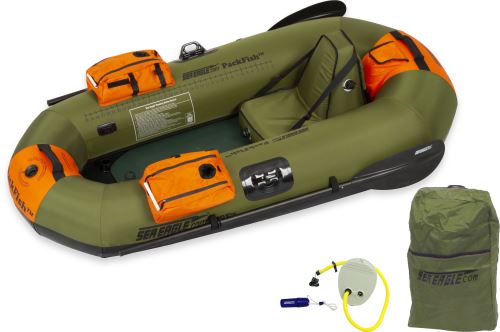 Component
Value
Shipping:

(FREE if you order by Oct 31)

$75
Total Value:
$756
Regular Price:
$469
FALL CLEARANCE SALE Price:
$429
Your Savings:
$327
Package price and FREE SHIPPING offer valid through Thursday, October 31, 2019
PackFish7™ Hull
$449
Backpack PackFish7
$49
DKS Seat Green
$49
PF7 Floorboard
$49
A42 Foot pump
$39
AB252 Oar Set
$39
Small Repair Kit
$7
The Pro Fishing "Sit or Stand" Package is perfect for sight fishing, fly fishing and getting that extra edge on the fish when you really need it! Featuring everything from the Deluxe Fishing Package plus a great removable wooden floorboard.
In Stock Get Estimated Delivery Date
View Package Details
Backpack PackFish7
Perfect for storing your PackFish7™, oars, pump, seat, lifejacket with plenty of room for an additional accessories.
Two adjustable shoulder straps on the back and a handle at the top to make carrying your PackFish7™ easy.
DKS Seat Green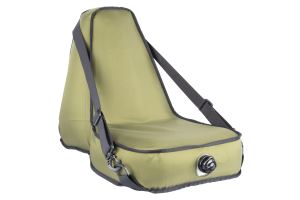 Deluxe Inflatable Kayak Seat Green. A great inflatable seat that provides extra back support for paddling, rowing or fishing. Allows you to sit 5" off the floor with 14" of back support. Works in all of our kayaks and 285fpb.
A42 Foot pump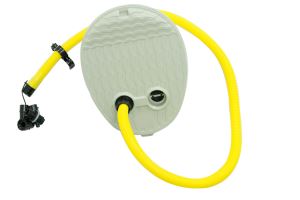 A high capacity foot pump made of durable ABS plastic that packs down for easy travel. Comes with a set of adapters. *For use with unsupported fabric (white) hulls only
AB252 Oar Set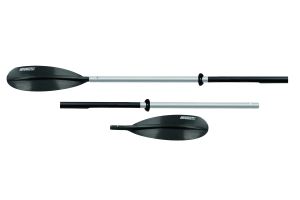 Our AB252 Oars will row Sea Eagle PackFish7™, SE9 and the discontinued models SE6, SE8 & 124SMB at a surprisingly brisk pace. Aluminum shaft with ABS plastic blades. Total length is 60 inches long. One pair of oars.
Small Repair Kit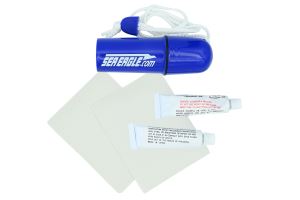 Repair kit for Motormount boats and Sport Kayaks. Includes two 4 in. x 3 in. white swatches of material and two tubes of glue.
PF7 Floorboard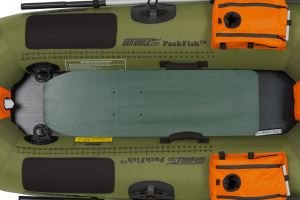 The hunter green floorboard provides a rigid stable platform for fisherman to stand and cast. Marine plywood floor for PF7. Weighs just 7 lbs.
Free Shipping
All Sea Eagle orders with this product will receive Free Ground Shipping to the lower 48 U.S. States.
Express shipping and delivery to Alaska, Hawaii and outside the United States are also available for an additional fee. Shipping rates will be displayed on our shopping cart page.
Offer Valid through 10/31/2019
Sea Eagle Used Boats
have

never been damaged, punctured or patched

have been

test inflated for 48 hours

might have very minimal wear (no barnacles or algae)
are covered by our regular 180 day

money back guarantee

and

three year

bow-to-stern warranty, just like our new boats.
might contain prior-generation components
Delivery Estimator
Starting at $399.

2 great packages to choose from! Click Here.