FREE BP12 Electric Pump WITH THIS BOAT!
Inflate & deflate faster with: BP12 Single Stage Electric Pump. A $119 Value. Offer available for a limited time! **
About the 437ps Paddleski™ Inflatable Boat
The New and Improved Sea Eagle 437ps PaddleSki™ Inflatable Catamaran Boat is the world's most versatile inflatable watercraft! Providing you "all-in-one" benefits of a catamaran, motorboat, and extremely rugged portable inflatable with stability, speed, and versatility! It's packable, remarkably stable, completely self-bailing, and fun! It glides across the water with ease and provides the option to Paddle, Motor, Fish, Sail, Travel, and Go! A true "four-in-one" inflatable watercraft for the impressive price of just one!
About the PaddleSki™ Series
Sea Eagle PaddleSki™ Inflatable Catamaran Boat is the most versatile watercraft in the world! A unique 4-in-1 hull you can Paddle, Motor, Sail, and Fish. It packs down to a mere fraction of its inflatable size. Storage and transportation are a dream and it features two widely spaced inflatable tubes that glide through the water while providing a solid well-balanced hull.
The PaddleSki™ can be rigged "to the nines" with the Sea Eagle Sun and Rain Canopy, Scotty Fishing Accessories, up to 6 HP gas engine that will produce up to 16 mph at over 30 mpg, and the Sea Eagle EZ-CART that makes rolling to and from the water with ease.
So get ready for the ride of your life! This is one of the most efficient and comfortably cushioned rides on the water. Floating on the water like pillowy clouds with a hydrofoil shock-absorbing system that prevents slapping of traditional hulls. With friction reduced, fuel economy is increased, and with five independent safety air chambers, you're guaranteed added safety.
| | |
| --- | --- |
| Person Capacity | 2 |
| Hull Weight | 67 lbs. |
| Length | 14 ft. 4 in. |
| Beam | 4 ft. |
| Interior | 11' 6" x 21" |
| Load Capacity | 2 Persons or 855 lbs. |
| Deflated | 36" x 21" x 12" |
| Chambers | 5 (2-port, 2-starboard, floor) |
| Tube Diameter | 14" |
| Air Valves | 5 Recessed One Way |
| Inflation time | 10 min |
| Seam | Quadruple Overlap |
| Material | 1000 Denier Reinforced |
| Engine Capacity | 6 hp gas (max motor weight 60 lbs, 15" shaft) |
| Floor | 1000 Denier Reinforced Material |
| Inflation Pressure | Side Chambers 3.2 psi, Floor 8-10 psi |
Certifications
NMMA Certified
New rigid high-pressure inflatable drop stitch floor
Rapid self-bailing
Incredibly fuel-efficient, minimal draft, near-zero drag, catamaran hull design
Five separate independent air chambers for added safety
Removable transom for increased storability and portability
Seven conveniently located high-strength carry/grab handles
Two Universal Scotty® Pads to attach a vast array of optional Scotty® accessories
Sun & Rain Canopy mounting system for optional canopy attachment
Rolls up and stows in most any car trunk
Can take up to a 6 hp outboard
Travels up to 16 mph w/ 5 hp outboard
EZ-Attach on/off seating system
Completely self-bailing
Option to use gas or electric motors
Non-slip EVA foam deck padding
Anti-splash protective rubbing strake bumper
High-strength bow D-ring
437ps Paddleski™ Reviews
No reviews yet.
(0)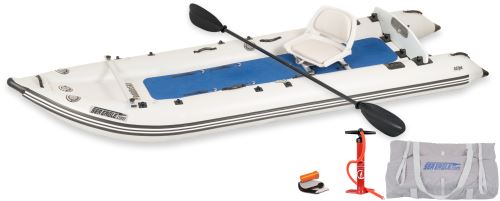 The Solo Start-up Package is perfect for solo riders ready for a great day of PaddleSki™ fun and who may already own motors. Package includes 437 PaddleSki™, hull carry bag, swivel seat kit, paddle, manual pump, and repair kit.
Package price and FREE SHIPPING offer valid through Tuesday, November 30, 2021
a $2,005 value for

just $1,499

through Nov 30 *
2 Person Swivel Seat Package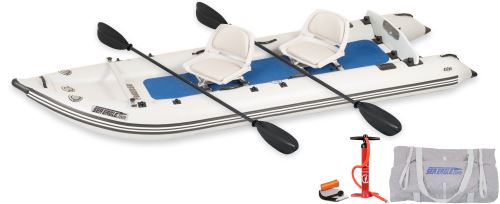 The 2 Person Swivel Seat Package is a great two-person package for those who may already own a motor. Package includes 437 PaddleSki™, hull carry bag, (2) swivel seat kits, (2) paddles, manual pump, and repair kit.
Package price and FREE SHIPPING offer valid through Tuesday, November 30, 2021
a $2,323 value for

just $1,649

through Nov 30 *
Starting at $1,499.

4 great packages to choose from! Click Here.
Swivel Seat for PaddleSki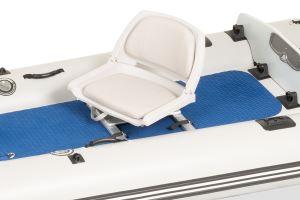 Locking swivel seat for use with the 437ps PaddleSki™. Includes nicely padded flip-up locking swivel seat with excellent back support, aluminum H-frame base, and associated hardware.
*One-time only, minor assembly required to attach the seat to the base.
7'10" AB30 paddle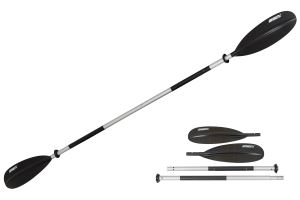 7'10" Double end asymmetrical paddle is great for all our canoe, kayak and paddleski models. The paddle features aluminum shafts with fiberglass reinforced nylon blades. It has a 65 degree feather capability. Snap lock buttons to disconnect into 4 parts. Weighs just 2.62 lbs.
Boat Carry Bag for PaddleSki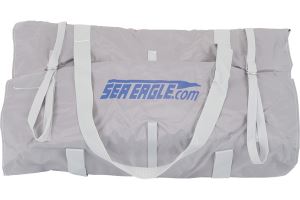 Perfect bag to store or transport your Stealth Stalker STS10. Just fold the boat up, place it in the center and wrap the sides over and you're ready to go!
SUP Pump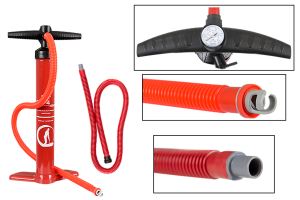 This SUP(Stand Up Paddle) Pump's special design allows for low effort and quick inflation. Made with a reliable and strong aluminum shaft. The SUP Pump comes equipped with hose, recessed one-way valve adapter and a conveniently located, easy visible, in-line pressure gauge and the option of selecting between single action (down stroke only) and double action (both up and down strokes) inflation. SUP Pump capable of inflating to 29 PSI.
Use double action for high volume and lower pressures and single action during increasing resistance cause by higher pressures.
Includes 2nd hose with Boston Valve and Pipe Valve attachments.
Repair Kit
Repair kit for 1000 Denier PVC boats. Includes hull repair material, tube of glue & Halkey-Roberts valve replacement tool.
Watersnake Venom 34
The white composite shaft and stainless steel propeller shaft combine with the weedless propeller to deliver quiet performance whether trolling or holding position in the current for casting.
A lightweight, inexpensive, electric, saltwater motor that's built to last. Anti-corrosive paint and stainless steel parts allow you to take this motor into fresh, brackish and salt water without worry.
A very important feature is the Digital Voltmeter Display. This allows you to judge immediately how much power you have remaining and how far you can go. A good rule of thumb is to stay above 11.8 volts.
*Can be used with: 10.6sr Sport Runabout
*Cannot be used with: 300x Explorer Kayak
**Battery not included.
Motor cannot ship to Louisiana.
***Coast Guard requirements dictate that each ungrounded current-carrying conductor must be protected by a manually reset, trip-free circuit breaker or fuse.
Covered by the Watersnake 1 Year Warranty
All Sales are final. This item is not covered by the Sea Eagle 120 Day Trial.
Honda 5S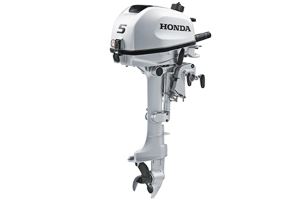 Everything you want in a portable outboard, easy starting, lightweight, reliable, fuel-efficient, ultra-low emissions, quiet, and low vibration performance. It's easy to see why the new 5 hp four-stroke is best in class.
Covered by the Honda Marine Warranty
All Sales are final. This item is not covered by the Sea Eagle 120 Day Trial.
BP12 Electric Pump
The Bravo BP12 is a super efficient lightweight single stage high pressure piston pump that will inflate from 1 to 14.5 psi. Simply set the turn dial to your desired pressure setting, press the "on" button and this little workhorse will do the rest.
Included:
102" (8'6") cable w/alligator clips
72" (6') inflation hose
Recessed Valve Adapter
Weight: 4 lbs.
Dimensions: 8" x 4" x 5"
Maximum Draw 20 Amps.