Minn Kota Trolling Motor Power Center
Click to Enlarge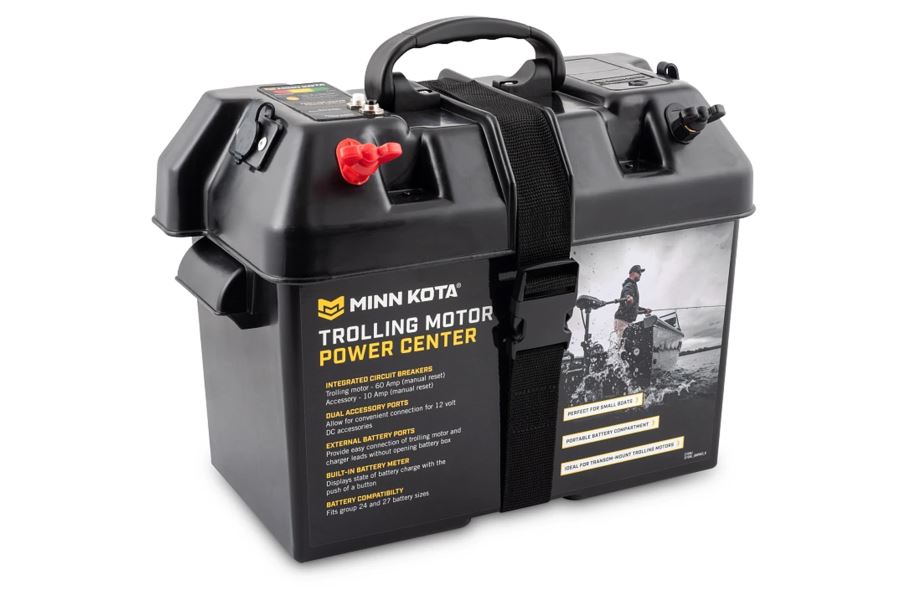 Video:
Covered by the
Minn Kota Manufacturer Warranty
1 Year Warranty from date of purchase
Does not cover abuse, misuse or neglect
All Sales are final. This item is not covered by the Sea Eagle 120 Day Trial, or the Sea Eagle Warranty.
Easy access external battery terminals allow trolling motor leads and charger leads to be connected and disconnected without ever opening the box.

This Power Center includes: built-in LED battery meter display indicating how much charge is available, two 12-volt accessory cigarette lighter style plugs for your sounder, laptop or cell phones and two manual reset circuit breakers (15 amp for accessory plugs and 60 amp for trolling motor). Fits group 24 and 27 size batteries.

Cannot be used with Explorer or FastTrack 2 person kayak motor packages. An inline surge protector (not sold by Sea Eagle) will need to be used per USCG regulations.

1 Year MinnKota Factory Warranty.
*BATTERY NOT INCLUDED*
$95
This motor is final sale. No refunds are accepted for Electric Motors.
Recommended For:
Explorer Inflatable Kayaks™
FastTrack™ Inflatable Kayaks
FoldCat™ Inflatable Pontoon Boat
Frameless Inflatable Fishing Boats
Inflatable Fishing Kayaks
Inflatable Motormount Boats
Inflatable Sport Runabouts
PaddleSki™ Inflatable Catamaran Kayak