About the 380x Explorer Inflatable Kayak
Tackle your adventures in this rugged solo or tandem tough as nails inflatable kayak!
The 380x is made to be ridden by one or two persons. Now you can do what others only dream of with our most versatile inflatable kayak series ever!
Rugged design to tackle whitewater, open-water, and now down-wind sailing! Large enough for two but small enough for one! The 380x does it all!
About the Explorer™ Series
Don't buy a kayak until you check out sale prices on Sea Eagle Explorer Kayak Packages. Great wet or dry boats - they are tough enough for class four whitewater, but stable, dry and comfortable on flat-water as well. 4 Models To Choose From - One To Suit Every Need!
Super-fast self-bailing with 16 floor drains that can be left open for wet whitewater and ocean kayaking or closed for high and dry flat-water paddling.
The Explorers also feature a removable slide skeg for improved tracking on open water. Pound for pound these Explorers are champions capable of handling any type of adventure: Fishing, Touring, Camping, Exploring, Adventuring, Whitewater, but Never Boring!
Making high-quality inflatables since 1968, we know best!
| | |
| --- | --- |
| Person Capacity | 3 |
| Hull Weight | 40 lbs. |
| Length | 12 ft. 6 in. |
| Width | 3 ft. 3 in. |
| Interior | 11' 9" x 15" |
| Load Capacity | 3 Person or 750 lbs. |
| Deflated | 31" x 20"x 9" |
| Chambers | 3 (port, starboard, floor) |
| Tube Diameter | 11.5" |
| Air Valves | 3 Recessed One Way |
| Inflation time | 8 min |
| Seam | Glued Quadruple Overlapped |
| Material | 1000 Denier Reinforced |
| Engine Capacity | 34 lbs. thrust electric (max engine weight 15 lbs) |
| Floor | Removable High Pressure Drop Stitch Floor |
| Whitewater Rating | Suitable up to Class IV |
| Inflation Pressure | 3.2 psi |
Certifications
NMMA Certified
16 High Capacity Self-bailing Drain Valves
Large Removable Skeg for Flatwater Touring
Front & Rear Spray Skirts with Carry Handles and bungee cords
Separate Drop Stitch floor for rigidity
24 D-rings to secure seats and gear
One-Way Air Valves
Sea Eagle motormount receivers for optional motormount
Printed Instructions
380x Explorer Reviews
4.7 out of 5 stars.
(140)
Bill Stansbury
Verified Owner
1/7/2016
4.0 out of 5 stars.
We have had our Sea Eagle since 2005. We have been all over the continent. From Jasper, Alberta to San Diego.We have used our 380x in the ocean,lakes,lagoons,harbors and rivers. We have loaded it with gear and paddled to remote spots and camped for days. I have used it in class three rapids in seven different states and provinces. It has help produce some of fondness memories.
show full review ▼
Robert Williams
Verified Owner
1/7/2016
5.0 out of 5 stars.
Our inflatable kayak is just what my wife and I needed to enjoy lakes and rivers around Glacier Park. Easy to transport and inflate, comfortable and stable. I also use it for fishing and our dogs also enjoy an occasional ride.
Richard Gains
Verified Owner
1/7/2016
5.0 out of 5 stars.
OK one very simple point.
You make a great product but you have one very weak point and that is the clip fastener between the seat and the securing point. The spring clips are impossible to maintain if the kayak is used in saltwater conditions. i simple use cheap belay connections which are easily replaced but you cant even remove the failed spring clip supplied from sea eagle. it is disappointing that such a great product is let down by such a simple problem.
show full review ▼
Wayne Haneman
Verified Owner
1/7/2016
5.0 out of 5 stars.
We love our Sea Eagle 380x it tracks very well and it is comfortable to sit in for the 2 of us plus our 2 dogs. It feels very safe / stable even in strong winds. Its great to travel with in our motor home we simply fold it up and store it away and takes very little time to set-up. I am very happy with my purchase Sea Eagle shipped on time and the product was just as advertised. We would buy from Sea Eagle again.
16 Rapid Self - Bailing Easy To Open & Shut Drain Valves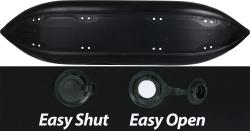 When the 16 rapid self-bailing drain valves are open, you are sure to drain off water as quickly as it enters! With the drain valves closed you are certain to remain high and dry when paddling on flat waters such as lakes, bays and other bodies of water.
Modular Rigid Drop Stitch Floor Provides Double Protection
The unique modular design of the Sea Eagle Explorer™ features a super rigid, high pressure, drop stitch floor that sits on top of an outside floor. This has several advantages. The high-pressure DS floor provides great rigidity and super responsive paddling performance. The reinforced outside fabric floor provides a double layer of added protection so it can bounce off rocks, logs, and other objects. The modular design allows the DS floor to be easily removed for quick and thorough cleaning.
Large Removable Rear Center Skeg
A nice feature of this design is that the skeg can be removed with the Explorer inflated or deflated. Simply remove it for whitewater and skinny water adventures (eliminating it as an obstruction)and replace it for flat water to reduce yawing (swinging to the right or left). This increases track-ability during long flat-water touring, maximizing efficiency.
When deflated and packed well, this hull will fit in: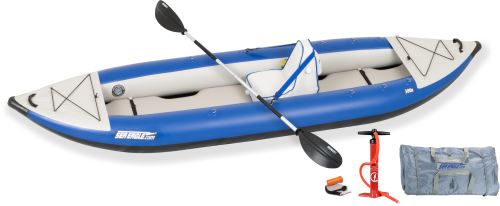 A great package for the solo paddler
Package price and FREE SHIPPING offer valid through Sunday, October 31, 2021
a $1,394 value for

just $899

through Oct 31 *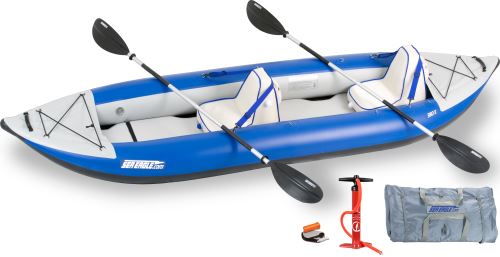 A great package for all-around paddlers
Package price and FREE SHIPPING offer valid through Sunday, October 31, 2021
a $1,512 value for

just $999

through Oct 31 *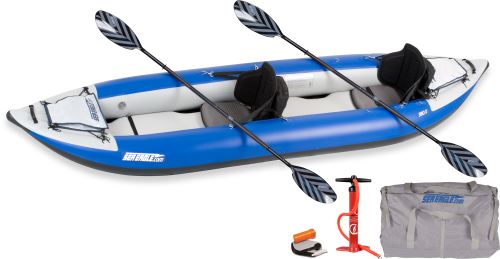 For greater back support, our Pro Kayak package features two Tall Back Seats, and bow and stern storage bags for longer trips. High-performance AB40 Paddles increase power and reduce fatigue.
Package price and FREE SHIPPING offer valid through Sunday, October 31, 2021
a $1,726 value for

just $1,099

through Oct 31 *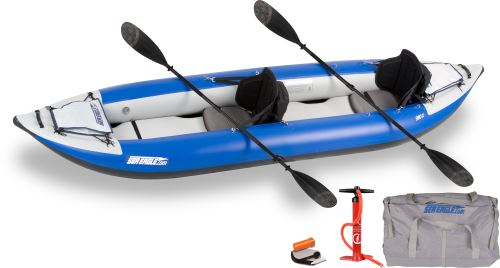 Our Pro Carbon Package features everything in the Pro Package plus a set of upgraded, high end, Carbon-Fiber Paddles.
Package price and FREE SHIPPING offer valid through Sunday, October 31, 2021
a $1,834 value for

just $1,199

through Oct 31 *
Our QuikSail Kayak package features two Tall Back Seats, and bow and stern storage bags for longer trips. High-performance AB40 Paddles increase power and reduce fatigue, plus the QuikSail.
Package price and FREE SHIPPING offer valid through Sunday, October 31, 2021
a $1,875 value for

just $1,249

through Oct 31 *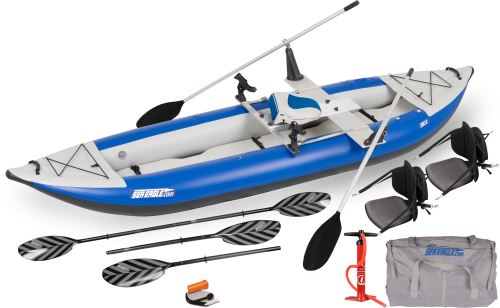 The QuikRow™ Kayak Package offers limitless options: whitewater, flat water, fishing, rowing and best of all - still fits in the trunk of your car! *Seat may vary.*
Package price and FREE SHIPPING offer valid through Sunday, October 31, 2021
a $2,141 value for

just $1,399

through Oct 31 *
Starting at $899.

7 great packages to choose from! Click Here.
7'10" AB30 paddle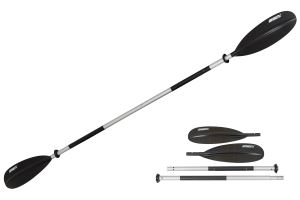 7'10" Double end asymmetrical paddle is great for all our canoe, kayak and paddleski models. The paddle features aluminum shafts with fiberglass reinforced nylon blades. It has a 65 degree feather capability. Snap lock buttons to disconnect into 4 parts. Weighs just 2.62 lbs.
Deluxe Inflatable Kayak Seat
Deluxe Inflatable Kayak Seat. A great inflatable seat that provides extra back support for paddling, rowing or fishing. Allows you to sit 5" off the floor with 14" of back support. Works in all of our kayaks (except the RazorLite 393rl & 473rl) and 285fpb.
Kayak Carry Bag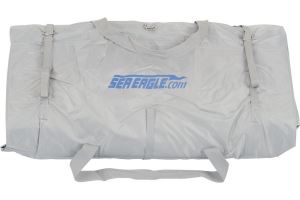 The real time saver of this bag design is the way it wraps around the boat hull. You don't have to spend time folding the boat to the exact proportions of the bag. Just roll up the boat and place on the open bag, and wrap the flaps around it.
Auto Dual Action Pump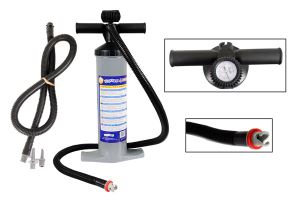 This pump's special design allows for low effort and quick inflation. Made with a reliable and strong aluminum shaft. It comes equipped with 2 hoses - one with recessed one-way valve adapter, one with deluxe one way valve adapter - and an easy to read in-line pressure gauge. This pump capable of inflating to 11.6 PSI.
Slide in Skeg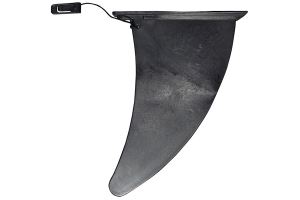 An excellent accessory to increase your hulls ability to track straight and true resulting in less yawing (side to side swinging) of your hull during paddle strokes, thus improving paddling efficiency.
Large 9 1/2" removable slide in skeg for Stand Up Paddle Boards, FastTracks, Explorers and Travel Canoe.
*Note your craft must have the grooved base plate to accommodate a slide-in skeg.
Repair Kit
Repair kit for 1000 Denier PVC boats. Includes hull repair material, tube of glue & Halkey-Roberts valve replacement tool.
Tall Back Seat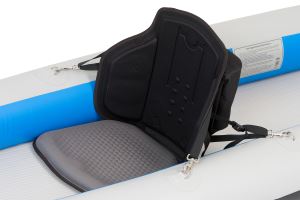 Tall Back Kayak Seat latches securely to the d-rings on many of our Sea Eagle hulls. Removable zippered rear pouch for storage. Made of thermal molded foam. Provides great back support with an 19" high backrest. Great for any outing. Lightweight and durable.
The molded foam construction gives you a low sitting position to for maximum stability in rough whitewater and excellent back support.
Only weighs 2 lbs.
8' AB40 paddle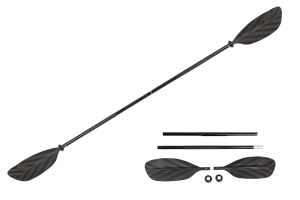 The asymmetrical spoon blade design of this Kayak paddle allows for smooth entries and an even pull, maximizing the power from your stroke. They require less gripping force, less effort per stroke. Weighs 2.92 lbs. Snap lock buttons to disconnect into 4 parts.
Kayak Stow Bag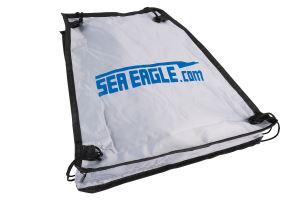 This attractive bag fits on our kayaks and is great for storing snacks, drinks, repair kits or a spare pump.
AB50 Paddle
Featherweight AB50 8' Double End Paddle with Carbon-Fiberglass shaft and Asymmetrical spoon blades.
QuikSail
Universal Kayak Sail, converts any kayak into a sailing vessel. Easy deployment in under one minute, breaks down to just 43" for convenient storage in the bow or stern. This "down wind" sail can move a kayak up to 7 knots and can be steered using your paddle as a rudder. Works with all Sea Eagle Kayaks and almost any other kayak out there.
Note: Deluxe Inflatable Seats required when using with the Sport Kayaks.
Watersnake Asp T24 for kayaks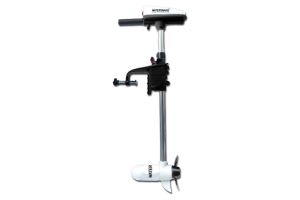 A light weight, inexpensive, electric, salt water motor that's built to last. Anti-corrosive paint and stainless steel external & internal parts allow you to take this motor into fresh, brackish and salt water without worry.
The adjustable transom mount makes it easy to use this motor with our 380x and 420x Explorer Series Kayaks and FastTrack Kayaks. Two-blade, weedless design propeller.
*For use with kayaks only. (Cannot be used on Explorer 300x.)
**Battery not included.
*** Coast Guard requirements dictate that each ungrounded current-carrying conductor must be protected by a manually reset, trip-free circuit breaker or fuse.
**** Not suitable for Bow mounting
Not for use with PaddleSki, Motormount Boats, FoldCats, Frameless Fishing Boats, FSK16 or Sport Runabouts. Not compatible with HelmsMate Extension Handle.
Covered by the Watersnake 1 Year Warranty
All Sales are final. This item is not covered by the Sea Eagle 120 Day Trial.
Kayak Motormount
Motormount kit for FastTracks and Explorers. Holds up to a 34 lb thrust electric motor with a max motor weight of 15 lbs.
*Not compatible with Explorer 300x
QuikRow Kit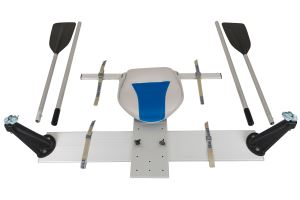 A simplified fixed frame rower that attaches to kayaks and SUPs in less than 60 seconds flat! Easy to set up and easy to use - the QuikRow™ will transform an ordinary kayak or SUP into a rowing and fishing machine!
The perfect accessory for Sea Eagle iSUPs, Explorers™, FastTracks™, and Pre 2021 PaddleSki™ Series. (Weighs only 20 lbs.)
QuikRow kit includes: aluminum frame rowing base, swivel seat, (2) 2 part 7'11" oar set w/ oarlock and oar pin, 2 quick release cinch down straps (length is determined by kayak/iSUP package).
*2 Sea Eagle self-locking straps included with kayak and iSUP packages (strap length is dependent on package requirements).
* One-time pre-assembly that takes just a few minutes required. Non-compatible with RazorLites™, Sport Kayaks, Travel Canoes™, and 2021 PaddleSki's or newer.
*The QuikRow™ Footrest (recommended for SUPs and Pre 2021 PaddleSki™) and Scotty® Rod Holders with Universal Deck Mounts are optional and can be purchase separately
*Seat May Vary
Scotty Rod Holder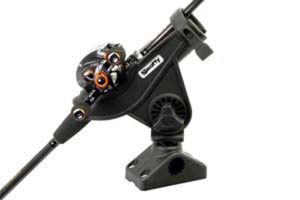 Scotty rod holder and side/deck mount
Baitcaster Interior Diameter: 1.30"
Mount Dimensions: 4" x 2" x 2"
Bolting Dimension: 1 5/16" x 3 3/16"