About the 380x Explorer Inflatable Kayak
Tackle your adventures in this rugged solo or tandem tough as nails inflatable kayak!
The 380x is made to be ridden by one or two persons. Now you can do what others only dream of with our most versatile inflatable kayak series ever!
Rugged design to tackle whitewater, open-water, and now down-wind sailing! Large enough for two but small enough for one! The 380x does it all!
About the Explorer™ Series
Don't buy a kayak until you check out sale prices on Sea Eagle Explorer Kayak Packages. Great wet or dry boats - they are tough enough for class four whitewater, but stable, dry and comfortable on flat-water as well. 4 Models To Choose From - One To Suit Every Need
Now with 16 super-fast self-bailing drain valves that can be left open for wet whitewater and ocean kayaking or closed for high and dry flat-water paddling.
The Explorers also feature a removable slide skeg for improved tracking on open water. Pound for pound these new Explorers are champions capable of handling any type of adventure: Fishing, Touring, Camping, Exploring, Adventuring, Whitewater, but Never Boring!
Making high quality inflatable since 1968, we know best!
| | |
| --- | --- |
| Person Capacity | 3 |
| Hull Weight | 40 lbs. |
| Length | 12 ft. 6 in. |
| Width | 3 ft. 3 in. |
| Interior | 11' 9" x 15" |
| Load Capacity | 3 Person or 750 lbs. |
| Deflated | 31" x 20"x 9" |
| Chambers | 3 (port, starboard, floor) |
| Tube Diameter | 11.5" |
| Air Valves | 3 Recessed One Way |
| Inflation time | 8 min |
| Seam | Glued Quadruple Overlapped |
| Material | 1000 Denier Reinforced |
| Engine Capacity | 34 lbs. thrust electric (max engine weight 15 lbs) |
| Floor | Removable High Pressure Drop Stitch Floor |
| Whitewater Rating | Suitable up to Class IV |
| Inflation Pressure | 3.2 psi |
Certifications
Standard Features
NMMA Certified
16 High Capacity Self-bailing Drain Valves
Large Removable Skeg for Flatwater Touring
Front & Rear Spray Skirts with Carry Handles and bungee cords
Separate Drop Stitch floor for rigidity
24 D-rings to secure seats and gear
One-Way Air Valves
Sea Eagle motormount receivers for optional motormount
Printed Instructions
380x Reviews
(88 total, avg. review: 4.6 out of 5)
3/14/2020
5.0 out of 5 stars.
Robert Needham , EDMONTON
Verified Owner
We Use our 380X on the Sea of Cortez and love it. Great value for the money and always feel safe.
3/14/2020
5.0 out of 5 stars.
Aaron Kramer , DENVER
Verified Owner
Love the boat! One improvement would be great, square boston valves.
10/22/2019
4.0 out of 5 stars.
Wallace Baldwin , San Mateo
Verified Owner
Great boat for combination of uses. I use for fishing lakes and also for river floating.
I wish sea eagle made a professional backpack to go with its stellar 380 boat. Many of us packers enjoy packing our boats to remote lakes and rivers and would pay top dollar for a top quality backpack custom made for your sea eagle boats
7/27/2019
5.0 out of 5 stars.
Mike Mook , VALLEY CITY
Verified Owner
Love it! Supper portable and easy to use. Very solid construction.
7/25/2019
5.0 out of 5 stars.
Colby Clark , Coeur d'Alene, ID
Verified Owner
This kayak is really amazing! It is the nicest kayak we have ever owned and is perfect for our family. It is wonderful to have an inflatable you can rely on and go anywhere with! After buying the first one for my wife and I, we plan to get a second one for our kids to use when they go with us.
7/14/2019
5.0 out of 5 stars.
Howard Davis , MIDLAND
Verified Owner
From the kayak to it's carrying case the SeaEagle 380X is well designed and thought out. Easy and fast to set up.
Only issue we have had is the straps used for securing the bottom on the seat cushions.
7/12/2019
5.0 out of 5 stars.
Jeffrey Fornear , Tucson,AZ
Verified Owner
We purchased our kayak in July of 2001. After 18 years of faithful service it is giving up. This is not a complaint but high praise for your product. We did have to replace the floor and a few minor sealing of seams. That is so little considering the fun and use we have had. It has been in rivers and lakes in Az. and Wyoming, the bays of San Diego and attacking the breakers in La Jolla. We have taught our grand kids boating safety and had many man overboard drills. We never felt insecure in kayak because it is so stable. It has survived all those years being stored in the heat of Arizona summers .My husband was always diligent in washing and letting it dry before storage. This month we experienced a major leak in the bottom seam, but even full of water we never worried about sinking, the tubes are in good shape. We want to thank you for a great product and would give it more than five stars. We highly recommend purchasing from this company.
show full review ▼
7/7/2019
5.0 out of 5 stars.
Ian Lightman , SAN DIEGO
Verified Owner
The 380x has proven to be everything you said. Easy to inflate and deflate and packs up easy. Have had it down to Baja in windy conditions and back home to British Columbia in all kinds of conditions and it has been incredibly stable reliable. Paddling with the skeg in is no problem even when my wife decides to take a break. One of the best boats I've ever owned and hard to believe it is inflatable. I have strongly recommended it to quite a few people. Well done Sea Eagle.
4/26/2019
5.0 out of 5 stars.
David Selby , PHELPS
Verified Owner
Love the 380x. I used it for inshore fishing near bridges in the Florida Keys. It was easy to inflate and well-engineered with obviously heavy duty features throughout. It tracks amazingly well with the removable fin. Without the fin it's very agile and I look forward to using it on some mild whitewater this summer. No need to deal with the hassle of hard kayaks on roof racks when driving long show full review ▼ distances anymore.
distances anymore.
2/14/2019
5.0 out of 5 stars.
Steve Craig , COTTONWOOD
Verified Owner
After purchasing a 330 and then a 370, I just had to get this 380x. The quality of this product is out of this world!
Fast service, and very good customer service as well.
As for the 380x.....all I can say is WOW! What a great Kayak. VERY stable, VERY portable, quick to inflate, easy to stow, and all 3 kayaks fit neatly under my Keystone Cougar 5th wheel. I really love the inflatable floor in this kayak.
show full review ▼
Key Features:
16 Rapid Self - Bailing Easy To Open & Shut Drain Valves

When the 16 rapid self-bailing drain valves are open, you are sure to drain off water as quickly as it enters! With the drain valves closed you are certain to remain high and dry when paddling on flat waters such as lakes, bays and other bodies of water.

Modular Rigid Drop Stitch Floor Provides Double Protection

The unique modular design of the Sea Eagle Explorer™ features a super rigid, high pressure, drop stitch floor that sits on top of an outside floor. This has several advantages. The high-pressure DS floor provides great rigidity and super responsive paddling performance. The reinforced outside fabric floor provides a double layer of added protection so it can bounce off rocks, logs, and other objects. The modular design allows the DS floor to be easily removed for quick and thorough cleaning.

Large Removable Rear Center Skeg

A nice feature of this design is that the skeg can be removed with the Explorer inflated or deflated. Simply remove it for whitewater and skinny water adventures (eliminating it as an obstruction)and replace it for flat water to reduce yawing (swinging to the right or left). This increases track-ability during long flat-water touring, maximizing efficiency.
380x Explorer Discount Packages
7'10" AB30 paddle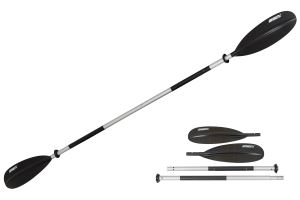 7'10" Double end asymmetrical paddle is great for all our canoe, kayak and paddleski models. The paddle features aluminum shafts with fiberglass reinforced nylon blades. It has a 65 degree feather capability. Snap lock buttons to disconnect into 4 parts. Weighs just 2.62 lbs.
Deluxe Inflatable Kayak Seat
Deluxe Inflatable Kayak Seat. A great inflatable seat that provides extra back support for paddling, rowing or fishing. Allows you to sit 5" off the floor with 14" of back support. Works in all of our kayaks and 285fpb.
Kayak Carry Bag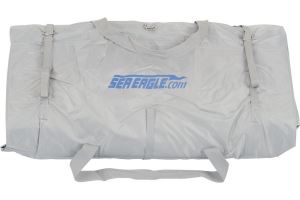 The real time saver of this bag design is the way it wraps around the boat hull. You don't have to spend time folding the boat to the exact proportions of the bag. Just roll up the boat and place on the open bag, and wrap the flaps around it.
A41 Foot Pump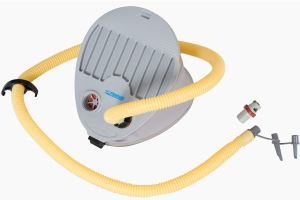 A high capacity foot pump made of durable ABS plastic that packs down for easy travel. Comes with triple styled nozzle for use on deluxe white one-way valves and pipe valves on unsupported fabric (white) hulls. Also included is a Recessed Valve Adapter for use on supported fabric (grey) hulls.
Slide in Skeg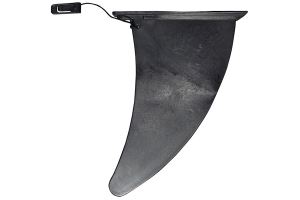 An excellent accessory to increase your hulls ability to track straight and true resulting in less yawing (side to side swinging) of your hull during paddle strokes, thus improving paddling efficiency.
Large 9 1/2" removable slide in skeg for Stand Up Paddle Boards, FastTracks, Explorers and Travel Canoe.
*Note your craft must have the grooved base plate to accommodate a slide-in skeg.
Repair Kit
Repair kit for 1000 Denier PVC boats. Includes hull repair material, tube of glue & Halkey-Roberts valve replacement tool.
Tall Back Seat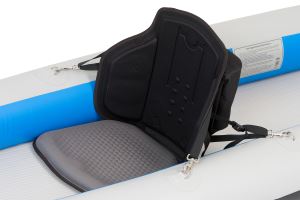 Tall Back Kayak Seat latches securely to the d-rings on many of our Sea Eagle hulls. Removable zippered rear pouch for storage. Made of thermal molded foam. Provides great back support with an 19" high backrest. Great for any outing. Lightweight and durable.
The molded foam construction gives you a low sitting position to for maximum stability in rough whitewater and excellent back support.
Only weighs 2 lbs.
AB43 paddle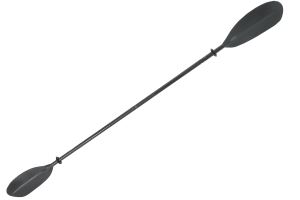 The AB43 Kayak Paddle has a durable two-piece aluminum shaft, asymmetrical swept-back blades and feather adjustments. This paddle allows for an even pull maximizing the power from your stroke. The rubber drip ring helps keep hands dry for a better grip. This is a super rugged paddle that will provide many years of hard use.
Kayak Stow Bag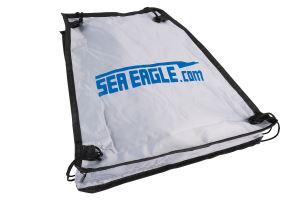 This attractive bag fits on our kayaks and is great for storing snacks, drinks, repair kits or a spare pump.
AB50 Paddle
Featherweight AB50 8' Double End Paddle with Carbon-Fiberglass shaft and Asymmetrical spoon blades.
QuikSail
Universal Kayak Sail, converts any kayak into a sailing vessel. Easy deployment in under one minute, breaks down to just 43" for convenient storage in the bow or stern. This "down wind" sail can move a kayak up to 7 knots and can be steered using your paddle as a rudder. Works with all Sea Eagle Kayaks and almost any other kayak out there.
Note: Deluxe Inflatable Seats required when using with the Sport Kayaks.
Watersnake Asp T24 for kayaks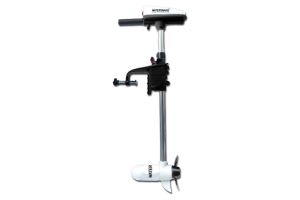 A light weight, inexpensive, electric, salt water motor that's built to last. Anti-corrosive paint and stainless steel external & internal parts allow you to take this motor into fresh, brackish and salt water without worry.
The adjustable transom mount makes it easy to use this motor with our 380x and 420x Explorer Series Kayaks and FastTrack Kayaks. Two-blade, weedless design propeller.
*For use with kayaks only. (Cannot be used on Explorer 300x.)
**Battery not included.
*** Coast Guard requirements dictate that each ungrounded current-carrying conductor must be protected by a manually reset, trip-free circuit breaker or fuse.
**** Not suitable for Bow mounting
Not for use with PaddleSki, Motormount Boats, FoldCats, Frameless Fishing Boats, FSK16 or Sport Runabouts. Not compatible with HelmsMate Extension Handle.
Covered by the Watersnake 1 Year Warranty
All Sales are final. This item is not covered by the Sea Eagle 120 Day Trial.
Kayak Motormount
Motormount kit for FastTracks and Explorers. Holds up to a 34 lb thrust electric motor with a max motor weight of 15 lbs.
*Not compatible with Explorer 300x
QuikRow Kit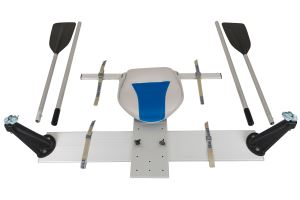 The Universal QuikRow™ Kit is a simplified fixed frame rower that attaches to kayaks and SUPs in less than 60 seconds flat! Now that's quick! Easy to setup and easy to use - the QuikRow™ will transform an ordinary kayak or SUP into a rowing and fishing machine!
This Universal QuikRow® Kit is the perfect accessory for Sea Eagle iSUPs, Explorers™, FastTracks™ and PaddleSki™ Series. (Weighs only 20 lbs.)
QuikRow kit includes: aluminum frame rowing base, swivel seat, (2) 2 part 7'11" oar set w/ oarlock and oar pin, (2) 4' quick release cinch down straps, (2) 6' quick release cinch down straps.
*2 Sea Eagle self-locking straps in 4' or 6' included with kayak and iSUP packages, depending on package requirements.
*One time pre-assembly that takes just a few minutes required. Non compatible with RazorLites™, Sport Kayaks and Travel Canoes™
*The QuikRow™ Footrest (recommended for SUPs and PaddleSki™) and Scotty® Rod Holders with Universal Deck Mounts are optional and can be purchase separately
Scotty Rod Holder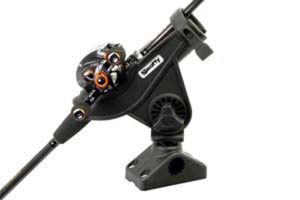 Scotty rod holder and side/deck mount
Baitcaster Interior Diameter: 1.30"
Mount Dimensions: 4" x 2" x 2"
Bolting Dimension: 1 5/16" x 3 3/16"
Free Shipping
All Sea Eagle orders with this product will receive Free Ground Shipping to the lower 48 U.S. States.
Express shipping and delivery to Alaska, Hawaii and outside the United States are also available for an additional fee. Shipping rates will be displayed on our shopping cart page.
Offer Valid through 9/30/2020
Sea Eagle Used Boats
have

never been damaged, punctured or patched

have been

test inflated for 48 hours

might have very minimal wear (no barnacles or algae)
are covered by our regular 120 day

money back guarantee

and

three year

bow-to-stern warranty, just like our new boats.
might contain prior-generation components
Delivery Estimator
Starting at $899.

7 great packages to choose from! Click Here.