Free MB80 Electric Pump
with every SE 330
Expires 1/31/2023
while supplies last
About the Sea Eagle 330 Inflatable Kayak
Our lightest, most portable kayak is America's most popular, the versatile SE330 weighs just 26 lbs. and packs down small enough to fit in the smallest car trunk. This affordable inflatable Sport Kayak is as lightweight and portable as it gets, yet still remarkably stable and durable. Don't let the light weight fool you, it's a rugged kayak able to hold 2 people or 500 lbs and yet easy enough to be carried and paddled by one.
Best interior spaced for an adult and child or two smaller adults. For those requiring more room please see the larger SE370.
About the Sport Kayaks Series
We began in 1968 selling an inflatable kayak very similar to our present Sea Eagle Sport Kayaks. Since then we have made many improvements in our inflatable kayaks. Today, we offer superior one way valves, thicker hull material and an even better material formulation for greater strength, reliability, and durability on the water.
Sea Eagle Sport Kayaks pack to a fraction of their inflatable size, can be carried almost anywhere there is water and set up in less than 10 minutes!
They are great fun for beginners and experienced paddlers alike. With a lightweight design and efficient hull shape, the Sport Kayaks are swift paddling boats and easy to handle for young or old alike.
When you consider their cost verses the way they can be used, Sea Eagle Sport Kayaks truly represent one of the best values in boating today!
| | |
| --- | --- |
| Person Capacity | 2 |
| Hull Weight | 26 lbs. |
| Length | 11 ft. 2 in. |
| Width | 2 ft. 10 in. |
| Interior | 9' 6" x 15" |
| Load Capacity | 2 Person or 500 lbs. |
| Deflated | 24" x 16" x 7" |
| Chambers | 3 (port, starboard, floor) |
| Tube Diameter | 10" |
| Air Valves | 5 Deluxe One Way |
| Inflation time | 6 min |
| Seam | High Frequency Welded |
| Material | 33 mil Polykrylar (K80 PVC) |
| Floor | Inflatable I-beam construction |
| Whitewater Rating | Suitable up to Class III |
| Inflation Pressure | 1.1 psi |
Certifications
When deflated and packed well, this hull will fit in:
check_circleTruck/Large SUV
NMMA Certified
Open and close drain valve
Five deluxe one-way valves
Sun & saltwater resistant hull material
Lashed down inflatable spray skirts
I-beam construction floor
2 skegs on the bottom for better tracking & speed
Bow & Stern Grab Line
Sea Eagle 330 Reviews
4.4 out of 5 stars.
(242)
Michael Brostoff
Verified Owner
12/11/2022
5.0 out of 5 stars.
Love my kayak!!! I live in the north woods of Michigan and I can paddle in places a heavier canoe would never go . Top quality,great price,and portable. Sea eagle will bring you endless good times!!!!
Nicole Lathrop
Verified Owner
11/3/2022
5.0 out of 5 stars.
This is the best friend for a nice adventurous picnic, or trying to get some photography of wildlife on the shore while out on the lake. It takes me about 15-20 miuntes to set up and can hold 2 people, or 1 with camera gear comfortably. super sturdy and easy to inflate, only tip: make sure that you put the seats in the right way. In the first set up we accidently turned the kayak around and was wondering why it was so hard to steer and paddle... When we finaly realised and switched everything the right way it was much easier (that was full user error).
show full review ▼
Eileen Saffran
Verified Owner
10/30/2022
4.0 out of 5 stars.
This kayak is extremely portable. The inflatable seat isn't extremely comfortable. Otherwise I like it.
Steven Ashcraft
Verified Owner
10/10/2022
5.0 out of 5 stars.
It is excellent. Quality is first rate. We expect it to last a long time. It is easy to use for all of these setting up, kayaking, storing
My wife and I have had a blast just paddling around some local lakes and are looking forward to trying it in the Colorado soon.
show full review ▼
Integral 5-Tube I-beam Floor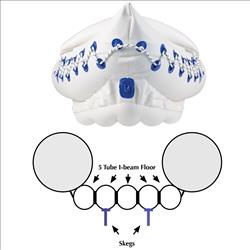 Several years ago we changed our floor construction from a 7 tube I-beam floor to 5 tubes. This greatly enhanced the paddling performance of our Sport Kayaks because the paddler sits higher and most of the weight is born by the floor, rather than the side chambers.
Because larger I-beam tubes have more rigidity than smaller tubes it also created a more rigid inflatable floor with natural chines which improve the speed and tracking of our Sport Kayaks, making it easier to paddle long distances whenever you wish.
Two Rear Skegs For Tracking And Speed
Tracking is very important in a kayak. Inflatable kayaks need skegs to track smoothly across the water - otherwise your paddling effort is wasted. Cheaper competitive boats without rear skegs just weave and wander across the water, wasting your paddling effort.
The Sport Kayaks feature two molded skegs - just like a surf board - so you go faster and further with less paddling effort! These skegs are made of an almost indestructible molded plastic that will not be harmed by hitting rocks or running up on the beach.
Deluxe One-way Valves On All Air Compartments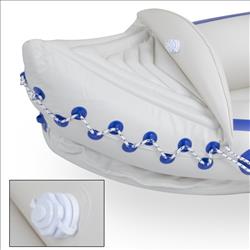 These Deluxe One-way Valves are simple and easy to use. A great improvement over traditional pipe valves which are hard to close, loose air easily and crack over time. Our Deluxe Valves come with an inner diaphragm which allows air to be pumped in without air escaping afterwards. The larger opening of the Deluxe Valves allows for rapid inflation and deflation. Comes with molded O-rings that can't be lost and a tether that will keep them attached to the hull at all times. Final seal is achieved by the outside cap for true air tightness.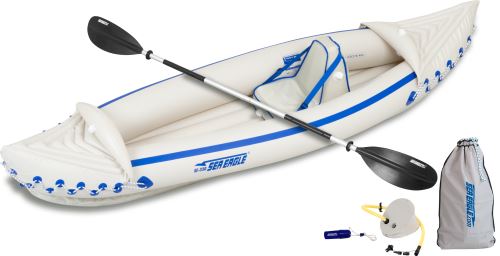 The Pro Solo Package is the perfect configuration for the solo paddler! With a movable super comfortable inflatable Deluxe Kayak Seat, 4 part paddle, foot pump & carry bag.
Package price and FREE SHIPPING offer valid through Tuesday, January 31, 2023
*FREE MB80 Electric Pump Offer Expires 1/31/2023
a $586 value for

just $249

through Jan 31 *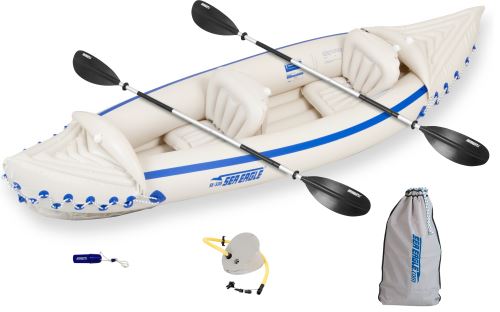 A great package for two! Includes our SE330 Sport Kayak, (2) AB30 paddles, (2) inflatable movable & removable SEC seats, foot pump and carry bag with convenient shoulder strap.
Package price and FREE SHIPPING offer valid through Tuesday, January 31, 2023
*FREE MB80 Electric Pump Offer Expires 1/31/2023
a $634 value for

just $299

through Jan 31 *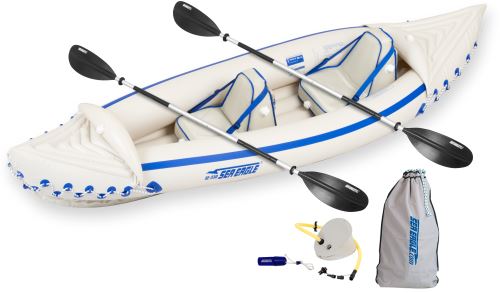 The 330 Pro Kayak Package features two movable, super comfortable Deluxe Kayak Seats for improved back support and 5" high seating, 2 paddles, a foot pump, and a carry bag.
Package price and FREE SHIPPING offer valid through Tuesday, January 31, 2023
*FREE MB80 Electric Pump Offer Expires 1/31/2023
a $704 value for

just $329

through Jan 31 *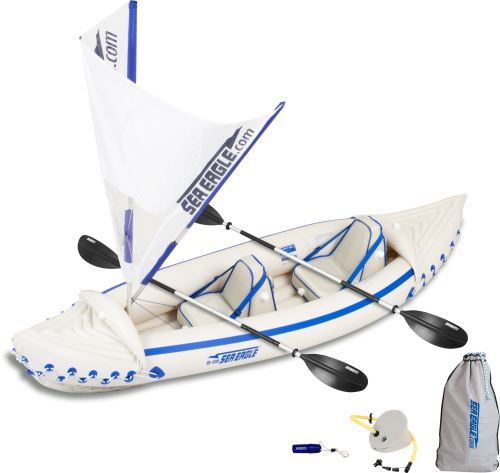 Everything in our Pro 330 Package plus the super fun QuikSail™! Paddle a mile or two up wind then turn downwind, setup the QuikSail™ and in mere seconds you'll be riding the wind home!
Package price and FREE SHIPPING offer valid through Tuesday, January 31, 2023
*FREE MB80 Electric Pump Offer Expires 1/31/2023
a $883 value for

just $449

through Jan 31 *
Starting at $249.

4 great packages to choose from! Click Here.
7'10" AB30 paddle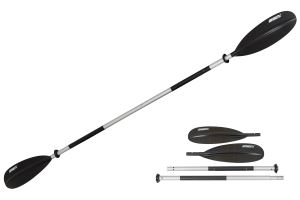 Deluxe Inflatable Kayak Seat
Deluxe Inflatable Kayak Seat
MB80 Electric Pump
A42 Foot pump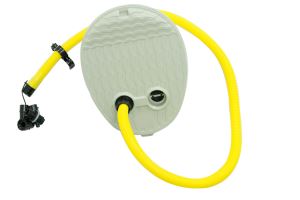 Carrybag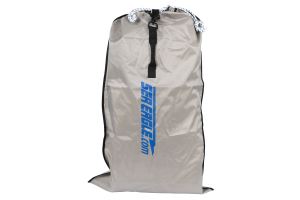 Small Repair Kit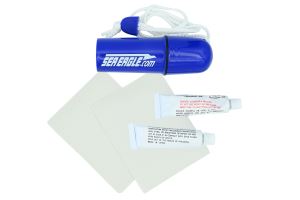 SEC Kayak Seat
QuikSail
QuikSail- Universal Kayak Sail