About the Sea Eagle 330
Imagine yourself blasting down a white water river — spray flying everywhere and your heart beating like a drum. Or imagine yourself on a mirror-smooth lake at dawn, slicing the silence with smooth paddle strokes. Can one boat do all this? Yes, our Sport Kayaks do all that and more!
Our lightest, most portable kayak is America's most popular, the versatile Sea Eagle 330. It weighs just 26 lbs. and packs down small enough to fit in the smallest car trunk. Don't let the light weight fool you, it's a rugged kayak able to hold 2 people or 500 lbs and yet easy enough to be carried and paddled by one.
About the Sport Kayaks Series
We began in 1968 selling an inflatable kayak very similar to our present Sea Eagle Sport Kayaks. Since then we have made many improvements in our inflatable kayaks. Today, we offer superior one way valves, thicker hull material and an even better material formulation for greater strength, reliability, and durability on the water.
Sea Eagle Sport Kayaks pack to a fraction of their inflatable size, can be carried almost anywhere there is water and set up in less than 10 minutes!
They are great fun for beginners and experienced paddlers alike. With a lightweight design and efficient hull shape, the Sport Kayaks are swift paddling boats and easy to handle for young or old alike.
When you consider their cost verses the way they can be used, Sea Eagle Sport Kayaks truly represent one of the best values in boating today!
Specifications
| | |
| --- | --- |
| Exterior | 11' 2" x 34" |
| Hull Weight | 26 lbs. |
| Load Capacity | 2 Adults or 500 lbs. |
| Interior | 9' 6" x 15" |
| Tube Diameter | 10" |
| Deflated | 24" x 16" x 7" |
| Chambers | Three (port, starboard & floor) |
| Material | 33 mil Polykrylar |
| Seam | High Frequency Welded |
| Floor | Inflatable I-beam construction |
| Air Valves | 5 Deluxe One Way |
| Inflation & Assembly time | 6 min. |
| Whitewater Rating | Up to Class III |
| Inflation Pressure | 1.1 psi |
Certifications
Standard Features
NMMA Certified
Open and close drain valve
Five deluxe one-way valves
Sun & saltwater resistant hull material
Lashed down inflatable spray skirts
I-beam construction floor
2 skegs on the bottom for better tracking & speed
Pressure Gauge, Repair kit & printed instructions
Bow & Stern Grab Line
SE 330 Reviews
(103 total, avg. review: 4.4 out of 5)
1/11/2017
Davis Belas , Morganton
Verified Owner
Love my SeaEagle 330! Due to over inflation and/or a manufacture defect in the seam stitching, my kayak busted a seam on the bottom after roughly 3-5 times on the water. I was able to communicate with costumer service with no problems at all, they explained what I needed to do and my new kayak was shipped to me within a matter of weeks! I have zero complaints with this boat. I have been on section 9 French Broad River near Asheville, NC (class 3-4 rapids) and the 330 handled like a champ! Comparing to a hard shell or traditional kayak, I like the seaeagle better for several reasons. Obviously the portability is huge plus, everything fits easily in my trunk and is ready to hit the water within 10 minutes. Also I appreciate the comfort of an inflatable, it's like floating down the river on an air-mattress! I constantly get asked questions and it is real head turner, A+++++++++ rating all the way around! Don't worry about it getting punctured either, it glides over rocks and shallows with ease!
1/9/2017
Arnold Pedersen , Coeur D Alene
Verified Owner
I USE MY SEA EAGLE AS A TENDER AND AS A KAYAK. I KEEP IT ON TOP OF MY HARD TOP CABIN ON COEUR D ALENE LAKE. SO FAR IT HAS BEEN GREAT!!
12/21/2016
Tracy Swenson , Brigham City
Verified Owner
It's a nice little boat for my 13 year old on lakes. I'd use it on a river that is flat (Class I) but would be hesitant on anything nearing Class III rapids. It sits rather high in/off the water and is pretty tipsy. For the price it's a good boat to learn basic paddling skills with though.
12/16/2016
Michael Young , Montrose, CO
Verified Owner
This is our second 330 and it is just as portable, rugged and fun as the first. Its quality is exceptional and what I really like is the very tough carrying bag and how it holds the boat and all of its equipment. Throw it in the car or back of the pick-up and go. Simply sweet!
12/13/2016
Brenda Vandusen , Canastota, NY
Verified Owner
I absolutely Love my Sea Eagle SE330 kayak. So easy to transport in my small car. In no time at all I have it inflated and in the water. I feel very secure in the kayak. This my first kayak and I am not the least bit nervous while on the water. I have reccomended to my friends to check it out for themselves. Guaranteed them that they would not be disappointed.
12/12/2016
Anthony Torres , Roy, UT
Verified Owner
Outstanding value. Great boat. Bought it with the intention of putting it on a plane and fishing in remote locations. Simple, reliable, stable. Great for fly fishing. Would consider buying another one for my grandsons to fish with me.
12/7/2016
Bunny Fontrier , Winston Salem
Verified Owner
'Moved to N.Carolina to be near my 90 year mom, but didn't want to pay the $s to ship my hard body yaks from California. I'd tried an 'inflatable' about 10 years ago, and swore I'd NEVER use one again. Renting got expensive so I decided to 'try' one of SeaEagle's high tech inflatable kayaks and chose the SE 330, a great price, what did I have to lose? Well, it is simple to inflate/deflate, holds all I need, and I was VERY pleasantly surprised how well it tracked and its durability over the rocks when the Yadkin and Dan Rivers were low. It rides a bit higher than a traditional hard body, but I got used to its fun feel fast... No punctures anywhere, it is comfortable and I'll probably break down and buy the sail for a bit more speed in the pretty lakes in my area. Friends have tried it, (I have RARELY seen any inflatables here), liked it and bought SeaEagles themselves. I've been kayaking for decades on oceans, rivers, white water and lakes all over the world and am having a blast with this SeaEagle Kayak!
12/7/2016
Linda Mayo , New Berlin
Verified Owner
This was exactly what I needed. The lake I intended for its use is an 8 hour drive away and I didn't want to drive that far alone with a kayak on my car roof. Nor did I want to load and unload a non-inflatable on my own. This one fits in my trunk or back seat. Each time I set it up, it gets easier. The inland Minnesota lake is fairly calm, so I can't speak to rough water or rapids handling. I had never even been in a kayak before, but this one handled very easily and I have enjoyed every trip in it.
7/29/2016
Bill Jordan , Mechanicsburg
Verified Owner
Have had my boat out on three occasions now. Portability is excellent. Everything you need fits into the carry bag, plus you still have plenty of room to toss in accessories. Be warned that the bag does have some weight, but carrying it over the shoulder for short distances should be manageable for most.It takes about 10 minutes to have the boat ready for use. Really no need to buy an electric pump that would require you to inflate near the car.
I've been in a hard kayak a few times. In comparison, I find the Sea Eagle a bit unsteady, as it tends to lilt from side to side a little more. Takes some getting used to. And if you are trying to go solo and keep up with a buddy in a hard kayak, forget about it. This vessel does not 'cut' through the water. My wife and I have found that we enjoy it most if she sits all the way up front facing me and I paddle from the very back, and the front weight helps it track better as well. Overall, a nice recreational vessel when used within its capabilities.
7/26/2016
Jim Moran , Alhambra, CA
Verified Owner
Delighted to have found the website and to see the newest versions of the Sea Eagle. I bought mine - identified now as an inflatable kayak - in 1986 at REI. I'm happy to note the minor but important differences in valves, seats, and navigation - and since after 30 years of service in 25 states, four Canadian provinces and two territories, my original boat seems to have sprung some almost irreparable leaks - it might be time to take advantage of the current sale to get a new one. In a lifetime of buying good to excellent gear for all sorts of outdoor adventures - the Sea Eagle was just about the best purchase I ever made. A singularly great and ingeniously designed product.
Key Features:
Integral 5-Tube I-beam Floor

Several years ago we changed our floor construction from a 7 tube I-beam floor to 5 tubes. This greatly enhanced the paddling performance of our Sport Kayaks because the paddler sits higher and most of the weight is born by the floor, rather than the side chambers.

Because larger I-beam tubes have more rigidity than smaller tubes it also created a more rigid inflatable floor with natural chines which improve the speed and tracking of our Sport Kayaks, making it easier to paddle long distances whenever you wish.

Two Rear Skegs For Tracking And Speed

Tracking is very important in a kayak. Inflatable kayaks need skegs to track smoothly across the water - otherwise your paddling effort is wasted. Cheaper competitive boats without rear skegs just weave and wander across the water, wasting your paddling effort.

The Sport Kayaks feature two molded skegs - just like a surf board - so you go faster and further with less paddling effort! These skegs are made of an almost indestructible molded plastic that will not be harmed by hitting rocks or running up on the beach.

Deluxe One-way Valves On All Air Compartments

These Deluxe One-way Valves are simple and easy to use. A great improvement over traditional pipe valves which are hard to close, loose air easily and crack over time. Our Deluxe Valves come with an inner diaphragm which allows air to be pumped in without air escaping afterwards. The larger opening of the Deluxe Valves allows for rapid inflation and deflation. Comes with molded O-rings that can't be lost and a tether that will keep them attached to the hull at all times. Final seal is achieved by the outside cap for true air tightness.
Sea Eagle 330 Discount Packages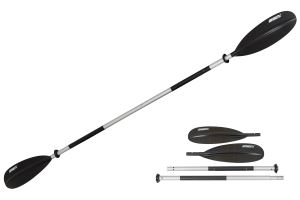 7'10" Double end asymetrical paddle is great for all our canoe, kayak and paddleski models. The paddle features aluminum shafts with Fibrylon blades. It has a 65 degree feather capability. Snap lock buttons to disconnect into 4 parts. Weighs just 2.62 lbs.
Deluxe Inflatable Kayak Seat. A great inflatable seat that provides extra back support for paddling, rowing or fishing. Allows you to sit 5" off the floor with 14" of back support. Works in all of our kayaks and 285fpb.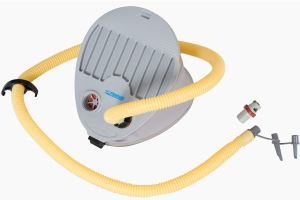 A high capacity foot pump made of durable ABS plastic that packs down for easy travel. Comes with triple styled nozzle for use on deluxe one-way valves.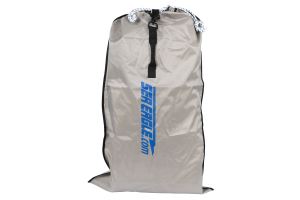 Great for storing or transporting your Sea Eagle SE330, SE370, SE8, SE9 and Wave Slider™. Recommended for a variety of accessories with larger Sea Eagle models. Made with heavy duty 440 denier nylon fabric. Measures 26"x48". Comes with convenient carry strap and drawstring.
*Only Sport Kayak and Motormount Boat Packages (minus the motormount frame and wooden seats) fit entirely into the Carry Bag. However we recommend the Carry Bag for use with a variety of accessories.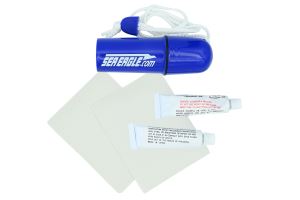 Repair kit for Motormount boats and Sport Kayaks. Includes two 4 in. x 3 in. white swatches of material and two tubes of glue.
A comfortable seat for any of our kayaks, the SEC has good back support from its large rear air chamber.
Universal Kayak Sail, converts any kayak into a sailing vessel. Easy deployment in under one minute, breaks down to just 43" for convenient storage in the bow or stern. This "down wind" sail can move a kayak up to 7 knots and can be steered using your paddle as a rudder. Works with all Sea Eagle Kayaks and almost any other kayak out there.
Note: Deluxe Inflatable Seats required when using with the Sport Kayaks.
Free Shipping
All Sea Eagle orders with this product will receive Free Ground Shipping to the lower 48 U.S. States.
Express shipping and delivery to Alaska, Hawaii and outside the United States are also available for an additional fee. Shipping rates will be displayed on our shopping cart page.
Offer Valid through 1/31/2017
Sea Eagle Used Boats
have

never been damaged, punctured or patched

have been

test inflated for 48 hours

might have very minimal wear (no barnacles or algae)
are covered by our regular 180 day money back guarantee and three year bow-to-stern warranty, just like our new boats.
might contain prior-generation components
Delivery Estimator
Starting at $239.

4 great packages to choose from! Click Here.