About the 300x Explorer Inflatable Kayak
The 300x stands alone in a class of it's own! Designed to tackle whitewater as well as open-water and surf, this kayak is sure to add years of fun!
About the Explorer™ Series
Don't buy a kayak until you check out sale prices on Sea Eagle Explorer Kayak Packages. Great wet or dry boats - they are tough enough for class four whitewater, but stable, dry and comfortable on flat-water as well. 4 Models To Choose From - One To Suit Every Need
Now with 16 super-fast self-bailing drain valves that can be left open for wet whitewater and ocean kayaking or closed for high and dry flat-water paddling.
The Explorers also feature a removable slide skeg for improved tracking on open water. Pound for pound these new Explorers are champions capable of handling any type of adventure: Fishing, Touring, Camping, Exploring, Adventuring, Whitewater, but Never Boring!
Making high quality inflatable since 1968, we know best!
| | |
| --- | --- |
| Person Capacity | 1 |
| Hull Weight | 30 lbs. |
| Length | 9 ft. 10 in. |
| Width | 3 ft. 3 in. |
| Interior | 8'9" x 16" |
| Load Capacity | 1 Person or 395 lbs. |
| Deflated | 24" x 16" x 6" |
| Chambers | 3 (port, starboard, floor) |
| Tube Diameter | 11.5" |
| Air Valves | 3 Recessed One Way |
| Inflation time | 5 min |
| Seam | Glued Quadruple Overlapped |
| Material | 1000 Denier Reinforced |
| Floor | Removable High Pressure Drop Stitch Floor |
| Whitewater Rating | Suitable up to Class IV |
| Inflation Pressure | 3.2 psi |
Certifications
NMMA Certified
16 High Capacity Self-bailing Drain Valves
Large Removable Rear Skeg for Flatwater Touring
Front & Rear Spray Skirts with Carry Handles and bungee cords
18 D-rings to secure seat and gear
Separate Drop Stitch floor for rigidity
Printed Instructions
300x Explorer in the news
300x Explorer Reviews
4.8 out of 5 stars.
(40)
Steven Newsom
Verified Owner
1/7/2016
5.0 out of 5 stars.
I am very please with my 300x Purchase. I use it mostly for Kayaking with the Dog in Class I Class II Rivers. I haven't had a single problem, even in low water with the gravel n Mo. The boat set up in about 5-10 mins, and takes down in the same amount of time. I have taken it out about 20 times on various river here in Mo. I also like that everything breaks down and fits in a carry one size bag. I would and have recommended Sea Eagle boats to several people, especially considering the cost of renting boats is so high, and the fact that the 300x packs small and doesn't take up a lot of room in a closet or basement.
show full review ▼
Ron Miller
Verified Owner
1/7/2016
4.0 out of 5 stars.
OK... so, I'm retired (quickly approaching 70), new to kayaking, travel in an RV. I've taken the 300x on our local river (the Charles) several times and our local pond (Dug Pond) in mostly calm weather. I'm getting a number of inquiries from other boaters, impressed with the kayak. I'm adjusting to it and enjoying stretching my experiences on the water. I'll be taking it on our "snowbird" trip south in a week or so and will hopefully use it in various campsites.
show full review ▼
Susan Court
Verified Owner
1/7/2016
5.0 out of 5 stars.
After crossing off "kayaking" from my bucket list this summer, two weeks later I was the proud owner of a Sea Eagle Explorer 300x. This kayak has already provided many hours of relaxation on lakes in Montana. The Explorer foot pump inflates the kayak in about 5 minutes and deflation is even faster. The kayak folds easily and can quickly be tossed in the back of the car. The kayak isn't too heavy to hand carry, but I did buy a suitcase with rollers to put the kayak in - this really makes it easy for getting down trails to waters edge. It is sturdy, provides a great sense of security, and is easy to maneuver. There is some water seepage around the valve openings that you want to towel dry before folding the kayak for storage. Yes, I would buy from Sea Eagle again!
Leigh Kiser
Verified Owner
1/12/2016
5.0 out of 5 stars.
I am absolutely in love with my Sea Eagle kayak!! I've had many people here in NC interested in it after seeing it perform. there are also people who do stand up paddleboarding and were very interested in your inflatable SUP. As an older woman new to whitewater kayaking, it makes it easier to travel and carry to and from drop off and pickup points without injuring my joints. This is the 2nd kayak I've owned and wouldn't buy from any other manufacturer. One day, I would like to try the Wave at the US Whitewater Center located an hr from me in Charlotte NC.
Modular Rigid Drop Stitch Floor Provides Double Protection
The unique modular design of the Sea Eagle Explorer™ features a super rigid, high pressure, drop stitch floor that sits on top of an outside floor. This has several advantages. The high-pressure DS floor provides great rigidity and super responsive paddling performance. The reinforced outside fabric floor provides a double layer of added protection so it can bounce off rocks, logs, and other objects. The modular design allows the DS floor to be easily removed for quick and thorough cleaning.
16 Rapid Self - Bailing Easy To Open & Shut Drain Valves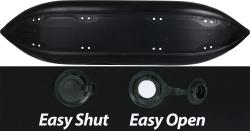 When the 16 rapid self-bailing drain valves are open, you are sure to drain off water as quickly as it enters! With the drain valves closed you are certain to remain high and dry when paddling on flat waters such as lakes, bays and other bodies of water.
Large Removable Rear Center Skeg
A nice feature of this design is that the skeg can be removed with the Explorer inflated or deflated. Simply remove it for whitewater and skinny water adventures (eliminating it as an obstruction)and replace it for flat water to reduce yawing (swinging to the right or left). This increases track-ability during long flat-water touring, maximizing efficiency.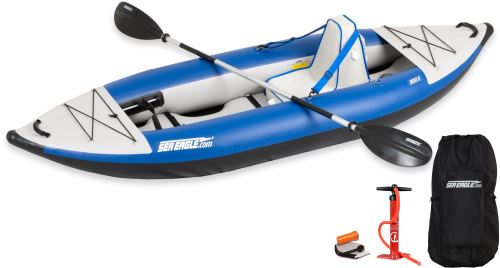 The perfect package for ease of storage and transport! Featuring an inflatable kayak seat, four part paddle, pump, repair kit and kayak bag.
Package price and FREE SHIPPING offer valid through Wednesday, March 31, 2021
a $1,294 value for

just $799

through Mar 31 *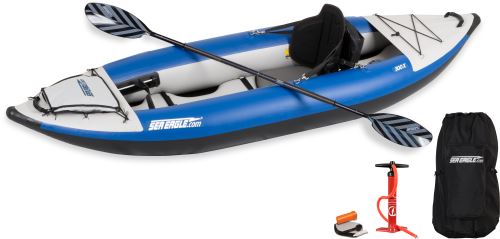 For greater back support our Pro Kayak package features a Tall Back Seat also an onboard kayak storage bag for longer trips. A high-performance AB40 Paddle increase power and reduce fatigue.
Package price and FREE SHIPPING offer valid through Wednesday, March 31, 2021
a $1,391 value for

just $849

through Mar 31 *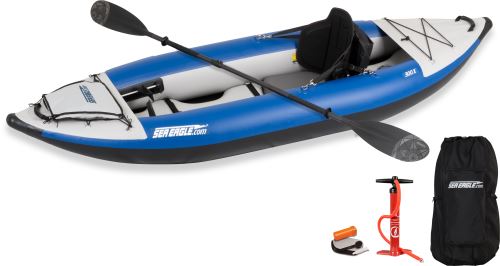 Our Pro Carbon Kayak package features everything in the Pro Package plus a set of upgraded top end, ultra-light, Carbon-Fiber Paddles.
Package price and FREE SHIPPING offer valid through Wednesday, March 31, 2021
a $1,445 value for

just $899

through Mar 31 *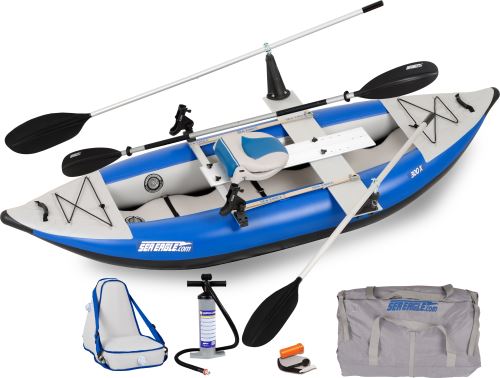 The QuikRow™ Kayak Package offers limitless options: whitewater, flat water, fishing, rowing and best of all - still fits in the trunk of your car!
Package price and FREE SHIPPING offer valid through Wednesday, March 31, 2021
a $1,771 value for

just $1,299

through Mar 31 *
Starting at $799.

4 great packages to choose from! Click Here.
7'10" AB30 paddle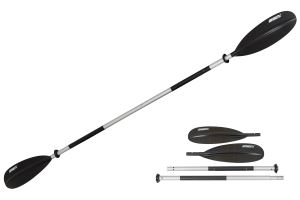 7'10" Double end asymmetrical paddle is great for all our canoe, kayak and paddleski models. The paddle features aluminum shafts with fiberglass reinforced nylon blades. It has a 65 degree feather capability. Snap lock buttons to disconnect into 4 parts. Weighs just 2.62 lbs.
Deluxe Inflatable Kayak Seat
Deluxe Inflatable Kayak Seat. A great inflatable seat that provides extra back support for paddling, rowing or fishing. Allows you to sit 5" off the floor with 14" of back support. Works in all of our kayaks and 285fpb.
Kayak Carry Bag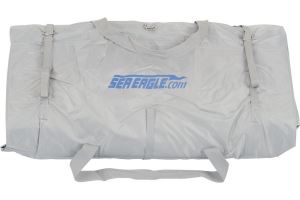 The real time saver of this bag design is the way it wraps around the boat hull. You don't have to spend time folding the boat to the exact proportions of the bag. Just roll up the boat and place on the open bag, and wrap the flaps around it.
Auto Dual Action Pump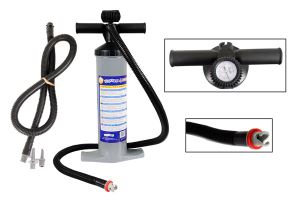 This pump's special design allows for low effort and quick inflation. Made with a reliable and strong aluminum shaft. It comes equipped with 2 hoses - one with recessed one-way valve adapter, one with deluxe one way valve adapter - and an easy to read in-line pressure gauge. This pump capable of inflating to 11.6 PSI.
Slide in Skeg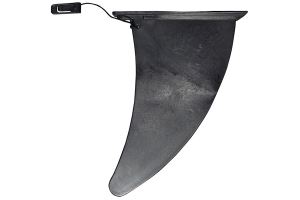 An excellent accessory to increase your hulls ability to track straight and true resulting in less yawing (side to side swinging) of your hull during paddle strokes, thus improving paddling efficiency.
Large 9 1/2" removable slide in skeg for Stand Up Paddle Boards, FastTracks, Explorers and Travel Canoe.
*Note your craft must have the grooved base plate to accommodate a slide-in skeg.
Repair Kit
Repair kit for 1000 Denier PVC boats. Includes hull repair material, tube of glue & Halkey-Roberts valve replacement tool.
Tall Back Seat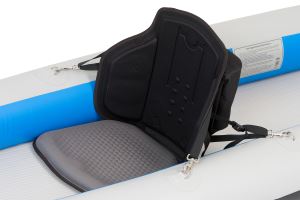 Tall Back Kayak Seat latches securely to the d-rings on many of our Sea Eagle hulls. Removable zippered rear pouch for storage. Made of thermal molded foam. Provides great back support with an 19" high backrest. Great for any outing. Lightweight and durable.
The molded foam construction gives you a low sitting position to for maximum stability in rough whitewater and excellent back support.
Only weighs 2 lbs.
8' AB40 paddle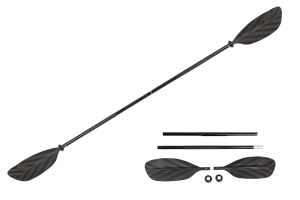 The asymmetrical spoon blade design of this Kayak paddle allows for smooth entries and an even pull, maximizing the power from your stroke. They require less gripping force, less effort per stroke. Weighs 2.92 lbs. Snap lock buttons to disconnect into 4 parts.
Kayak Stow Bag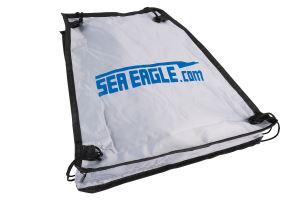 This attractive bag fits on our kayaks and is great for storing snacks, drinks, repair kits or a spare pump.
AB51 Paddle
Durable & Adjustable - Double End Paddle with Carbon-Fiberglass shaft , Asymmetrical spoon blades and lever lock.
QuikRow Kit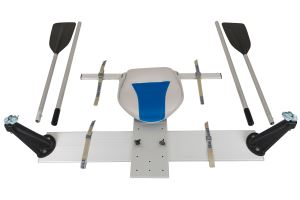 The Universal QuikRow™ Kit is a simplified fixed frame rower that attaches to kayaks and SUPs in less than 60 seconds flat! Now that's quick! Easy to setup and easy to use - the QuikRow™ will transform an ordinary kayak or SUP into a rowing and fishing machine!
This Universal QuikRow® Kit is the perfect accessory for Sea Eagle iSUPs, Explorers™, FastTracks™ and PaddleSki™ Series. (Weighs only 20 lbs.)
QuikRow kit includes: aluminum frame rowing base, swivel seat, (2) 2 part 7'11" oar set w/ oarlock and oar pin, (2) 4' quick release cinch down straps, (2) 6' quick release cinch down straps.
*2 Sea Eagle self-locking straps in 4' or 6' included with kayak and iSUP packages, depending on package requirements.
*One time pre-assembly that takes just a few minutes required. Non compatible with RazorLites™, Sport Kayaks and Travel Canoes™
*The QuikRow™ Footrest (recommended for SUPs and PaddleSki™) and Scotty® Rod Holders with Universal Deck Mounts are optional and can be purchase separately
Scotty Rod Holder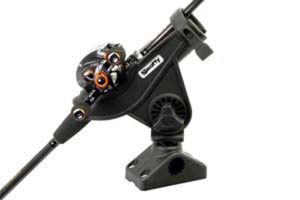 Scotty rod holder and side/deck mount
Baitcaster Interior Diameter: 1.30"
Mount Dimensions: 4" x 2" x 2"
Bolting Dimension: 1 5/16" x 3 3/16"