About the FishSUP™ 126 Inflatable Fishing Stand-Up Paddleboard
Time to think outside the box! The Sea Eagle FishSUP™ 126 will elevate your fishing to a whole new level! Giving you that extra edge over your fellow anglers. Now you can stealthily glide right into the heart of where the trophy fish reside!
This incredibly stable, bow to stern tapered, swallowtail inflatable stand up paddleboard is designed specifically for fishermen! The removable transom gives you the ability to run it with an electric motor. Extending your reach while conserving your energy.
About the Fishing SUPs Series
Sea Eagle Fishing Inflatable SUPs are the most versatile stand-up paddleboards in the world! Sit, stand, fish, motor, troll - designed for fishermen always on the go!
Extremely portable and affordable, these fishing SUPs are incredibly stable and easy to use, set up in under 10 minutes.
Say farewell to lugging around heavy boats and trailers plus unnecessary fees! Hello to portability and convenience. Sea Eagle Fishing SUPs stow in your car trunk always ready to go!
Featuring: protective, non-slip EVA foam deck pads - perfect for standing or sitting, 360° swivel seats - for hours of comfortable seating, built-in Fish Rulers - to be certain your catch is of legal length, multiple D-ring attachment points - for attaching various accessories and gear, removable rear motor mount - for mounting up to a 70 lb. thrust electric motor or up to a 3 hp gas motor on the SUPCat or a 55 lb. thrust electric motor on the FishSUP, and conveniently located grab/carry handles - for ease of transport, launching and beaching
| | |
| --- | --- |
| Person Capacity | 2 |
| Hull Weight | 45 lbs. (48 lbs. with motor mount) |
| Length | 12 ft. 6 in. |
| Width | 3 ft. 4 in. |
| Load Capacity | 2 persons or 500 lbs. |
| Deflated | Approx. 45" x 15" x 10" |
| Air Valves | One Way |
| Inflation time | 7 Minutes |
| Seam | Quadruple Overlap |
| Material | 1000 Denier Reinforced Drop Stitch |
| Board Thickness | 6" |
| Engine Capacity | 55 lb. thrust (45 lbs. max weight) |
| Inflation Pressure | 12-15 psi |
| Volume | 340 Ltr. |
Standard Features
Great for sitting or standing
Upturned bow for easing over wake (4" nose/entry rocker)
Slight continuous rocker throughout
Large swallow tail for added stability and increased maneuverability
Camo pattern EVA foam deck pad prevents slipping and punctures
Built-in 36" Fish Ruler
Unique Paddle Pocket for securing your paddle
Removable transom
(3) Conveniently located front and rear grab handles
(3) Easy slide-in, removable, rear skegs for better tracking
D-Rings and shock cords at bow to secure gear
Center balance middle carry handle with Sea Eagle cushion grip pad
(14) Stainless Steel D-ring attachment points for attaching various accessories
Large rear D-Ring attachment for leash (*leash not recommended when using motor)
Up to 15 PSI max air pressure capacity
Deluxe recessed Halkey Roberts style air valve
Additional reinforcement layers
FishSUP™ 126 Discount Packages
Backpack (BLACK)
New All Purpose Large Black BACKPACK! Great for carrying the FishSUP FS126! With 5 cubic feet of main compartment space plus and additional front pocket, there's plenty of room for your Sea Eagle and more!
*Be sure to check baggage restrictions prior to traveling.
SUP Paddle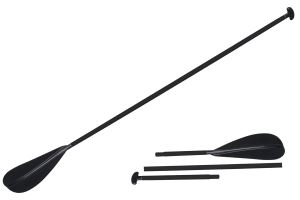 Our Stand Up Paddle is rugged, light-weight, and easy to use. The dihedral blade allows for an easy "pull" through the water and effortless exit. The ergonomic handle grip provides consistent blade oriented strokes and together they maximize complete efficiency.
The teardrop shaped concaved 16" long x 8 1/2" wide spoon blade has a kickback angle of 7° increasing not only the amount of water you catch and hold but also the actual catch phase of your stroke as well. Thus lengthening the power phase while allowing you to keep the paddle close to your SUP creating more lift.
Multi-purpose storage box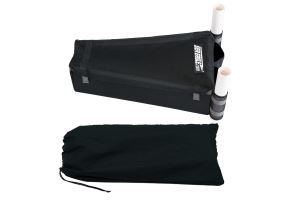 Sea Eagle's New Multi Purpose Kayak Storage Box makes a great way to securely stow your items and is an absolute must have for kayaking enthusiast. Lightweight and portable, this storage box folds down to the size and weight of the local newspaper.
*NOT waterproof or completely water resistant
Manual Select SUP Pump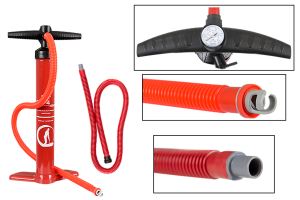 This SUP(Stand Up Paddle) Pump's special design allows for low effort and quick inflation. Made with a reliable and strong aluminum shaft. The SUP Pump comes equipped with hose, recessed one-way valve adapter and a conveniently located, easy visible, in-line pressure gauge and the option of selecting between single action (down stroke only) and double action (both up and down strokes) inflation. SUP Pump capable of inflating to 29 PSI.
Use double action for high volume and lower pressures and single action during increasing resistance cause by higher pressures.
Includes 2nd hose with Boston Valve and Pipe Valve attachments.
Repair Kit
Repair kit for 1000 Denier PVC boats. Includes hull repair material, tube of glue & Halkey-Roberts valve replacement tool.
7'10" AB30 paddle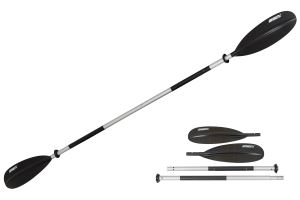 7'10" Double end asymmetrical paddle is great for all our canoe, kayak and paddleski models. The paddle features aluminum shafts with fiberglass reinforced nylon blades. It has a 65 degree feather capability. Snap lock buttons to disconnect into 4 parts. Weighs just 2.62 lbs.
DKS Seat Green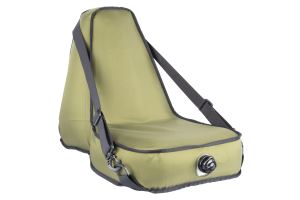 Deluxe Inflatable Kayak Seat Green. A great inflatable seat that provides extra back support for paddling, rowing or fishing. Allows you to sit 5" off the floor with 14" of back support. Works in all of our kayaks and 285fpb.
Green Swivel Seat Fish Rig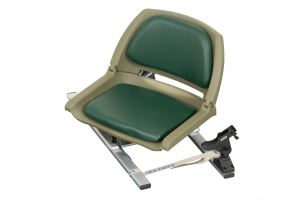 Turn your Sea Eagle iSUP, iK and iPS into a fishing machine! Attaches with ease to existing d-rings in less than 60 seconds flat!
This Swivel Seat Fishing Rig is the perfect accessory for Sea Eagle iSUPs, Explorers™, FastTracks™ and PaddleSki™ Series. (Weighs only 15 lbs.)
Kit includes: aluminum frame base, swivel seat, two Universal Scotty Rod Holders with universal deck mounts and two 6ft quick release cinch down straps. *Straps not included with FishSkiff packages.*
*One time pre-assembly that takes just a few minutes required. Non compatible with RazorLites™, Sport Kayaks and Travel Canoes™
Watersnake Venom 34
The white composite shaft and stainless steel propeller shaft combine with the weedless propeller to deliver quiet performance whether trolling or holding position in the current for casting.
A lightweight, inexpensive, electric, saltwater motor that's built to last. Anti-corrosive paint and stainless steel parts allow you to take this motor into fresh, brackish and salt water without worry.
A very important feature is the Digital Voltmeter Display. This allows you to judge immediately how much power you have remaining and how far you can go. A good rule of thumb is to stay above 11.8 volts.
*Can be used with 10.6sr Sport Runabout. Cannot be used with 300x Explorer Kayak.
**Battery not included.
Motor cannot ship to Louisiana.
***Coast Guard requirements dictate that each ungrounded current-carrying conductor must be protected by a manually reset, trip-free circuit breaker or fuse.
Covered by the Watersnake 1 Year Warranty
All Sales are final. This item is not covered by the Sea Eagle 180 Day Trial.
Trolling Motor Power Center
Easy access external battery terminals allow trolling motor leads and charger leads to be connected and disconnected without ever opening the box.
This Power Center includes: built-in LED battery meter display indicating how much charge is available, two 12-volt accessory cigarette lighter style plugs for your sounder, laptop or cell phones and two manual reset circuit breakers (15 amp for accessory plugs and 60 amp for trolling motor). Fits group 24 and 27 size batteries.
1 Year MinnKota Factory Warranty.
*BATTERY NOT INCLUDED*
Covered by the Minn Kota Manufacturer Warranty
All Sales are final. This item is not covered by the Sea Eagle 180 Day Trial.
EZ Cart (small)
This simple to use and easy to assemble cart wheel system fits under our Sea Eagle FishSkiff™, Kayaks, SUPS, PaddleSki, 285FPB, and 375FC FoldCat. It allows you to roll your Sea Eagle from where you inflated it to where you launch it. Packs down for easy transport. Not recommended for our heaviest boats or with boats carrying an 8 or more horsepower engine. Weight limit 125 lbs. Wheel diameter 14" x 2" wide. Includes two straps.
*These are not meant to be used as a trailer or with a vehicle.
**Works with 285fpb Frameless Fishing Boat and 375fc FoldCat**
BP12 Electric Pump
The Bravo BP12 is a super efficient lightweight single stage high pressure piston pump that will inflate from 1 to 14.5 psi. Simply set the turn dial to your desired pressure setting, press the "on" button and this little workhorse will do the rest.
Included:
102" (8'6") cable w/alligator clips
72" (6') inflation hose
Common valve adapters
Weight: 4 lbs.
Dimensions: 8" x 4" x 5"
Maximum Draw 20 Amps.
7" Pedestal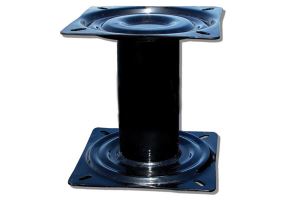 7" Pedestal for Swivel Seat used on Foldcats and 285FPB.
Includes hardware.
45W Solar Panel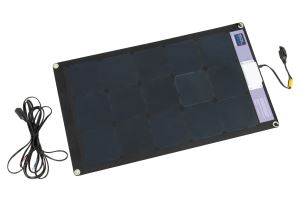 Providing the most solar power into a battery - extending your battery's lifetime! For charging any 12-volt battery. The new semi-flexible (black fiberglass backing) solar film technology creates a highly efficient solar panel that takes up little space.
The PowerBoost Charge Controller utilizes high-efficiency DC-DC converters and a proprietary power point tracking system to optimize the power collected from the solar panel and efficiently charge a battery. Specifically designed for solar use and will not overcharge a battery.
Attaches to most Sea Eagle boats that accept an electric motor. Can be attached to the Sun/Rain canopy or directly to your Sea Eagle SUP or kayak.
*Custom brass grommets will be installed with an initial purchase of a Sun/Rain Canopy for use with the solar panel. Hardware to be provided. Please advise us if you are purchasing one of our canopy's to be used with the solar panel.
Weighs just 3 lbs.
Dims: 29.6" L x 17" W
Covered by the PowerFilm Solar Panel Warranty
All Sales are final. This item is not covered by the Sea Eagle 180 Day Trial.
Free Shipping
All Sea Eagle orders with this product will receive Free Ground Shipping to the lower 48 U.S. States.
Express shipping and delivery to Alaska, Hawaii and outside the United States are also available for an additional fee. Shipping rates will be displayed on our shopping cart page.
Offer Valid through 10/31/2019
Sea Eagle Used Boats
have

never been damaged, punctured or patched

have been

test inflated for 48 hours

might have very minimal wear (no barnacles or algae)
are covered by our regular 180 day

money back guarantee

and

three year

bow-to-stern warranty, just like our new boats.
might contain prior-generation components
Delivery Estimator
Starting at $799.

7 great packages to choose from! Click Here.