About the Rescue14 Inflatable Boat
The 14ft long inflatable rescue boat in high-visibility orange has been designed specifically for emergency rescue personnel. The bright orange color makes for a clearly discernible rescue boat. Holds 7 adults - weight of up to 2,000 lbs /907 kgs. Your emergency management team can depend on this boat.
About the Sport Runabouts Series
The great advantage of these boats is their lightweight to size ratio. Which increases stow-ability and reduces overall hull weight. By nearly 25% with the inflatable drop stitch floors while reducing storage footprint by 50% because you no longer have to deal with wooden or aluminum floorboards. Making these boats truly practical as a tender, to carry in a RV or SUV or even simply stow below deck.
These tough, rugged inflatable boats feature your choice of high pressure rigid inflatable drop stitch floors - making them lighter, easier to setup, less expensive to motor and far more portable. While the rigid molded plastic floorboards are virtually unbreakable.
Sport Runabouts are great all around boats for fishing, skin-diving or just plain running about!
| | |
| --- | --- |
| Person Capacity | 7 |
| Hull Weight | 120 lbs. (158 lbs. with Inflatable Floor, 186 lbs. with Plastic Floorboards) |
| Length | 14 ft. |
| Beam | 6 ft. |
| Interior | 9' 9" x 2' 8" |
| Load Capacity | 7 Adults or 2000 lbs. |
| Deflated | Approx. 46" x 26" x 14" (hull), 40" x 32" x 5" (floorboards) |
| Chambers | 5 (port, starboard, bow, keel & DS floor) |
| Tube Diameter | 19 |
| Air Valves | 5 Recessed One Way |
| Inflation time | 25 min. (w/ inflatable floor), 35 min. (w/ floorboards) |
| Seam | Glued Quadruple Overlapped |
| Material | 1000 Denier Reinforced |
| Engine Capacity | 25 hp (w/ inflatable floor), 40 hp (w/ plastic floorboards), 175 lbs. max weight, 15" Shaft, Gas Engine |
| Floor | Inflatable Floor (30 lbs), Plastic Floorboards (66 lbs.) |
| Speed Estimates | 25 hp (20 mph w/ 2 adults, 15 mph w/ 4 adults), 40 hp (30 mph w/ 2 adults, 25 mph w/ 4 adults) |
| Inflation Pressure | 3.2 psi |
Certifications
NMMA & CE Certified
4" Patented External Drop Stitch Inflatable Keel with Keel Guard Rubbing Strake for extra protection - U.S. Patent- #8,286,573 2
5/8" grab line with safety loops along sides for added safety and ease of re-entry
Extra-wide 360° industrial 6" bumper rubbing strake for added protection
Rounded rear pontoons for rapid planing and improved bow control
Splash Guards on transom
Four external multi-use heavy-duty stainless steel D-ring attachment points
Three internal multi-use heavy-duty stainless steel D-ring attachment points
Six industrial-strength carry handles
Front lifting handle
360° High-visibility reflective strips
Four separate independent air chambers
Wide beam hull design for extra stability
Extended double-layered 1000 denier underside hull protection where it's needed most
Rescue14 Reviews
5.0 out of 5 stars.
(1)
Tom Golden
Verified Owner
2/3/2021
5.0 out of 5 stars.
So far everything is good. I did not use the seat because it was difficult to turn. I used a Walmart seat. I keep the boat in the water and I am using Torqueedo travel motor.
The deluxe package of our high visibility 14ft Orange Sport Runabout with 6 inch Ribbed Rubber Bumper Protection Strip around entire hull and under Keel for extra protection.
Package price and FREE SHIPPING offer valid through Tuesday, November 30, 2021
a $4,933 value for

just $2,799

through Nov 30 *
Starting at $2,799.

1 great package to choose from! Click Here.
Rescue14 - 6" DS Floor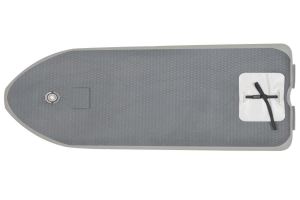 Rigid, high-pressure 6" inflatable drop stitch floor for the Rescue14 IRB (Inflatable Rescue Boat). This new carbon fiber reinforced floor quickly folds up with your boat for easy storage and transportation. Rigid enough to stand on and hold cargo.
(weight 37 lbs.)
*Recommended for up to 25 max hp, 15" short shaft (175 lbs. max weight) Gas Engine
ABCanoe Paddle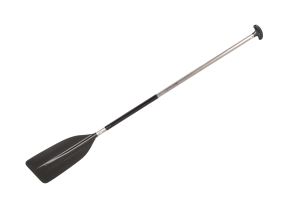 Often the choice for those who prefer a traditional-style fixed paddle. This one-part 66" aluminum flat-blade paddle is constructed using aircraft-grade aluminum for the shaft and a proprietary filled fiberglass nylon blade to add a new standard of strength to polymer blades.
Total fixed-length: 66"
Flat blade dims: 19"L x 8"W
Weight: 1.9 lbs.
BTP Electric Pump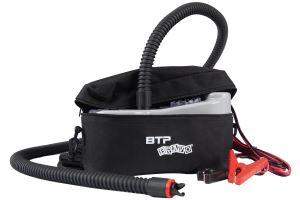 This two-stage pump will rapidly inflate with a high capacity turbine blower and then switch to a high pressure piston pump to pressurize the hull from 1 to 14.5 PSI. With a full battery charge, you can easily inflate our largest boat several times over.
Included:
102" (8'6") cable w/alligator clips
72" (6') inflation hose
Recessed valve adapter attached to the hose
Weight: 5.5 lbs.
Dimensions: 12" x 4" x 6"
Maximum Draw 20 Amps.
Large Boat Carry Bag
The real time saver of this bag design is the way it wraps around the boat hull. You don't have to spend time folding the boat to the exact proportions of the bag. Just roll up the boat and place on the open bag, and wrap the flaps around it.
Measures 77" x 126"
Auto Dual Action Pump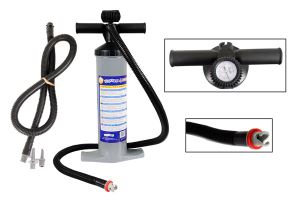 This pump's special design allows for low effort and quick inflation. Made with a reliable and strong aluminum shaft. It comes equipped with 2 hoses - one with recessed one-way valve adapter, one with deluxe one way valve adapter - and an easy to read in-line pressure gauge. This pump capable of inflating to 11.6 PSI.
Repair Kit
Repair kit for 1000 Denier PVC boats. Includes hull repair material, tube of glue & Halkey-Roberts valve replacement tool.