Rugged "Roll Up" Runabouts!
10.6sr
Learn

More
Starting at $1,849
12.6sr
Learn

More
Starting at $2,299
14sr
Learn

More
Starting at $2,699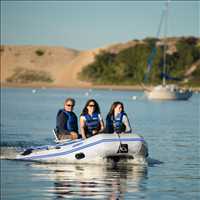 The great advantage of these boats is their lightweight to size ratio. Which increases stow-ability and reduces overall hull weight. By nearly 25% with the inflatable drop stitch floors while reducing storage footprint by 50% because you no longer have to deal with wooden or aluminum floorboards. Making these boats truly practical as a tender, to carry in a RV or SUV or even simply stow below deck.
These tough, rugged inflatable boats feature your choice of high pressure rigid inflatable drop stitch floors - making them lighter, easier to setup, less expensive to motor and far more portable. While the rigid molded plastic floorboards are virtually unbreakable.
Sport Runabouts are great all around boats for fishing, skin-diving or just plain running about!
---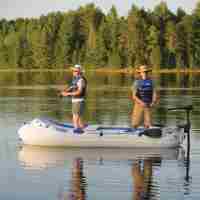 Sea Eagle Inflatable Motormount Boats are multi-purpose inflatables that can be used for fishing, yacht tending, mild whitewater rafting and general motoring or rowing around lakes and bays.
We started this series in 1982 and they are still among our best selling boats! The reason is simple. Given their stability, safety, versatility, and extremely reasonable cost, they are just about the best value in boating today!
They can be used simply as ship to shore rowing dinghies powered with just two oars, or they can be outfitted with floorboards (SE8s & Classic SE9s), bench seats, removable inflatable seats, and a motormount to accept a small outboard motor for a day of fishing or recreational boating.
Simple to use, simple to set up, lightweight and compact to carry or stow. These boats are many things to many people.
---
What our customers say: