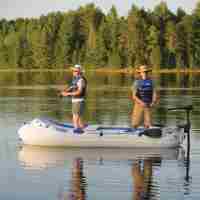 Sea Eagle Inflatable Motormount Boats are multi-purpose inflatables that can be used for fishing, yacht tending, mild whitewater rafting and general motoring or rowing around lakes and bays.
We started this series in 1982 and they are still among our best selling boats! The reason is simple. Given their stability, safety, versatility, and extremely reasonable cost, they are just about the best value in boating today!
They can be used simply as ship to shore rowing dinghies powered with just two oars, or they can be outfitted with floorboards (SE8s & Classic SE9s), bench seats, removable inflatable seats, and a motormount to accept a small outboard motor for a day of fishing or recreational boating.
Simple to use, simple to set up, lightweight and compact to carry or stow. These boats are many things to many people.
---
Rugged "Roll Up" Runabouts!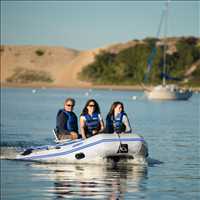 The great advantage of these boats is their lightweight to size ratio. Which increases stow-ability and reduces overall hull weight. By nearly 25% with the inflatable drop stitch floors while reducing storage footprint by 50% because you no longer have to deal with wooden or aluminum floorboards. Making these boats truly practical as a tender, to carry in a RV or SUV or even simply stow below deck.
These tough, rugged inflatable boats feature your choice of high pressure rigid inflatable drop stitch floors - making them lighter, easier to setup, less expensive to motor and far more portable. While the rigid molded plastic floorboards are virtually unbreakable.
Sport Runabouts are great all around boats for fishing, skin-diving or just plain running about!
---
Smoothest Ride On The Water!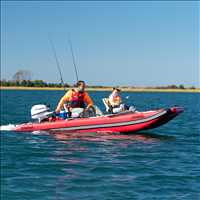 Don't purchase or consider another boat without checking out the new and incredible Sea Eagle Inflatable FastCat™ Catamaran Boat for the smoothest ride on the water and sale prices! Tired of being bruised up and bounced around by waves, back jarring rough rides, added fuel cost, and lack of cockpit room? The new Sea Eagle Inflatable FastCat™ Catamaran Boat is the solution to all these problems and more!
This catamaran-style, rigid, high-pressure, all-drop stitch constructed, easy to set up hull is the most innovative boat to hit the market! The catamaran hull design lifts the boat up and on top of the water as if you're riding on pillowy clouds with hydrofoiling shock absorbers. Preventing the slapping of traditional hulls. Friction is reduced, increasing fuel economy, and with four independent high-pressure safety air chambers, you're guaranteed added safety.
The entire hull assembles in just minutes, is easy to pack up, fits into most any truck or SUV, and will entirely change the way you view boats!
---
What our customers say: