Honda 5S
Click to Enlarge
Video: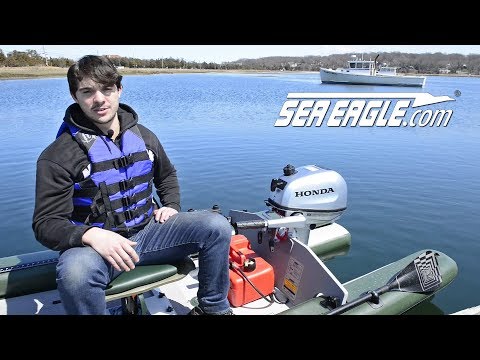 Covered by the
Honda Marine Warranty
True 5 Year Limited Warranty on motors purchased for personal use
Non-Declining coverage
Fully transferrable
Nationwide service
All Sales are final. This item is not covered by the Sea Eagle 120 Day Trial, or the Sea Eagle Warranty.
Easy One Hand Manual Pull Starting
Reliable, efficient 4-stroke design
Honda's True 5 Warranty
Ultra Low 3 Star CARB Emissions
Lightweight and Compact (60 lbs. dry weight)
Pendulum Mount System - absorbs vibration and provides unbelievably smooth operation
F-N-R Gearshift - convenient shifting
15" Shaft
Propeller included
Large capacity internal fuel tank (1.5 L) for best in class runtime (over 40 mins wide open)
External fuel tank connection (external fuel tank is optional and not included)
Quietest in its class
Large Displacement Engine for more power
4-Front Corrosion Protection System - Fights the elements
Shallow Water Drive
Everything you want in a portable outboard. Easy starting. Lightweight. Fuel efficient. Quiet, low vibration performance. It's easy to see why the new 5 hp four-stroke is best in class.

The Honda 5S is not exportable outside of the continental US.
Ground Shipping Only
$2,009
FREE SHIPPING
on all Honda Motor purchases. Limited time offer.
This motor is final sale. No refunds are accepted for Honda Outboard Motors.
Recommended For:
Inflatable Fishing Skiff
Inflatable Sport Runabouts
Rigid Inflatable Boat