About the 385fta FastTrack™ Angler Series Inflatable Fishing Boat
Here's a one or two person rugged fishing kayak you can take anywhere the fishing is great!
The patented, state of the art, external, rigid, inflatable NeedleKnife™ Keel makes for a faster, smoother paddling experience. Combined with the sharper, narrower, tapered bow for faster entry through wind, waves, current and water make this an angler's dream kayak. (U.S. Patent #8,286,573 2)
About the Fishing Kayaks Series
New Sea Eagle fishing kayaks here! True rugged inflatable fishing kayaks. Designed by and for fishermen who wish to adventure outside traditional methods to catch more fish and bigger fish!
Say goodbye to costly boat, trailer, fuel and ramp fees! No more smell of gas to deter fish. Get rid of toxic fumes and water pollution. Reduce your carbon footprint. Minimize setup time. Say farewell to crowded boat ramps and inaccessible shorelines.
Now you can stealthily glide right into the heart of where the trophy fish are! Best of all - they'll never know you're there! The portability and convenience of these inflatable kayaks let you stow them in your car trunk always ready to go!
Enjoy all the features of these incredible kayaks. Including the FastTracks™ patented state of the art, external, rigid, inflatable keel, thicker nearly indestructible hull material, non-slip tough as crocodile hide protective padding, built-in rod, tool, hook and lure holders, built-in Fish Rulers and more! (U.S. Patent #8,286,573 2)
| | |
| --- | --- |
| Person Capacity | 3 |
| Hull Weight | 45 lbs. |
| Length | 12 ft. 6 in. |
| Width | 3 ft. |
| Interior | 11'7" x 18" |
| Load Capacity | 3 Persons or 635 lbs |
| Deflated | 36" x 15" x 20" |
| Chambers | 4 (port, starboard, keel, floor) |
| Tube Diameter | 9.5" |
| Air Valves | 4 Recessed One Way |
| Inflation time | 7 min |
| Seam | Quadruple Overlapped Seams |
| Material | 1000 Denier Reinforced |
| Engine Capacity | 34 lbs. thrust electric (max engine weight 15 lbs) |
| Floor | Removable High Pressure Drop Stitch Floor |
| Whitewater Rating | Suitable up to Class II |
| Inflation Pressure | 3.2 psi |
Certifications
Standard Features
NMMA Certified
Customized front & rear spray skirts with built-in rod, tools, hooks and lure holders plus storage below and bungee rope lacing on top for additional storage
Made of more durable 29% thicker 1000 denier tough as crocodile hide hull material - double layered on tubes and bottom for extra protection
Combination of double reinforced welded/glued seams
Non-slip crocodile hide EVA foam padding on floor to prevent slippage and punctures from fish and hooks
Built-in Fish Ruler
Center balanced ergonomic carry handles
Custom hunter green color to blend in with surroundings
2 Open and close drain valves
Separate inner High-Pressure Drop Stitch floor for greater rigidity
Large removable, swept back skeg at rear to control yaw and improve speed
Outside state of the art inflatable NeedleKnife™ high-pressure drop stitch keel at bow for incredibly true tracking
18 D-rings to secure seats and gear
Nylon carry bag, repair kit & Printed instructions
385fta FastTrack™ Angler Series in the news
385fta Reviews
(25 total, avg. review: 4.8 out of 5)
3/1/2020
5.0 out of 5 stars.
David Whitfield , BOISE
Verified Owner
Love this inflatable!! My wife loves it I think even more than me! After our first float she wanted to buy another for friends to join us out on the water. Still might buy another. Super easy to inflate and tracks really straight. Really sturdy on the water and the seats are really comfortable. The only thing I wish was different would be the option to not have the white lettering on the sides. I really like the green and black but wish it did not have the lettering. Other than that, this is a high quality boat and we love using it!
1/15/2020
4.0 out of 5 stars.
Ralph Bibbus , Reading
Verified Owner
I cannot say enough good things about my 385FTA. It is super stable, tracks like it is on rails, very comfortable and has ample space for two paddlers. Assembly and inflation is simple and straightforward. Plenty of space for fishing gear, food and beverages. We travel extensively, 2-4 months at a time. I purchased it primarily to take along while traveling but I like the boat so much I wound up selling my other kayaks. No need for anything else.
10/24/2019
5.0 out of 5 stars.
Ken Fijan , Lockport
Verified Owner
8/25/2019
5.0 out of 5 stars.
Arthur Cox , BRIDGEPORT
Verified Owner
I purchased my yak in spring of 2018. I am out 3 or 4 times a week, I live near both fresh and saltwater and utilize it on both. It tracks well, very stable, extremely quiet and quite comfortable. There are days when I am out 7 or 8 hours at a time. I had an issue in the winter 18/19 that I noticed one of the seams separating and was concerned. I contacted customer service and I was shocked. Usually people in the industry are pretty nice. They set the bar at a whole new level with their concern and solution. Within the week I had a new yak at my front door. In the back of my mind I was concerned it could happen again. After a summer of fishing even more than the last, I have had no issues since. I highly recommend a sea eagle. Compact, sturdy, and light. I can pull into a spot and go from getting out of car to on the water fishing in 20 minutes or less. That is a loaded yak with the swivel seat, gear, etc. super simple to setup and take down that it becomes 2nd nature. 1000% would buy it again!
7/21/2019
5.0 out of 5 stars.
Richard Sigley , CHENEY
Verified Owner
I have nothing but praise for my 385fta. Very quick and easy to go from storage bag to the water. Extremely stable in the water and easy to maneuver with oars or the trolling motor. It is so durable that I expect to use it for many years to come. The folks at Sea Eagle are great and processed and delivered my order with speed and accuracy. Thanks, Sea Eagle, for getting me off the banks and into the show full review ▼ water!
water!
5/30/2019
5.0 out of 5 stars.
Raymond Jones , Clarksville
Verified Owner
This is my forth version of the 385FastTrack, I started with the Classic and I've had every version of the FTA. Just to be up front I'm sponsored by SeaEagle, that being said I would not represent them if I didn't believe in their products and customer service. I fish the KBF Tour as well as a local Club Trail. I spend at least Two Hundred days of the year on the water in my FastTrackAngler from scouting and pre-fishing locations to competing in the actual tournaments. Having a platform that I can transport easy and it stays secure when I'm traveling relieves stress from it be tampered with if I had to trailer or top it. I've fished out of the FTA in various water types from large reservoir types of fisheries like KY Lake to Class III rapid rivers like the Flint River in GA it always takes me their and gets me back.
show full review ▼
5/8/2019
5.0 out of 5 stars.
Dave Weber , EUGENE
Verified Owner
I purchased my sea eagle to take on a trip to the Bahamas. The kayak easily was checked as luggage at 50.5 lbs. I went as far as 1 mile off shore to get on the other side of the reef. Although it took on water because of the waves, I never felt in danger. It handled very well even in some fairly large swells.
I was very impressed with the quality of the materials. Even some pretty heavy use never felt like it was not going to hold up.
show full review ▼
4/26/2019
5.0 out of 5 stars.
Bernard Eble , TUCSON
Verified Owner
The 385fta is one of the best investments I've ever made. I was going to say more, but this forum didn't allow me enough space.
4/25/2019
3.0 out of 5 stars.
Kathleen Severns , SONOMA
Verified Owner
Boat was great, but the seat I ordered, inflatatable, green has a different valve than my boat. Unable to inflate with the pump included with the boat. Not good when out camping and trying boat out for the first time.
Boat does not paddle well when sitting in fishing seat, which is why I bought the inflatable seat.
I was thrilled to get the boat, now am extremely disappointed in it.
2/25/2019
5.0 out of 5 stars.
David Chanda , LONG VALLEY
Verified Owner
Purchased this kayak last summer to keep in an apartment we have in Alexandria Va. Customer service was excellent, received shipment quickly and on date indicated it would arrive.
Only had 3 opportunities to use it before cold weather set in. Twice fishing and once for some quite paddle time on a lake with my wife. I really like the kayak so far.
show full review ▼
385fta FastTrack™ Angler Series Discount Packages
7'10" AB30 paddle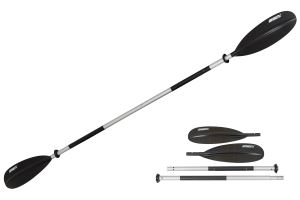 7'10" Double end asymmetrical paddle is great for all our canoe, kayak and paddleski models. The paddle features aluminum shafts with fiberglass reinforced nylon blades. It has a 65 degree feather capability. Snap lock buttons to disconnect into 4 parts. Weighs just 2.62 lbs.
DKS Seat Green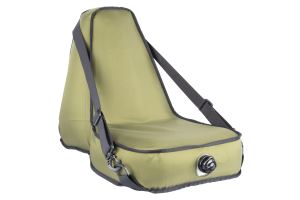 Green Deluxe Inflatable Kayak Seat is a great inflatable seat that provides extra back support for paddling, rowing or fishing. Allows you to sit 5" off the floor with 14" of back support. Works in all of our kayaks and 285fpb. Includes one seat only.
Grn Kayak Bag 385fta & 350fx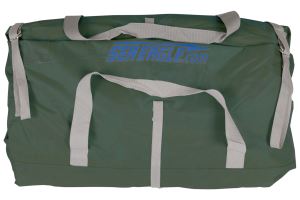 The real time saver of this bag design is the way it wraps around the boat hull. You don't have to spend time folding the boat to the exact proportions of the bag. Just roll up the boat and place on the open bag, and wrap the flaps around it.
Auto Dual Action Pump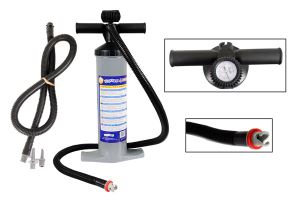 This pump's special design allows for low effort and quick inflation. Made with a reliable and strong aluminum shaft. It comes equipped with hose, recessed one-way valve adapter and a conveniently located, easy visible, in-line pressure gauge. This pump capable of inflating to 11.6 PSI.
Slide in Swept Back Skeg
This weed-less swept back skeg is great for those who would rather not get hung up on weeds or drag them along. The 13" long swept back design works as a weed-less rudder that minimizes yawing (side to side swinging) during paddling stokes and assist with forward propulsion due to it's reflex technology. At only 7" deep this skeg allows you to travel in much shallower waters.
Large (13" Long x 7" Deep) swept back removable slide in skeg for Stand Up Paddle Boards, FastTracks, Explorers, and Travel Canoe.
*Note your craft must have the grooved base plate to accommodate a slide-in skeg.
Repair Kit
Repair kit for 1000 Denier PVC boats. Includes hull repair material, tube of glue & Halkey-Roberts valve replacement tool.
Green Swivel Seat Fish Rig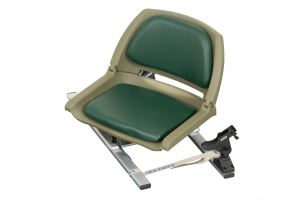 Turn your Sea Eagle iSUP, iK and iPS into a fishing machine! Attaches with ease to existing d-rings in less than 60 seconds flat!
This Swivel Seat Fishing Rig is the perfect accessory for Sea Eagle iSUPs, Explorers™, FastTracks™ and PaddleSki™ Series. (Weighs only 15 lbs.)
Kit includes: aluminum frame base, swivel seat, two Universal Scotty Rod Holders with universal deck mounts and two 6ft quick release cinch down straps. *Straps not included with FishSkiff packages.*
*One time pre-assembly that takes just a few minutes required. Non compatible with RazorLites™, Sport Kayaks and Travel Canoes™
Tall Back Seat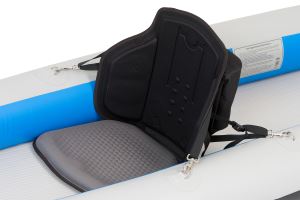 Tall Back Kayak Seat latches securely to the d-rings on many of our Sea Eagle hulls. Removable zippered rear pouch for storage. Made of thermal molded foam. Provides great back support with an 19" high backrest. Great for any outing. Lightweight and durable.
The molded foam construction gives you a low sitting position to for maximum stability in rough whitewater and excellent back support.
Only weighs 2 lbs.
AB43 paddle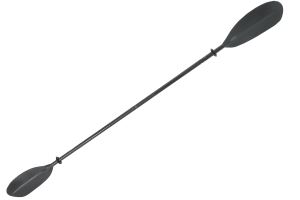 The AB43 Kayak Paddle has a durable two-piece aluminum shaft, asymmetrical swept-back blades and feather adjustments. This paddle allows for an even pull maximizing the power from your stroke. The rubber drip ring helps keep hands dry for a better grip. This is a super rugged paddle that will provide many years of hard use.
Watersnake Asp T24 for kayaks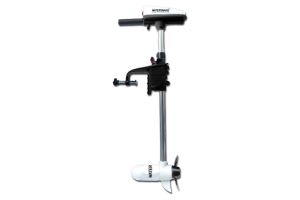 A light weight, inexpensive, electric, salt water motor that's built to last. Anti-corrosive paint and stainless steel external & internal parts allow you to take this motor into fresh, brackish and salt water without worry.
The adjustable transom mount makes it easy to use this motor with our 380x and 420x Explorer Series Kayaks and FastTrack Kayaks. Two-blade, weedless design propeller.
*For use with kayaks only. (Cannot be used on Explorer 300x.)
**Battery not included.
*** Coast Guard requirements dictate that each ungrounded current-carrying conductor must be protected by a manually reset, trip-free circuit breaker or fuse.
**** Not suitable for Bow mounting
Not for use with PaddleSki, Motormount Boats, FoldCats, Frameless Fishing Boats, FSK16 or Sport Runabouts. Not compatible with HelmsMate Extension Handle.
Covered by the Watersnake 1 Year Warranty
All Sales are final. This item is not covered by the Sea Eagle 120 Day Trial.
Kayak Motormount
Motormount kit for FastTracks and Explorers. Holds up to a 34 lb thrust electric motor with a max motor weight of 15 lbs.
*Not compatible with Explorer 300x
Free Shipping
All Sea Eagle orders with this product will receive Free Ground Shipping to the lower 48 U.S. States.
Express shipping and delivery to Alaska, Hawaii and outside the United States are also available for an additional fee. Shipping rates will be displayed on our shopping cart page.
Offer Valid through 9/30/2020
Sea Eagle Used Boats
have

never been damaged, punctured or patched

have been

test inflated for 48 hours

might have very minimal wear (no barnacles or algae)
are covered by our regular 120 day

money back guarantee

and

three year

bow-to-stern warranty, just like our new boats.
might contain prior-generation components
Delivery Estimator
Starting at $1,149.

4 great packages to choose from! Click Here.