Low Profile PFD Belt
Click to Enlarge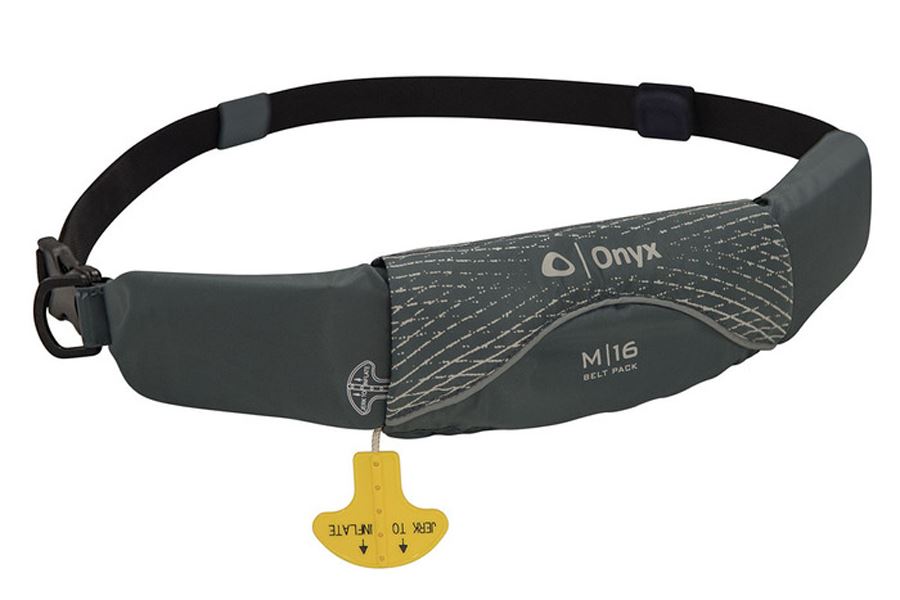 Covered by the
K2 Energy Warranty
1 Year Warranty against manufacturer defects
Purchaser must request a Return Authorization Number(RMA) for warranty issues
Purchaser is responsible for all cost related to the return for warranty issues.
K2 Energy reserves the right to inspect returned product for malfunctions due to user error.
All Sales are final. This item is not covered by the Sea Eagle 180 Day Trial, or the Sea Eagle Warranty.
U.S. Coastguard Approved Type III PFD
For ages 16 years and up weighing greater then 80 LBS (41 kg)
Heavy duty 1" belt and quick clip/release buckle
Easy to repack and rearm
Quick deployment
High visibility yellow
Requires second stage donning
Weighs .85 LBS (.39 kg)
Includes 1 CO2 cartridge
M-16 Belt Pack Manual Inflatable Life Jacket (PFD) unique design keeps stand-up paddleboarders (SUP), anglers, boaters, and other paddlers safe without compromising movement! 16 gram CO2 charge provides 17 lbs. of buoyancy. The oral inflation tube can be used to provide additional buoyancy up to 26.5 lbs. when fully inflated. Extremely low profile with 1" buckle and body belt. D-ring attachment for small accessories. 200 denier nylon oxford protective cover. Approved for persons 16 years of age and older; and over 80 lbs. U.S. Coast Guard Approved Type V Life Jacket/Personal Flotation Device PFD with Type III Performance.

SIZE: Adult Universal – Fits 30"-52" chest; up to 52" waist
Includes one CO2 cylinder.

**NOT compatible with CO2REFILL sold by Sea Eagle. Requires M-16 Rearming Kit #1370 (not sold by Sea Eagle).
$99