About the Wave Slider 4ft
The New Sea Eagle Wave Slider is a 4 foot inflatable recreational watersports board that packs down to a mere 1/6th of its fully inflated size - making it easy to store, transport, and quickly set up for use!
The inflatable Drop Stitch construction allows this board to be inflated up to 10 psi which makes for an incredibly rigid board while providing just enough flexibility for wave riding and softness to prevent the injuries caused by traditional rigid/hard shell boards.
*NOT FOR USE AS A TOWABLE
About the Wave Slider™ Series
The New Sea Eagle Wave Slider™ takes fun to a whole new level! This wave sliding, joy riding, inflatable is great for adults and children alike!
Whether choosing the thrills of wave riding or leisurely floating about, this little 4 foot board is something you just can't leave home without!
Say goodbye to packing nightmares, no need to stress about storage space anymore! These boards pack down to just 1/6th of their inflated size which means you can pack 6 deflated boards in the same space it would take to pack two comparable rigid boards of a similar style.
*Please note that the Sea Eagle Wave Slider is not a towable.
With a quick setup time of 1 minutes, you can be out on the water in no time. Want to see how quick and easy assembly is? Watch this.
Scroll Down to see our 1 discount packages to get the boat and accessories that are perfect for you.
Get the Best Value in Boating Today!
We package together all of our Wave and accessories, carefully taking into consideration quality, portability and affodability. We then offer these different packages for you to choose from. By doing this you'll get one of your Sea Eagle Inflatable Wave Boards with all of the accessories you'll need while saving money in the process!
Inflatable Wave Boards, accessories, 180 day trial with money back gaurantee and 3 Year Warranty all in one. Plus, FREE Shipping and Handling to the lower 48 US States with all packages purchased directly from Sea Eagle. See Boat Packages (scroll down) for specific details.
Specifications
| | |
| --- | --- |
| Exterior | 4' x 28" x 3" |
| Hull Weight | 10 lbs |
| Load Capacity | 1 person, 240 lbs |
| Deflated | Approx. 29" x 10" x 6" |
| Air Valves | One Way |
| Inflation time | Less than 30 seconds |
| Seam | Quadruple Overlap |
| Material | 1000 Denier Reinforced Drop Stitch |
| Board Thickness | 3" |
| Inflation Pressure | Up to 10 psi |
Standard Features
Riding waves, kick-boarding, and/or lounging/floating around
Portable, packable, storable, and easily transportable
Deflates and stores at 1/6th the size of similar rigid boards
Upturned bow for riding waves (2" nose/entry rocker)
Large front D-ring for attaching wrist leash (not for use as towable)
Three conveniently located grab/carry handles
Deluxe recessed Halkey Roberts style air valve
Skid resistant, soft, EVA foam Swirl Design Deck Pad
Two leading side skegs for better tracking
Drop Stitch inflatable construction provides tremendous rigidity
Up to 10 PSI max air pressure capacity
Additional reinforcement layers
Printed instructions
WS4 Reviews
(4 total, avg. review: 4.8 out of 5)
3/3/2017
Mike Gearheard , Elizabethtown
Verified Owner
Great...love it! Have yet to use it in Ocean waves, but used it in river Rapids in Northern California,Oregon, and Colorado. Performed great and rocks scraping the bottom were of no consequence.Only thing I don't care for is the standard pump. It is as big as the raft when deflated and rolled up for portability. If standard pump was slimmer - 5 Stars.
1/10/2017
Daniel Lee , Bullhead City
Verified Owner
Used as a boogie board in Mazatlan, Mexico, for an overweight male. At 250 plus, I was too heavy for normal boards to work well. The Sea Eagle worked beautifully with the high floatation and carry handles.
1/6/2016
William Draper , Springfield, VA
Verified Owner
Purchased as a present for our grandson. Billy got to use it at the NC Outee Banks @ 5 weeks last year while we were on vacation there and really had fun!
1/6/2016
Heron Longoria , Mcallen, TX
Verified Owner
This board is awesome! To me, it has the same rigidity as an actual fiberglass board. I get looks and questions as to where I purchased it from. I love the fact that Im the only one on the Island that has one. I recommend this board for anyone from ages 13-80yrs old.
Key Features:
Stainless Steel D-ring for wrist leash attachment, 3 convenient Grab Handles, and soft EVA foam Swirl Design Deck Pad

With three convenient grab handles to choose from and a soft EVA foam Swirl Design Deck Pad for comfort, you are sure to enjoy hours of endless fun! A stainless steel D-ring has been provide for wrist leash attachment.

*NOT FOR USE AS A TOWABLE

Two Large Removable Skegs For Better Performance

Perfect for riding waves, shooting the curl, and performing advanced maneuvers and tricks!

No doubt when choosing to hang out in the green room for a while or performing any cool tricks holding your line is extra important. With these two large skegs, each 4" deep x 5 3/4" wide, you're sure to drive the Wave Slider exactly where you want to go!

Easily unclip & slide the skegs off for river running adventures!
Package Option 1: Wave Slider Package
The inflatable Wave Slider is a new kind of body board great for surf or whitewater! Packs like a yoga mat, inflates in seconds so you are ready to ride the waves or play in whitewater rivers.
Wave Slider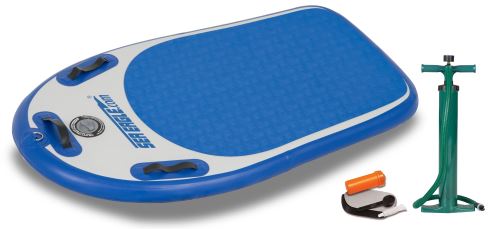 What You Get:
Hover cursor over links for details
Value
Shipping:

(FREE if you order by Apr 30)

$45
Total Value:
$338
Package Price:
$229
Your Savings:
$109
Package price and FREE SHIPPING offer valid through Sunday, April 30, 2017
Wave Slider 4ft Hull
$229
Auto Dual Action Pump
$49
Repair Kit
$15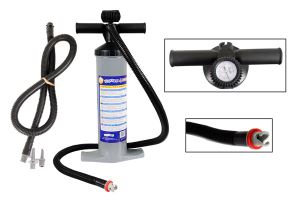 This pump's special design allows for low effort and quick inflation. Made with a reliable and strong aluminum shaft. It comes equipped with hose, recessed one-way valve adapter and a conveniently located, easy visible, in-line pressure gauge. This pump capable of inflating to 11.6 PSI.
Repair kit for 1000 Denier PVC boats. Includes hull repair material, tube of glue & Halkey-Roberts valve replacement tool.
Free Shipping
All Sea Eagle orders with this product will receive Free Ground Shipping to the lower 48 U.S. States.
Express shipping and delivery to Alaska, Hawaii and outside the United States are also available for an additional fee. Shipping rates will be displayed on our shopping cart page.
Offer Valid through 4/30/2017
Sea Eagle Used Boats
have

never been damaged, punctured or patched

have been

test inflated for 48 hours

might have very minimal wear (no barnacles or algae)
are covered by our regular 180 day money back guarantee and three year bow-to-stern warranty, just like our new boats.
might contain prior-generation components
Delivery Estimator
Click Here

1 package to choose from!

Starting at $229.

Click Here