About the IRB - Inflatable Rescue Board Inflatable Paddleboard
The Sea Eagle IRB - Inflatable Rescue Board is a 5-foot inflatable rescue board that packs down to a mere 1/6th of its fully inflated size - making it easy to store, transport, and quickly deploy for use!
The inflatable Drop Stitch construction allows this board to be inflated up to 10 psi which makes for an incredibly rigid board while providing just enough flexibility to prevent the injuries caused by traditional rigid/hard shell boards. Great for emergency water and ice rescues!
About the Rescue Board Series
Sea Eagle takes inflatable rescue boards to a whole new level! This rugged, durable inflatable is constructed with not just one, but two layers of reinforced 1000 denier fabric, making it nearly indestructible!
Whether performing water or ice rescues, this little 5-foot board is something you can't leave the station without!
Say goodbye to stowing nightmares, no need to stress about storage space anymore! These boards pack down to just 1/6th of their inflated size which means you can pack 6 deflated boards in the same space it would take to pack two comparable rigid boards of a similar style.
*Please note that the Sea Eagle Rescue Board is not a towable.
| | |
| --- | --- |
| Person Capacity | 1 |
| Hull Weight | 15 lbs. |
| Length | 5 ft. |
| Width | 29 in. |
| Load Capacity | 1 person, 240 lbs |
| Deflated | Approx. 32" x 14" x 6" |
| Air Valves | Recessed One Way |
| Inflation time | Less than 30 seconds |
| Seam | Quadruple Overlap |
| Board Thickness | 5" |
| Material | 1000 Denier Reinforced Drop Stitch |
| Inflation Pressure | Up to 10 psi |
When deflated and packed well, this hull will fit in:
check_circleTruck/Large SUV
High-visibility orange color
Dual bow high-visibility reflective strips
Durable, portable, packable, storable, and easily transportable
Fits into just about any compartment
Deflates and stores at 1/6th the size of similar rigid boards
Twelve large heavy-duty D-ring attachment points
Four high-strength grab/carry handles
Dual sides high-strength 1/2" grab lines
Deluxe recessed Halkey Roberts style air valve
Skid-resistant, soft, EVA foam traction pad
Drop Stitch inflatable construction provides tremendous rigidity
Up to 10 PSI max air pressure capacity
IRB - Inflatable Rescue Board Reviews
No reviews yet.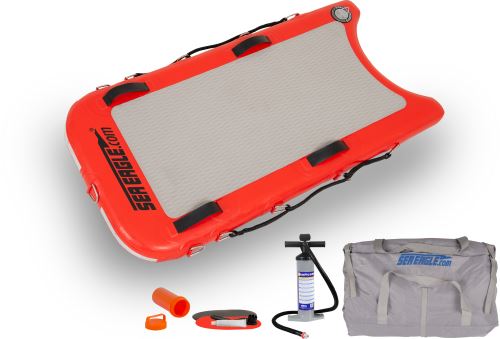 The Sea Eagle IRB - Inflatable Rescue Board is a new kind of rescue board! Great for emergency water and ice rescue. Packs like a yoga mat and inflates in seconds so you are ready to go at a moment's notice!
Component
Value
Shipping:

(FREE if you order by May 31)

$45
Total:
$807
Rescue Board Rescue Package Price:

(Item# RESCUEBRDK_ST)

$299
Your Savings:
$508
Hull
$649

Rescue Board Bag

$49
Auto Dual Action Pump
$49
Repair Kit
$15
Package price and FREE SHIPPING offer valid through Wednesday, May 31, 2023
a $807 value for

just $299

through May 31 *
Starting at $299.

1 great package to choose from! Click Here.
Rescue Board Bag
Auto Dual Action Pump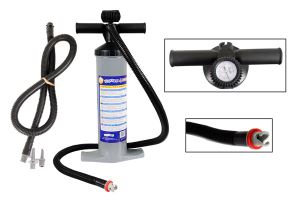 Dual Action Auto Two Stage Pump w/ Pressure Gauge
Repair Kit
');