About the 435ps Paddleski™ Inflatable Kayak
The Sea Eagle PaddleSki™ Catama-yak is the most versatile kayak in the world! This unique inflatable catamaran kayak is really 5 hulls in 1. You can choose to paddle, row, motor, sail, and fish with this incredible inflatable craft. Best of all it still packs down to a mere fraction of its inflatable size so storage and transportation are a dream.
With ordinary kayaks, you have to choose between a stable, wide craft and a speedy, tippy narrow craft. That's not so with the PaddleSki™. The catamaran/kayak features two widely spaced inflatable tubes that cut right through the water but give you a solid, well-balanced boat.
About the PaddleSki™ Series
The Sea Eagle Paddleski gives you two benefits you won't normally find in a kayak - Stability and Speed. Because of the wide hull, the PaddleSki is remarkably stable and comfortable. Because of the catamaran design, the PaddleSki cuts through the water with minimal resistance.
| | |
| --- | --- |
| Person Capacity | 2 |
| Hull Weight | 41 lbs. |
| Length | 14 ft. 6 in. |
| Width | 3 ft. 3 in. |
| Interior | 12' 6" x 16" |
| Load Capacity | 2 Persons or 650 lbs. |
| Deflated | 38" x 19" x 10" |
| Chambers | 2 (port, starboard) |
| Tube Diameter | 14" |
| Air Valves | 2 Recessed One Way |
| Inflation time | 7 min |
| Seam | Quadruple Overlap |
| Material | 1000 Denier Reinforced |
| Engine Capacity | 55 lb. thrust electric (max motor weight 25 lbs, min. 15" shaft) or 3 hp gas w/ center motormount (max motor weight 45 lbs, 15" shaft) |
| Floor | 1000 Denier Reinforced Material |
| Inflation Pressure | 3.2 psi |
Certifications
Standard Features
NMMA Certified
Two skegs for directional stability
16 D-Rings to secure seats and gear
Three aluminum yokes for a rigid structure
Two rear carry handles & bow handle
Repair kit & printed instructions
435ps Reviews
(38 total, avg. review: 4.4 out of 5)
9/27/2019
4.0 out of 5 stars.
C. Thompson , Texas
Verified Owner
BEST purchase! Boat is so easy to use, very durable. Blowing it up with the foot pump really doesn't take very long. The only thing that was kind of a waste was the "sail" which I find unusable; nice idea, but I wouldn't suggest buying it. You can not control it. The part that we like best is the stability of the boat. It is very stable so getting 2 people in and out of it is easy. We ran into very choppy water, which made me nervous, but it handled like a pro. It is pretty cool when you see another person in a Sea Eagle, you will get a "Hey, a LOVE your boat!"
6/30/2019
5.0 out of 5 stars.
Neal Schuster , Shorewood
Verified Owner
We took our 435 Paddleski for its maiden voyage yesterday on the Milwaukee River. We bought it couple of months ago after moving into an apartment and selling our hard shell kayak and canoe. We used it as a tandem kayak in the River. It took us a maximum of 25 minutes from car to inflate, secure seats, ropes and paddle leashes to launch. It felt very stable and durable. Next time we are planning on using either the sail or rowing attachment or, both. Next year, we may add a motor transom and an electric motor.
5/8/2019
5.0 out of 5 stars.
Nate Goulet , Rhode Island
Verified Owner
Our Paddleski is 10 years old now. Wanted to upgrade my rating from 4 stars to 5.
I still feel it's your best inflatable kayak because of it's versatility. I don't have a truck to pull a boat, and it fit's concealed in my sedan's trunk! I have many accessories including an electric pump, a full sail rig for both up & down wind, and a Torqeedo 1003s motor, which is more powerful than the motors other IK's can handle. Check out the YouTube video with keywords "Torqeedo 1003s sur annexe" to see how fast this motor can go on an inflatable! Also check out the many sailing adventures people have posted using the Paddleski.Our boat has been up & down the east coast from Maine to Florida twice, launched in most states in between, and even flown as free luggage. It's been used in more than 100 locations, which keeps boating exciting for us. Ultimate sight seeing boat.
show full review ▼
2/4/2019
4.0 out of 5 stars.
Renald Guillemette , WEST SUFFIELD
Verified Owner
In general, I have been very happy with the kayak. Quality seems very nice.
I did do an upgrade. I bought it with the electric motor. Securing the battery was a real issue the first time I used it. My upgrade was to use some 1/2 inch by 1/2 inch aluminum angle iron. Made a frame so the battery sat in it. Now with the supplied straps, the battery stays in place nicely. The battery lasts longer than I thought. The whole setup is very nice. When we feel for some exercise we use the oars, if we want to relax we use the motor.
show full review ▼
12/6/2018
3.0 out of 5 stars.
John Fettig , BEND
Verified Owner
Hello,
We have used our boat one time after we purchased it last spring. The quality is very good, but it is too large and heavy for us. We had intended to keep it in our motorhome for occasional use when camping near water. In hindsight, we should have chosen a smaller, lighter two person kayak. I don't know if it is possible to trade-in our boat for something smaller....I have not checked into this with Sea Eagle. I'm just now fillng out this review after being prompted by email.
11/24/2018
5.0 out of 5 stars.
Linda Overton , HOT SPRINGS VILLAGE
Verified Owner
I love my 435ps kayak. Sea Eagle made this kayak to be sturdy, easy to inflate, easy to row and easy to put away in it's carrying case. Ordering was a snap. I called them once to ask about the two-wheel cart and they were very helpful. I have ordered the cart and other accessories. Every time I called or ordered from Sea Eagle, I found them to be extremely helpful and efficient. It works well for me because I don't live on a lake or river. I can put my Sea Eagle kayak in my car and take it anywhere. I take it camping with me. I don't have to tow a boat behind the camper.
I would recommend Sea Eagle to anyone. They have so many different ones to choose from and all different price ranges. Give them a call and ask questions. They'll be happy to help you. Unlike most companies, you'll talk to a real person, and they'll know their products. When's the last time you had that experience? Sea Eagle... Great company. Great products. I'm 67 years old and I can use show full review ▼ my Sea Eagle with ease.
my Sea Eagle with ease.
7/31/2018
5.0 out of 5 stars.
Charles Clifton , TOLEDO
Verified Owner
I am very satisfied with everything about this boat. I love everything about it! It's very versatile and stable. It's alway an eyecatcher where ever we camp. Would highly recommend this product!!!!
1/17/2018
5.0 out of 5 stars.
Scott Mitchell , NATICK
Verified Owner
We absolutely love our sea eagle ... it inflated easily breaks down just as easily. It's great for us because we travel in our fifth wheel And it packs up so nicely in its storage bag and fit conviently in storage compartment or under our seats. it is so much fun for me and my wife as we travel around the country to always have our boat with us.
12/26/2017
4.0 out of 5 stars.
Daniel Allan , LAS CRUCES
Verified Owner
It has been a stable and seaworthy craft. A few reservations. It does take on water through the drainage holes between the pontoons-just enough to wet the seat. Not a problem in the summer but unpleasant when the water turns cold. I suppose I could seal the holes with duct tape. Disappointing is that I have been unable to get the sail to work-it either falls forward or backwards. I realize it is designed so that the "masts" can move to enable sailing off the wind, but no combination of feet and cord holds the sail upright. The foot pump works well-300 strokes to a side. All in all, I am pleased with it.
5/6/2017
5.0 out of 5 stars.
Harry Matthies , BULLHEAD CITY
Verified Owner
The only addition or improvement you could, but can't make, is to have the boat self inflate upon command. Seriously, It is easy enough to inflate as is. We bought the Paddle Ski because my wife wanted to kayak with me but wanted something that would be stable as she doesn't consider herself a strong swimmer. She also has had back surgery and needed something with good back support. We wanted something that could travel with us that we didn't have to load on top of our truck camper. I'm getting to old for that. This summer we're headed north from AZ to Montana, the Canadian Rockies and Vancouver Island. We prefer to "boondock whenever possible and dragging a boat limits where we can go. PS will be in the back seat of the truck.
show full review ▼
Key Features:
Catamaran Kayak Hull Design

The unique design feature of the Sea Eagle PaddleSki™ is the fact that it is actually an inflatable catamaran. This means the center cockpit floor rides 4" above the waterline, greatly reducing the drag of this kayak on the water. This makes if faster to paddle, motor and sail!

Outside Pontoon Stance

Because the pontoons are on either side of the paddler this kayak is our most stable kayak ever. This makes the PaddleSki™ a super stable kayak that can be used effectively for a variety of task! In particular this feature allows the PaddleSki™ to be sailed safely in winds up to 15 knots.

Over & Under Crossbar Design

The over and under design of the crossbars with a long crossbar on top of the pontoons and a short crossbar under the floor held together by stainless steel bolts and knurled nuts is the structure that holds the two pontoons in place. The longer top crossbars prevents the pontoons from twisting outwards, the shorter crossbars under the floor pull upwards and prevent the pontoons from twisting inwards. This provides a strong structural platform that allows the PaddleSki™ to take many useful accessories, such as the motor mount and sail rig.
435ps Paddleski™ Discount Packages
7'10" AB30 paddle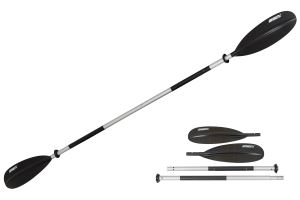 7'10" Double end asymmetrical paddle is great for all our canoe, kayak and paddleski models. The paddle features aluminum shafts with fiberglass reinforced nylon blades. It has a 65 degree feather capability. Snap lock buttons to disconnect into 4 parts. Weighs just 2.62 lbs.
Deluxe Inflatable Kayak Seat
Deluxe Inflatable Kayak Seat. A great inflatable seat that provides extra back support for paddling, rowing or fishing. Allows you to sit 5" off the floor with 14" of back support. Works in all of our kayaks and 285fpb.
Boat Carry Bag for 435ps
The real time saver of this bag design is the way it wraps around the boat hull. You don't have to spend time folding the boat to the exact proportions of the bag. Just roll up the boat and place on the open bag, and wrap the flaps around it.
A41 Foot Pump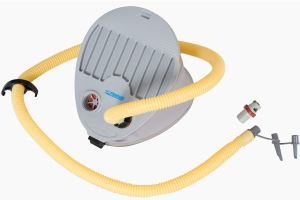 A high capacity foot pump made of durable ABS plastic that packs down for easy travel. Comes with triple styled nozzle for use on deluxe white one-way valves and pipe valves on unsupported fabric (white) hulls. Also included is a Recessed Valve Adapter for use on supported fabric (grey) hulls.
Repair Kit
Repair kit for 1000 Denier PVC boats. Includes hull repair material, tube of glue & Halkey-Roberts valve replacement tool.
Tall Back Seat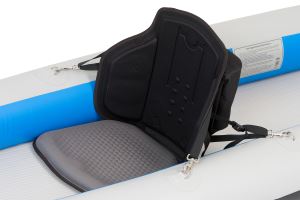 Tall Back Kayak Seat latches securely to the d-rings on many of our Sea Eagle hulls. Removable zippered rear pouch for storage. Made of thermal molded foam. Provides great back support with an 19" high backrest. Great for any outing. Lightweight and durable.
The molded foam construction gives you a low sitting position to for maximum stability in rough whitewater and excellent back support.
Only weighs 2 lbs.
8' AB40 paddle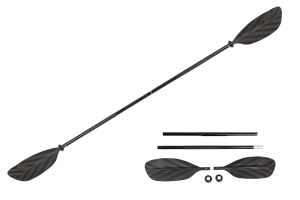 The asymmetrical spoon blade design of this Kayak paddle allows for smooth entries and an even pull, maximizing the power from your stroke. They require less gripping force, less effort per stroke. Weighs 2.92 lbs. Snap lock buttons to disconnect into 4 parts.
AB50 Paddle
Featherweight AB50 8' Double End Paddle with Carbon-Fiberglass shaft and Asymmetrical spoon blades.
QuikSail
Universal Kayak Sail, converts any kayak into a sailing vessel. Easy deployment in under one minute, breaks down to just 43" for convenient storage in the bow or stern. This "down wind" sail can move a kayak up to 7 knots and can be steered using your paddle as a rudder. Works with all Sea Eagle Kayaks and almost any other kayak out there.
Note: Deluxe Inflatable Seats required when using with the Sport Kayaks.
Watersnake Venom 34
The white composite shaft and stainless steel propeller shaft combine with the weedless propeller to deliver quiet performance whether trolling or holding position in the current for casting.
A lightweight, inexpensive, electric, saltwater motor that's built to last. Anti-corrosive paint and stainless steel parts allow you to take this motor into fresh, brackish and salt water without worry.
A very important feature is the Digital Voltmeter Display. This allows you to judge immediately how much power you have remaining and how far you can go. A good rule of thumb is to stay above 11.8 volts.
*Can be used with 10.6sr Sport Runabout. Cannot be used with 300x Explorer Kayak.
**Battery not included.
Motor cannot ship to Louisiana.
***Coast Guard requirements dictate that each ungrounded current-carrying conductor must be protected by a manually reset, trip-free circuit breaker or fuse.
Covered by the Watersnake 1 Year Warranty
All Sales are final. This item is not covered by the Sea Eagle 180 Day Trial.
QuikRow Kit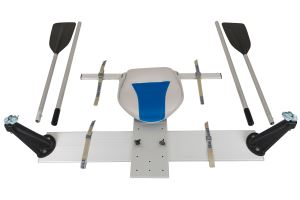 The Universal QuikRow™ Kit is a simplified fixed frame rower that attaches to kayaks and SUPs in less than 60 seconds flat! Now that's quick! Easy to setup and easy to use - the QuikRow™ will transform an ordinary kayak or SUP into a rowing and fishing machine!
This Universal QuikRow® Kit is the perfect accessory for Sea Eagle iSUPs, Explorers™, FastTracks™ and PaddleSki™ Series. (Weighs only 20 lbs.)
QuikRow kit includes: aluminum frame rowing base, swivel seat, (2) 2 part 7'11" oar set w/ oarlock and oar pin, (2) 4' quick release cinch down straps, (2) 6' quick release cinch down straps.
*2 Sea Eagle self-locking straps in 4' or 6' included with kayak and iSUP packages, depending on package requirements.
*One time pre-assembly that takes just a few minutes required. Non compatible with RazorLites™, Sport Kayaks and Travel Canoes™
*The QuikRow™ Footrest (recommended for SUPs and PaddleSki™) and Scotty® Rod Holders with Universal Deck Mounts are optional and can be purchase separately
Scotty Rod Holder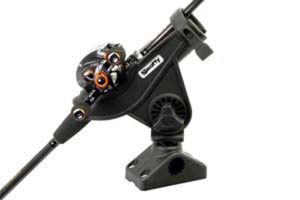 Scotty rod holder and side/deck mount
Baitcaster Interior Diameter: 1.30"
Mount Dimensions: 4" x 2" x 2"
Bolting Dimension: 1 5/16" x 3 3/16"
QuikRow Footrest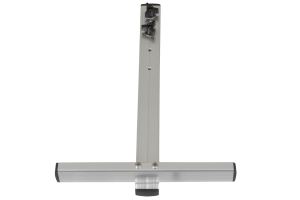 17" Adjustable footrest for the Sea Eagle QuikRow™
Honda 2.3L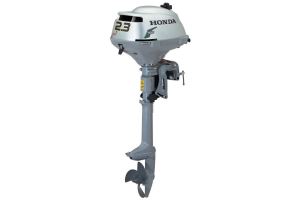 One of the world's lightest four-stroke outboards. The Honda BF2.3 is so light, it rivals many two-stroke 2HP engines and electric motors, without the battery. While still maintaining Honda's reliable, efficient four-stroke design!
Covered by the Honda Marine Warranty
All Sales are final. This item is not covered by the Sea Eagle 180 Day Trial.
Swivel Seat Fish Rig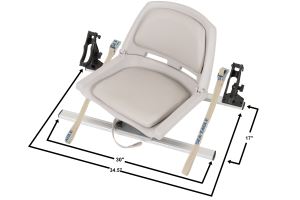 Turn your Sea Eagle iSUP, iK and iPS into a fishing machine! Attaches with ease to existing d-rings in less than 60 seconds flat!
This Swivel Seat Fishing Rig is the perfect accessory for Sea Eagle iSUPs, Explorers™, FastTracks™ and PaddleSki™ Series. (Weighs only 15 lbs.)
Kit includes: aluminum frame base, swivel seat, two Universal Scotty Rod Holders with universal deck mounts and two 6ft quick release cinch down straps.
*One time pre-assembly that takes just a few minutes required. Non compatible with RazorLites™, Sport Kayaks and Travel Canoes™
Motormount-PaddleSki Center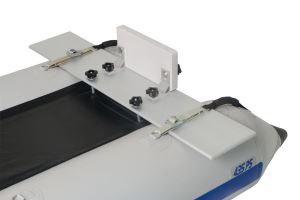 Center Motormount for PaddleSki allows you to use up to 45 lbs. max motor weight 3hp gas engine or a Torqeedo electric motor on our PaddleSki 435ps. Center Motormount bolts and straps to the rear of the boat where the rear crossbar is attached. For proper control of gas engine we recommend using the Extension Handle accessory. *For Electric Motors with an external battery use our Side Motormount.
Free Shipping
All Sea Eagle orders with this product will receive Free Ground Shipping to the lower 48 U.S. States.
Express shipping and delivery to Alaska, Hawaii and outside the United States are also available for an additional fee. Shipping rates will be displayed on our shopping cart page.
Offer Valid through 5/31/2020
Sea Eagle Used Boats
have

never been damaged, punctured or patched

have been

test inflated for 48 hours

might have very minimal wear (no barnacles or algae)
are covered by our regular 180 day

money back guarantee

and

three year

bow-to-stern warranty, just like our new boats.
might contain prior-generation components
Delivery Estimator
Starting at $1,099.

7 great packages to choose from! Click Here.