About the Classic NeedleNose™ 116
Sea Eagle's NeedleNose 116 features a Breakthrough Patented Design with straight-line hull, wave piercing bow, hydrodynamically curved touring shape and the ability to paddle faster, further and easier! A featherweight in it's class and by no means a pushover. The NN116 is the smallest of its class and allows you to perform advanced maneuvers!
The diamond deck pad with custom performance kick tail allows for sharp pivot turns. This SUP is 6" thick and weighs only 23 lbs. Whether you choose to sit or stand the NeedleNose 116 is sure to have everything you're looking for.
Best suited for those weighing 200 lbs or less.
About the NeedleNose™ Series
The patented NeedleNose™ iSUPs are by far the best tracking iSUPs in the world! Able to perform in a vast array of environmental conditions where other inflatables wouldn't dare! Get the performance of a rigid board plus the convenience of an inflatable and more!
Aptly named NeedleNose™ these iSUPs feature a patented razor sharp, wave piercing bow that allows you to slice through the wind, waves, current and water. Something that no other iSUP can offer. The elegant curved touring shape with a straight-line NO UPTURN hull design enables you to customize your skill and performance levels with 1st, 2nd and 3rd gear standing locations (see video). A diamond patterned deck pad is easier on your feet with a kick tail that allows pivot and kick turning on a dime! These features make the NeedleNose™ iSUPs the fastest, sleekest, best inflatable SUPs in the world!
Say goodbye to unnecessary airline fees and damaged SUPs! These weigh under 30 lbs. and are designed to be checked as baggage. (US Patent #8,821,204)
Specifications
| | |
| --- | --- |
| Exterior | 11'6" x 30" x 6" |
| Board Thickness | 6" |
| Hull Weight | 23 lbs |
| Load Capacity | 1 person or 200 lbs |
| Deflated | 32" x 15" x 9" |
| Material | 1000 Denier Reinforced Drop Stitch |
| Seam | Quadruple Overlap |
| Air Valves | One Way |
| Inflation time | 6 Minutes |
| Inflation Pressure | 12-15 psi |
Standard Features
Patented NeedleNose™ design (US Patent #8,821,204) razor sharp wave and water piercing bow
Straight-line hull design with NO UPTURN increasing performance, speed and efficiency
Large, removable, rear, center, skeg
Two leading side skegs for better tracking
Conveniently located front grab handle
Elastic cords and multiple D-Ring attachments at bow
Center seat D-Ring attachments
Large rear D-ring attachment for leash, towing, etc...
Center balanced, middle carry handle
15 PSI max air pressure capacity
Deluxe recessed Halkey Roberts style air valve
NEW EVA foam diamond deck pad
NEW EVA foam kick tail
Classic NN116 Reviews
(5 total, avg. review: 4.6 out of 5)
1/16/2017
Elizabeth Chapa , Madison
Verified Owner
I absolutely Love my paddle board!Its the first time in my life that I can say I have mastered something this fun and cool.I'm from the Midwest where growing up as a kid living no where near an ocean, would dream of surfing, etc.Well, I got to surf a few times and always felt very clumsy, uncoordinated and never really got the hang of the surfboard, or the water for that matter.What my SUP has given me can only be described as amazing freedom on the water, and stability.
I only regret is not buying one sooner.Thanks Sea Eagle..you've given me wings!!!
1/10/2017
Matthew C Mayerchak , Needham Heights
Verified Owner
I love the Sea Eagle. I have another inflatable SUP that I bought earlier, for about half as much money, but I never use it unless there are 2 of us going. I love the balance of the Sea Eagle and the way it cuts through small wakes and waves. It's a joy to paddle on. My next door neighbor tried it one time and immediately bought one as well.Comfortable to stand on, well-placed D-rings and cables for storing a dry bag etc. A great SUP! And so much easier to store for the winter than a solid board. You won't be disappointed!
8/11/2015
Summary: Tried this board out the other day on a flatwater lake. I was pleasantly surprised that it didn't really feel like an inflatable board. Very solid and had great glide in the water. The board felt really sturdy, the pad was comfortable to stand on and had a good texture. The board tracked well and the needlenose was a nice touch. It leaves a little extra room to maneuver the paddle and I felt like I was able to build up speed quickly. The board also had an inflatable kayak seat. I think this is a great addition, although I feel like the seat is a little bulky and I don't really like the look of it--I feel like the white seat will get dingy very quickly. This is probably only cosmetic, but still something that would eventually get to me. I was able to stand up on this board pretty comfortably even with the seat inflated and attached so it didn't really get in the way and the board had great balance. It was able to be inflated and deflated quickly and the bundle is a great deal as it includes a kayak seat, SUP paddle and a separate kayak paddle.
Pros: Very solid, sturdy board. Fun to ride and tracked well. Can build up some speed on this board.Cons: Mostly cosmetic--I don't love the white and blue color scheme. In particular, the white kayak seat seems like something that will pick up a lot of wear and tear with use.Usage: Flatwater lake paddling.
4/17/2015
Summary: Great first ISUP. Solid and stable. The hard Needle Nose really cuts small waves and protects from damage when I bumped barnacle covered pileings. The large center fin is easy to attach and remove, it also has bilateral smaller fins. I bought it "used" (a return) for a good price. Made from substantial material and extra reinforcement around edges. I called and got friendly service. When I tell people it's an inflatable they are surprised. I can get a nice wake -- it moves.
Pros: Stable platform, tracks well, easy to transport , light enough to pull up on to finger pier. Comfortable to sit, kneel, stand or just lay on my back and soak up the sun.Cons: A little tricky rolling it up. I don't use the Kayak seat (available extra)Usage: So far -- Paddling canals and Bay in Ocean City MD. very Relaxing, and great core exercise . I paddle Kayak style and stand up. Coming up -- local canal, river , and state park lake about 25 miles away
4/1/2015
Summary: This is my first SUP, purchased after just two times on rental boards and falling in love with the sport. Because of this I cannot really compare it to other boards but I can say that this board is serving me very well and was well worth the money spent. All in all I have but one complaint, which I will list below in the pros and cons.Pros: 1. Very well made, easy to inflate, easy to handle as a 115 pound woman. Took on 6 week road trip during most of which board remained inflated and strapped to roof of Honda Civic. No problems. 2. Also purchased the inflatable seat which hooks to sturdy O-Rings and converts board to semi kayak. 3. Needle Nose allows speed. 4. Lightweight and well made. 5. Small company (Sea Eagle) so good personalized customer service.
Cons: 1. Needle nose awkward when deflated. Makes board hard to pack as air valve at opposite end of board. 2. Carry Bag included in package inadequate and poorly made.Usage: Touring, Exercise.
Classic NeedleNose™ 116 Discount Packages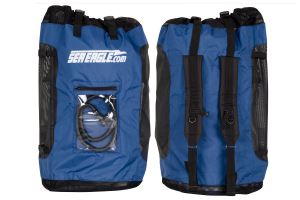 New All Purpose BACKPACK! Great for carrying: LB11, NeedleNose SUPs, Sports Kayaks, FastTracks, Explorers and Motormount Boats! With 5.5 cubic feet of space there's plenty of room for your Sea Eagle and more! *Be sure to check baggage restrictions prior to traveling.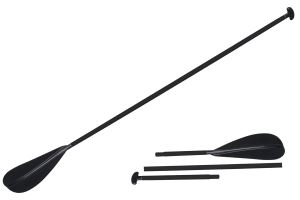 Our Stand Up Paddle is rugged, light-weight, and easy to use.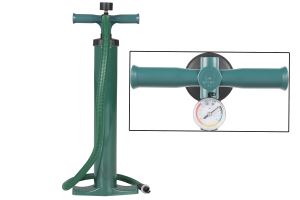 The Hand Piston Pump's special design allows for low effort and quick inflation. Made with a reliable and strong aluminum shaft. The HandPump comes equipped with hose, recessed one-way valve adapter and a conveniently located, easy visible, accurate built-in pressure gauge. SUP Pump capable of inflating to 1 bar or 15 PSI.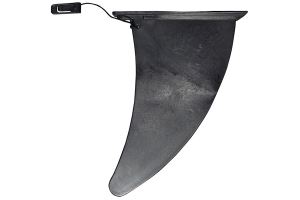 An excellent accessory to increase your hulls ability to track straight and true resulting in less yawing (side to side swinging) of your hull during paddle strokes, thus improving paddling efficiency.
Large 9 1/2" removable slide in skeg for Stand Up Paddle Boards, FastTracks, Explorers and Travel Canoe.
*Note your craft must have the grooved base plate to accommodate a slide-in skeg.
Repair kit for 1000 Denier PVC boats. Includes hull repair material, tube of glue & Halkey-Roberts valve replacement tool.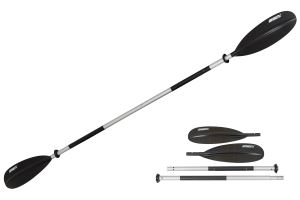 7'10" Double end asymetrical paddle is great for all our canoe, kayak and paddleski models. The paddle features aluminum shafts with Fibrylon blades. It has a 65 degree feather capability. Snap lock buttons to disconnect into 4 parts. Weighs just 2.62 lbs.
Deluxe Inflatable Kayak Seat. A great inflatable seat that provides extra back support for paddling, rowing or fishing. Allows you to sit 5" off the floor with 14" of back support. Works in all of our kayaks and 285fpb.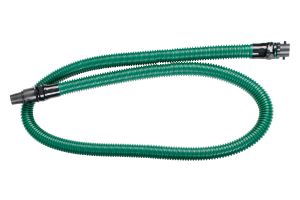 Alternative hose for green hand pump. Allows you to inflate your Deluxe Inflatable Seat by quickly and easily switching out the hose.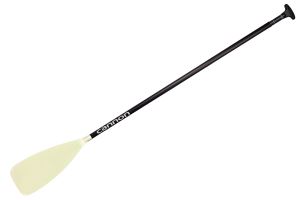 Top of the line adjustable Carbon Fiber SUP paddle is light and responsive. The dihedral blade allows for an easy "pull" through the water and effortless exit. The ergonomic handle grip provides consistent blade oriented strokes and together they maximize complete efficiency.
The Bravo BP12 is a super efficient lightweight single stage high pressure piston pump that will inflate from 1 to 14.5 psi. Simply set the turn dial to your desired pressure setting, press the "on" button and this little workhorse will do the rest.
Included:
102" (8'6") cable w/alligator clips
72" (6') inflation hose
Common valve adapters
Weight: 4 lbs.
Dimensions: 8" x 4" x 5"
Maximum Absorption 20 Amps.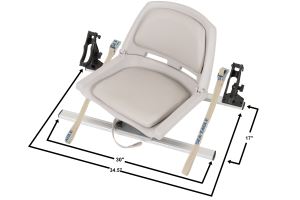 Turn your Sea Eagle iSUP, iK and iPS into a fishing machine! Attaches with ease to existing d-rings in less than 60 seconds flat!
This Swivel Seat Fishing Rig is the perfect accessory for Sea Eagle iSUPs, Explorers™, FastTracks™ and PaddleSki™ Series. (Weighs only 15 lbs.)
Kit includes: aluminum frame base, swivel seat, two Universal Scotty Rod Holders with universal deck mounts and two 6ft quick release cinch down straps.
*One time pre-assembly that takes just a few minutes required. Non compatible with RazorLites™, Sport Kayaks and Travel Canoes™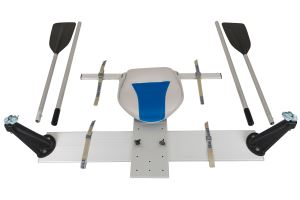 The Universal QuikRow™ Kit is a simplified fixed frame rower that attaches to kayaks and SUPs in less than 60 seconds flat! Now that's quick! Easy to setup and easy to use - the QuikRow™ will transform an ordinary kayak or SUP into a rowing and fishing machine!
This Universal QuikRow® Kit is the perfect accessory for Sea Eagle iSUPs, Explorers™, FastTracks™ and PaddleSki™ Series. (Weighs only 20 lbs.)
QuikRow kit includes: aluminum frame rowing base, swivel seat, (2) 2 part 7'11" oar set w/ oarlock and oar pin, (2) 4' quick release cinch down straps, (2) 6' quick release cinch down straps.
*2 Sea Eagle self-locking straps in 4' or 6' included with kayak and iSUP packages, depending on package requirements.
*One time pre-assembly that takes just a few minutes required. Non compatible with RazorLites™, Sport Kayaks and Travel Canoes™
*The QuikRow™ Footrest (recommended for SUPs and PaddleSki™) and Scotty® Rod Holders with Universal Deck Mounts are optional and can be purchase separately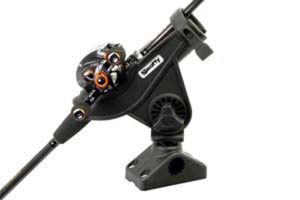 Scotty rod holder and side/deck mount.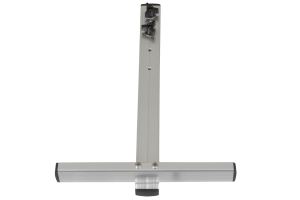 17" Adjustable footrest for the Sea Eagle QuikRow™
Free Shipping
All Sea Eagle orders with this product will receive Free Ground Shipping to the lower 48 U.S. States.
Express shipping and delivery to Alaska, Hawaii and outside the United States are also available for an additional fee. Shipping rates will be displayed on our shopping cart page.
Offer Valid through 2/28/2017
Sea Eagle Used Boats
have

never been damaged, punctured or patched

have been

test inflated for 48 hours

might have very minimal wear (no barnacles or algae)
are covered by our regular 180 day money back guarantee and three year bow-to-stern warranty, just like our new boats.
might contain prior-generation components
Delivery Estimator
Starting at $499.

5 great packages to choose from! Click Here.