About the LongBoard 126 Inflatable Stand-Up Paddleboard
The New LB126 is a great all-around SUP for both flat water and surf, beginner and expert alike!
The Stand Up/Sit Down LongBoard 126 gives you a fantastic work out and a great view of the water from a standing position. This versatile inflatable SUP can be enjoyed while standing or sitting down.
At 12'6" long, 30" wide, and 6" thick this SUP will provide you with plenty of stability. Whether you're a beginner or an experienced stand up paddle boarder, you'll find the Sea Eagle LongBoard 126 tons of fun!
Best suited for those weighing 250 lbs or less.
About the LongBoard Series
The New Sea Eagle Inflatable LongBoard SUP Series has been completely redesigned and transformed into a true hybrid SUP! Now you can sit, stand, surf, fish, tour, and perform yoga on these wonderful SUPs!
Our LongBoard iSUPs are now made with 6" thick drop stitch material to increase buoyancy, rigidity, and stability. We've also added 4" nose/entry rocker followed by a slight continuous board rocker and finish/exit with a 2" tail rocker!
These combined attributes increase the over all performance, handling, and stability of our LongBoard Series making it a true hybrid SUP that can be used while sitting, standing, surfing and touring!
A full length EVA foam Diamond Deck Pad provides excellent traction and maximum foot comfort while surfing and on extended tours. Custom Performance Kick Tail prevents slipping off the tail and assist with blind foot placement. Front and rear grab handles are right where you need them. The Paddle Pocket keeps your paddle nice and secure.
| | |
| --- | --- |
| Person Capacity | 1 |
| Hull Weight | 30 lbs. |
| Length | 12 ft. 6 in. |
| Width | 30 in. |
| Load Capacity | 1 adult or 250 lbs. |
| Total Max Load Capacity | 260 Ltr. |
| Deflated | Approx. 32" x 14" x 10" |
| Air Valves | One Way |
| Inflation time | 7 Minutes |
| Seam | Quadruple Overlap |
| Material | 1000 Denier Reinforced Drop Stitch |
| Board Thickness | 6" |
| Inflation Pressure | 12-15 psi |
| Volume | 260 Ltr. |
Standard Features
Sit down or stand up paddling
Upturned bow for surfing (4" nose/entry rocker)
Slight continuous rocker throughout
Upturned stern for performance surfing (2" tail/exit rocker)
NEW EVA foam diamond deck pad
NEW EVA foam custom performance kick tail
NEW Paddle Pocket for securing your paddle
Conveniently located front and rear grab handles
Large, easy slide-in, removable, rear center skeg
Two leading side skegs for better tracking
D-Rings and shock cords at bow to secure gear
Center balance middle carry handle
Center seat D-Ring attachments
Large rear D-Ring attachment for leash
Up to 15 PSI max air pressure capacity
Deluxe recessed Halkey Roberts style air valve
Drop Stitch inflatable construction provides tremendous rigidity
Skid resistant foot pad
Additional reinforcement layers
Printed instructions
LongBoard 126 in the news
I've seen people who have never set foot on a SUP before get on this board and have a great time as well as the most experienced of paddlers jump on and throw down.
LB126 Reviews
(13 total, avg. review: 4.7 out of 5)
1/8/2019
Eric Siegmund , HORSESHOE BAY, TX
Verified Owner
My wife and I each have this SUP and we're both quite pleased with it. We also have two rigid SUPs, but since we got the Sea Eagles, we haven't used them. It's just hard to beat the convenience of the inflatable SUPs.
We use them on lakes and slow rivers. There's definitely a difference in feel between the inflatable and the rigid boards. The Sea Eagles are floatier and tend to glide over the top of the water, while the rigid boards cut through it. This can mean that the inflatables will "chatter" a bit in rougher water, and might feel a little less stable, at least initially while you're getting accustomed to them. That said, the learning curve is not steep at all.
more ▼
We also love the ability to attach seats to the Sea Eagles and use them as kayaks. We are not a fan of the inflatable seats that came with the LB126 package, but instead we use the tall back seats that came with our Sea Eagle 385ft kayak. They fit perfectly on the SUPs and we think they're more capable than the inflatable seats.
2/28/2018
Ken Cobb , BATAVIA
Verified Owner
So far so good. Only used for 2 months last year. solid SUP. I like the glide. and big enough for two people. Have not figured out the electric pump tho. There is not an end for hose like the regular pump....
2/14/2018
Matthew Mikesell , ANN ARBOR
Verified Owner
Everything about our Sea Eagle LB 126 stand up paddle boat was better than expected -- it was delivered as expected, in perfect condition, and we had a blast with it last summer Only regret: we live in Michigan so that means we aren't able to use it year-round. We would certainly make this purchase again. Matt & Chris
7/25/2017
Brian Anderson , Melbourne Florida
Verified Owner
I currently have 3 Sea Eagle inflatable products with multiple accessories. Two LB126 SUPs and the 385 Fast Track Kayak. The flexibility of the inflatables is fantastic. We just pack the vehicle and we are off to any location. It has allowed us to explore many new areas and to experience natural beauty and wildlife that we would never have seen without them. Over the course of multiple years I have had some issues with the inflatables and the accessories. There are always issues with everything and the measure of a product and their customer service is how they deal with them. The Sea Eagle customer service department has been excellent. One of the best warranty and customer service departments I have ever dealt with, and I assure you I have a lot of toys that I have purchased that have had issues. I highly recommend the Sea Eagle inflatables for fun and adventure and the Sea Eagle company that will stand behind them. Thank You Sea Eagle for the way you have handled things.
6/3/2017
Andrei Timchenko , Carlsbad, NM
Verified Owner
Purchased LB126 with electric pump package in the end of May'17. It has arrived quickly, but I'm disappointed that my package was missing the electric pump. Shipping paper said it is on a back-order, and estimated to be shipped 2 weeks later. I wasn't informed about it during purchasing, and SE website listed the package as being available. The disappointment comes because you really need the electric pump for this board - stock manual pump WILL wear you out (and I'm not a weak man). Anyway, I keep my board fully inflated in my garage (which consumes space), until the electric pump arrives. This is one of the reasons I took a ranking star off. Now, about the board (first impression). The board is solid (I have it pumped up to 13 psi to avoid over pressurizing when exposed to sun, and it works fine); easily carries me and two my sons, 6 and 8 yo. Stability is OK. This board is heavily affected by wind, and use in case of headwind >10 mph is questionable (which should be true for any inflatable). Good overall.
2/28/2017
Bonnie Burdett , Cupertino
Verified Owner
Easy to maintain, fill up, and store. Much sturdier than I expected. Family and friends love these.
1/18/2017
Brian Winningham , Seattle
Verified Owner
I purchased this board in July, and left it inflated until September. I live less than 10 minutes from the lake (using city streets), so it's easy to just throw it in/on my truck and strap it down a bit.
The board is really stable, but it's not slow. I had a great time with it, and got to the point where I could handle some pretty good size boat wakes and wind waves.
more ▼
For the most part the board is really solid. The one thing I noticed is that the board gets a bit flexible if I had it sitting outside in hot air, then threw it in relatively cold water. That probably make a 0.5 - 1.0 lb difference in pressure. Next summer I'll take my pressure gauge and pump along, to see if I need to add some air after the board cools down.
I did deflate and roll up the board for one trip. Transporting it was really easy in the pack. On that trip I took a friend who had never been on a stand-up board board. He loved it and will probably buy the same thing this year.
12/12/2016
Troy Wertenberger , Hayden, CO
Verified Owner
We really like it. And would get another one.
11/29/2016
Jason Regina , Keyport
Verified Owner
This stand-up paddleboard is great. Bought it for my wife for mother's day. We have used it since the Spring, and have taken it to the Bay, the Ocean, and a Great Lake! I did opt for the electric pump - and that is money well spent! Hand pumping is fine and takes about 10 minutes. The kids really enjoyed it too – this was the big size, so they were actually able to get a number of them on there and float around the Bay and Lake. When it was the 'adults' turn - it performed just as well, allowing for stand up paddle boarding fun, stable enough to do yoga on even…
more ▼
Never lost any air, and we left it inflated for days at a time.
Used the kayak conversion seat as well – big hit with the kids and less experienced. Also good for just cruising around.
The quality is really amazing, everyone who saw it was very impressed.
I got this mainly for the portability and the large size, but still light. I am very satisfied with my choice – and would recommend to anyone with similar needs.
Enjoy!
1/8/2016
Joseph Ferrino , Lake Hopatcong, NJ
Verified Owner
It was a great summer with the sup. Very impressed with the strength stability. It has no problem with me (using blow up seat) my better looking half & the dog on it. It doesn't even flex. Impressed. BTW. The dog loves it. He uses it to chase ducks. No kidding.
LongBoard 126 Discount Packages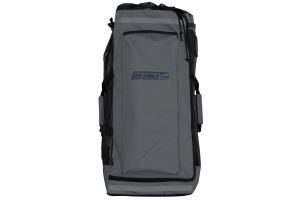 Small Gray BACKPACK! Great for carrying for a small SUP or gear! With 4 cubic feet of main compartment space plus and additional 520 cubic inches in the front pocket, there's plenty of room for your Sea Eagle and more!
*Be sure to check baggage restrictions prior to traveling.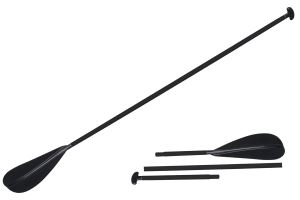 Our Stand Up Paddle is rugged, light-weight, and easy to use. The dihedral blade allows for an easy "pull" through the water and effortless exit. The ergonomic handle grip provides consistent blade oriented strokes and together they maximize complete efficiency.
The teardrop shaped concaved 16" long x 8 1/2" wide spoon blade has a kickback angle of 7° increasing not only the amount of water you catch and hold but also the actual catch phase of your stroke as well. Thus lengthening the power phase while allowing you to keep the paddle close to your SUP creating more lift.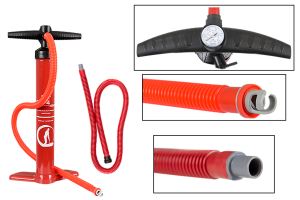 This SUP(Stand Up Paddle) Pump's special design allows for low effort and quick inflation. Made with a reliable and strong aluminum shaft. The SUP Pump comes equipped with hose, recessed one-way valve adapter and a conveniently located, easy visible, in-line pressure gauge and the option of selecting between single action (down stroke only) and double action (both up and down strokes) inflation. SUP Pump capable of inflating to 29 PSI.
Use double action for high volume and lower pressures and single action during increasing resistance cause by higher pressures.
Includes 2nd hose with Boston Valve and Pipe Valve attachments.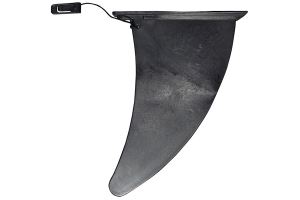 An excellent accessory to increase your hulls ability to track straight and true resulting in less yawing (side to side swinging) of your hull during paddle strokes, thus improving paddling efficiency.
Large 9 1/2" removable slide in skeg for Stand Up Paddle Boards, FastTracks, Explorers and Travel Canoe.
*Note your craft must have the grooved base plate to accommodate a slide-in skeg.
Repair kit for 1000 Denier PVC boats. Includes hull repair material, tube of glue & Halkey-Roberts valve replacement tool.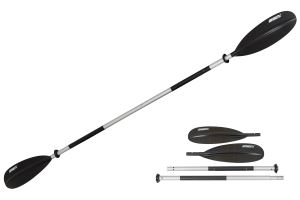 7'10" Double end asymetrical paddle is great for all our canoe, kayak and paddleski models. The paddle features aluminum shafts with Fibrylon blades. It has a 65 degree feather capability. Snap lock buttons to disconnect into 4 parts. Weighs just 2.62 lbs.
Deluxe Inflatable Kayak Seat. A great inflatable seat that provides extra back support for paddling, rowing or fishing. Allows you to sit 5" off the floor with 14" of back support. Works in all of our kayaks and 285fpb.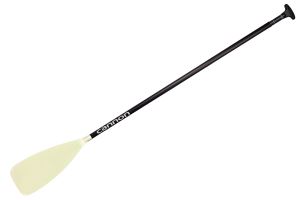 Top of the line adjustable Carbon Fiber SUP paddle is light and responsive. The dihedral blade allows for an easy "pull" through the water and effortless exit. The ergonomic handle grip provides consistent blade oriented strokes and together they maximize complete efficiency.
The teardrop shaped concaved 17" long x 7 1/4" wide spoon blade has a kickback angle of 7° increasing not only the amount of water you catch and hold but also the actual catch phase of your stroke as well. Thus lengthening the power phase while allowing you to keep the paddle close to your SUP creating more lift.
The Bravo BP12 is a super efficient lightweight single stage high pressure piston pump that will inflate from 1 to 14.5 psi. Simply set the turn dial to your desired pressure setting, press the "on" button and this little workhorse will do the rest.
Included:
102" (8'6") cable w/alligator clips
72" (6') inflation hose
Common valve adapters
Weight: 4 lbs.
Dimensions: 8" x 4" x 5"
Maximum Draw 20 Amps.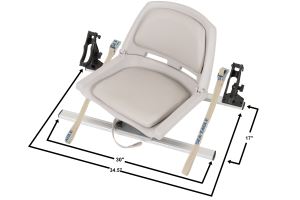 Turn your Sea Eagle iSUP, iK and iPS into a fishing machine! Attaches with ease to existing d-rings in less than 60 seconds flat!
This Swivel Seat Fishing Rig is the perfect accessory for Sea Eagle iSUPs, Explorers™, FastTracks™ and PaddleSki™ Series. (Weighs only 15 lbs.)
Kit includes: aluminum frame base, swivel seat, two Universal Scotty Rod Holders with universal deck mounts and two 6ft quick release cinch down straps.
*One time pre-assembly that takes just a few minutes required. Non compatible with RazorLites™, Sport Kayaks and Travel Canoes™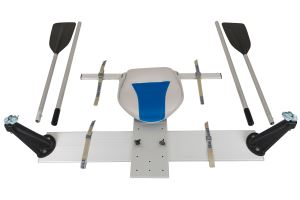 The Universal QuikRow™ Kit is a simplified fixed frame rower that attaches to kayaks and SUPs in less than 60 seconds flat! Now that's quick! Easy to setup and easy to use - the QuikRow™ will transform an ordinary kayak or SUP into a rowing and fishing machine!
This Universal QuikRow® Kit is the perfect accessory for Sea Eagle iSUPs, Explorers™, FastTracks™ and PaddleSki™ Series. (Weighs only 20 lbs.)
QuikRow kit includes: aluminum frame rowing base, swivel seat, (2) 2 part 7'11" oar set w/ oarlock and oar pin, (2) 4' quick release cinch down straps, (2) 6' quick release cinch down straps.
*2 Sea Eagle self-locking straps in 4' or 6' included with kayak and iSUP packages, depending on package requirements.
*One time pre-assembly that takes just a few minutes required. Non compatible with RazorLites™, Sport Kayaks and Travel Canoes™
*The QuikRow™ Footrest (recommended for SUPs and PaddleSki™) and Scotty® Rod Holders with Universal Deck Mounts are optional and can be purchase separately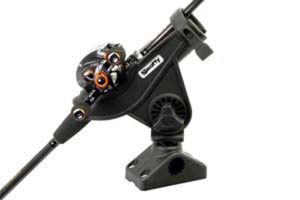 Scotty rod holder and side/deck mount
Baitcaster Interior Diameter: 1.30"
Mount Dimensions: 4" x 2" x 2"
Bolting Dimension: 1 5/16" x 3 3/16"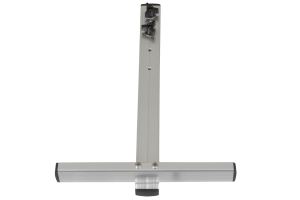 17" Adjustable footrest for the Sea Eagle QuikRow™
Free Shipping
All Sea Eagle orders with this product will receive Free Ground Shipping to the lower 48 U.S. States.
Express shipping and delivery to Alaska, Hawaii and outside the United States are also available for an additional fee. Shipping rates will be displayed on our shopping cart page.
Offer Valid through 2/28/2019
Sea Eagle Used Boats
have

never been damaged, punctured or patched

have been

test inflated for 48 hours

might have very minimal wear (no barnacles or algae)
are covered by our regular 180 day money back guarantee and three year bow-to-stern warranty, just like our new boats.
might contain prior-generation components
Delivery Estimator
Starting at $799.

5 great packages to choose from! Click Here.