About the SUPCat10 Inflatable Fishing Stand-Up Paddleboard
The new SUPCat10 uses Stand Up Paddle Board construction to create a whole new kind of fishing craft. With the 2 side pontoons made completely of high pressure, drop-stitch the SUPCat inflates up to 15psi for rock solid stability. 4 Scotty Gear Mounts come standard with every SUPCat along with 2 Scotty Baitcaster rod holders.
With a 2.3 hp Honda, you can speed along at 8 mph - faster than any kayak with an electric motor or peddle drive. Our WaterSnake Venom 34 electric motor can cruise you around at 4 mph. The SUPCat can even be paddled with a SUP paddle. It's a smooth, sleek ride no matter how you propel it.
A great aspect of the SUPCat is the Wheels Up/Wheels Down feature. The optional CAT Wheels let you cart the boat & all your gear to the water when in the down position. Once at the water, lift them up & paddle or motor away. The wheels are out of the way and do not interfere with fishing, paddling or motoring. Plus, there's no running back and forth, do it all in one trip.
About the Fishing SUPs Series
Sea Eagle Fishing Inflatable SUPs are the most versatile stand-up paddleboards in the world! Sit, stand, fish, motor, troll - designed for fishermen always on the go!
Extremely portable and affordable, these fishing SUPs are incredibly stable and easy to use, set up in under 10 minutes and can be outfitted with an electric trolling or gas motor.
Say farewell to lugging around heavy boats and trailers plus unnecessary fees! Hello to portability and convenience. Sea Eagle Fishing SUPs stow in your car trunk always ready to go!
Featuring: protective, non-slip EVA foam deck pads - perfect for standing or sitting, 360° swivel seats - for hours of comfortable seating, built-in Fish Rulers - to be certain your catch is of legal length, multiple D-ring attachment points - for attaching various accessories and gear, removable rear motor mount - for mounting up to a 55 lb. thrust electric motor or up to a 3 hp gas motor, and four conveniently located grab/carry handles - for ease of transport, launching and beaching
| | |
| --- | --- |
| Person Capacity | 1 |
| Hull Weight | 42 lbs. |
| Length | 10 ft. |
| Width | 3 ft. 6 in. |
| Interior | 8' x 42" |
| Total Max Load Capacity | 1 person or 450lbs. |
| Chambers | 2 (Port, Starboard) |
| Tube Diameter | 6" Drop Stitch |
| Air Valves | 2 |
| Inflation time | 7 minutes |
| Seam | Quadruple Overlapping Superior Glued Seams |
| Material | 1000 Denier Reinforced Drop Stitch |
| Engine Capacity | 3 hp gas (min 20" shaft, 45 lbs. max weight) or 70 lbs. thrust Electric Motor (min 30" shaft, 45 lbs. max wt.) |
| Speed Estimates | 8 mph with gas motor, 4 mph with electric motor |
| Inflation Pressure | 12- 15 PSI |
Standard Features
2 40" Fish rulers to make it easy to measure your catches
Ultralight aluminum frame provides super strong, super stable structure for motor mount and swivel seat with pedestal
Fabric floor held tight by 4 clip-on bungee straps to prevent unwanted spray or losing cell phones, fish lures or fish.
Wide drop stitch pontoons with evergrip EVA footpads provide standing stability and a very stable casting platform
2 Scotty­® mounts with rod-holders on front crossbar, 2 Scotty® base mounts at rear provide additional options for a multitude of Scotty® accessories
2 Deluxe one way recessed air valves for easy and fast inflation or deflation
4 carry handles - 2 in front, 2 in the stern for easy handling convenience
8 D-Rings - 4 in the bow, 4 in the stern to tie-down cooler or gas tank or tackle box.
Inflates up to 15 psi for hard hull paddling or motoring performance
Long nylon foldout bag to hold aluminum frame & pontoons, repair kit & printed instructions
Two separate air chambers
SUPCat10 Discount Packages
Comfortable seat with locking swivel. Great for boats with gas motors.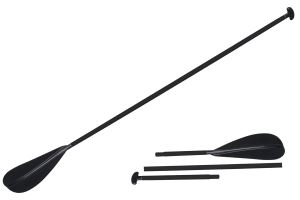 Our Stand Up Paddle is rugged, light-weight, and easy to use. The dihedral blade allows for an easy "pull" through the water and effortless exit. The ergonomic handle grip provides consistent blade oriented strokes and together they maximize complete efficiency.
The teardrop shaped concaved 16" long x 8 1/2" wide spoon blade has a kickback angle of 7° increasing not only the amount of water you catch and hold but also the actual catch phase of your stroke as well. Thus lengthening the power phase while allowing you to keep the paddle close to your SUP creating more lift.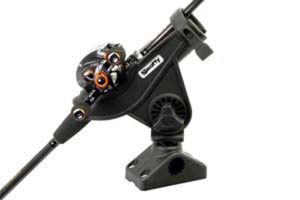 Scotty rod holder and side/deck mount
Baitcaster Interior Diameter: 1.30"
Mount Dimensions: 4" x 2" x 2"
Bolting Dimension: 1 5/16" x 3 3/16"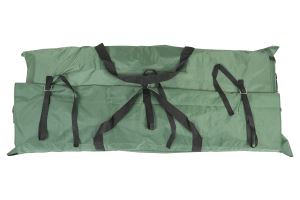 The real time saver of this bag design is the way it wraps around the boat hull. You don't have to spend time folding the boat to the exact proportions of the bag. Just roll up the boat and place on the open bag, and wrap the flaps around it.
* Now with black straps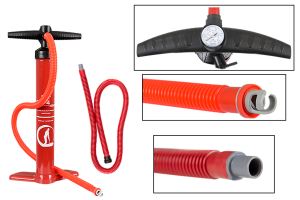 This SUP(Stand Up Paddle) Pump's special design allows for low effort and quick inflation. Made with a reliable and strong aluminum shaft. The SUP Pump comes equipped with hose, recessed one-way valve adapter and a conveniently located, easy visible, in-line pressure gauge and the option of selecting between single action (down stroke only) and double action (both up and down strokes) inflation. SUP Pump capable of inflating to 29 PSI.
Use double action for high volume and lower pressures and single action during increasing resistance cause by higher pressures.
Includes 2nd hose with Boston Valve and Pipe Valve attachments.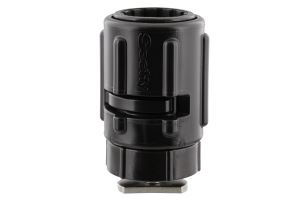 The Scotty 438 Gear-Head Track Adapter locks down your post mounted Scotty rod holders and accessories.
Locks onto the SUPCAT10 frame.
Also fits other kayak track systems.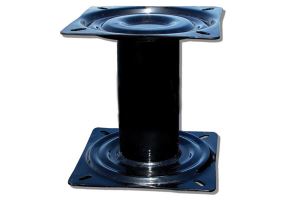 7" Pedestal for Swivel Seat used on Foldcats and 285FPB.
Includes hardware.
This Release A Seat allows the Swivel Seat to be installed or removed easily. (Max weight capacity rating of 250 LBS.)
Repair kit for 1000 Denier PVC boats. Includes hull repair material, tube of glue & Halkey-Roberts valve replacement tool.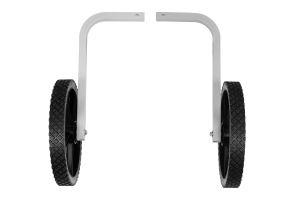 Easily tote your SUPCat to and from the water with the CATWHEELS. Wheels connect to the SUPCat frame with a simple push button. Keep them in the down position to transport your SUPCat and once you get to the water, pull them out of the frame, flip them up and out of the water where they'll be out of your way as you motor, paddle and fish.
Wheels measure 13 1/2" in diameter and are 1 3/4" wide. They weigh just 3.39 lbs. each.
*Work with the SUPCat10.
The white composite shaft and stainless steel propeller shaft combine with the weedless propeller to deliver quiet performance whether trolling or holding position in the current for casting.
A lightweight, inexpensive, electric, saltwater motor that's built to last. Anti-corrosive paint and stainless steel parts allow you to take this motor into fresh, brackish and salt water without worry.
*Can be used with 10.6sr Sport Runabout. Cannot be used with 300x Explorer Kayak.
**Battery not included.
Motor cannot ship to Louisiana.
***Coast Guard requirements dictate that each ungrounded current-carrying conductor must be protected by a manually reset, trip-free circuit breaker or fuse.
Covered by the Watersnake 1 Year Warranty
All Sales are final. This item is not covered by the Sea Eagle 180 Day Trial.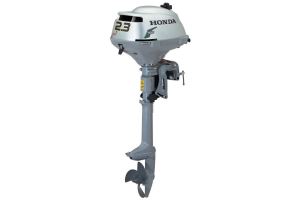 One of the world's lightest four-stroke outboards. The Honda BF2.3 is so light, it rivals many two-stroke 2HP engines and electric motors, without the battery. While still maintaining Honda's reliable, efficient four-stroke design!
Covered by the Honda Marine Warranty
All Sales are final. This item is not covered by the Sea Eagle 180 Day Trial.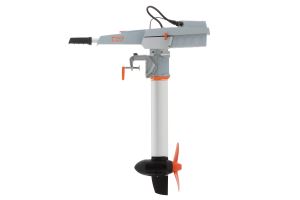 The perfect outboard for the FishSkiff, tenders, dinghies, transom boats, motormount boats and daysailers. Weighs 32.85 lbs. Short shaft - 24.6"
*Note: Non compatible with the 124smb, Frameless Pontoon Boats or 14sr (which use the Torqeedo Travel 1003L)
***Does not ship from Sea Eagle warehouse. Item is drop shipped from Illinois.***
Covered by the Torqeedo Factory Warranty
All Sales are final. This item is not covered by the Sea Eagle 180 Day Trial.
Free Shipping
All Sea Eagle orders with this product will receive Free Ground Shipping to the lower 48 U.S. States.
Express shipping and delivery to Alaska, Hawaii and outside the United States are also available for an additional fee. Shipping rates will be displayed on our shopping cart page.
Offer Valid through 3/31/2019
Sea Eagle Used Boats
have

never been damaged, punctured or patched

have been

test inflated for 48 hours

might have very minimal wear (no barnacles or algae)
are covered by our regular 180 day money back guarantee and three year bow-to-stern warranty, just like our new boats.
might contain prior-generation components
Delivery Estimator
Starting at $1,299.

5 great packages to choose from! Click Here.