About the Rigid Inflatable Boat 11' Inflatable Boat
The Sea Eagle RIB11 makes for the perfect ship to shore tender. Great for exploring when anchored up, moored, or just plain running about. This small boat packs a truly big punch!
This rugged boat can carry up to 4 adults or 750 lbs.
*For optimal performance max horsepower motor rating is 20hp
About the RIB Series
The Sea Eagle RIB is an outstanding all-purpose rigid inflatable boat! Durable and rugged, makes a great ship to shore tender and is fun for running about. A combination of both rigid and inflatable provides you the very best of both worlds!
The values of an inflatable are endless. Incredible buoyancy and added safety provided by 3 separate, non-rigid, independent, inflatable air chambers are second to none. Primary and secondary stability make for boarding and disembarking with ease. The knowledge that both can be performed safely without causing damage to a mother vessel is certainly assuring.
The superior strength FRP (fiber reinforced plastic) double layer floor provides unsurpassed durability and longevity. Great when beaching, providing added protection against rock and debris.
The uniquely designed Deep V Multi-Chine Rigid Hull improves fuel economy and increases stability, provides rapid planning and incredible tracking, and most importantly a smooth responsive ride.
| | |
| --- | --- |
| Person Capacity | 4 |
| Hull Weight | 136 lbs. |
| Length | 11 ft. |
| Beam | 5 ft. 5 in. |
| Interior | 7' 6" x 2' 6" |
| Load Capacity | 4 Adults or 1320 lbs |
| Deflated | Approx. 110" x 43" x 20" |
| Chambers | 3 (port, bow, starboard) |
| Tube Diameter | 16.5" |
| Air Valves | 3 Recessed One Way |
| Inflation time | 10 min. |
| Seam | High-strength glued double overlap seams |
| Material | 1000 Denier Reinforced |
| Engine Capacity | 20 hp, 150 lbs. max weight, 15" Shaft, Gas Engine |
| Floor | Superior strength FRP (fiber reinforced plastic) double layer floor |
| Speed Estimates | 20 hp (20 mph w/ 2 adults, 15 mph w/ 4 adults) |
Certifications
Standard Features
NMMA Certified
5/8" grab line along sides for safety
Full perimeter splash reduction rubbing strake for extra protection
Splash guards on transom
Rounded rear pontoons for rapid planing
Three stainless steel eye bolts for towing
Two rear carry handles & one front lifting handle
Oarlocks pop up for instant use
Wide beam hull design for extra stability
Deep V hull with multiple chine bottom
Superior strength FRP (fibre reinforced plastic) double layer floor
Rigid Inflatable Boat 11' Discount Packages
Deluxe
The Deluxe Package is the easiest and quickest to assemble. It also provides the smallest and most compact stowing footprint.
In Stock
View Package Details
Swivel Seat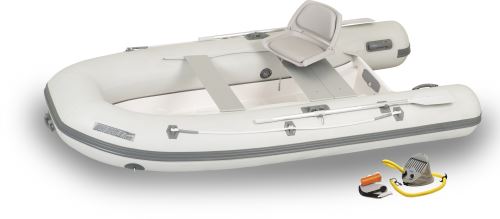 The Deluxe Package plus a super stable, super comfortable swivel seat mounted on 2 aluminum cross boards. Motor long distances comfortably!
In Stock
View Package Details
Honda Motor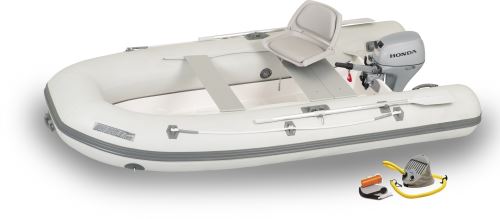 Everything you need to ride in style - Sea Eagle RIB, a Swivel Seat and a Honda 9.9 short shaft motor.
In Stock
View Package Details
Aluminum Bench Seat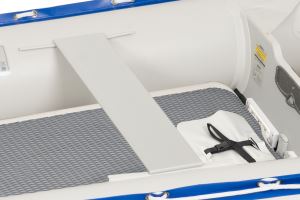 Much more durable than wooden seats, the Sea Eagle aluminum bench seat is strong, comfortable and secure.
Collapsible Oar Set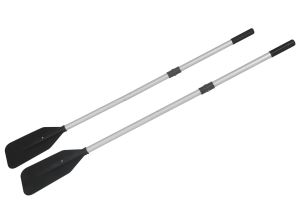 Designed for our Transom Boats, these oars connect with oarlock pins for fast, comfortable rowing. Collapsible for easy transport. 5 ft. 5 in. long.(pair)
A41 Foot Pump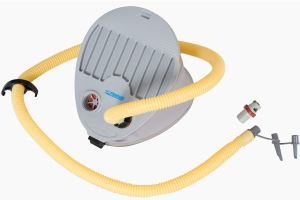 A high capacity foot pump made of durable ABS plastic that packs down for easy travel. Comes with triple styled nozzle for use on deluxe white one-way valves and pipe valves on unsupported fabric (white) hulls. Also included is a Recessed Valve Adapter for use on supported fabric (grey) hulls.
Repair Kit
Repair kit for 1000 Denier PVC boats. Includes hull repair material, tube of glue & Halkey-Roberts valve replacement tool.
Swivel Seat Kit-SR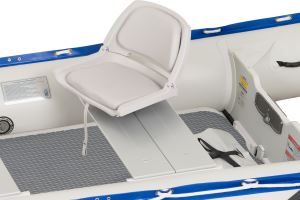 There's nothing like the boating comfort of our new swivel seat kit. The swivel seat is a great accessory for fishing or just plain boating. With easy access to tiller steering, this seat is a must for serious boaters. Includes a locking swivel seat for safe boating practices.
Honda 9.9S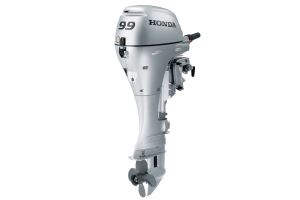 The Honda BF9.9 is an incredibly efficient four-stroke 9.9hp gas outboard that offers even more of what you want. Easier to use features. Quieter, dependable, reliable performance in a portable package.
Covered by the Honda Marine Warranty
All Sales are final. This item is not covered by the Sea Eagle 180 Day Trial.
Free Shipping
All Sea Eagle orders with this product will receive Free Ground Shipping to the lower 48 U.S. States.
Express shipping and delivery to Alaska, Hawaii and outside the United States are also available for an additional fee. Shipping rates will be displayed on our shopping cart page.
Offer Valid through 8/31/2019
Sea Eagle Used Boats
have

never been damaged, punctured or patched

have been

test inflated for 48 hours

might have very minimal wear (no barnacles or algae)
are covered by our regular 180 day

money back guarantee

and

three year

bow-to-stern warranty, just like our new boats.
might contain prior-generation components
Delivery Estimator
Starting at $1,799.

3 great packages to choose from! Click Here.