About the Classic Razorlite 393 Inflatable Kayak
The World's First All Drop Stitch Patented RazorLite™ inflatable kayak! A lighter, narrower and faster to paddle, high performance solo kayak for the adventurer. The Classic 393rl includes the adjustable and removable Tube Footrest.
U.S. Patent 9,452,809
About the RazorLite™ Series
The World's First All Drop Stitch patented RazorLite™ inflatable kayaks are a much lighter, narrower and faster to paddle, high performance kayak for true adventurers!
A razor sharp, tapered, hard-nose bow and stern, combined with a fully constructed Drop Stitch technology hull enables the Sea Eagle RazorLite™ Kayaks to cut through waves cleaner, straighter and sharper than any other kayak on the market allowing paddling speeds up to 6 mph.
Because of it's high performance design and capabilities the RazorLite™ kayaks are best recommended for intermediate and above paddlers.
U.S. Patent 9,452,809
| | |
| --- | --- |
| Person Capacity | 1 |
| Hull Weight | 35 lbs. |
| Length | 12 ft. 10 in. |
| Width | 2 ft. 4 in. |
| Interior | 12'2" x 17" |
| Load Capacity | 1 Person or 500 lbs. |
| Deflated | 22" x 22" x 12" |
| Chambers | 3 (port, starboard, floor) |
| Tube Diameter | 8.5 " High x 4" Thick |
| Air Valves | 3 Recessed One Way |
| Inflation time | 7 Minutes |
| Seam | Quadruple Overlapped |
| Material | 1000 Denier Rinforced |
| Floor | Attached High Pressure Drop Stitch Floor |
| Inflation Pressure | 10 psi |
Certifications
Standard Features
NMMA Certified
Unique Patented (U.S. Patent #9,452,809) all drop-stitch construction with rigid bow & stern molds for faster paddling
3 Recessed One Way Air Valves
2 Open Close Drain Valves
Adjustable & Removable Tube Foot Rest
Large, Removable, Swept Back Rear
6 D-Rings to Secure Seat & Foot Rest Strap
Front, Rear Spray Skirt and Carry Handles
Nylon Backpack
Repair Kit
Printed Instructions
Classic Razorlite 393 Discount Packages
Pro Solo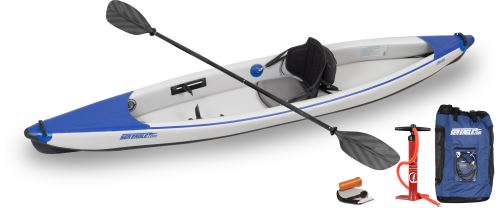 Great combination of performance, comfort and portability! Includes light weight 393RLC Kayak, AB40 paddle, Tall Back Seat, adjustable tube footrest, backpack & high pressure pump.
In Stock Get Estimated Delivery Date
View Package Details
Pro Carbon Solo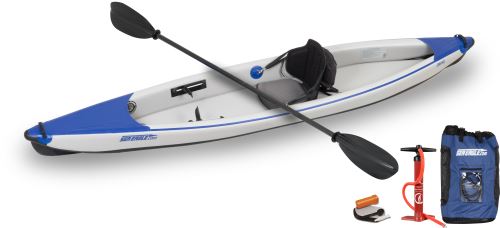 The Pro Carbon Package makes paddling even easier! The AB50 carbon fiber paddle reduces weight by 8 ounces compared to the AB40, making paddling long distances a true joy. Also includes backpack and pump.
In Stock Get Estimated Delivery Date
View Package Details
Backpack (BLUE)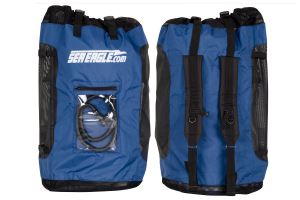 All Purpose BACKPACK! Great for carrying: LB11, NeedleNose SUPs, Sports Kayaks, FastTracks, Explorers and Motormount Boats! With 5.5 cubic feet of space there's plenty of room for your Sea Eagle and more! *Be sure to check baggage restrictions prior to traveling.
8' AB40 paddle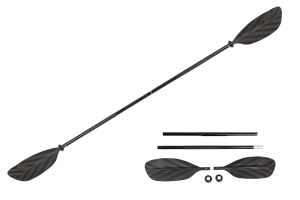 The asymmetrical spoon blade design of this Kayak paddle allows for smooth entries and an even pull, maximizing the power from your stroke. They require less gripping force, less effort per stroke. Weighs 2.92 lbs. Snap lock buttons to disconnect into 4 parts.
Hand Piston Pump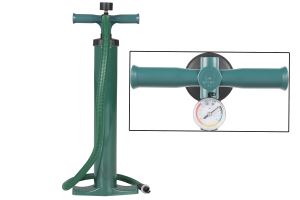 The Hand Piston Pump's special design allows for low effort and quick inflation. Made with a reliable and strong aluminum shaft. The HandPump comes equipped with hose, recessed one-way valve adapter and a conveniently located, easy visible, accurate built-in pressure gauge. SUP Pump capable of inflating to 1 bar or 15 PSI.
Slide in Swept Back Skeg
This weed-less swept back skeg is great for those who would rather not get hung up on weeds or drag them along. The 13" long swept back design works as a weed-less rudder that minimizes yawing (side to side swinging) during paddling stokes and assist with forward propulsion due to it's reflex technology. At only 7" deep this skeg allows you to travel in much shallower waters.
Large (13" Long x 7" Deep) swept back removable slide in skeg for Stand Up Paddle Boards, FastTracks, Explorers, and Travel Canoe.
*Note your craft must have the grooved base plate to accommodate a slide-in skeg.
Repair Kit
Repair kit for 1000 Denier PVC boats. Includes hull repair material, tube of glue & Halkey-Roberts valve replacement tool.
Tube Footrest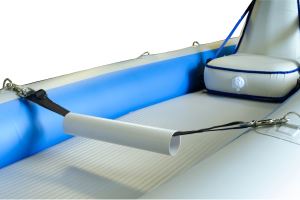 Adjustable footrest for your FastTrack™ and RazorLite™ Kayaks. Easily clips to the pre attached d-rings on your kayak. (385ft shown in 1st photo)
AB50 Paddle
Featherweight AB50 8' Double End Paddle with Carbon-Fiberglass shaft and Asymmetrical spoon blades.
Free Shipping
All Sea Eagle orders with this product will receive Free Ground Shipping to the lower 48 U.S. States.
Express shipping and delivery to Alaska, Hawaii and outside the United States are also available for an additional fee. Shipping rates will be displayed on our shopping cart page.
Offer Valid through 4/30/2019
Sea Eagle Used Boats
have

never been damaged, punctured or patched

have been

test inflated for 48 hours

might have very minimal wear (no barnacles or algae)
are covered by our regular 180 day money back guarantee and three year bow-to-stern warranty, just like our new boats.
might contain prior-generation components
Delivery Estimator
Starting at $849.

2 great packages to choose from! Click Here.