About the PackFish7™ Inflatable Fishing Boat
Sea Eagle PackFish7™ is better than a float tube! A unique, lightweight, incredibly portable, completely dry enclosed hull, high and dry, fully rigged, durable, one man, affordable, fishing boat. Fully equipped for outdoor adventures that can be used two ways: (1) fished for hours while sitting on the inflatable Deluxe Fishing Seat - a comfortable high seat with great back support (2) standing with the wooden floorboard which provides stable and ample standing area for both sight fishing and casting.
Better than a floating tube! This packraft is a completely dry enclosed hull that weighs only 22 lbs. Fully loaded with floorboard, oars, and seat a mere 32 lbs. It goes anywhere, sets up in under 5 minutes and is the perfect backpack fishing boat. For hiking into to the most remote locations. Where the fish truly are! Optional straps are available for easy portage when fully inflated too! It's as simple as that. We call it the "Grab & Go BackPack Fishing Boat!" Don't Buy A Float Tube Until You See The PackFish™
About the Frameless Fishing Series
Sea Eagle's Frameless Fishing Boats are roomy, lightweight, ultra-portable, and pack into a relatively small bag in relation to their sizes. They can be stowed in small spaces because they have no frames. They don't require a trailer so you can carry them to the most remote, hard to reach locations where fish hide most!
Great for lakes, rivers, bays, creeks or almost any body of water. Sea Eagle Frameless Fishing Boats will take you where you want to go and where most other boats wouldn't dare!
Large air chambers allow these Frameless Fishing Boats to support an incredible amount of weight yet draft as little as 4 inches of water. Meaning you have access to shallower waters where heavier boats don't!
The 285fpb and STS10 are equipped with universal Scotty™ Mounts so you can customize these two models as you wish! Outfit them with any Scotty accessory you like. Sea Eagle offers an assortment of Scotty™ accessories to suit your needs. The PackFish 7 features 2 built-in rod holders to keep your rods secure.
| | |
| --- | --- |
| Person Capacity | 1 |
| Hull Weight | 22 lbs. (29 lbs. with wooden floorboard) |
| Length | 7 ft. |
| Width | 3 ft. 3 in. |
| Interior | 4'6" x 13" |
| Load Capacity | 1 person or 300 lbs |
| Deflated | Approx. 5" x 20" x 20" |
| Floorboard | 1/2" thick x 3'6" long x 15 3/4" wide |
| Chambers | 2 (main & additional upper safety chamber) |
| Tube Diameter | 13" |
| Bladder | 30 mil Polykrylar 2 chamber internal bladder |
| External Protective Cover | 840 Denier Nylon |
| External Protective Floor | 1000 Denier PVC coated Polyester |
| External Protective Cover Seams | Overlapped Double Stitched Industrial Strength Nylon Thread |
| Air Valves | 2 Recessed One Way |
| Inflation time | Less than 5 mins |
| Seam | Bladder: High-Frequency Welded, Cover: Double Stitched Industrial Strength Nylon Thread |
| Material | 30 mil Polykrylar, 840 Denier Nylon, 1000 Denier PVC coated Polyester |
| Engine Capacity | N/A |
| Floor | External Protective Floor: 1000 Denier PVC coated Polyester, Optional: Removable wooden floorboard |
| Inflation Pressure | 1.1 psi |
Certifications
When deflated and packed well, this hull will fit in:
check_circleTruck/Large SUV
NMMA Certified
Ultra lightweight
Hunter Green Color with high visibility orange accents
(2) 36" Fish Rulers
(2) Built-in rod holders
(2) Stow Pouches for tackle and tools, includes cup holders
Built-in stow bag to conveniently stow your PackFish7™ backpack
Hands free oarlock attachment system so you can concentrate on fishing
30 mil Polykrylar double chamber internal bladder inside external protective sheath
Fully enclosed heavy duty fabric floor so you remain high and dry
(4) Carry handles
QuikClip connections to attach optional straps for portage.
Safety air chamber above main air chamber
PackFish7™ Reviews
4.5 out of 5 stars.
(47)
Butch Cooper
Verified Owner
8/12/2023
4.0 out of 5 stars.
I have used the Packfish about 8 times so far this summer.
PROS: 1. Excellent customer service from Sea Eagle
2. The boat is of good quality, very durable
3. Very portable, easy to backpack into remote lakes
show full review ▼
JOSEPH URSO
Verified Owner
8/23/2022
5.0 out of 5 stars.
I love this little boat! I've had it out twice fishing for 4 hours each time. You can get into some really shallow backwater with it. The inflatable seat is comfortable and it's easy to paddle around. I'm 5'7" and pretty heavy. Once you stretch your legs out, there's not much room for tackle boxes or other gear so the side storage pockets are very handy to have. The boat came with a leaky seat valve, but Sea Eagle replaced the faulty seat cushion. Now all is fine. The videos show an angler standing up in it while fishing, but it is just too wobbly for me trying to stand up. It fits (semi-deflated) in the back of my Rogue SUV and also fits nicely folded up in the included backpack. You can set it up in 5 minutes. The only complaint I could make is that the "flexible" hose for the pump is hard plastic and very difficult to twist on and off the valves or roll up. I am looking for a more rubbery flexible replacement. All in all 5 stars!
Samuel Babin
Verified Owner
4/15/2022
5.0 out of 5 stars.
This boat is well made, it's built with quality materials. I'm satisfied with the product. It is expensive, but worth the money.
Lawrence Colagiovanni
Verified Owner
1/21/2022
4.0 out of 5 stars.
I purchased the Pacfish 7 about 8 months ago. I have used it a few times on lakes. The only issue I had was on the maiden voyage I almost sank. Turns out the air valves were not seated tight enough. When I got home I tightened them and after sitting overnight it still lost air. I decided to crank down on them. Since I did that I have not had any further issues. Otherwise, the boat performs well. Easy to row and pretty comfortable. Beats a flow tube in my opinion because you stay dry.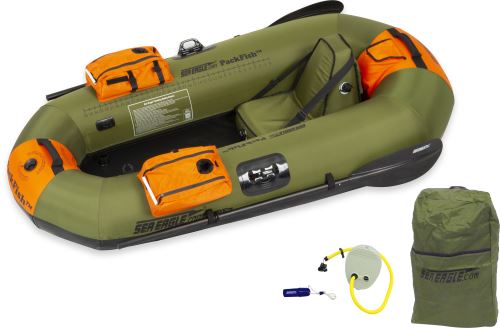 The perfect "grab and go" package! Featuring a green Deluxe Inflatable Seat, oar set, foot pump, repair kit and PF7 Backpack.
Package price and FREE SHIPPING offer valid through Monday, December 25, 2023
a $689 value for

just $369

through Dec 25 *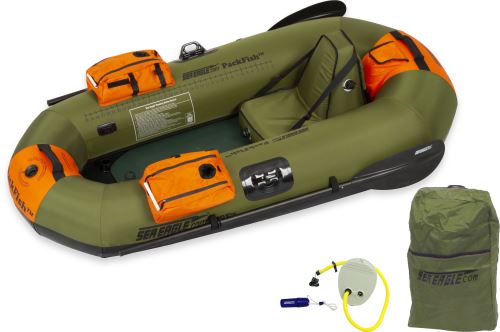 The Pro Fishing "Sit or Stand" Package is perfect for sight fishing, fly fishing and getting that extra edge on the fish when you really need it! Featuring everything from the Deluxe Fishing Package plus a great removable wooden floorboard.
Package price and FREE SHIPPING offer valid through Monday, December 25, 2023
a $768 value for

just $499

through Dec 25 *
Starting at $369.

2 great packages to choose from! Click Here.
DKS Seat Green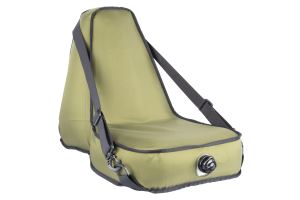 Deluxe Inflatable Kayak Seat Green
Backpack PackFish7
A42 Foot pump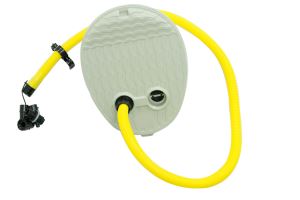 AB252 Oar Set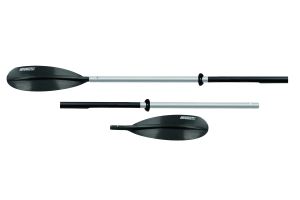 AB252 5' (2 Part) Oars for PackFish7™ and Motormount Boats
Small Repair Kit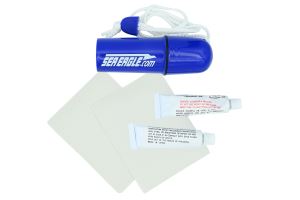 PF7 Floorboard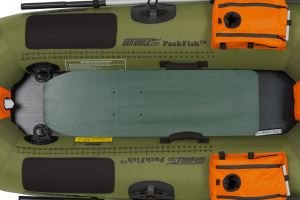 ');