Torqeedo Travel 1003L
Click to Enlarge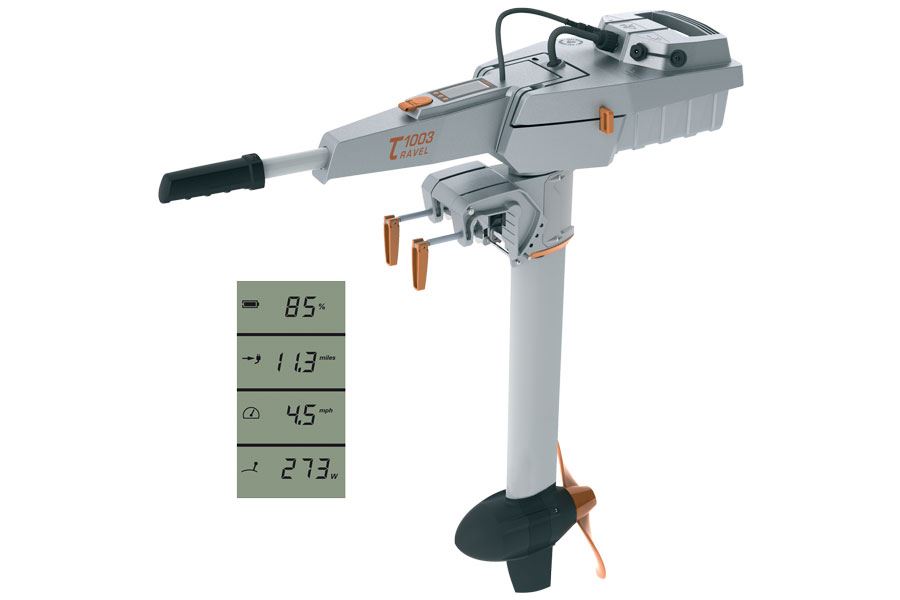 Covered by the
Torqeedo Factory Warranty
Valid Two Years from date of receipt
Personal use only. Commercial use not covered
Covers repair or replacement cost
All Sales are final. This item is not covered by the Sea Eagle 180 Day Trial, or the Sea Eagle Warranty.
High power and range in a small package. Delivers the performance of a 3hp gas motor while offering 30% more battery capacity.
Develops 4-5 times the power of traditional electric motors.
Fully waterproof design, IP 67. All components can be submersed for 1 hour at 3' below surface without any harm.
Integrated GPS and information system provides precise real-time information on battery charge status, remaining range at current speed, speed over ground and power consumption.
Improved mechanical stability, ruggedness and suitability for salt water use.
Auto-kickup feature in case of grounding.
Battery and standard 12 volt wall plug in charger included.
The perfect outboard for our Frameless Fishing Boats, 124smb Motormount Boat and 14sr Sport Runabout. Weighs 30.8 lbs. Long shaft - 29.3"

***Does not ship from Sea Eagle warehouse. Item is drop shipped from Illinois.***



The Torqeedo 1003L is not exportable outside of the continental US.
$1,999
This motor is final sale. No refunds are accepted for Electric Motors.
On backorder.
Recommended For:
Frameless Inflatable Fishing Boats
Inflatable Motormount Boats
Inflatable Sport Runabouts