Travel 1003CS Short Shaft w/915 Wh Battery
Click to Enlarge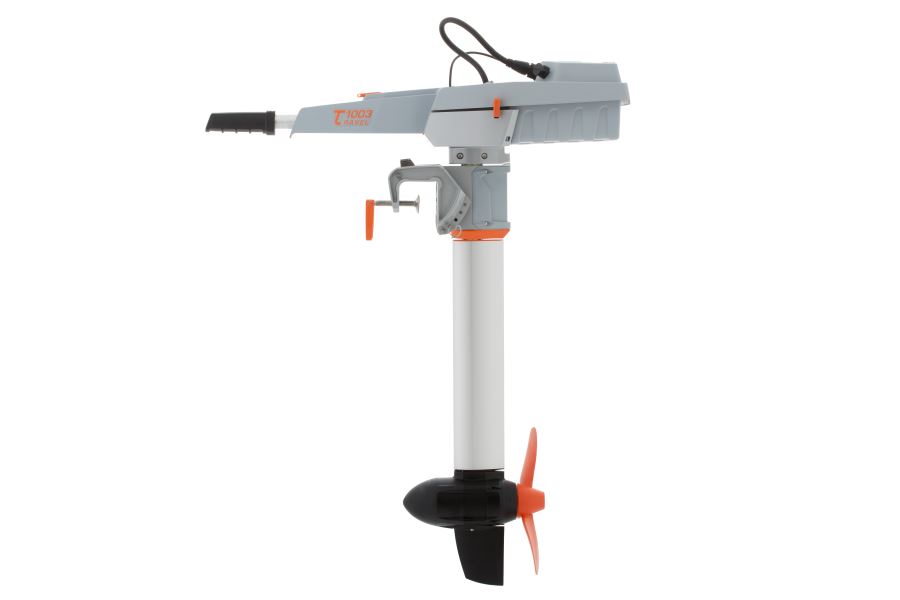 Covered by the
Torqeedo Factory Warranty
Valid Two Years from date of receipt
Personal use only. Commercial use not covered
Covers repair or replacement cost
All Sales are final. This item is not covered by the Sea Eagle 120 Day Trial, or the Sea Eagle Warranty.
Can do everything that a 3 HP petrol outboard can, plus it's environmentally friendlier, quieter, lighter and more convenient
On-board computer with GPS-based calculation of remaining range
Solar rechargeable – including during the voyage
Can be easily dismantled for transport and space-saving storage
A clean affair: no matter how or where you store your Travel, there's no risk of leakage or petrol smells
Stepless forward/reverse drive
Manual tilting device with grounding protection
4-step manual trim device
Completely waterproof (IP67)
Tiller control
Integrated battery with 915 Wh Li-Ion
Total weight 32.85 lb.
Shaft length: 24.6 inches
The perfect outboard for the FishSkiff, tenders, dinghies, transom boats, motormount boats and daysailers. Weighs 32.85 lbs. Short shaft - 24.6"

*Note: Non compatible with the 124smb, Frameless Pontoon Boats or 14sr (which use the Torqeedo Travel 1003L)

***Does not ship from Sea Eagle warehouse. Item is drop shipped from Illinois.***

The Torqeedo 1003CS is not exportable outside of the continental US.
Ground Shipping Only
$2,499
This motor is final sale. No refunds are accepted for Electric Motors.
On backorder.
Recommended For:
FoldCat™ Inflatable Pontoon Boat
Inflatable Fishing Skiff
Inflatable Motormount Boats
Inflatable Sport Runabouts
PaddleSki™ Inflatable Catamaran Kayak
SailCat
Yacht Tenders